First Drive New 2016 Honda NSX first drive review
Twenty-seven years since the launch of the Ayrton Senna-inspired original, the new NSX is finally here. Our early impressions suggest it's a worthy rival to the Audi R8, Porsche 911 and McLaren 570S. Not a bad start, then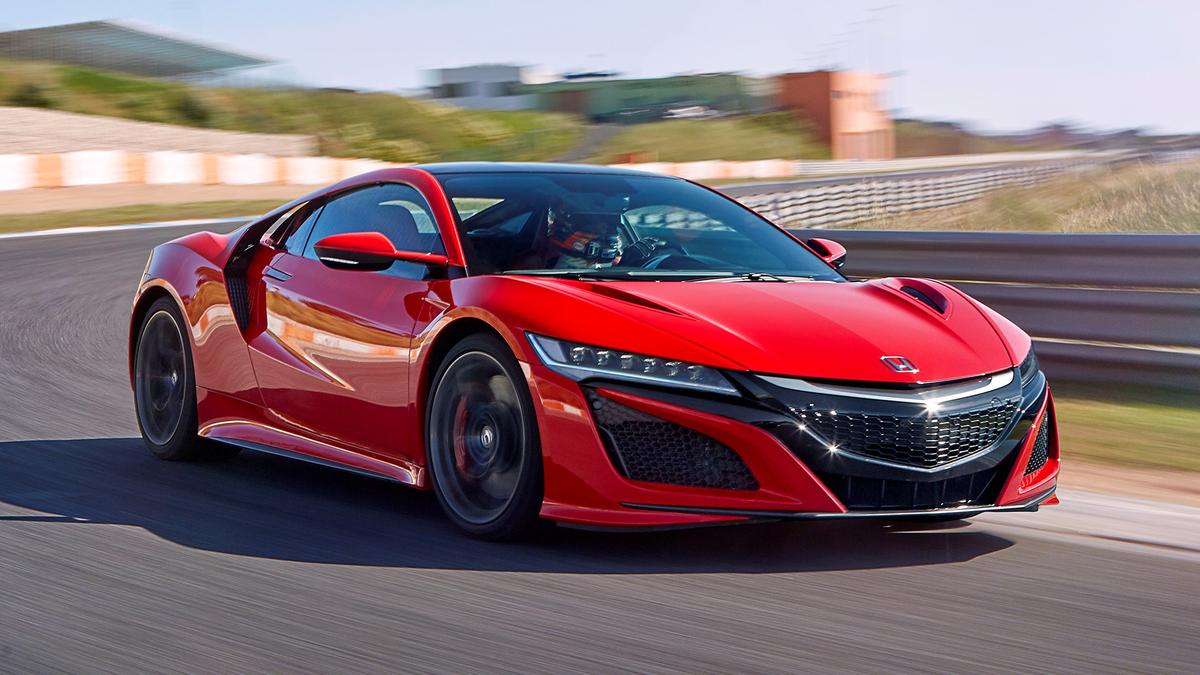 View gallery
Auto Trader verdict:
For all its reliance on technology, the NSX still offers an engaging driving experience. Feeling perfectly balanced, while marrying electric responses to truly gob-smacking performance, it's a genuine rival to the likes of Porsche's 911 Turbo S and the McLaren 570S.

What's more, given the level of comfort and refinement provided by the drivetrain and the chassis, it's also a supercar that you can drive and enjoy everyday in much the same way as the 570S. Now, there's a comparison test that we can't wait to undertake.

Need to know:
Hybrid all-wheel drive powertrain

On sale this autumn, priced from £149,950

First year's production already sold out
What is it?
You could probably write a book about the internal wrangling and political shenanigans surrounding the development of the new NSX.

Originally conceived as a front-engined V10, which was subsequently ditched in favour of a transversely mounted, naturally aspirated V6, the car then spent years trapped in research and development before Honda decided the engine could not be cooled sufficiently to produce the requisite performance. Eventually, settling on a longitudinally mounted twin-turbocharged 3.5-litre V6, augmented by hybrid electric drive, the NSX is finally ready to hit the road.

Given all the prevarication and procrastination, it's all the more impressive that the directory of bang-up-to-date tech found in the NSX is nothing short of mind-boggling.

For a start, there are no fewer than three separate electric motors incorporated in the drive-line. The two powering the front wheels can be used to drive the car in pure electric mode, speed-up or slow-down individual wheels to help the car turn in to corners, or be employed to provide battery regeneration and supplementary braking power.

What's more, when they're allied to the petrol engine's thrust to the rear wheels, the front-wheel motors also provide the benefits of four-wheel-drive grip and traction.

The third motor, meanwhile, is mounted in the gearbox, and its primary responsibility is to boost low-rev performance, before the twin turbos spin up and force-feed the NSX's hand-built petrol engine. On top of that, the motor is also used as a starter device and as a generator to feed the hybrid battery pack. Phew!

Power from the petrol engine is delivered to the rear wheels via a nine-speed twin-clutch automatic gearbox, which uses its low first gear predominately for launch-control conditions, while the high ninth gear is effectively an overdrive to help maximise fuel efficiency. In between, there are seven closely stacked ratios to play with, either in full automatic mode or via steering wheel-mounted paddles. On top of this, you can spin the dash-mounted selector to choose between four different driving modes.

While 'Quiet' allows you to drive off in EV mode, so as not to upset your slumbering neighbours – an alien concept to Jaguar F-Type drivers – 'Sport' and 'Sport+' incrementally stiffen the electronic dampers, sharpen up the steering, speed up the throttle response and ramp up the exhaust noise. The most extreme of the four settings is 'Track' which – as the name implies – ramps up all the settings to maximum attack mode and switches off all but a couple of the electronic safety net systems. Double Phew!

Despite all the technical wizardry Honda claims the driving force behind the NSX was to make it perform and handle as naturally as possible, so the big question is: have they nailed it?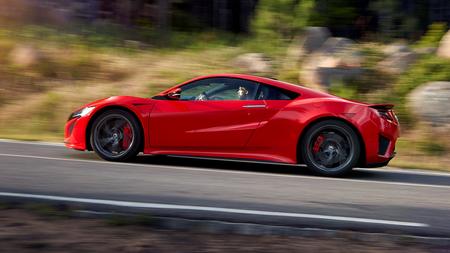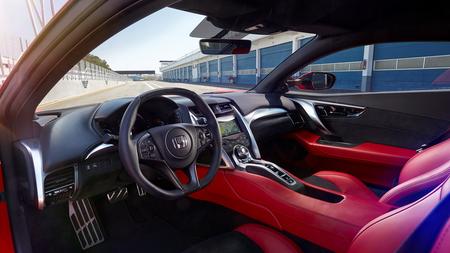 What's it like?
Other than the 'I'll sell my organs to buy one' looks, the first thing that strikes you about the NSX is how easy it is to drive quickly. Very quickly indeed.

Although no official performance figures have been released, a rumoured sub-3.0 second eruption to 62mph when utilising launch control is probably about right. This said, it does mean recalibrating your senses to get your head around the extraordinary level of performance.

Sure, there's the defining squish of sweaty shirt against Alcantara backrest as the electric motors and the V6 hook up and catapult you towards the blue sky; but, with not so much as hint of tyre yelp or a scintilla of mechanical stress to sensationalise your progress – just a slight rise of the nose and the manically tumbling digital speedo characters – it's difficult to comprehend that you are covering the ground with such alarming haste.

Some of this feeling of detachment its undoubtedly down to the soundtrack. While the petrol engine burbles and snarls with menace, and a Cobra's hiss of turbocharged venom punctuates every gearshift, the soundtrack still sounds rather muted compared to the aural delights of an Audi R8 V10. Then again, what doesn't?

Consequently, it's not until you find a sinuous stretch of engaging Tarmac that the hairs on your arms really start to stand on end. So controllable, so planted, so supple and so predictable, the NSX feels wonderfully agile, changing direction with a fluidity and tenacity that will challenge your ribcage's flexibility long before the chassis runs out of on-road talent.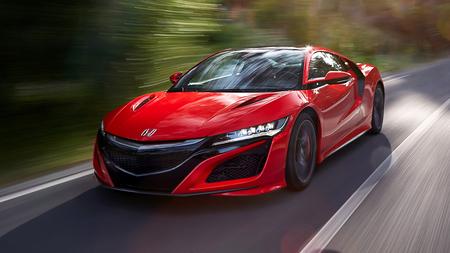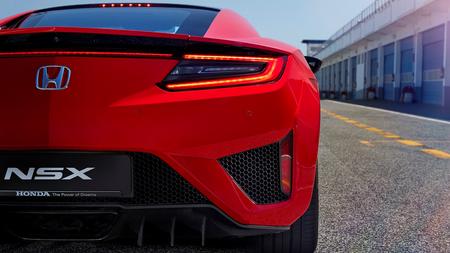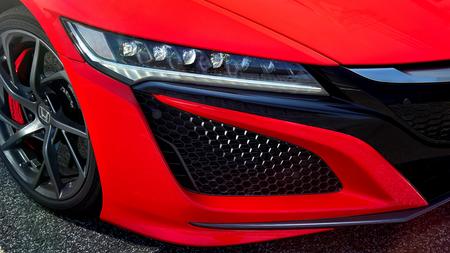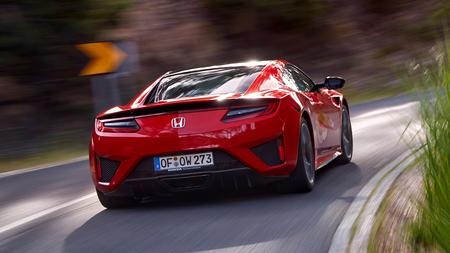 This feeling of being at one with the car is all the more impressive when you consider the amount of electronic processing required to synchronise the myriad interactions going on in the driveline. For instance, even when taking a scorched-earth approach to a series of torturous twisties and mercilessly pushing the transmission to its limits, we struggled to produce any notable steering corruption as the power shuffled from the rear- to all four wheels.

The NSX's brakes are pretty faultless, too. Given that there's no physical link between the pedal and the brake pads, it beggars belief that there's no loss of feel or natural progression, and not the slightest sense that things are being supplemented by electronic help. Well, at least not through the pedal, anyway. Our test car was fitted with the optional carbon ceramic discs and they did generate a spooky howl akin to someone blowing over the top of a milk bottle as the car slowed; but, even after several pulverising high-speed stops, the brake pedal remained strong and faithful.

In common with many supercars, the NSX has a pretty snug cabin, making it essential for anyone over six feet tall to book a test drive before ordering. Although the legroom is okay, the seats don't go particularly low, so there's a real danger that lanky folk will get perilously close to the roof lining and that those sweeping A-pillars will cut into their peripheral vision.

Overall, though, as you'd expect from Honda, the interior quality and design are solid, without being overly flashy. That said, some of the plastics you regularly come into contact with look and feel a wee bit low-rent compared to the impeccable standards set by a Porsche 911.

Should I get one?
Although Honda lists the NSX at £149,950, by the time you've chosen a few additional trinkets such as ceramic brakes at £8400, a carbon fibre exterior trim pack at £7100, and powered seats at £1200, you'll soon exceed £150K. As such, you'll be considering some pretty tasty motors in your buying decision, including the likes of Porsche's mighty 911 Turbo S, Audi's ballistic R8 V10 and the sensational McLaren 570S.

All we can say is, first impressions suggest the NSX is a worthy adversary to these examples of motoring exotica, and the fact the NSX will be sold in penny numbers will give it a level of exclusivity almost beyond comparison for anyone lucky enough to get their hands on one.

Of course, if you're in the market for any of these cars, you may well be able to afford all three. A first world problem, if ever there was one...

Key facts:
Model: Honda NSX

Price: from £149,950

Engine: 3.5-litre twin-turbo V6 and three electric motors, nine-speed dual-clutch automatic

Power/Torque: 573bhp/476lb ft (combined)

0-62mph: 2.9sec (est.)

Top speed: 191mph

Economy: 28.0mpg

CO2/tax liability: 228g/km/37%

Boot: 110 litres
Also consider:
McLaren 570S
A bit less technologically sophisticated than McLaren's more exotic models, but it's no less enjoyable. The handling is sensational, the ride is comfortable and the engine delivers truly blistering pace.
Audi R8 V10
The howling V10 engine takes centre stage but doesn't upstage the handling which is just as sensational. The interior is beautifully crafted and packed with technology.
Porsche 911 Turbo S
There probably isn't a faster point-to-point car than the Porsche 911 Turbo S. It is an immense engineering feat that combines prodigious, performance into a 2+2 package that can comfortably be used as a daily driver.
Find a Honda NSX in our classifieds
Interested in buying a Honda NSX?