First Drive Mazda CX-3 1.5 diesel 105 SE-L Nav 2WD first drive review
The Mazda CX-3 is a small SUV based on the Mazda 2 supermini, and it shares plenty with that car. It's fun to drive, but it's not all that comfortable and you might be disappointed by the practicality.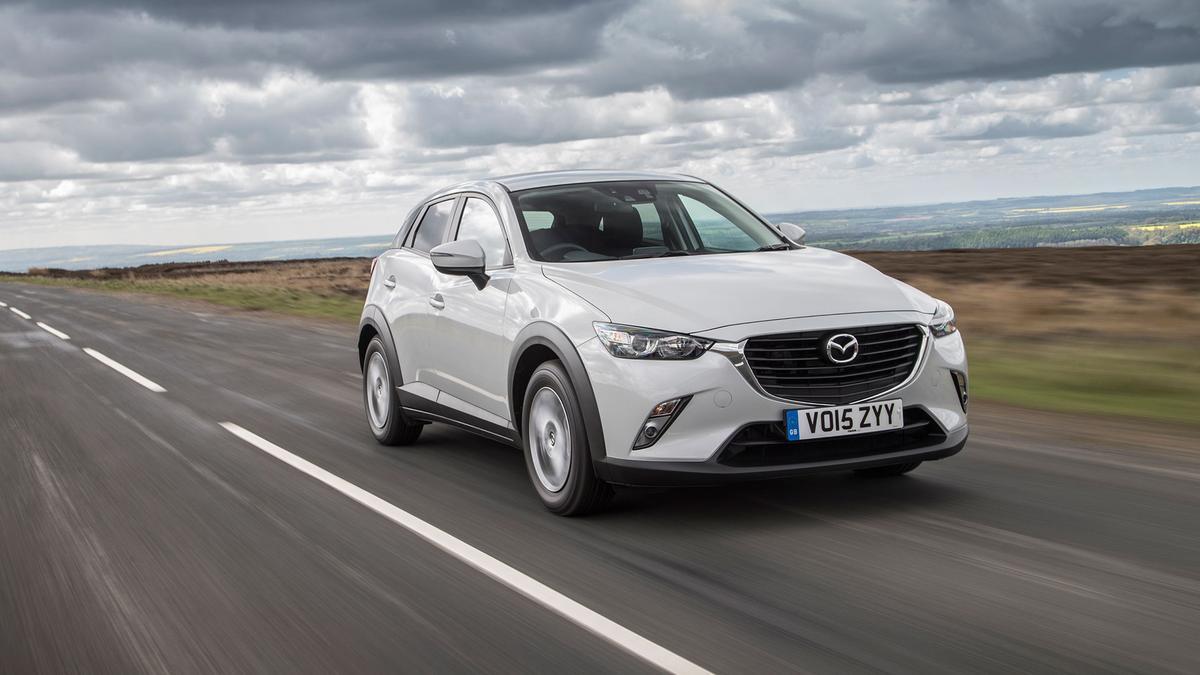 View gallery
Auto Trader Verdict:
The Mazda CX-3 is stylish and well-equipped, and it's also one of the more entertaining cars of its type to drive. However, it's also expensive to buy and not practical enough, so before you get one, make sure you prioritise style and fun above all else.

Author:Ivan Aistrop
Location: Newcastle-Upon-Tyne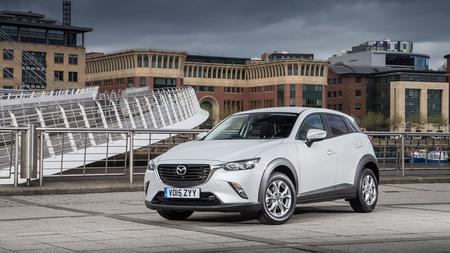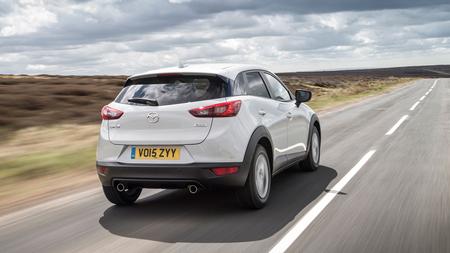 Need to know:
Supermini-sized SUV based on the Mazda 2

Petrol or diesel power, front- or four-wheel drive

Available to order now with diesel models starting at £18,995
What is it?
Small SUVs are to car companies what beards are to the male population of Shoreditch; they're a statement of style, and everybody seems to have one. Mazda is the latest car company to inject an entrant into this already-crowded-yet-still-rapidly-growing section of the market, in the shape of the new CX-3.

It'll be taking on other supermini-based SUVs like the Nissan Juke, Renault Captur and Peugeot 2008, to name just a few. To compete, it'll need to bring a little something different to the party. Mazda says the car has that covered, thanks to its style, generous equipment and the pleasure it gives to the person driving it.
What is it like?
Let's tackle these points in order shall we? We'll leave it to you to decide whether it's any better looking than its rivals, but we'd say the CX-3 certainly cuts a different shape to most other cars in the class. The look is very reminiscent of the Mazda 2 supermini with which it shares its underpinnings, but with a bulkier, jacked-up treatment.

The equipment part of the promise is certainly delivered upon, because the kit you get as standard is very generous indeed. Even entry-level SE cars come with alloy wheels, air-conditioning, cruise control, four powered windows, six airbags, tyre pressure monitoring and a touch-screen infotainment system that incorporates DAB radio, Bluetooth and various connected apps. SE-L models, meanwhile, add climate control, rear parking sensors, automatic lights and wipers, an autonomous braking system and lane departure warning, while Sport Nav trim adds navigation (obviously, and nav can also be added to the other two trims as an option), keyless entry, part-leather trim, LED headlamps, a reversing camera, a head-up display and a posher stereo.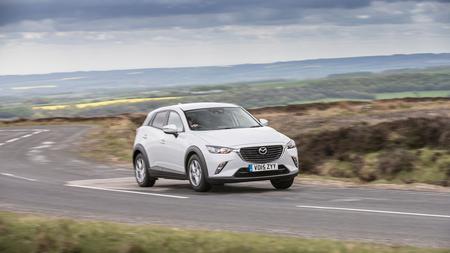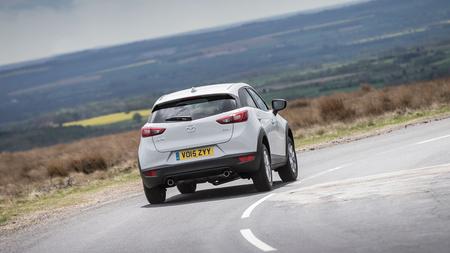 And the driver appeal bit of it? Well, it starts off very well. The 1.5-litre diesel engine delivers a surprising turn of speed for a unit with only 103bhp, and with the grunt being accessible throughout much of the rev range, it's an easy and relaxing companion when you're not in so much of a hurry. The crisp gearshift and weighty, positive-feeling pedals also lend a slightly sporty feel.

Whether you go for front- or four-wheel drive (both are available), the CX-3 delivers plenty of grip. The steering is sharp and has a nice, meaty weighting, while the body control stays impressively tight in all situations.

The taut suspension does mean that the ride is a little on the jiggly side, but it never gets to the point where you'll feel uncomfortable. Sure, it's not as cosseting as a Captur, but it does a decent enough job on most surfaces.

Unless, that is, you go for a Sport Nav version. It has 18-inch wheels rather than the 16s you get on the SE and SE-L, and these cause the ride to deteriorate to a point where some drivers will start to complain. Another word of caution; we also tried the CX-3 with 2.0-litre petrol engines, available in outputs of 118bhp and 148bhp. Although the performance of these versions is fine, they don't steer as well. There's a big dead spot around the straight ahead, which means they don't react quickly enough to your inputs on the wheel.

And, on all versions of the CX-3, refinement leaves a little to be desired. The engines stay quiet and smooth, but there's a lot of road noise to be endured, even at only moderate speeds.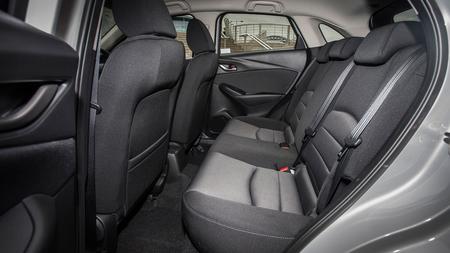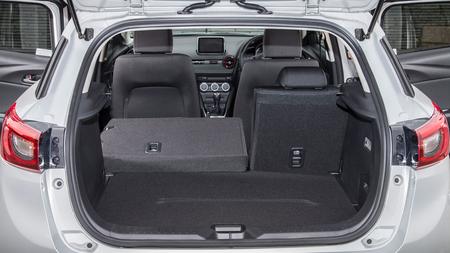 There are other areas in which the CX-3 is less-than-ideal, too. The rear seats are very tight on space, particularly legroom, and the cabin is way too narrow to squeeze three in the back. The high rear window line also means that kids won't be able to see much out of the windows, and sitting back there feels rather dark and gloomy.

The boot space provided is only moderate for the class (although you do get a false floor to level off the loadbay when you drop the split-folding rear seats), and it gets smaller if you go for the Sport Nav: the subwoofer for its posh stereo eats into the space.

That said, there is plenty to like elsewhere. The interior feels solidly made and looks good, even if many of the surfaces aren't as appealing to the fingertips as they are to the eyes. Also, the driving position has lots of adjustment, and the standard touch-screen infotainment system is reasonably easy to use.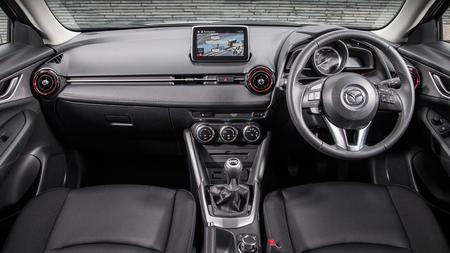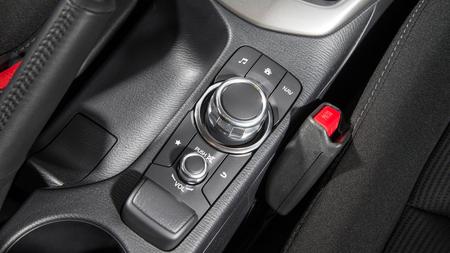 Should I get one?
There's no doubt that the CX-3 is a flawed car for all the reasons we've mentioned, but it's also very impressive in some areas, and if you're after style and fun from a car like this, then it's a very capable and likeable option.

However, there is one more flaw that might be something of a deal-breaker, and that's the price. This is an expensive car when compared with its rivals, and although you get lots of kit for your cash, it's debatable how much of this kit you're really going to need or want.

That said, the running costs are affordable, especially with the diesel version. Even then, though, it still trails rivals like the Captur for both CO2 and fuel economy.

Key facts:
Model: Mazda CX-3 1.5 diesel 105 SE-L Nav 2WD

Price: £20,995

Engine: 1.5-litre diesel, six-speed manual

Power/Torque: 103bhp/199lb ft

0-62mph: 10.1secs

Top speed: 110mph

Economy: 70.6mpg

CO2/BIK tax liability: 105g/km/19%

Boot space: 350 – 1260 litres
Also consider:
Nissan Juke
The best-selling SUV of this size, but flawed in a number of areas

Peugeot 2008
A good mix of practicality and driveability, but looks will divide opinion

Renault Captur
The most practical car in the class, and the cleanest, too

Interested in buying a Mazda CX-3?