First Drive Hyundai Tucson Premium SE 2.0 CRDi 185PS first drive review
The Tucson is Hyundai's replacement for the popular ix35, but does it have what it takes to compete with the best in a class that's packed with high-quality cars?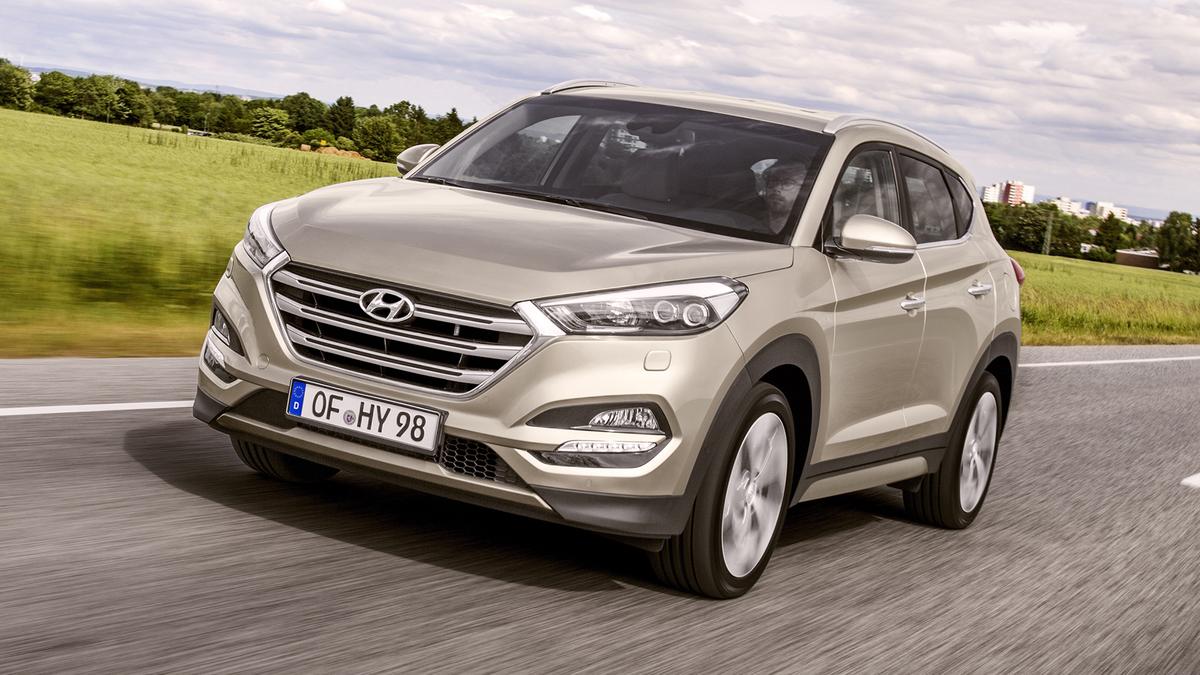 View gallery
Auto Trader Verdict:
As a stylish and practical family car, with the added versatility of four-wheel drive on many models, the Tucson has a lot going for it. Trouble is, we have a few reservations about this particular model, so for now we'd recommend that buyers who are tempted by this sort of car look at a Nissan Qashqai or Honda CR-V. However, it's very possible that our opinion will change once we've driven some of the lesser versions of the Tucson – which we expect to do before September.

Author: Andy Pringle
Location: Frankfurt, Germany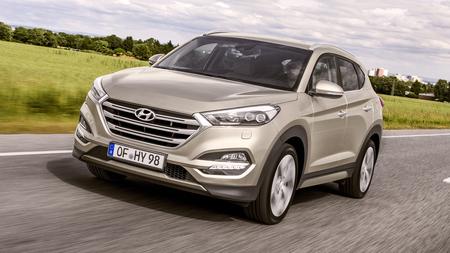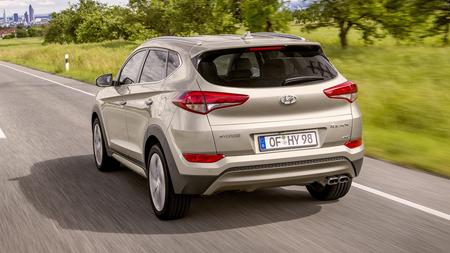 Need to know:
All-new replacement for ix35 comes with two- or four-wheel drive

Range includes five trim levels, five engines, and lots of new tech

On sale in September, priced from £18,695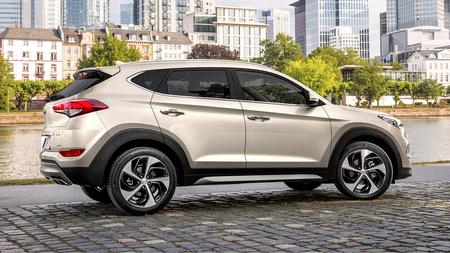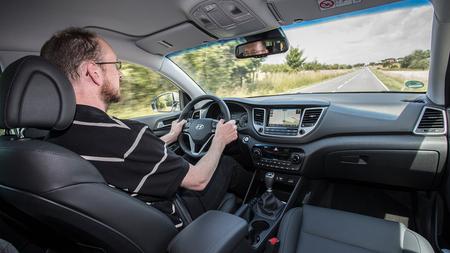 What is it?
The Tucson is an all-new SUV that replaces the ix35 and sits below the Santa Fe in Hyundai's model range. Designed and engineered in Europe, it's built in Europe, too, at the company's factory in the Czech Republic.

At just under 4.5 metres long and costing from £18,695 to well over £30,000, the Tucson competes with a range of crossovers and SUVs, including everything from the Nissan Qashqai to the Mazda CX-5, Ford Kuga, Toyota RAV4 and Honda CR-V.

There's a wide range of models to tempt buyers, with two- and four-wheel drive to choose from, as well as five engines and five trim levels, all of which come with DAB radio, air-conditioning, Bluetooth and alloy wheels as standard.

However, our first experience of the 2015 Tucson comes in the shape of a model from the upper end of that line-up, with the new high-powered version of the 2.0-litre diesel engine. Available only with the upper trim levels, it's the most powerful and most expensive engine on offer, and takes the car into an area of the market that Hyundai has never touched before.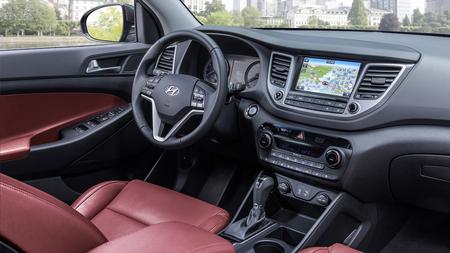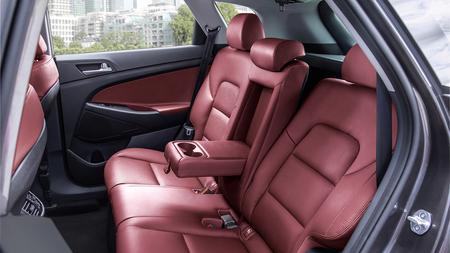 What's it like?
Probably the first word to come to mind when describing the Tucson is 'imposing'. With its front end dominated by a huge hexagonal grille, and the bold lines along the sides rising to a zig-zag pattern above the rear wheels, all topped off with plenty of chrome details, it's certainly a car you'll be noticed in.

Inside, it's more typical of Hyundai's recent products, and that's no bad thing. All the basics are done well, with plenty of head- and legroom for six-footers, and enough adjustment on the driver's seat and steering wheel for pretty much anyone to get comfortable behind the wheel. There's a great view ahead and to the sides, as well.

On top of that, Hyundai does a neat line in big, chunky buttons that are easy for fumbling fingers to find. And, yes, there are a lot of buttons on the dashboard, but thanks to the clear marking on them, they're all tremendously easy to use.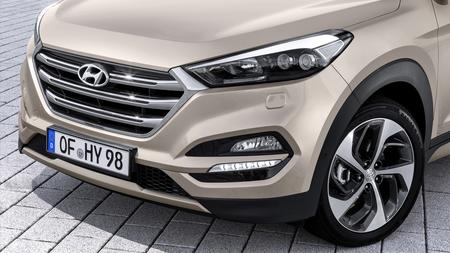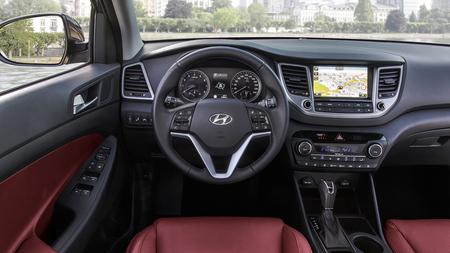 That said, it's not all good news. First, too many of the materials on view are hard and scratchy, and don't match the premium price-tag that Hyundai has set for versions at the top of the range. And secondly, while the small rear windows and wide pillars may give the car some real style, they do limit the driver's view out to the rear and over-the-shoulder. Little wonder that rear parking sensors are standard on all but the most basic S-trimmed versions.

Otherwise, the Tucson immediately impresses as a family car. Not only do the rear doors open nice and wide to give easy access to the rear seats, the seats themselves provide plenty of space. Even with a couple of six-footers in the front seats, two more six-footers will have room to spare in the back. Only the fact that the centre seat is a little narrower than the outer seats prevents it from being a comfortable five-seater.

To cap it all, the boot completes a fine showing for practicality. The tailgate gives a wonderfully wide opening, and that combines with the lack of any lip to make loading and unloading really easy. What's more, the 513-litre capacity is bigger than you'll find in a Qashqai or CX-5 (although it's no match for the RAV4 or CR-V), and it's easy to fold down the 60/40 split rear seats to leave an almost flat load area.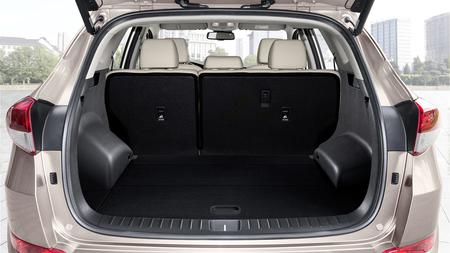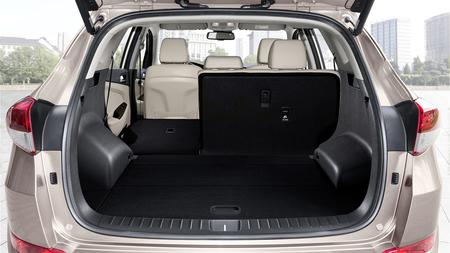 We're also impressed with the new 2.0-litre diesel engine, although don't confuse its 'high power' with high performance. Instead, it's all about easy performance, and the strong low-down pull is a perfect partner for the Tucson.

Rather than rev the engine hard – whereupon it gets quite noisy – things are much better if you stick to lower revs and take advantage of the peak torque that's available from below 2,000rpm. And, you'll still get across country pretty quickly.

That said, the Tucson is not a car that likes to be hurried. It feels like a big, substantial car that's more at home being eased, rather than hurled, through the bends. A Nissan Qashqai, for example, is a more rewarding and involving car to drive. What's more, the Tucson's steering has less feel and feedback, with slow responses around the straight-ahead position that limits the sheer enjoyment you'll get from the car.

Likewise, the pronounced body roll in corners soon discourages you from really pushing on – especially as a series of quickly taken bends can challenge the car's reactions; it's usually still reacting to the last corner when you get to the next one.

This would be all very well if the car delivered a supremely comfortable ride, but it doesn't – or, at least, not on the versions we drove, all of which were on 19-inch wheels. These are standard on the Premium-trimmed versions and above, whereas lower-trimmed versions come with 16- or 17-inch wheels, and we suspect that they may give a smoother, more comfortable ride. Particularly at low speeds, the ride on these large wheels was just that little bit too firm.

Overall, that rather sums up the driving experience in the Tucson: it's not bad; it's just that there are a few slightly disappointing rough edges.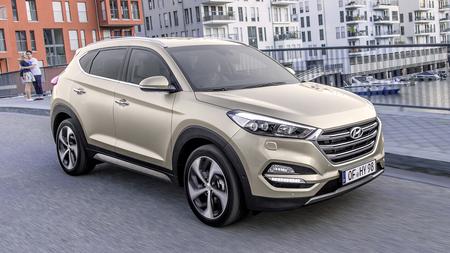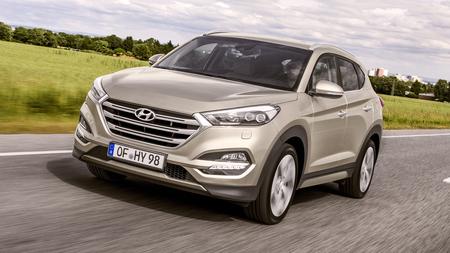 Should I get one?
There's much to like about the Tucson – particularly its imposing looks, spacious and practical interior, and excellent standard equipment – but on the evidence of the models we drove, it's a little way short of some rivals.

First, choosing this most powerful diesel engine means the car doesn't look quite such good value as some of the less powerful models, which are also more economical, and will almost certainly prove plenty quick enough in the real world. And, secondly, we think that models with smaller wheels could well prove better (or, at least, more comfortable) to drive.

We still reckon the Tucson is well worth a look, but we'd suggest waiting until one of the lesser versions is available to test drive at your dealer.

Key facts:
Model: Hyundai Tucson Premium SE 2.0 CRDi 185PS

Price: £30,845

Engine: 2.0 litre turbodiesel, six-speed manual

Power/Torque: 182bhp/295lb/ft

0-62mph: 9.9secs

Top speed: 125mph

Economy: 47.9mpg

CO2/BIK tax liability: 154g/km/28%

Boot space: 513 – 1,503 litres
Also consider:
Nissan Qashqai
The best small SUV, with an unbeatable mix of style, quality, practicality, refinement, comfort, efficiency and affordability

Mazda CX-5
A well-rounded small 4x4 with sporty looks and performance, but low running costs

Honda CR-V
It has a spacious cabin and the 1.6-litre diesel engine combines respectable performance with low fuel bills

Interested in buying a Hyundai Tucson?