First Drive 2017 Bentley Bentayga Diesel first drive review
This version of the Bentley Bentayga is the first diesel-engined car to be sold in the company's 97-year history. A black badge, black grille and re-profiled exhausts are all that visually distinguishes it from its petrol-powered counterpart.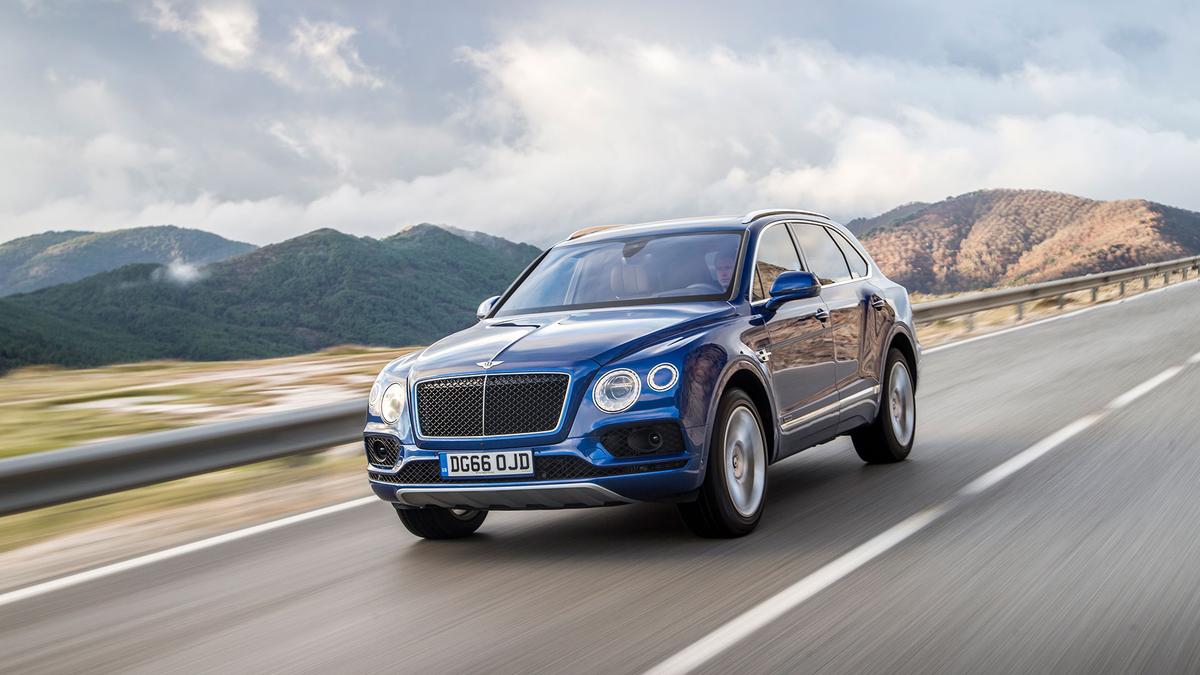 View gallery
First published: 7th December 2016
Auto Trader verdict:
The first Bentley to ever run on diesel fuel may sound like a risky enterprise, but it is in fact a triumph of engineering and a worthy addition to the Bentayga SUV range. Crucially, the Bentayga Diesel still feels, sounds, smells and drives like a Bentley, which is to say, rather wonderfully. The benefits to both real-world range and strong residual values may, for many, make it more appealing than the W12 petrol version.
Need to know:
Bentley's first diesel engine: a triple-charged 4.0-litre V8

0-62mph in 4.8secs, 35.8mpg, 210g/km of CO2

On sale now, priced from £135,800
What is it?
Bentley's first diesel engine, installed within its first luxury SUV, which makes it a pretty fine excuse not to buy a Range Rover.

The Bentley Bentayga Diesel is available as both a five- or seven-seater, and joins the mighty petrol-powered W12 in the range, albeit with its own set of towering figures.

Shoehorned under that bonnet – seriously, you can't even fit a finger in there - is a triple-charged 4.0-litre V8 engine that develops 429bhp. For initial response, there's an electrically driven supercharger, which then hands the baton over to two turbochargers, all ensuring stately, lag-free progress throughout the entire rev range. It's married to four-wheel drive and an eight-speed automatic gearbox and is more fuel efficient than the W12 (combined fuel economy of 35.8mpg beats 21.6mpg), cleaner than the W12 (210g/km of CO2 beats 296g/km) and £30k less expensive.

Granted we're talking relatives here, so it's unlikely a Bentayga customer will be making fist-pump gestures at the thought of such savings, but he or she probably will appreciate spending less time at fuel stations; an experience even the boss of Bentley describes as 'deeply un-luxury'. The Bentayga Diesel has an estimated range of 621 miles, 200 miles more than the W12, which is enough to waft you from your home in London to your chateaux in Bordeaux in just one drink.

Bentley has also kept the visual tweaks to a bare minimum, so as not to ruffle the curtains at your members' club. There's a black bonnet emblem, new black radiator mesh, re-profiled quad tailpipes and a badge that says 'Diesel' that can be deleted as a no-cost option.
What's it like?
Worthy of the badge. Bentley says it went through plenty of development false-starts when sourcing a diesel powertrain fit for the flying wings, but the 4.0-litre V8 is the first to meet the grade for both performance and luxury.

Having seen this engine already make an appearance in the Audi SQ7, performance was never in doubt. The 0-62mph sprint time is dispatched in just 4.8 seconds, which is comfortably ahead of the Range Rover AutoBiography (7.9secs) and just 0.7secs slower than the petrol-powered W12 Bentayga. It is the world's quickest diesel SUV, although that's only part of the story.

Crucially, it delivers its peak torque of 664lb ft from just 1000rpm, which means you have near instantaneous shove from the moment you depress the right-hand pedal, and you can push on to an unlimited top speed of 168mph.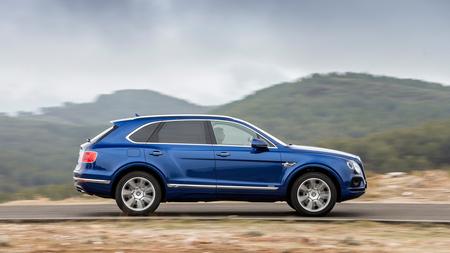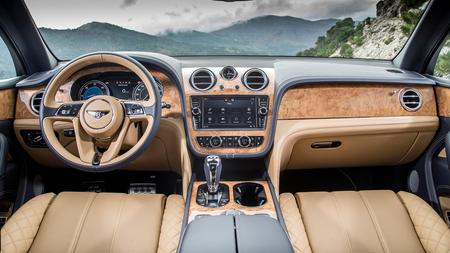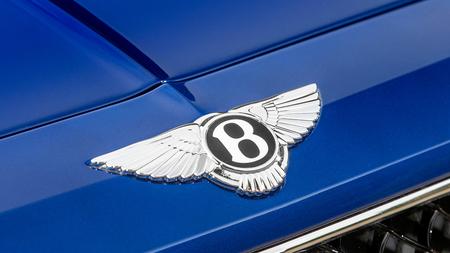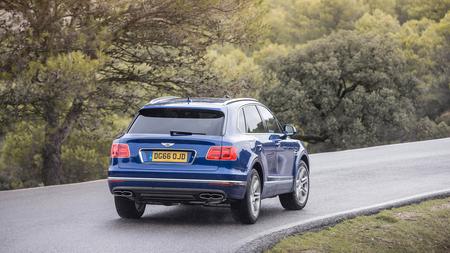 The optional anti-roll system on our test car is a must-have feature, as it manages to endow 2390kg of SUV-shaped mass with unfathomable composure in a series of sweeping corners. That said, the Bentayga isn't really a car that encourages you to hustle or indeed flex its analogue needle beyond 3000rpm. You're driving a Bentley, dah-ling; just rest assured that it will run rings around a Range Rover should the occasion ever arise.

Much like a Range Rover's Terrain Response system, you can also adjust the Bentayga's driving character via a rotary control. There are a bewildering eight settings to choose from, but we ended up toggling between just three: Comfort for the motorways, Sport for the twisties (and to ease our co-driver's travel sickness), and err… a cactus diagram for off-roading. And yes, the Bentayga Diesel managed an impressive bit of mud-plugging using standard all-weather road tyres. For what you'd be prepared to unleash on a £135,000 SUV - towing a horse box through muddy fields, for example - it would get the job done easily.

Then there's the refinement. Good lord, the refinement. How an engine this huge and this powerful can be so whisper-quiet from behind the wheel is astounding. Despite riding on 21-inch wheels, the exquisitely finished and beautifully appointed cabin is so well isolated from noise, wind and vibration that the loudest thing in there is the sound of the indicators. The outside, however, is a different story. All the sound insulation in the world couldn't disguise that distinct diesel clatter at idle.
Should I buy one?
If you're after the ultimate luxury SUV, then yes. For many, the imposing styling will remain somewhat of an acquired taste, but familiarity is lessening the shock and awe of its 2015 unveil. What will be more appealing is the extensive range and the high residual values of the Bentayga Diesel – the expected value of your car come resale time - which help make buying the car on finance (predicted to be 50% of total sales) more affordable than rival cars. Proof, if it were needed, that diesel hasn't had its day just yet.
Key facts:
Model: Bentley Bentayga Diesel

Price: £135,800

Engine: 4.0-litre V8, triple-charged diesel (1 supercharger, 2 turbochargers)

Power/torque: 429bhp/664lb ft

0-62mph: 4.8secs

Top speed: 168mph

Economy: 35.8mpg

CO2/BIK tax liability: 210g/km/37%

Boot space: 430 litres (five-seater)
Also consider:
Range Rover SV AutoBiography
The original luxury SUV with off-road prowess and on-road refinement now gets the personal touch from Land Rover's Special Vehicle Operations (SVO). Infotainment beginning to show its age.
Audi SQ7
Also offers seven seats and also uses the same 4.0-litre twin-turbo V8 diesel as featured in the Bentayga, albeit with a sportier intent. Cheaper, too, but not as classy.
Bentley Bentayga W12
Quicker and pricier, plus it features an equally masterful and characterful engine. And what's the problem with a £30k difference when you're buying a Bentley? You'll probably spend more than that on options.
Interested in buying a Bentley Bentayga?