First Drive 2017 Porsche Panamera 4 E-Hybrid first drive review
Porsche sports saloon now comes with a plug-in hybrid option. Can it deliver urban fuel efficiency while still providing thrills behind the wheel?
Auto Trader verdict:
The hybrid Panamera spreads its talents across several areas, and will suit luxury car customers that want a full electric mode for around town, but still intend to indulge in some more enthusiastic driving on a regular basis. It's not as blissfully comfortable as a Mercedes-Benz S-Class, but it's more entertaining, and considerably roomier in the back than an Aston Martin Rapide S.

Need to know:
Petrol-electric plug-in hybrid version of Porsche's sports saloon car

All-wheel drive, available in standard or long wheelbase form

On sale now, starting at £79,715
What is it?
This is the plug-in hybrid version of Porsche's second-generation Panamera, a premium sports saloon that aims to straddle a line between luxury saloon and genuine sports car. With plenty of space in the back and a high quality interior, it's a challenger for Mercedes' S-Class and BMW's 7 Series. But with a Porsche badge on the bonnet, it comes with expectations of performance and driving involvement, so also takes aim at Aston Martin's Rapide S.

Power is sent to all four wheels, and comes from two sources: a 2.9-litre, twin-turbocharged V6 petrol engine, and an electric motor. The driver can choose how the two power sources are used. The full electric mode turns off the combustion engine and will whisk the E-Hybrid along with zero exhaust emissions for up to 31 miles, assuming the battery is fully charged. A recharge takes around six hours through a mains supply. Alternatively, select hybrid mode and the car's software will juggle between electric and petrol power, aiming for the best fuel economy possible in the driving conditions. Should you happen across a worthy road, the Sport and Sport+ modes will crank up the throttle sharpness and stiffen the suspension in a bid to introduce the excitement more traditionally associated with Porsche.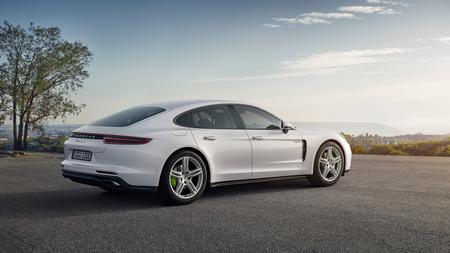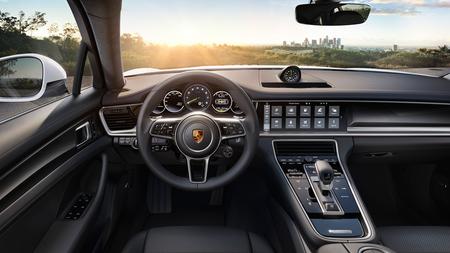 What's it like?
On the outside, it's undeniably influenced by Porsche's iconic 911, with similar headlights, rear lights and curved haunches. There are some little touches specific to the E-Hybrid version, including bright green brake calipers and name badges on the side.

Open the front doors and you'll find an environment that's again very similar to the 911, with a low seating position. The materials used are top quality, and they're put together in a way that feels ultra-solid: this is a car that feels like a high-end, luxury machine should. The driver's seat goes nice and low for a sporty position, and the steering wheel adjusts electrically for both reach and rake, so it shouldn't be difficult to find your ideal set up. A smart, piano-black, touch-sensitive, central console panel is a clever touch that looks cool, but it's not quite as intuitive to use as plain old buttons due to the lack of physical separation between the different commands. It also attracts plenty of fingerprint marks.

In the back, there's lots of space for two large adults, and for even more room you can opt for a long-wheelbase version, which gives you 110mm more rear leg-room and also comes with a panoramic roof as standard. It's worth noting that, despite plenty of passenger space in the back, luggage room is in shorter supply because of the battery under the boot floor. That leaves only 405-litres of space with the rear seats up, compared to the 420 litres in the BMW 740e, and 510 litres in the Mercedes-Benz S300h.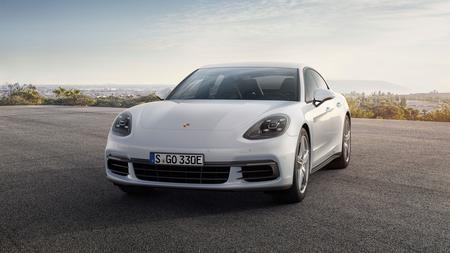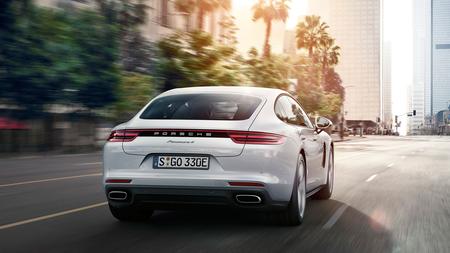 On the move, the E-Hybrid's party piece is its electric-only mode. Selected by a dial on the steering wheel, it turns the Panamera into an almost silent machine for wafting around town. The 31-mile range should be enough for most urban journeys, but the system has some strange side effects, causing some curious grinding and whining noises and some vibration through the brake pedal as energy is reclaimed to the battery.

Even when running in electric-only mode, the Panamera's performance is pretty perky, due in no small part to the fact that electric motors deliver their maximum torque straight away, unlike combustion engines. With both power sources engaged – producing a combined 456bhp and 516lb ft – the E-Hybrid becomes properly quick, with the sprint to 62mph taking just 4.6 seconds, or 4.7 in the long wheelbase version. What's more, the hybrid system juggles its two power sources smoothly and seamlessly at all times.

The standard adaptive air suspension delivers a ride quality that's as comfortable as you'd expect from a luxury car when you're cruising, even if it's not as cosseting as a Mercedes S-Class, while selecting a sportier mode firms things up for more control when the road turns twisty.

You're also treated to plenty of grip and good balance in the bends, and the steering is nicely weighted, too. Granted, it's a little bit short of feel compared with some of Porsche's other cars, but it's fine by the standards of other executive cruisers. You'll also like the PDK gearbox, which is one of the best dual-clutch transmissions on the market: it's quick to respond, and smooth in operation.

However, the E-Hybrid's handling prowess is blunted slightly by the weight of the hybrid system; it's some 320kg heavier than the standard Panamera 4. You won't feel the difference under normal circumstances, but push through tighter bends and the two-tonne-plus bulk makes itself known.

Of course, a key factor for any hybrid is its efficiency, and on that score, the Panamera compares reasonably well to its rivals. The official fuel economy figure of 113mpg is considerably better than the 65.7mpg returned by the Mercedes S300h, although the BMW 740e claims up to 141mpg. However, as with all plug-in hybrids, the level of efficiency you get will depend entirely on how you use your car, and whatever happens, your real-world fuel economy will be substantially less than the lab-tested official figures suggest.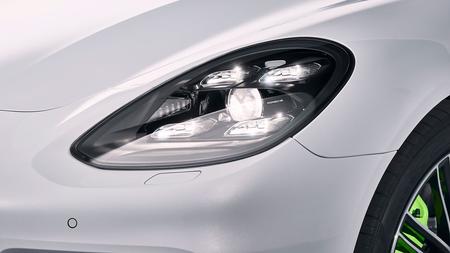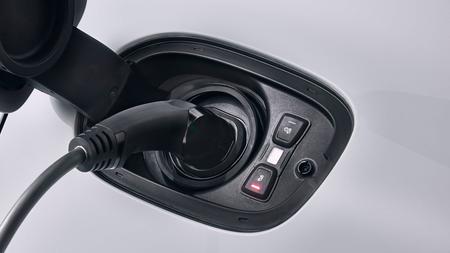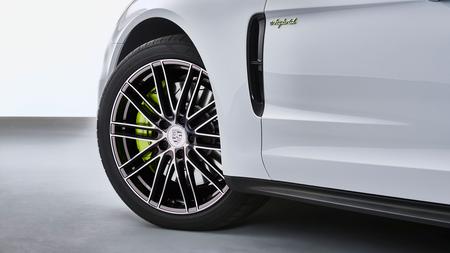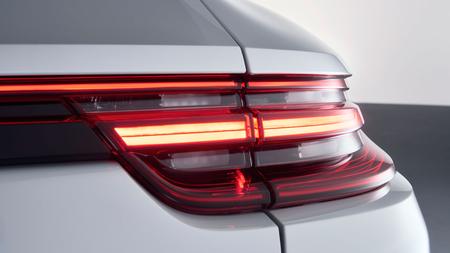 Should I get one?
The Panamera 4 E-Hybrid is a car that suits particular circumstances. If you're a short-hop commuter that can get to work and back on the car's electric-only range, allowing you to fully cash in on the fiscal benefits of the plug-in hybrid drivetrain, but you still want a car that can thrill you come the weekend, the big Porsche will suit you down to the ground.

True, there are more comfortable plug-in hybrids from other manufacturers, but they can't offer the same level of driver engagement. It's the E-Hybrid's breadth of talents that make it stand out.
Key facts:
Model: Porsche Panamera 4 E-Hybrid

Price: £79,715

Engine: 2.9-litre twin-turbo V6 petrol and electric motor, eight-speed twin-clutch

Power/Torque: 456bhp/516lb ft

0-62mph: 4.6secs

Top speed: 173mph

Economy: 113.0mpg

CO2/BIK tax liability: 56g/km / 11%

Boot space: 405-1304 litres
Also consider:
Mercedes-Benz S300h
More refined and comfortable, but lacking the Porsche dynamic punch.
BMW 740e
Crammed with tech and very luxurious, and also boasts impressive fuel economy.
Aston Martin Rapide S
Beautiful looks and a wonderful V12 engine, but lacks space and refinement.
Interested in buying a Porsche Panamera?