First Drive 2016 Volkswagen Golf GTI Clubsport S first drive review
Volkswagen has built a record breaking, 306bhp limited edition of the Golf GTI, to mark the 40th birthday of its iconic hot hatch, and we leapt at the chance to drive it on track.
First published: 7th June 2016
Auto Trader Verdict:
On the Nürburgring racing circuit where is was fettled, the record breaking Clubsport GTI feels brilliant. A stunningly fast, stable and easy to drive track car that has incredible grip and mid-corner agility. It's also more analogue and involving than any of the standard fast Golfs, so we hope VW will take the hint and build more focussed cars like this in the future.
Need to know:
GTI Clubsport S is the most powerful production Golf GTI ever

306bhp, 0-62mph in 5.8 seconds, set 7:49:21 record 'ring lap

On sale October, with just 400 cars being built, only 150 in RHD
What is it?
This is officially the meanest, most powerful Golf ever put into production, designed to snatch the lap record for a front-wheel drive car at the Nürburgring from Honda, which it promptly has.

The Clubsport S (and its less extreme sibling the Clubsport Edition 40) were also, as the name implies, built to mark forty years since the launch of the original Golf GTI, giving fans of that famous badge something to celebrate, while also stealing some thunder from the new Ford Focus RS.

While the Edition 40 raises the stakes with a modest 34bhp power boost – plus ten-second bursts of 286bhp – the Clubsport S is in a different league. With 10bhp more than the Golf R, it's only available in front-wheel drive, with a manual gearbox.

It also has no rear seats, and production will be limited to just 400 cars worldwide, around 150 of which are coming to the UK. It's been tuned to do one thing – go incredibly fast around Germany's most famous circuit, and that's where we got to drive it.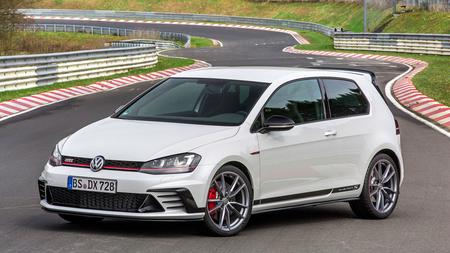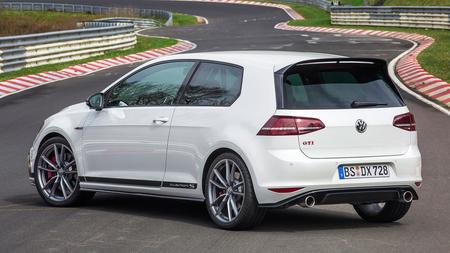 What's it like?
Normally if we were trying to tell you what a car was like, pounding around a racetrack at speed would be the least useful activity, but in a Clubsport S it's entirely appropriate; it was literally built for this very task.

It's lost 30kgs over the Clubsport, with no back seats, stripped out sound deadening, lighter brakes, an Aluminium subframe and (to save weight) a manual gearbox. Some of the cars we drove even had no air-conditioning, to shed fifteen more unnecessary kilos.

The wick on the 2.0-litre turbo engine has been turned up to match the Civic Type R's 306bhp, with an engine remap and new exhaust system. It could have been more, but VW wanted to prove that it could beat Honda's record armed with exactly the same firepower.

The boost makes the Clubsport S half a second quicker to 62mph than than Edition 40, and it has an unlimited top speed - a first for any GTI - of 165mph. Speed of course, is nothing without stability, and the suspension of this car is unique, with bespoke parts in the front and rear axles, negative camber for the wheels, and a spoiler and splitter that generate real lift and downforce in faster corners.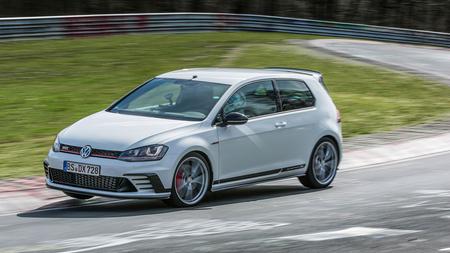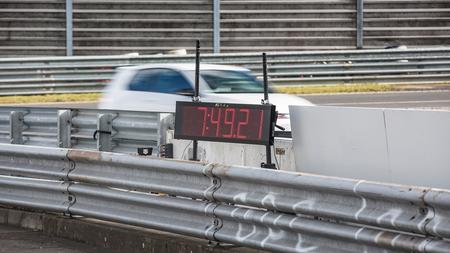 If this is all making the Clubsport S sound like the a mildy terrifying, stripped out racer reserved for only the most hardcore enthusiasts, then worry not – it actually still drives a lot like the normal GTI, just on lots of steroids.

Its new wider exhaust has a deep, rumbling bellow and cracks loudly on downshifts, but otherwise it still feels pretty refined. The handling setup is supposed to be forgiving and fast rather than too edgy, so even if you turn in too fast or lift off the throttle mid-corner, it won't bite; it just nudges into understeer so you know it's at the limit.

The steering has been transformed, with far sharper responses to your inputs, and much richer feedback about what the front tyres are up to. You quickly learn to trust the handling, and carry higher speeds through some of the track's scariest sweeping corners.

For a front-wheel drive car, the level of grip is tremendous, and it rarely felt like the front-axle was struggling to put the power down to the Tarmac, at least in the dry. Yet perhaps the best thing about the Clubsport S is just how well it handles hitting kerbs and bumps.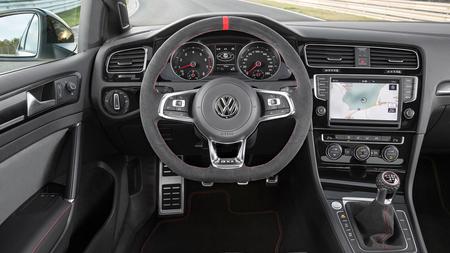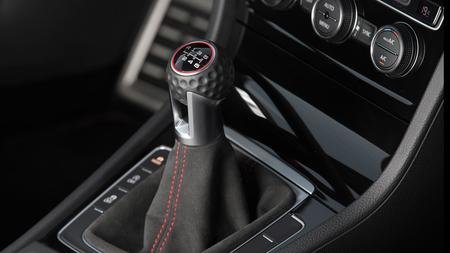 The key to the record time, according to the man who set it, Benny Leuchter, is the ability to take one, or even two wheels completely off the track to cut the corners, creating a faster line. He says of all the cars he has raced here over hundreds of laps, the GTI is one of just three that is supple enough to ride the kerbs at full speed.

At first it feels mad to push this far off the circuit, getting showered in a cloud of dust and dirt following Benny's line, but the Clubsport S just shrugs them off, staying on your chosen course and powering out on to the next corner. We hope this suppleness will make this car perfect for tackling the UK's uniquely challenging and cambered B-roads.

The brakes also deserve a special mention. They're no bigger than the standard rotors, but they're coated with a new material to resist fade, and have Aluminium caliper pods for better pedal feel and quicker bite. They stayed strong and secure, lap after lap.

Sealed inside the cockpit in a full racing helmet, we didn't have a lot of time to gaze at the interior, but the usual high quality that you expect from VW is present and correct, the bucket seats are really comfortable and the thick Alcantara wheel is a fine finishing touch.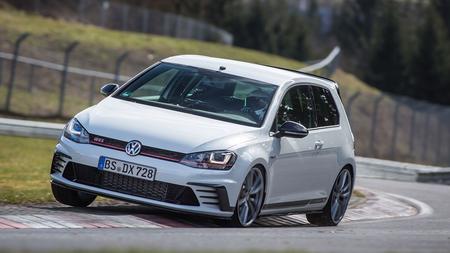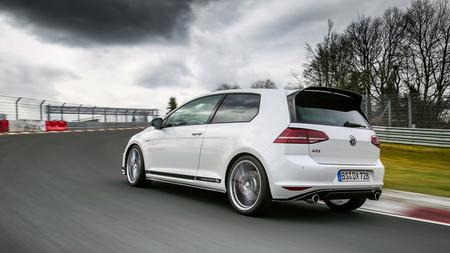 Should I buy one?
If you are tempted by this 'ultimate' GTI then you better act fast. The numbers will be strictly limited, and although the UK will take more than anyone else, they're likely to be in very high demand - good for residuals, bad for buyers.

However, while the Clubsport S felt stunning on track, and will be a great answer to critics who claimed the GTI has gone soft, we're told it'll be priced at around the £35,000 mark, making it a lot pricier than a subtler 4WD Golf R.

It's much more of an involving driver's car than the R, and stands out better. However, there are some very tempting hot hatches available for less, rivals that can deliver an equally stimulating drive – even if no front-wheel drive car is (officially) faster.
Key facts:
Model: Volkswagen Golf GTI Clubsport S

Price: £35,000 (est)

Engine: 2.0-litre petrol turbo, six-speed manual

Power/Torque: 306bhp, 280lb ft

0-62mph: 5.8secs

Top speed: 165mph

Economy: 38.2mpg

CO2/BIK tax liability: 172g/km / 31 %

Boot space: 1270 litres
Also Consider:
Honda Civic Type R
The previous lap record holder here at the 'ring can hold its head high – it's just 1.4 seconds slower, and has a sweeter manual shift
Renaultsport Megane 275
A different kind of front-wheel drive hot hatch, the Megane feels darty and mobile, but it's less refined and slower than the GTI
Ford Focus RS
Not anywhere near as stable or easy to drive as the Clubsport S, but a lot more powerful, and with its drift mode, more fun as well
Interested in buying a Volkswagen Golf?