First Drive 2016 Porsche 911 R first drive review
The 911 is already a class-leading performance car, but could the new R - a car aimed squarely at keen drivers - be the best of the best? Jon Quirk finds out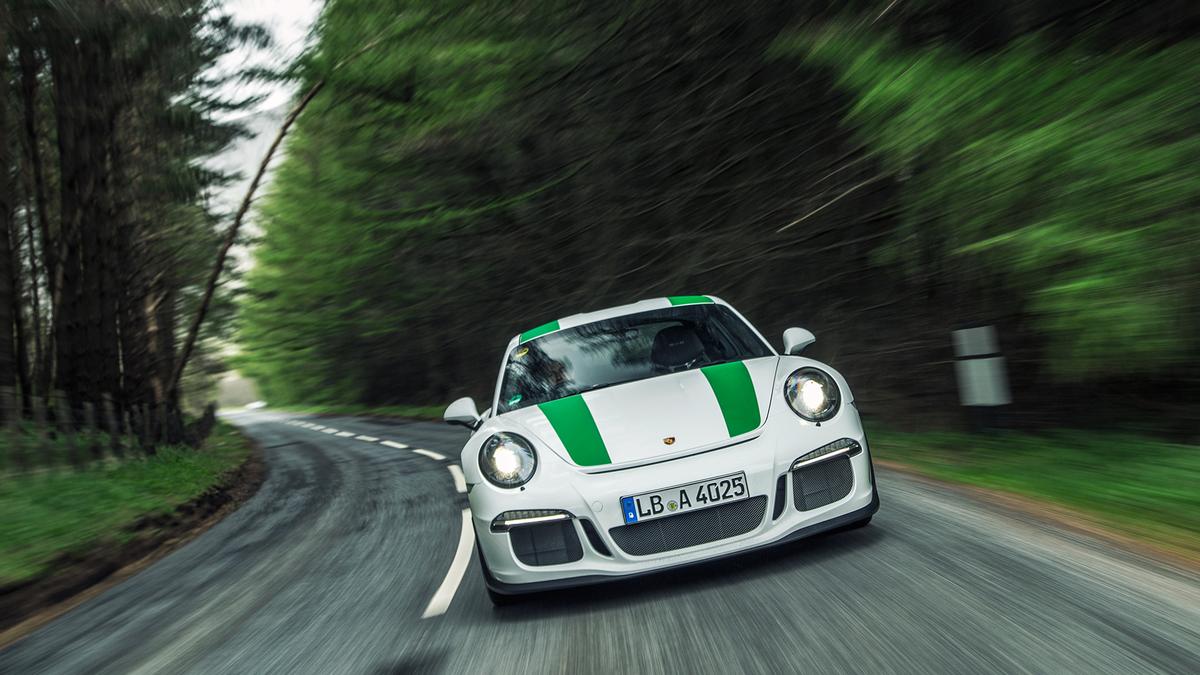 View gallery
Auto Trader verdict:
The R is probably the most exciting 911 of its generation, not just for its savage outright speed but because it is fantastically involving to drive. Despite an automotive backdrop that is dizzy with driverless technology, this refreshingly analogue approach reconnects keen drivers with nuance, delicacy and feel, creating a modern car with a positively old-school flavour. Yet perversely, with only 991 examples to be produced globally, one of the greatest drivers' cars of our time may also end up being hugely appealing to investors and regrettably not be driven at all.
Need to know:
Ultimate road-going version of current 911 limited to 991 units globally

Prices start at £136,901 with all examples already sold out

Rear-wheel drive, GT3 RS engine, bespoke six-speed manual gearbox
What is it?
The modern day expression of a purist's 911, or 911 essence, and since its unveiling at the 2016 Geneva Motor Show, the collective heart rates of car enthusiasts across the globe have been rising.

The details are mouth-watering: a rear-wheel drive 911 that uses the 4.0-litre, naturally aspirated flat-six from the track-honed GT3 RS, but without that car's extreme aero. It features a specially developed six-speed manual gearbox, not only shaving 20kg over the PDK gearbox used in the GT3 RS, but re-establishing a level of driver connection that was considered lost in the pursuit of ruthless efficiency.

Lap times may be of little concern for the R, but there are a further 30kg of weight savings over an RS - carbon fibre front wings and nose, a titanium exhaust, carbon ceramic brakes, less sound insulation - to make it the most responsive and entertaining road-going 911 on sale. It also boasts carbon ceramic brakes, a sports exhaust and Porsche Active Suspension Management (PASM) as standard, and even does without air conditioning and a radio, although both are no-cost options.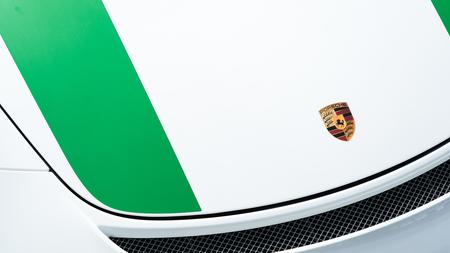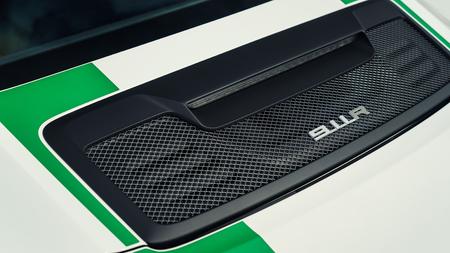 What's it like?
Alive, immersive and wonderfully old-school in its sensations. Aesthetically, it's a pleasingly subtle thing to admire, with no wings and a few choice nods to the original 1967 Porsche 911 R that will please the enthusiast. Our white test car with optional green stripes reminded us of the famous BP liveries of old.

As soon as you open the driver's door, the simplicity of the cabin reaffirms that sense of occasion. There is no radio, no rear seats and the rear windows are made from perspex. Your eyes glance the cloth door handles but are drawn to a gorgeous pair of (optional) fixed carbon seats from the 918 Spyder, trimmed in brown leather and retro hound's-tooth fabric. There's also a plaque on the dashboard telling you which of the 991 lucky owners you are.

Auto Trader was testing car number '000', which is a prototype designation to prevent any customer cars being harmed in the delivery of this review. Turn the key – we told you it was old-school – and the engine fires into a rich, sonorous blare. The GT3 RS donor engine develops 493bhp at 8250rpm with 339lb ft at 6250rpm and from inside, you can hear every metallic connection.

The 0-62mph time is quoted as 3.8 seconds which, judging from the blurry view of Scotland out of the windscreen, is entirely believable. Top speed is a monstrous 201mph because although the engine offers the same wonderful linearity that graces all naturally aspirated 911 engines, what's notable here is the step in power at higher revs, where flexing the needle beyond 7000rpm delivers another punch in the windpipe. It's savage. The six-speed manual gearbox is a welcome addition to the experience, too: it's short in throw and well married to three well spaced and weighted pedals to make the shifts feel much more engaging. Regardless of the tenths of seconds you may lose over a PDK transmission, it's an area of the car you'd really enjoy mastering, without the need for the standard rev matching function in Sport mode.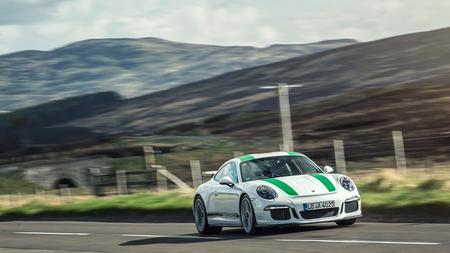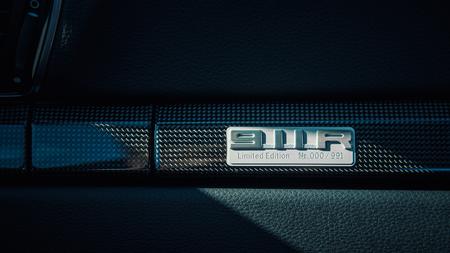 And yet weirdly, despite the inherited engine and rear-wheel steering, the R doesn't feel like a GT3 RS in stealth dress. The 991-series RS is a car that intimidates, feels super-planted, super grippy and games console fast. The 911 R, on the other hand, feels more agile, with a chassis that is far more communicative and mobile on a B-road. In many ways, the R feels more like a spiritual successor to the 997-Series 911 GT3 RS, albeit without the need for Popeye's left leg to change gear.

What makes the 911 R such a compelling road car, however, is that it feels both raw and still utterly usable, with a superb driving position, superlight steering that is consistently weighted, plus a suspension that has suppleness and composure even on broken surfaces. This truly is a 911 that's usable and engaging at all times; as eventful in the straights as it feels alive in the slow speed corners.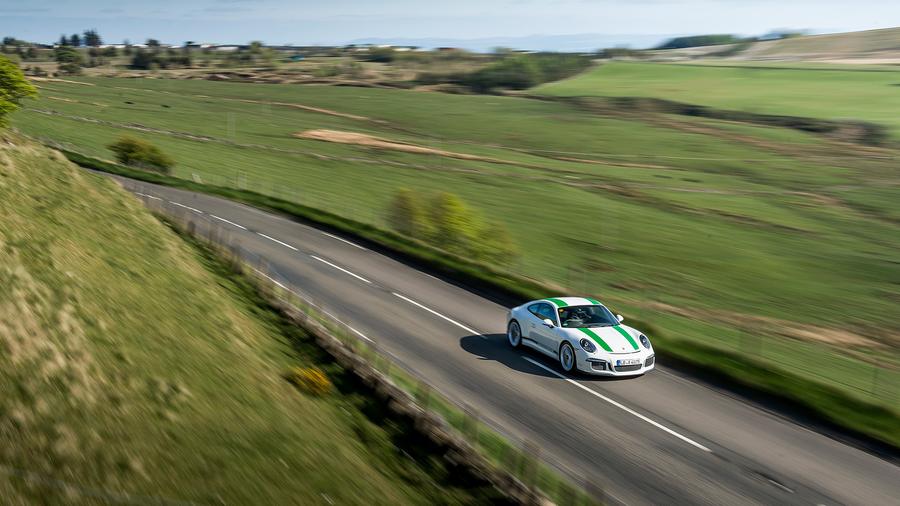 Should I buy one?
There is no need to temper your enthusiasm for the Porsche 911 R. It's a class act that's guaranteed a page in the history books. We drove this car four weeks ago and are still smiling. Seriously, we'd give it six stars out of five.
Key facts:
Model: Porsche 911 R

Price: £136,901

Engine: 4.0-litre flat six, six-speed manual

Power/Torque: 493bhp / 339lb ft

0-62mph: 3.8secs

Top speed: 201mph

Economy: 21.2mpg

CO2/BIK tax liability: 308g/km

Boot space: 115-litres (front)
Also Consider:
Lotus Exige 360 Cup
More challenging to live with but for pure driving thrills, only Lotus gets close to matching Porsche for handling clarity and performance

BMW M3 30 Yahre Special Edition
Another stealthily dressed option in severely limited supply, with 444bhp and just 500 cars being sold worldwide.

Porsche 911 Turbo S
Equally impressive Porsche, albeit in an immense techno-engineering feat kind of way. Easier to acquire too, with recalibrate-your-senses levels of performance

Interested in buying a Porsche 911?