First Drive 2016 Mercedes GLC Coupe first drive review
We drive the sportier version of the Mercedes GLC – which keeps its four doors, but gains a slinkier body, new engines, and lowered suspension for improved handling.
Last updated: 5th July 2016
Auto Trader Verdict:
Just as it did with the two-door C-Class, Mercedes has pulled off an impressive trick by creating the GLC Coupe. It retains the comfort, luxury and refinement of the GLC, but drives that little bit more sharply – and looks that bit more distinctive – giving credence to its place in the range as the 'desirable' version of this already excellent SUV. It's also worth noting that this 350d V6 is a welcome, and overdue, addition to the range.
Need to know:
Sleeker, lower version of Mercedes' mid-size SUV

New 255bhp, 3.0-litre V6 diesel model added to the range

GLC Coupe on sale now, 350d will be available from October
What is it?
A sportier, slinkier, and apparently more exclusive version of Mercedes' excellent GLC 4x4. With the world having gone mad for SUVs, it's now harder to stand out by buying one, so essentially this is the GLC for anyone who is a bit of a show-off.

It's longer, wider, and a fair bit lower than the standard car, and the roofline drops away gently from the C-pillar and settles onto a curvier boot, complete with a raised spoiler and lashings of chrome trim, just to reinforce the car's sporty credentials.

That means it also loses its rear wiper, and the number plate has been relocated to below the tailgate. Of course, this means the Coupe is a smidgen less practical than its sibling, with less boot- and passenger space, but it's still a fairly spacious thing.

There'll be a pair of trims from launch, as the GLC Coupe dispenses with 'SE' (the base trim in the regular GLC range) and kicks straight off with 'Sport'. As a result, equipment levels are extremely generous, and the team at Mercedes has also tweaked the steering and suspension to ensure that the coupe drives more sharply than the standard car, too. The question is, has it actually worked?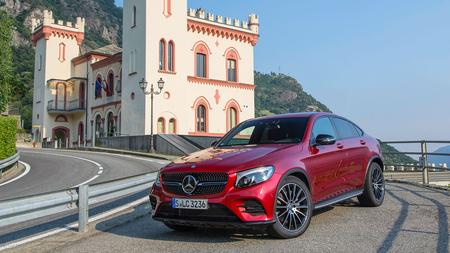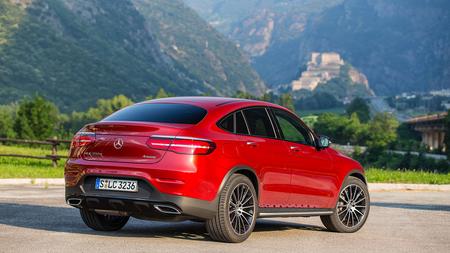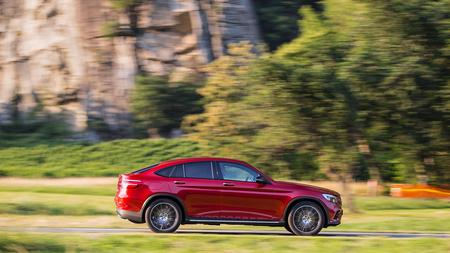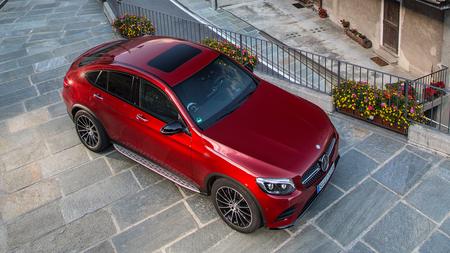 What's it like?
We have no intention of bad-mouthing the standard GLC – its 2.1-litre diesel engine has a respectable level of performance, and is fairly efficient, while the car handles well. Yet, this new V6-powered 350d feels like the version the SUV range has been crying out for.

It's not that the 3.0-litre engine in this car is drastically more refined, emitting a vocal multi-cylinder rumble when accelerating, instead of the harsher noise from the 250d. However, its broader spread of torque, and punchier acceleration out of corners and uphill, as well as its settled cruising ability, are all a perfect match for the GLC Coupe's upmarket image.

The larger engine also works better with the smooth nine-speed automatic gearbox that comes as standard. There are fewer gaps in the torque delivery when swapping between all those ratios, although if you start to hurry the transmission, then it's not as crisp, nor as eager to change down, as the equivalent eight-speed ZF gearbox in the BMW X4.

So, the GLC Coupe now has the muscles to match its price tag, but what about the handling? Well, despite the changes being relatively small – a quicker steering ratio and a lower centre of gravity courtesy of a drop in ride height – you can feel the difference on a challenging road.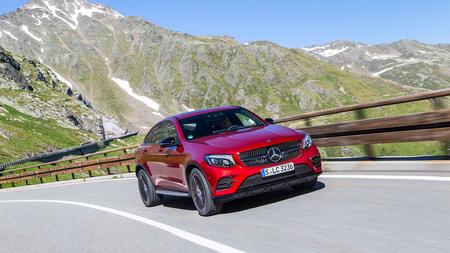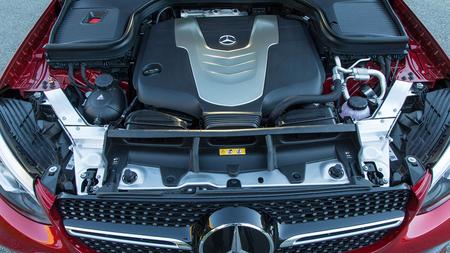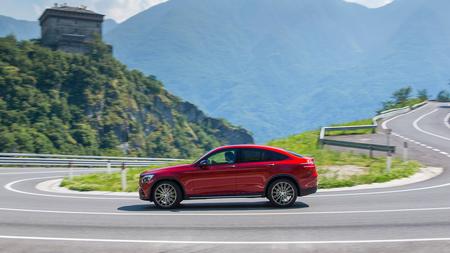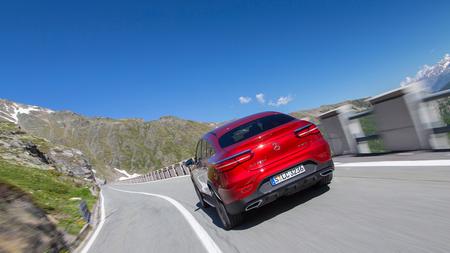 The Coupe just feels a shade more agile than the standard GLC, gripping harder, turning in more keenly and rolling less noticeably through really tight corners. The car we drove also had the optional £1,495 air suspension fitted, which creates a big difference between the five driving modes, with a really supple, soft ride in comfort mode, and a much firmer, tighter set-up in Sport +, as well as a 15mm drop in ride height.

It's still a car that is capable, rather than exciting, to drive, and its forte is in effortless cruising rather than tackling switchbacks. So, if you want a truly sporty SUV, we'd recommend testing a Jaguar F-Pace or Porsche Macan, but the Mercedes isn't too far behind.

Make up your own mind about the looks; but, if you do like this distinctive silhouette, then Mercedes will be hoping that you're also willing to pay extra for it.

Still, the company has been careful to make sure the compromises in practicality are small. The sloped roof eats into headroom in the back (six-footers will feel their heads brushing the lining), but the sacrifices in the boot are smaller, with the Coupe giving away just 60 litres with the seats up, and 200 litres with them folded down.

That means adventurous types can still fit a bike in the back; sensible types can put their children and friends in the rear seats; and, the coupe retains useful touches like seats that fold down at the push of a button, and a powered tailgate, for lazier types.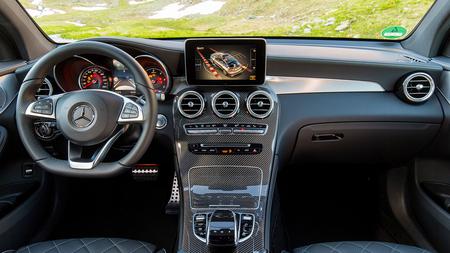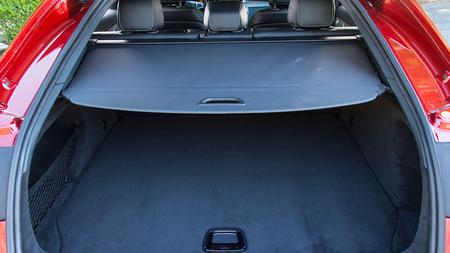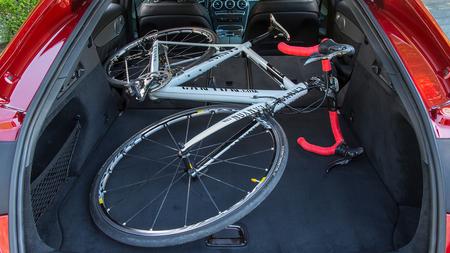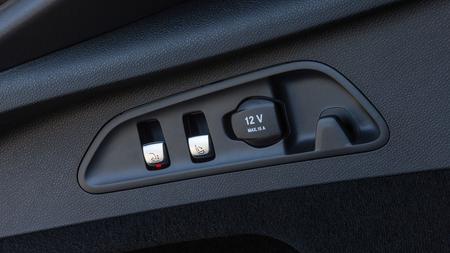 Should I buy one?
Objectively, we're not sure there is a clear reason to buy the Coupe over a normal GLC. Certainly, it does drive better and look more distinctive than the standard car, but unless you're really swayed by the new design, it's just not worth paying the £3,000 more. Instead, save that money, and spend it on a few of the choicest options instead.

The 350d is a fine addition to the range, too, but company car drivers are still likely to favour the cleaner 250d. The CO2 emissions for the V6 rise from 131g/km to 155g/km, pushing the car up several tax bands, while official fuel economy falls below 50mpg. Still, if you can afford it, this engine really is a perfect fit for the rest of this car's character.
Key facts:
Model: Mercedes GLC 350 d 4MATIC AMG Line

Price: £50,000 (est)

Engine: 3.0-litre V6 diesel, nine-speed automatic, four-wheel drive

Power/Torque: 255bhp/457lb ft

0-60mph: 6.2 secs

Top speed: 148mph

Economy: 47mpg (combined)

CO2/BIK tax liability: 155g/km/31%

Boot space with seats up/down: 491/1400 litres
Also Consider:
Range Rover Evoque
A proper coupe, with only three doors, and still the ultimate style statement from an SUV buyer, even if the Mercedes is more refined and better equipped as standard.
Jaguar F-Pace 3.0d S
Probably better to drive than the Mercedes on a winding road, with sharper steering and a rear-biased four-wheel drive system, but less refined and luxurious, too.
BMW X4
The closest rival in terms of design and concept, the X4 looks less distinctive, but has a slight dynamic edge, with a quicker gearbox and stronger six-cylinder engines.
Interested in buying a Mercedes-Benz GLC Class?