First Drive 2016 Kia Optima PHEV first drive review
Kia's family saloon gets a new plug-in hybrid version with super-impressive efficiency figures, but a sensible pricetag. Question is, is it any good?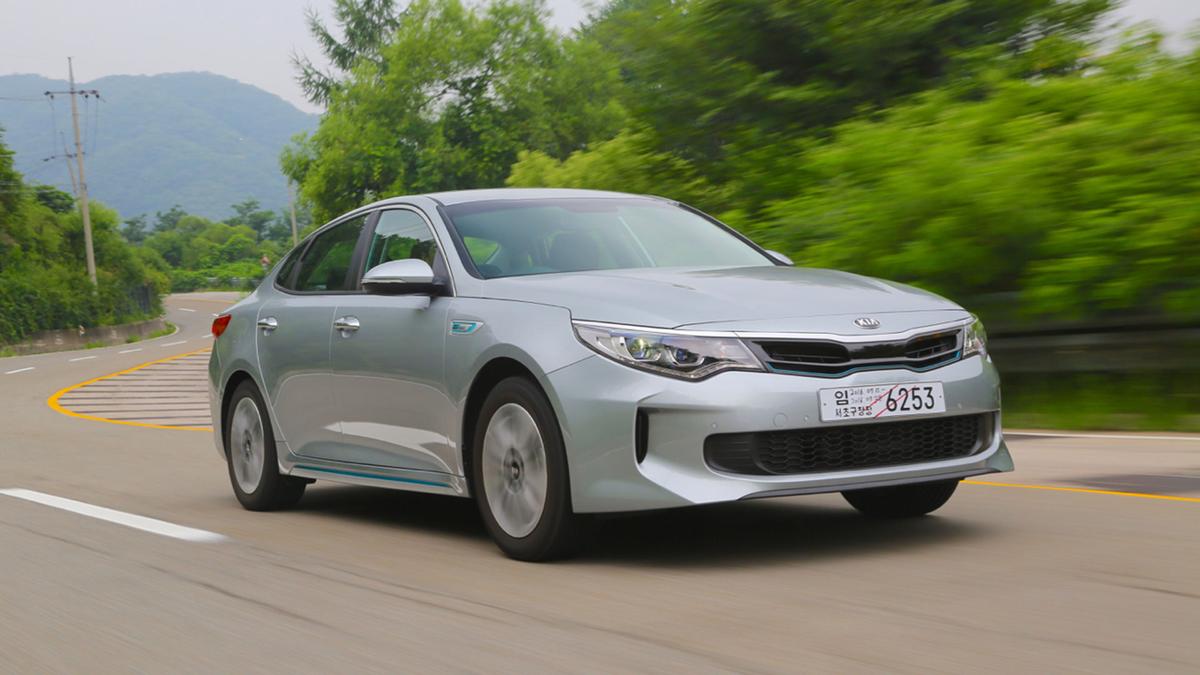 View gallery
Auto Trader verdict:
The Kia Optima PHEV doesn't feel like the most sophisticated plug-in hybrid on the market – not even close – but it is considerably cheaper to buy than most of its rivals and gives you all the same tax breaks. It also looks good and comes with lots of luxury kit.
Need to know:
New plug-in hybrid version of Kia's large family saloon

Returns 176.6mpg and 37g/km, according to official tests

Affordable for a plug-in car at £31,495 (after £2,500 Government grant)
What is it?
A new plug-in hybrid version of Kia's family saloon. That means it combines the Optima's usual mix of style and space with the newfound virtue of eco-friendliness.

The plug-in hybrid principle is a familiar one, and it's no different here. The car has a petrol engine, an electric motor and a whacking great big lithium-ion battery. When you plug the car in overnight, it allows you to run for a maximum of 33 miles on electric power alone, up to speeds of 75mph.

When the battery runs too low, the petrol engine fires up to help out with propulsion, and also gradually sticks some juice back into the battery as well. A full charge takes six hours from a domestic socket and three from a dedicated fast-charge point.

And the result? Well, like any plug-in hybrid, the Optima absolutely aces the official NEDC efficiency tests, returning an official fuel economy of 176.6mpg and a CO2 output of 37g/km. Obviously, the real-world figures won't be nearly so impressive, but the official figures still earn you massive tax benefits. If you're a company car driver, you pay tax on just 7% of the car's value, and if you're a private buyer, you get free road tax. And – no matter how you came by your car – you're also exempt from the London congestion charge.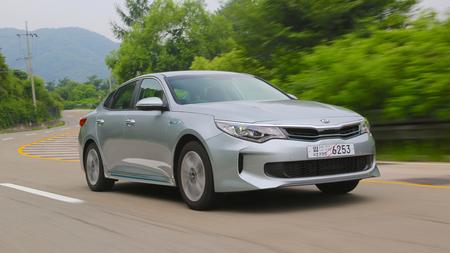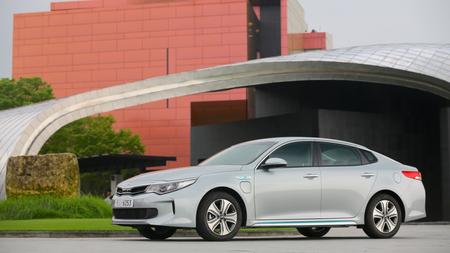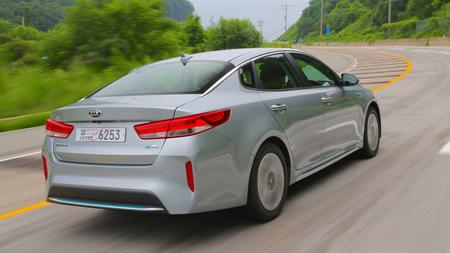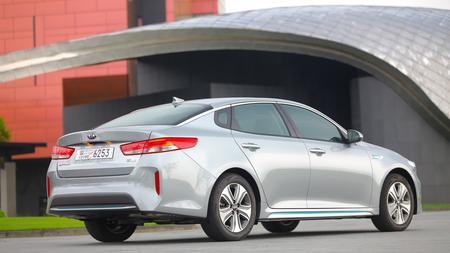 What is it like?
Well let's start with all the familiar Optima stuff. Like any other version of Kia's family saloon, you'll love the sharp styling, and you'll also be impressed by the quality on show. It's not quite up to Volkswagen Passat levels of plushness, but it's a match for pretty much anything else in the family saloon class, with (mostly) pleasant materials and an impressive standard of assembly.

It's spacious for passengers, too, with particularly generous rear legroom. However, the boot is considerably smaller than the regular Optima's due to the encroachment of the batteries, and the space isn't a particularly helpful shape, either, being long and narrow.

While all Optimas are generously stocked with standard equipment, the PHEV is only available in one high-spec, standalone trim level, so it's virtually bursting at the seams. As well as all the hybrid gubbins, you also get luxuries like front and rear parking sensors, climate and cruise controls, powered part-leatherette seats, four powered windows, wireless mobile phone charger and a 10-speaker Harman/Kardon stereo system that also incorporates sat-nav, Bluetooth, DAB, reversing camera, Apple CarPlay and Android Auto, all through an 8.0-inch touch-screen.

But what effect does all that hybrid gubbins have on how the car behaves on the road? Well, not a good one, unfortunately.

There are two basic driving modes: EV drives the car purely on electric power and HEV mode employs both power sources. Because our drive took place on the same day as many other people's, the batteries had long since been depleted by the time we got to the car, so we couldn't try EV mode, a mode that's very likely to give you a quiet, serene driving experience.

In HEV mode, however, it's anything but. If you apply any sort of meaningful pressure to the throttle pedal, or even if you come up against any sort of incline, the automatic gearbox immediately kicks down and works the petrol engine to its limits. The transmission also has a tendency to search around for the correct ratio, and seldom finds it at the first time of asking. The volume and the harshness of the noise make driving the car too wearing for too much of the time. It's not like you're repaid with strong pace, either; it's reasonable, but the car feels nowhere near as strong or as flexible as the combined power output of 202bhp would suggest.

Like with all Optimas, the low-speed ride is also rather knobbly, and despite revisions to the PHEV's suspension to cope with the extra weight, the same is true here. The steering also feels disconcertingly light and remote when you're going faster, which doesn't inspire a lot of confidence, but at least the car takes bends with plenty of grip and decent suppression of body lean.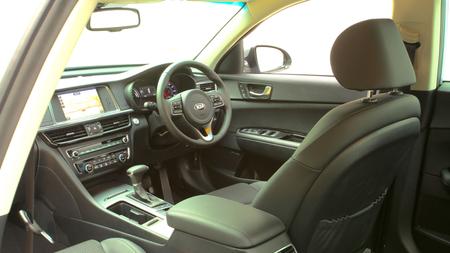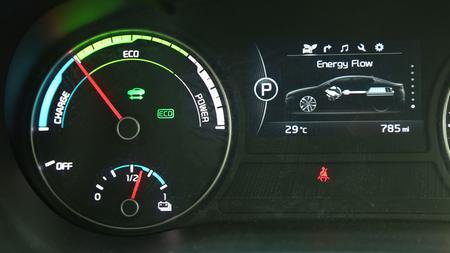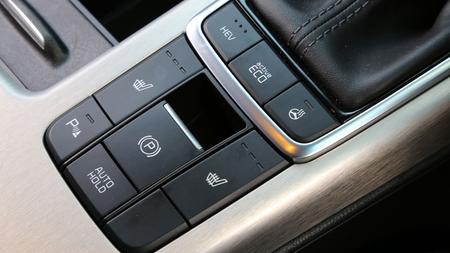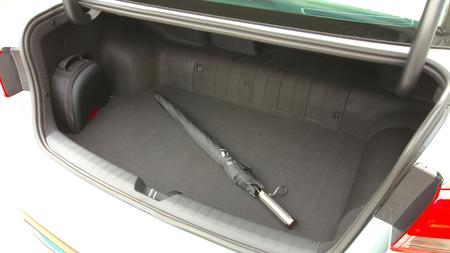 Should I get one?
There are several reasons why you might. The looks, the space, the generous standard equipment, the piffling running costs and huge tax advantages to name just a few. There are also a few reasons you might not, not least the poor refinement in HEV mode.

However, there's one thing that might make you consider it regardless, and that's the price. At £31,495, after you factor in the Government grant for which it qualifies, the Optima PHEV is thousands cheaper than most other plug-in hybrids on the market, and in a lot of cases, many thousands. For many folk, getting access to all those tax breaks without having to part with quite such a huge outlay in the first place will be worth a bit of noise. The seven-year/100,000-mile warranty on the whole car – including the hybrid bits – might also make you a little more tolerant.
Key facts:
Model: Kia Optima PHEV

Price: £31,495 (after £2,500 Government grant)

Engine: 2.0-litre petrol, electric motor, six-speed automatic gearbox

Power/Torque: 202bhp/277lb ft (both power sources combined)

0-60mph: 9.1secs (in hybrid mode)

Top speed: 119mph

Economy: 176.6mpg

CO2/BIK tax liability: 37g/km/7%

Boot space: 307 litres
Interested in buying a Kia Optima?