First Drive 2016 Jaguar F-Pace 2.0d R-Sport first drive review
We drive the new Jaguar F-Pace on and off-road to see if the British brand's first venture into the lucrative SUV segment is a success, testing out the popular 2.0-litre diesel.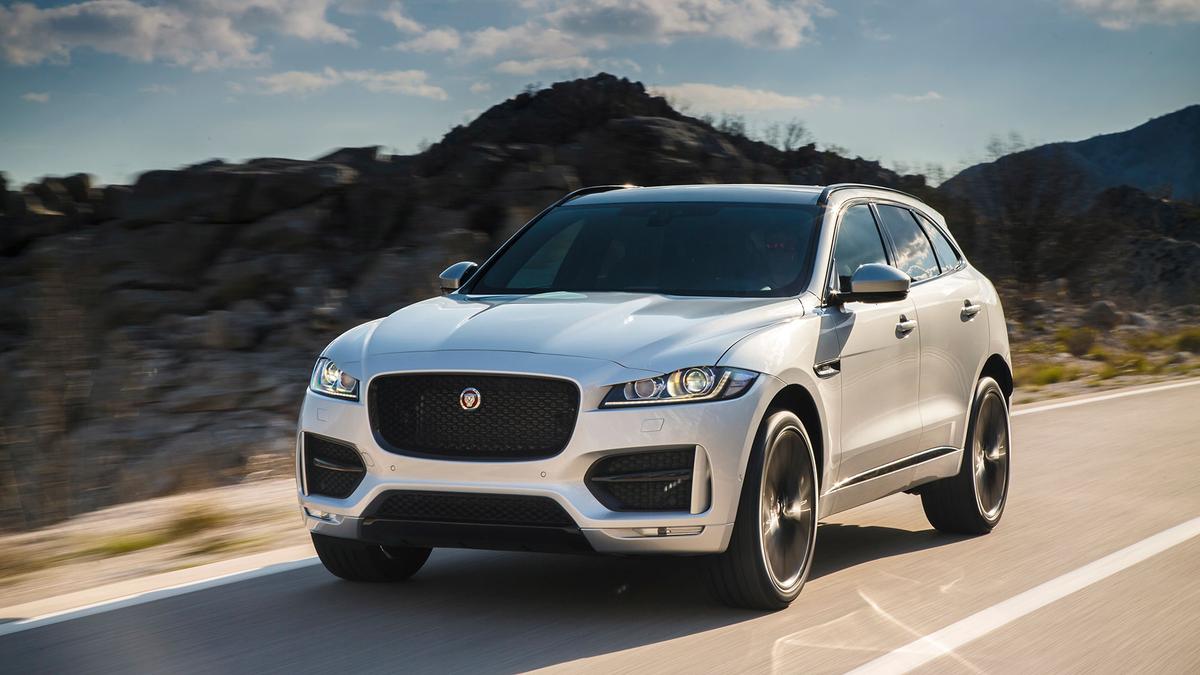 View gallery
First published: 8th April 2016
Auto Trader Verdict:
The Jaguar F-Pace is the product of a car company that is currently going about its business with real swagger, and that confidence shines from every part of this car. It handles better than 90 per cent of its rivals, yet is also more practical. It has enviably low everyday running costs, yet feels modern and luxurious inside. You can hurl it through a corner one minute and traverse a mountain slope the next. It may not be perfect, but it's more than good enough to make its guaranteed success thoroughly well deserved.
Need to know:
Jaguar's new SUV driven on- and off-road

Available in rear- and four-wheel drive forms

On sale now, priced from £34,170 on the road
What is it?
The big one for Jaguar, and quite literally, as it turns out. The F-Pace represents a huge departure for the brand, yet ironically this new SUV is likely to become its best-selling model yet. It has a serious job, too, as not only is this car tasked with pinching sales from the likes of Audi and BMW, but it also needs to contend with more exotic fare from Porsche and Maserati.

It looks like no Jaguar before, and has a broader spread of capabilities than other cars in the range, and those two facts alone will make it appeal to an entirely new customer base. Yet all the ingredients beneath the imposing exterior have a familiar ring to them. It has the same aluminium-rich platform as the latest XE and XF saloons, the same double-wishbone front suspension, and the same mixture of four-cylinder and V6 engines as well.

The range kicks off with a rear-drive, manual 2.0-litre diesel that emits just 129g/km – a key figure for fleet managers and company car drivers alike – and tops out with a supercharged 3.0-litre V6 petrol borrowed from the F-Type, with four-wheel drive and a healthy 375bhp on tap.

As with most big SUVs, the largest slice of UK sales will be of the more sensible four-cylinder 'Ingenium' diesel, paired with four-wheel drive and an eight-speed automatic gearbox. It's this model we're testing here, in R-Sport spec and on adaptive suspension.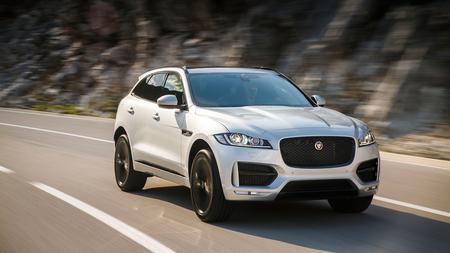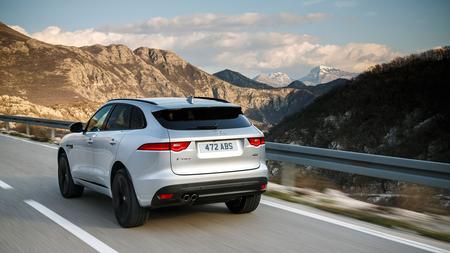 What is it like?
The biggest compliment that we can pay Jaguar is that the F-Pace delivers such a good first impression that it makes you wonder what on earth took them so long in building an SUV. The design studio has been on a bit of a roll of late, and while this car borrows its cues and details shamelessly from the rest of the range, the overall effect is really easy on the eye.

Part of this imposing presence is down to its size; at over 4.7 metres long and almost two metres wide, the F-Pace is an order larger than rivals like the Audi Q5 and Mercedes GLC. We have no doubt that this design will be a tad sensitive to both colour and wheel choice, but in the R-Sport trim we tested, you get 19-inch alloys as standard and it does look the business.

That size also means Jaguar can rightly claim that the F-Pace is one of the most practical 4x4s in this class, and without treading on the toes of the seven-seat (and similarly priced) Discovery Sport from sister manufacturer Land Rover. It provides a whopping 650 litres of boot room with the rear seats up, and while that second row doesn't fold entirely flat, anything short of a futon is going to fit nicely. There is a high transmission tunnel to contend with for rear passengers, and the wheel arches narrow the door openings, but the width of the cabin means three adults can still sit comfortably.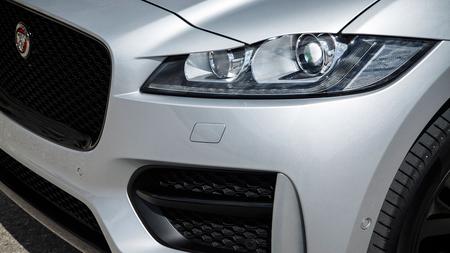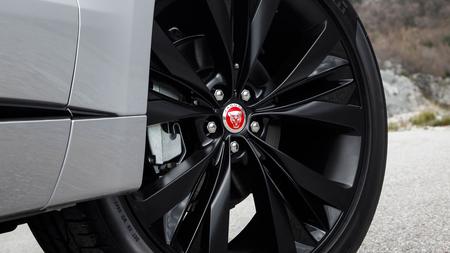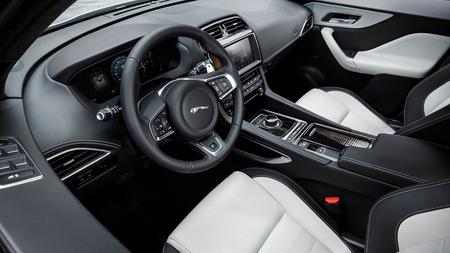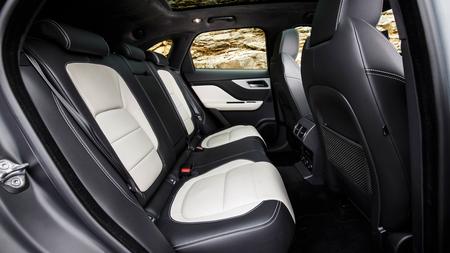 Those lucky enough to sit in the front are treated to what is undoubtedly Jaguar's best cabin layout to date. The wraparound dash design is familiar, but the raised seating position gives you room to breathe where, especially in the XE, you feel rather hemmed in. It feels modern, too, with the combination of a 12.3-inch LCD display that sits in place of conventional dials and the bright, colourful and – at last – properly slick and responsive InControl Touch Pro sat-nav and infotainment system. This system also puts a host of apps and true connectivity at your finger tips.

Minor niggles remain, with the bizarre placement of the window switches high on the doors and some rather flimsy feeling plastics hidden below your eyeline chief among them. But, for many buyers, this will be their first experience of a Jag interior, and it won't disappoint.

So the F-Pace looks fantastic and is spacious and modern enough inside to meet the needs of even the most active and tech-savvy imaginary SUV buyer. However, ticking those boxes will have been a relatively simple task compared with this car's biggest task: delivering the kind of cultured driving dynamics that people expect of any Jaguar these days, along with enough off-road ability and comfort to still be a credible alternative to the established SUV hierarchy.

Let's get the first half of the equation out of the way quickly. Yes, the F-Pace really does deliver the type of excitement from behind the wheel that is often missing from this class. It steers with a quickness and consistent weight that gives you bags of confidence, and on the optional adaptive dampers, its composure and body control through fast corners are stunning.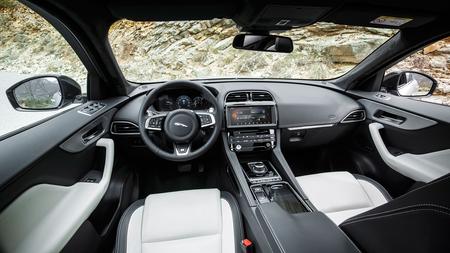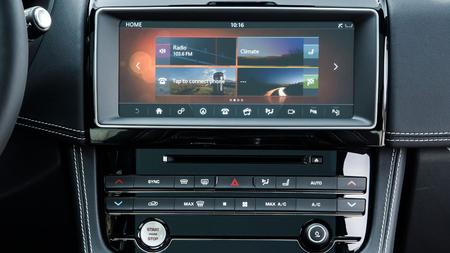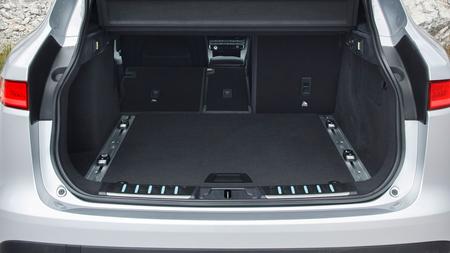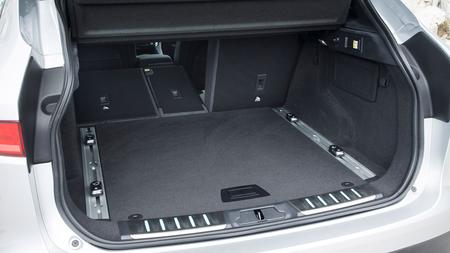 Part of the secret to this agility is the weight (the F-Pace is a shade lighter than a Porsche Macan) but the four-wheel drive system has a part to play, too. Just like in the F-Type, power is sent mainly to the rear wheels, and only transferred to the front when needed; and, because of this you can play with the balance of the car mid-corner. Push even harder and you can feel it nipping the brakes of the inside rear wheel for you to tighten your line into sharper turns.

No matter how battered or lumpen the road gets (and we tested it on marble smooth roads, crumbling, rock-strewn tracks and every surface in-between) the F-Pace does a brilliant job of isolating those on-board from the severe punishment being dealt to the suspension. Even in its sportiest setting, the ride remains firm but well judged, and never gets uncomfortable.

So the handling is real triumph, but the pairing of the 2.0-litre 178bhp 'Ingenium' diesel and the eight-speed automatic gearbox remains a decent, rather than exceptional, combination. It gets a little noisy when worked hard, and while there is plenty of torque in the mid-range, it is only available in a fairly narrow band; something reflected in the 8.7-second 0-62mph time.

The gearbox is quick to work its way up through the ratios unless you configure it to hold onto the gears longer and keep it at high revs, but it can occasionally get caught out if you need a sudden spurt of acceleration. This is less of a problem in the potent V6 variants, which benefit from a broader spread of power, but something you do notice in this model.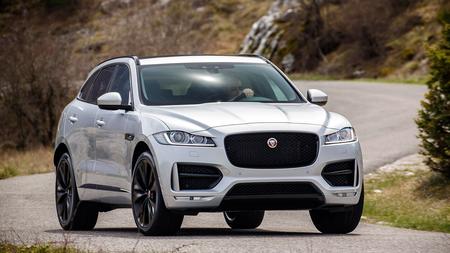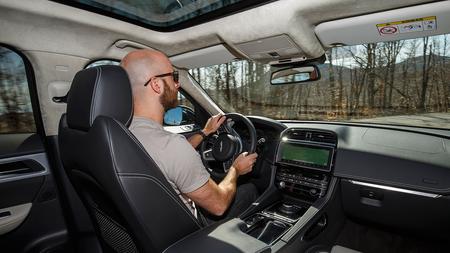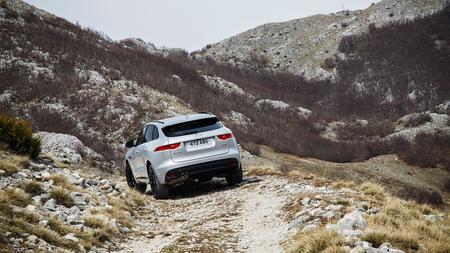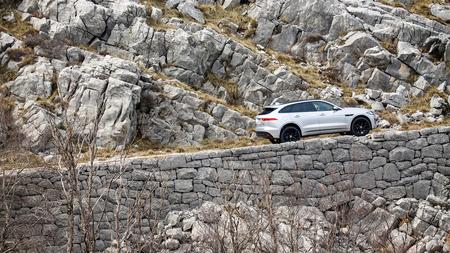 Should I buy one?
Anyone who finds themselves seduced by the F-Pace for both its styling and the promise of a large 4x4 that handles more like a well-sorted saloon than a heavy truck can rest assured that investing in one will not require any kind of short- or long-term financial sacrifices.

Plenty of rivals offer similar – and often stronger – straight-line performance for the £40,360 that Jaguar is asking for this version, but few (if any) will be able to match the F-Pace when it comes to running costs. This model emits just 139g/km of CO2, promises to return over 50mpg, as well as strong residuals and kindly service intervals that mean it'll be affordable to run, too.

Remarkably, then, it seems like Jaguar has managed to build an SUV that genuinely brings something new to this class, without compromising on any of the mundane but essential facets that will ensure it can appeal to company car drivers and company directors alike.
Key facts:
Model: Jaguar F-Pace 2.0D 180 R Sport AWD Auto

Price: £40,360

Engine: 2.0-litre four-cylinder diesel, eight-speed auto

Power/Torque: 178bhp/318lb ft

0-62mph: 8.7secs

Top speed: 129mph

Economy: 53.3mpg

CO2/BIK tax liability: 139g/km/27%

Boot space seats up/down: 650 litres/1,740 litres
Also consider:
Audi Q5
Getting on now, but the potent 3.0 TDI V6 costs the same as the four-cylinder Jag
Mercedes GLC
Less distinctive, but a smart cabin, punchy engine and lower CO2 emissions are all plus points
BMW X4
Compromised on practicality and ride comfort, but fine to drive on adaptive dampers
Interested in buying a Jaguar F-PACE?