First Drive 2016 Audi SQ7 first drive review
The new Audi SQ7 claims to be the world's most powerful diesel 4x4, with a stonking new 429bhp V8, and all the latest chassis tech. Can it be as exciting a quick petrol SUV?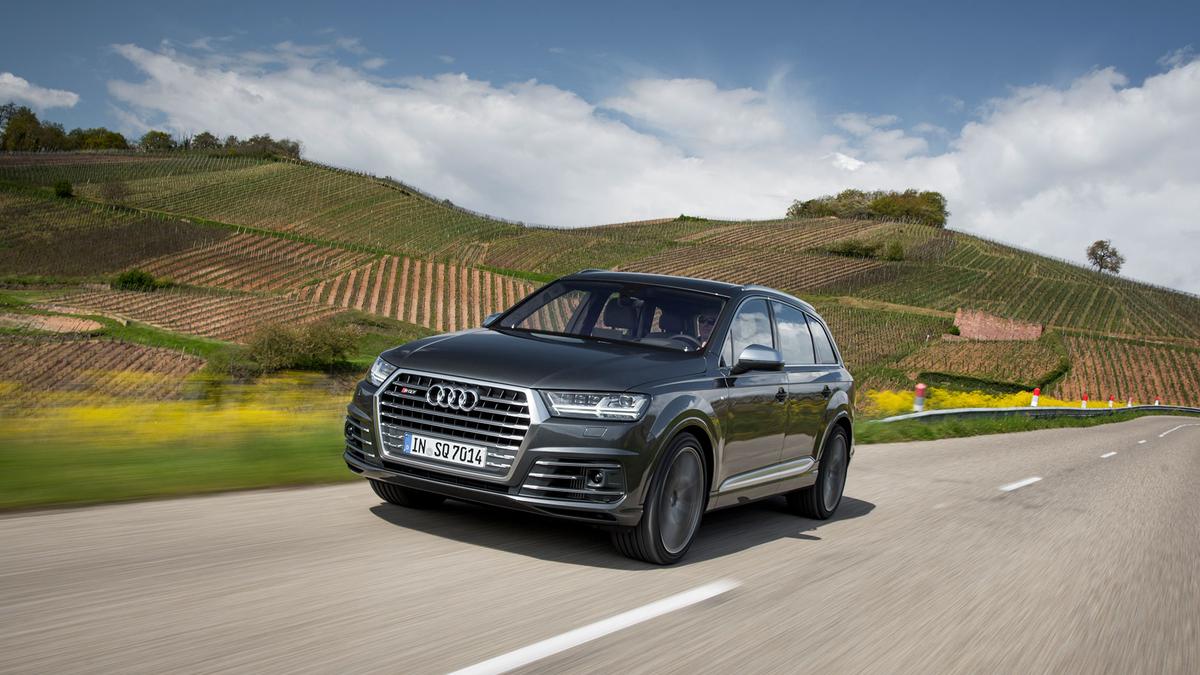 View gallery
First published: 5th May 2016
Auto Trader Verdict:
The Audi SQ7 proves that a fast diesel SUV can be every bit as exciting as a petrol, and its V8 has to be driven to be believed. It sets new standards for performance and refinement, and its trick suspension systems are equally impressive. Some rivals are a bit more involving to drive, but none can match the Audi's all-round ability.
Need to know:
Audi launch world's most powerful diesel SUV

429bhp 4.0-litre V8 tri-turbo, 0-62mph in 4.9 secs

On sale May, priced from £70,970 on the road
What is it?
The world's fastest and most powerful diesel SUV – Audi is fond of a superlative, but the new SQ7 certainly lays down a real gauntlet in the performance 4x4 market, both with sheer grunt, and its tech.

It's not achieved that mantle by a small margin either, it's several degrees hotter than any of its rivals from Porsche, Range Rover or BMW, and also more mechanically complicated underneath.

Powered by a brand new 4.0-litre twin-turbo V8 engine with well over 400bhp, it boasts V12-esque levels of shove-you-in-the-back torque (think 664lb ft available from tickover upwards), so it can accelerate much quicker than any 2.3-tonne SUV has any right to.

It also features the same high-capacity 48v electrical architecture first seen on the Bentley Bentayga, which powers two very clever new pieces of dynamic kit, and (we're told) more innovations in the future, but we'll delve deeper into the technical nitty-gritty below.

There is only one trim of SQ7, but while the SQ5 always seemed like a bit of a performance bargain, this seven-seater starts at over £70,000 – and that's before you start ticking off the option boxes.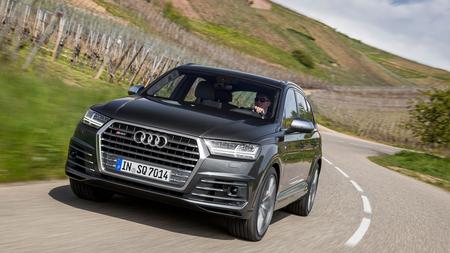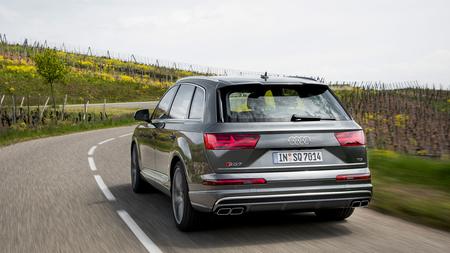 What's it like?
That V8 engine dominates the driving experience in a way that no other diesel ever has before. It'll feel right at home in the
Bentayga
when Bentley slots it into its own, ultra-exclusive SUV next year.
It's monstrously quick in a straight-line, with a mountain of torque that builds from virtually no revs and never seems like it's going to let up. Only the brief pauses for a gearshift interrupt the relentless way it piles on speed; accompanied by a wonderful, bassy rumble.
If anything, it's a little excessive – anyone with a family would find themselves especially unpopular if they tapped into the SQ7's full reservoir of performance with their loved ones sat on-board. As we wound down a tight, slippery mountain road, the speed it can carry becomes faintly alarming, as you realise just how much work the huge (optional) carbon discs are doing to keep it all in check.
Overkill or not, it's hard not to have a smile plastered across your face each and every time you bury the throttle, and as a technical achievement alone, this powertrain sets new class benchmarks.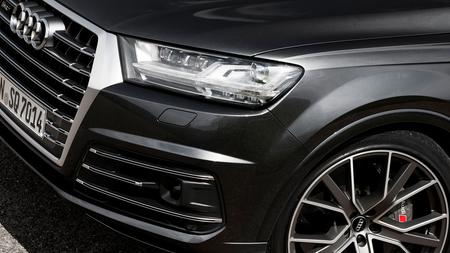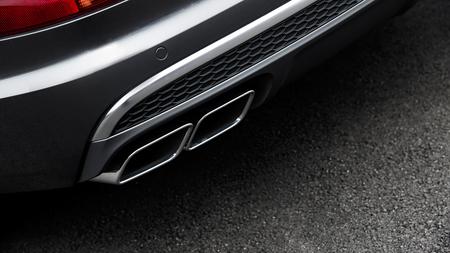 The secret behind the indecent turn of speed is an electrically powered compressor (or EPC for short) that essentially acts as an extra turbo. It spools up in a fraction of a second, whether the engine is cold or hot, forcing air into the engine and reducing the lag from the two conventional turbos virtually to zero. It's a world first technology, and one that will help improve fuel efficiency and performance across the Audi range over the next few years.

Bruising straight-line performance has been a consistent feature of all recent fast modern Audis – petrol or diesel – but the new SQ7 is equally adept in the corners as well. However, we have to put a slight caveat on that appraisal, as all the test cars we drove came fitted with the driving dynamics package to improve the handling.

As standard the SQ7 has tweaked steering and lowered adaptive suspension, but the dynamics pack (likely to cost around £8,000) adds a sport differential which can shuffle power between each of the rear wheels, four-wheel steering to improve maneuverability, and finally (and most importantly) a set of adaptive anti-roll bars.

The combined effect of these systems all working together is tantamount to witchcraft. It grips ferociously, and the body remains flat and composed no matter how fast you enter a corner. Yet stick the SQ7 in comfort mode and it'll ride like a limo, even on the 21-inch wheels of the car we tried, no matter how bumpy the road is.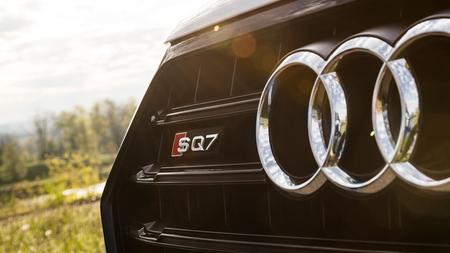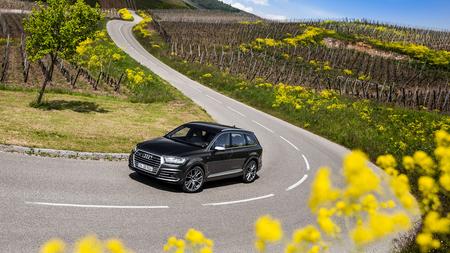 It's a bit of a shame then that the steering can't match the brilliance of the chassis. It's fast and direct, but the weighting can be a little inconsistent, and it doesn't give you the same level of feedback as a Range Rover or a Cayenne, something that matters when you're trying to place something this fast and heavy with real confidence.

Elsewhere, the SQ7 is much the same as any lesser Q7. So you get seven standard seats, lots of space on-board, and a gorgeous cabin that feels beautifully made and in now liberally sprinkled with SQ7 badges, and fitted with a pair of figure hugging sports seats.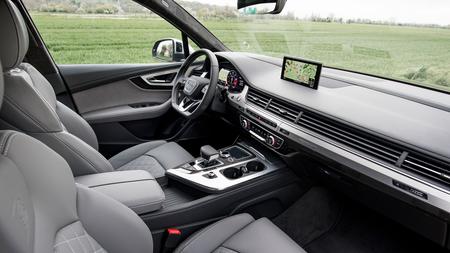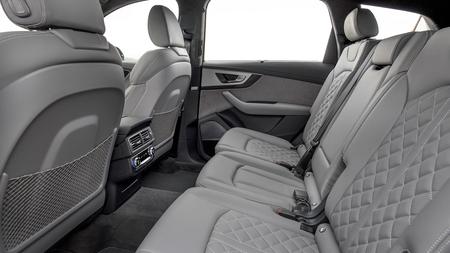 Should I buy one?
As a technological show case the SQ7 is hard to fault. It's nearly as exciting to drive as some petrol rivals, but without the same unquenchable thirst for fuel; Audi claims it'll return close to 40mpg.

However, as brilliant as this new engine is – unless you simply have to have the fastest version of something, then we're not sure if its worth the extra over the standard, equally brilliant Q7 3.0 TDI.

It does come well equipped for that money, with all the luxury kit you'd expect from a £70,000 car, and strong residuals to boot, but we'd like to try one without all the optional handling gubbins before giving it our full seal of approval.
Key facts:
Price: £70,970

Engine: 4.0-litre V8 tri-turbo, eight-speed automatic

Power/Torque: 429bhp/663lb ft

0-62mph: 4.9secs

Top speed: 155mph

Economy: 39.2mpg

CO2/BIK tax liability: 190g/km / 37%

Boot space with 7/5/2 seats: 235/770/1,850 litres
Also Consider:
BMW X5 M50d
Another seven-seat SUV with a complicated, powerful diesel engine, the X5 isn't as spacious as the SQ7, but is cheaper.
Range Rover Sport
Even in standard trim the Range Rover matches the SQ7 for comfort, but its also nowhere near as fast or nimble in the bends.
Porsche Cayenne Diesel S
Sharper steering and a lighter weight mean the Cayenne is still the driver's choice in the SUV world, but it's firmer than the Audi.
Interested in buying an Audi Q7?