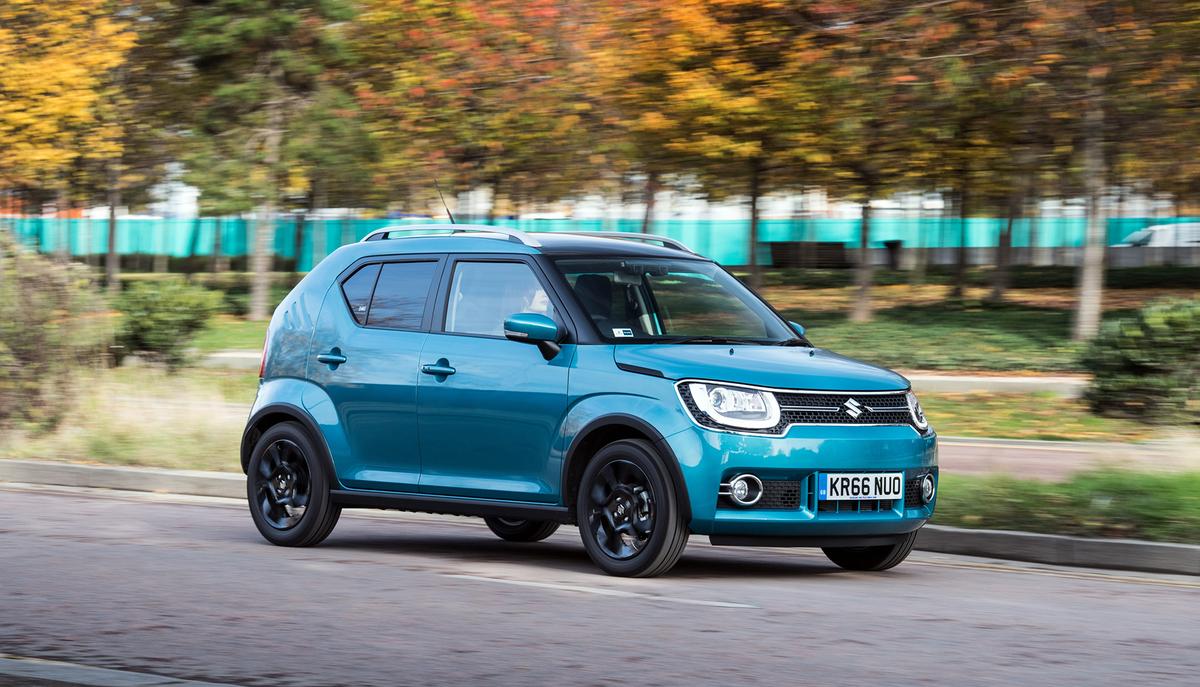 View gallery
The Auto Trader expert verdict: ★★★★★

★★★★★
3.5
With its distinctive styling, surprising amount of interior space and highly competitive price, the Ignis has joined the growing band of must-have city cars. Certainly, it's not the most comfortable car, it's not particularly refined and you definitely don't want to look too closely at the material quality. But, despite this, the Ignis is essentially a fun and likeable little car. A word to the wise, though: only top-trim cars get what we would consider to be the requisite amount of safety kit as standard, so choose with care when specifying your Ignis.


Reasons to buy
Funky styling

Cheap to buy and economical to run

Tardis-like interior space
Pick of the range
All of the fun and all the safety kit
Most economical
Mild hybrid system boosts economy to 65.7mpg
Best avoided
1.2 Dualjet + SHVS SZ5 ALLGRIP
Priciest model; only worth considering if you need four-wheel-drive
How good does it look?
"
The Ignis oozes more street cred than a Shoreditch postcode
"
One thing's for certain: even when surrounded by exotic 'lifestyle' rivals, the Ignis is sure to get you noticed. Thanks to its mini-SUV styling, complete with 'clamshell' bonnet, raised ride height, silicone-enhanced wheel arches and smoked alloys, the Ignis oozes more street cred than a Shoreditch postcode. There's even a nod to a time when cheesecloth and Curly-Perms were all the rage: the three bold stripes on the rear quarter panels, apparently pay homage to the engine-cooling air vents on Suzuki's funky 1970s' Whizzkid city car.

What's the interior like?
Inside, the Ignis may not be big on material substance, but it certainly looks a bit 'out there'. With contrasting acid blue and Jaffa orange instrumentation, what looks like a discarded thermos flask turned on its side housing the air-con controls, and a row of ancillary toggle switches, it's a refreshingly cheerful treatment, especially compared to the rather bland cabins in the Vitara and SX4. Additional colour-coded flourishes around the gearlever and the internal door handles are mirrored by a painted centre console, stamped with a repeat of the three stripes on the rear wings. Unfortunately, the steering column only adjusts for height; and when we say adjusts, we mean it nose-dives onto your lap like an anvil off a cliff as you release the locking lever. Not to be outdone, the glovebox lid also crashes from its mooring with a proper wallop when you release it. Although the overall ambience is undoubtedly funky, it pays not to look too closely at many of the fixtures and fittings, as many exposed screw heads are on display and the pallid swathes of plastic, especially on the doors, have all the allure of a re-cycled washing-up bowl.
How practical is it?
Despite its dinky dimensions – the Ignis measures just 3.7 metres from bumper to bumper, which is considerably less than, say, a Ford Fiesta – there's a surprising amount of room inside, including enough leg-, head- and elbow for four to travel in reasonable comfort. The boot is not massive, but with a little determination, you'll jam a quartet of squishy sports bags in, no problem. The entry-level cars get three pews in the rear and the backrests split and fold 60/40 so you can extend the Ignis' load bay. If you step up to SZ-T trim, the three seats become two, but you do get additional versatility, as they slide back and forth, and the backrests incline and divide 50/50. You pay your money etc.

What's it like to drive?
The Ignis is short and narrow, meaning it has a small footprint on the road, and when you factor in the relative height of the body, you'd expect the car to feel rather top-heavy. In fact, it really doesn't. The body control is impressively tight, meaning that there's little danger of clouting your head on the side windows when a corner suddenly tightens, and it also mean very little nose dive when you hit the brakes hard. This impressive control also makes the car feel reasonably nimble, but unfortunately, the handling isn't helped too much by the steering. It's desperately slow, both to react and to turn, and with very little in the way of a self-centring action, the car doggedly sticks to the line of a steering input long after you pressure on the wheel has been released, and that can feel a little unnerving. The tight body control also means rather firm suspension settings, meaning that the ride can feel rather jittery over patched-up urban surfaces. You'll feel a pretty sizeable clout in the backside over potholes and sunken drain covers, too, but the ride quality does improve a little bit at faster motorway speeds.
How powerful is it?
"
Buzzing along, zipping in and out of traffic, is a proper hoot
"
All versions of the Ignis are powered by a 1.2-litre petrol engine with 89bhp, and on some versions, that's backed up by a basic hybrid system that makes the car a fraction faster against the stopwatch and enhances economy figures slightly. In truth, you'll struggle to tell the difference between the versions, because the electric motor contributes more to efficiency than it does to performance. Once the initial assistance tails off, you're left with the same shortage of low- and mid-range torque that the other versions give you, meaning the same downshift will be needed when running into uphill gradients or when trying to push on past slower traffic. This also contributes towards a 0-60mph sprint time that wouldn't scare a librarian's book trolley, but if you can look past that, there is fun to be had. The engine loves to be revved mercilessly and the gearshift is a little sweetie, so buzzing along, zipping in and out of traffic and wringing every ounce of performance out of the motor is a proper hoot. Granted, that does make life pretty noisy, but that kind of adds to fun. And, unlike some city cars, the Ignis feels encouragingly solid on the motorway, with the engine feeling relaxed at cruising speeds.
How much will it cost me?
A big part of the Ignis' appeal is its attractive pricing and – at around £10K for the most basic model – the sheer amount of car you get for your money. We also expect the Ignis to have residual values at least as strong as Suzuki's most popular model, the Vitara. The Ignis' fuel economy is competitive, too: the 1.2-litre petrol model averages 61.4mpg and emits 104g/km of CO2; and, as the automatic version is effectively a robotized version of the manual gearbox, it has identical fuel consumption figures, CO2 emissions and tax implications as the manual car. Those who prefer the idea of additional traction will suffer a tiny bit at the pumps, as the four-wheel drive 'Allgrip' version reduces the Ignis' average to 60.1mpg. If you decide to push the boat out and pay the extra for the mild hybrid (SHVS) version, then you will improve your fuel economy by around 5mpg, but you'll need to do an awful lot of miles to get back your extra initial outlay.

How reliable is it?
"
The company sits very near the top of Warranty Direct's manufacturer standings
"
Suzuki has an excellent reputation for reliability, which is backed up by the company's impressive performance in Warranty Direct's manufacturer standings, sitting very near the top of the table. Obviously, the Ignis is too new for any data to have been collated on it, but it certainly gives the impression that it is solidly built, while the engines and gearboxes all have a polished, well-developed feel.
How safe is it?
It would be wrong to suggest that the Ignis' light weight has in some way contributed to its poor Euro NCAP performance; but, even so, a three-star rating for a new vehicle in this day and age is not exactly encouraging. Thankfully, you can improve that performance either by going for a top-trim car or by specifying extra safety kit as part of an options pack. This includes a system called DCBS (Dual Camera Brake Support), which incorporates cameras mounted on each side of the driver's rear view mirror that function in a similar way to the human eye. The system can detect objects (including pedestrians) in the car's path and alert the driver, with full braking automatically applied if necessary. All versions of the Ignis are fitted with six airbags, two ISOFIX locations, a flat-tyre monitoring system and electronic stability programme as standard.

How much equipment do I get?
In comparison to some manufacturers' rather confusing line-ups, the Ignis is pretty straightforward. There are simply SZ3, SZ-T and SZ5 trim levels and, while the entry-level SZ3 version is pretty basic, it will give you air-con, electric windows, a CD player and DAB radio with USB connectivity. You'll also be stuck with steel wheels and plastic covers, but you do get three fixed rear seats instead of the two sliding items found in the higher-spec cars. Something to consider if you regularly carry more than three passengers... On top of that, SZ-T models get a 7.0-inch touch-screen infotainment system, which links directly to your smartphone and incorporates Android Auto and Apple CarPlay. Top-spec SZ5 trim includes this and sat-nav, keyless entry, dual-zone climate control and LED headlights, as well as the crucial extra safety kit mentioned earlier.

Why buy?
With our white coats on, we could probably list plenty of reasons why not to buy the Ignis. For a start, the Volkswagen Up is a far more accomplished car in almost every area. In many ways, though, that is missing the point. The Ignis' SUV styling is sure to have massive appeal to a younger audience, and the facts that it drives well enough, has plenty of space, and is cheap to buy run and insure are further positives. Just ensure you can afford SZ5 trim, which comes with additional safety kit, including autonomous braking. Either that, or tick the options box for the additional safety kit.