Expert Review
Mercedes-Benz C Class Convertible (2018 - ) review
The C-Class Cabriolet is the first open-top version of Mercedes' luxurious compact saloon – but has it got what it takes to beat its glamorous rivals? Read our expert review to find out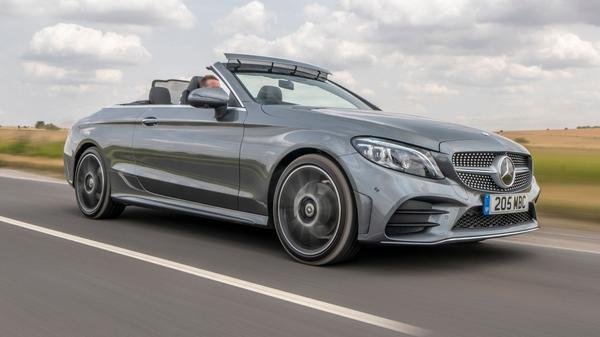 Words by: Auto Trader
Last updated on 26 November 2019 | 0 min read
The Auto Trader expert verdict:
Available new from £91,225
With its shrunken S-Class looks, superb cabin and wide engine range, the Mercedes C-Class Cabriolet offers, on the face of it at least, fantastic spread of abilities, while the impressive refinement and efficient diesels should make it easy to live with. But its glamorous styling will have to hide a car of real talent to give it an edge over such talented rivals as the BMW 4 Series Convertible and Audi A5 Cabriolet.
Reasons to buy:
Stunning interior
Low running costs
High equipment levels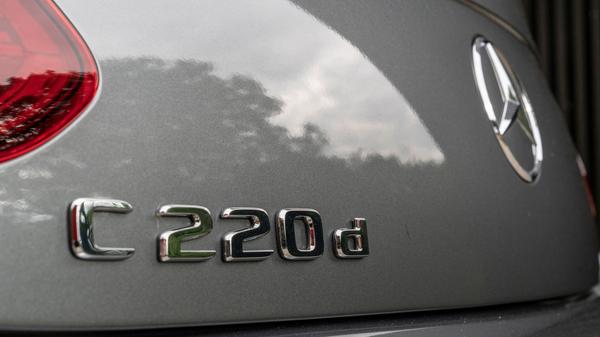 Running costs for a Mercedes-Benz C Class
There's a broad range of engines to choose from in the C-Class Cabriolet, and that means there's a fairly wide spread of running costs. However, due to its hefty weight, the drop-top will be the most expensive version of the C-Class to run day-to-day, regardless of the engine you pick. Even so, the two diesels are both impressively efficient, and the cleanest model – the C220d – will return an official 51.4mpg and produce only 126g/km of CO2. Those figures go up by degrees if you add larger alloys and four-wheel drive, but even the version with both emits just 148g/km of CO2. The quicker C300d is only slightly thirstier, but the petrol C180, C200 and C300 will cost you more to tax and fuel, with official economy figures closer to 40mpg. It should go without saying that the hot AMG C43 and C63 S models are both vastly more expensive to buy, run and insure, with fuel economy in the low twenties a daily reality. In general, the C-Class Cabriolet is a little pricier than its rivals, but also comes with more standard equipment. Its better fuel economy betters either the BMW 4 Series Convertible or Audi A5 Cabriolet, though lower maintenance and repair costs and the fact it holds its value better mean that the Audi pips the Mercedes on overall cost of ownership.
Expert rating: 4/5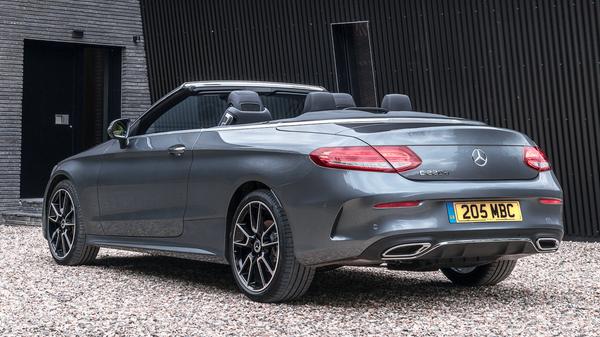 Reliability of a Mercedes-Benz C Class
As a brand, Mercedes currently sits fairly low down in both Warranty Direct's and JD Power's manufacturer standings for reliability. Still, that puts it right alongside most of its premium rivals, with both the cost and frequency of repairs enough to upset the drivers who were surveyed. However, the C-Class doesn't do too badly at all in Warranty Direct's survey, and our owner reviews on this site support that picture, with the previous saloon widely praised for its durability. Although there has never previously been a C-Class Cabriolet, Mercedes has plenty of expertise when it comes to building the complex mechanisms involved, so we have no worries over the durability of the roof. As standard, the cabriolet comes with a three-year warranty that covers you for up to 100,000 miles, which is on a par with what you'd get from Audi or BMW.
Expert rating: 3/5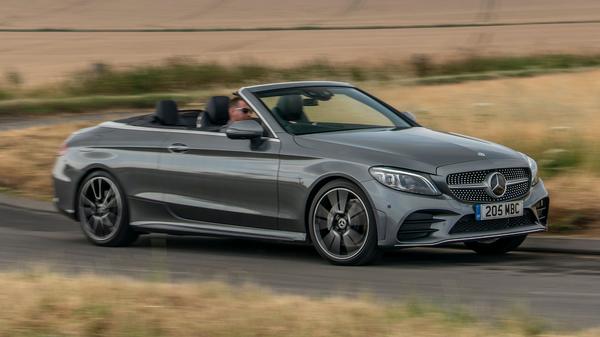 Safety for a Mercedes-Benz C Class
Just like the Coupe, the open-air C-Class comes with a vast array of safety equipment. It includes a system to warn you that you're too tired to drive, another that will brake automatically at low speeds in emergencies, and hoops that pop up if the car rolls over, protecting your head and neck. Cruise control, a reversing camera, seven airbags and tyre pressure monitors are all standard. However, if you want extra electronic safety nets, there are loads to choose from, including lane departure warning, adaptive cruise control, and a set of 360 degree-view cameras to make you a parking maestro.
Expert rating: 5/5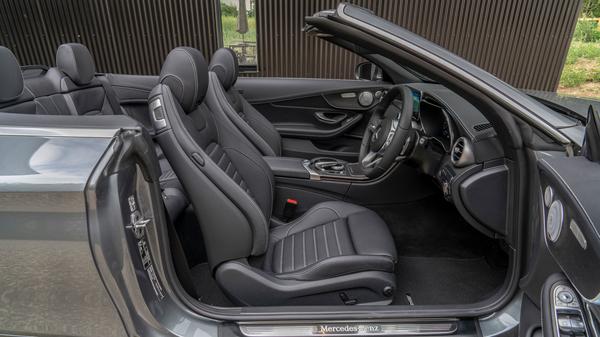 How comfortable is the Mercedes-Benz C Class
Few interiors deserve to see the light of day as much as the cabin of the latest C-Class, and anyone peering into the Cabriolet will be suitably impressed by what they find. All versions have dense-feeling soft-touch materials, spiced up by plenty of metal-effect, black or wood inserts. The simple, clutter-free design looks good, and is fairly logical to use, while the switches, buttons and dials are tactile and precise. Our only gripe is with the infotainment screen, which looks like a touch-screen (but isn't) and seems like a bit of an afterthought sticking up from the centre of the dash. The standard sports seats are comfortable and supportive, and will accommodate all shapes and sizes of driver. With standard electric adjustment for the seats and, on automatic versions, the steering wheel as well, it's easy to find a comfortable driving position. The view to the front is excellent, but with the roof up, you'll struggle to see much out of the narrow rear window, so the standard parking camera could be a real lifesaver. Practicality is probably not high up the list of priorities for four-seat cabriolet buyers, and it should go without saying that this car provides even less boot space and rear headroom than the C-Class coupe. Still, compared to rivals like the BMW 4 Series and Audi A5, it gives a better account of itself. Climbing in and out of the rear seats is a lot easier with the roof down, however, as the long doors and narrow windows mean you only have a very narrow gap to squeeze through with the roof up. Once you're in, kneeroom is not too bad, but adults sat in the back will have to slouch if they don't want their heads pressing into the roof. Boot space also depends on whether you have the roof up or down, but the load bay is fairly shallow and awkwardly shaped, limiting the type of things you can carry. That said, the space on offer is as good as, if not better than, you get in the C-Class's main rivals; meanwhile, the interior is dotted with deep pockets for loose items, the door bins are sculpted to take a couple of cans or bottles, and the glovebox is good for more than just the handbook. The lowered suspension setup that comes as standard in the Cabriolet feels slightly jittery over an uneven surface, and big bumps and potholes give you a proper whack in the backside, and cause the car's bodywork – which is less rigid than the Coupe's due to the loss of the solid roof – to shake and flex. We've also tried cars on air suspension, however, which is standard on faster versions and optional on the rest, and it's much better. This setup gives the driver three modes to choose from, so in 'Comfort' you get a soft, floaty ride, but you can crank up the stiffness to sharpen the handling when required. Rear-wheel-drive versions have plenty of grip and feel composed, but the four-wheel-drive cars feel even more secure on the road, and give the C-Class some useful all-weather ability. The hottest AMG C63 S model has so much power that it can feel like a handful, but keep the stability control in its 'Sport' setting, and you can have fun without taking huge risks. There are several steering setups, depending on the model you pick, and while none offers much feedback, all make it easy to place the car confidently on the road.
Expert rating: 4/5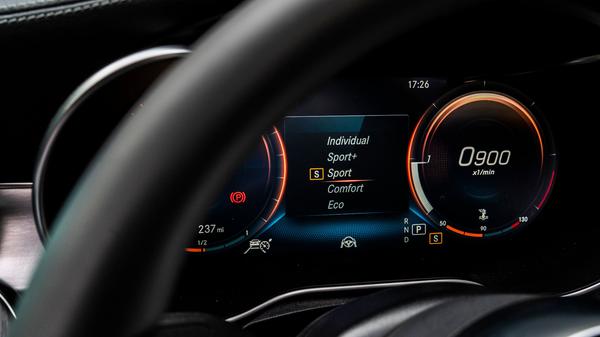 Features of the Mercedes-Benz C Class
This is an area where the C-Class starts to justify its high price. There's only one version available, which is the sporty AMG Line model, but you can boost its specification by adding an array of options packages, the most notable of which are called Premium and Premium Plus. Not that you really need to; the standard car features sat-nav, LED head- and tail lights, a reversing camera, artificial leather heated sports seats with memory function, keyless entry and plenty more. The Cabriolet gets a couple of unique features, too, with every model getting heater vents in the headrests to keep your neck warm, and an air deflector that pops up from the windscreen. Upgrade to the Premium pack, and you also get adaptive headlights, ambient lighting and an enhanced navigation system, which makes it a worthwhile investment if you can afford it, while the Premium Plus pack includes the excellent Burmester stereo, keyless starting and entry, and a top-down parking camera system. Full-blown AMG versions, meanwhile, have wider wheelarches, huge brakes and four exhaust pipes, for the ultimate in showing off, while the C63 S comes fully loaded and shod with vast alloy wheels.
Expert rating: 4/5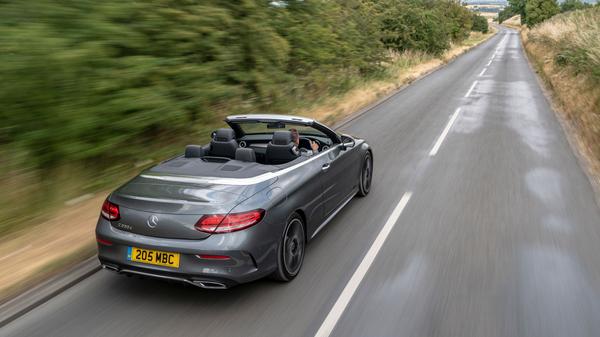 Power for a Mercedes-Benz C Class
There's a C-Class cabriolet to suit everyone – no matter how fast you want to go. Mind you, unless you don't mind not going very fast, you'll probably want to avoid the C180, which is no faster than your average family car; the C200 is more sprightly, but still feels slower than the power figures suggests. Better, if you're after a petrol version, to go for the C300 – or to choose one of the diesel models instead. Neither of the diesels is especially hushed, and when worked hard, they sound particularly gruff and vocal, something you notice a lot more with the top down. However, both feel flexible and provide decent performance; while the C300d feels noticeably faster, the C220d is no slouch. If you want a properly quick C-Class Cabriolet, though, your options start with the AMG C43, which has four-wheel drive and takes just 4.8 seconds to cover the 0-62mph sprint. True speed freaks, however, will probably be more interested in the C63 S version, which features a blisteringly quick 4.0-litre twin-turbo V8 and provides searing straight-line acceleration and a wonderful, rumbling exhaust note. These AMG models get a tougher seven-speed transmission, which is quicker at flicking through the ratios, although the engines pile on speed so fast that it's quite easy to hit the rev-limiter at speed.
Expert rating: 4/5