Expert Review
Lamborghini Huracan Evo Convertible (2020 - ) review
Read about the Lamborghini Huracan Evo RWD Spyder, the rear-wheel drive supercar combining wildness with surprising usability
The Auto Trader expert verdict:
Available new from £187,220
If you've missed hardcore Lamborghinis dry your eyes: the Huracan Evo RWD Spyder is here, swapping the security of the regular Huracan's four-wheel drive for more traditional rear-wheel drive thrills. Oh and it's a soft-top, too, so something for the nutters and the boulevard cruisers alike. A proper driver's car, then, with huge amounts of torque and horsepower, plus a fabric drop-top for proper wind-in-your-hair motoring. This could be the most rewarding Lamborghini for decades.
Reasons to buy:
It looks great
It sounds great
It is truly great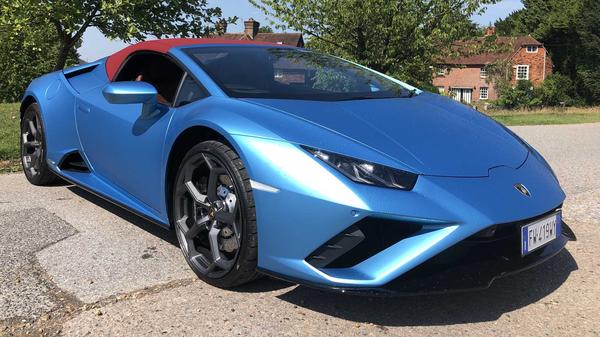 Running costs for a Lamborghini Huracan
Ha, ha, ha. Mind you, we got 19mpg while flooring it round in Sport mode, which is pretty good when you hear the amount of unspent fuel exploding in the exhaust system. But yes, there's insurance and road tax and servicing and tyres …oh and the upfront cost, which starts at £180,000 but, once you've added some glorious technicolour extras, easily goes the wrong side of £200,000. Still, Lamborghini is now part of VW and, as such, its models contain fewer Italian gremlins than they did in the 70s and 80s. You'll be looking at about £1,000 for a maintenance service.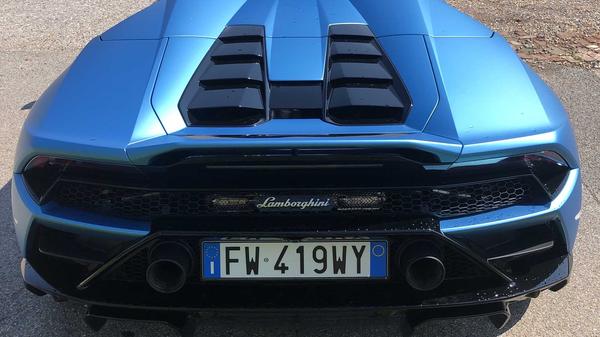 Reliability of a Lamborghini Huracan
See above. While VW's takeover of Lamborghini derived howls of derision from some aficionados for the use of similar switches and toggles as in an Audi A3 (no longer the case), we'll take the build quality and electronic systems handed down from group HQ any day. That V10 engine is tried and tested, all the way back to the Gallardo, and including, of course, the
Audi R8
. Same goes for the dual-clutch auto transmission, and there have been very few reported problems from Huracan owners thus far. Note you also get a four-year warranty, which is above and beyond the normal supercar call of duty.
Safety for a Lamborghini Huracan
With prodigiously scary amounts of power going to just the rear wheels, you'd better be sure of your talent before you hit the throttle and there's less grip than in a standard 4WD Huracan. We'd suggest doing it while the car is pointing in a straight line, and in the dry, for the first time at least. Also, with the steering-wheel button in Strada and not Sport or Corsa, both of which reduce the amount of face-saving intervention from the black boxes. You've got electronic stability and traction controls, side, head and thorax airbags as standard. Options include an anti-theft alarm, a rear-view camera and front and rear parking sensors (needed).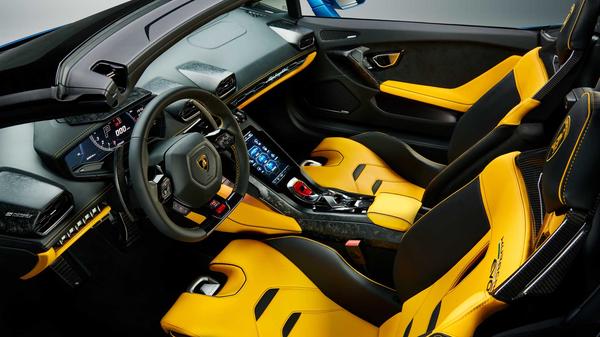 How comfortable is the Lamborghini Huracan
Impressive. Yes, it's got a hard ride compared, with, say, a Volvo XC90. We'd be worried if it didn't, considering the power going through the wheels. But the dual-clutch gear changes are smooth, and, in Strada mode, the exhaust is barely audible once you're moving. There's decent space inside for two adults and a deep luggage compartment at the front under the bonnet, though taller drivers may find the seats don't slide back far enough. You can't see diddly squat behind you because the bodywork rises up over the engine bay and fills the rear-view mirror, but in this car, the onus is very much on everyone else to get out of the way. The roof takes a little while to lower electronically, but that gives you time to be admired by pedestrians or other drivers, and the cabin stays relatively unruffled when you drive topless.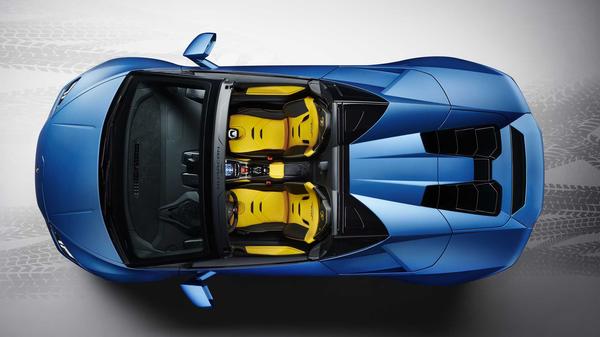 Features of the Lamborghini Huracan
There's never much room for fancy features in a supercar. If you want the latest infotainment system and huge screens, buy a Mercedes. But there's a new infotainment screen and system in the Huracan Evo and it's pretty good. A small digital display shows clear graphics for media, nav and so on, although you have to swipe a constantly disappearing volume symbol on the screen to adjust the noise. The sound system is good, but it doesn't beat the one produced by the engine and exhaust, so why bother? Standard equipment includes USB slots, electrically heated and folding door mirrors, dual-zone air-conditioning, digital instrument cluster, the Lamborghini signature on the dash and embossed headrests. Extra features on our test car included heated seats, carbon 'skin' package, coloured stitching, piped foot mats and ambient light package.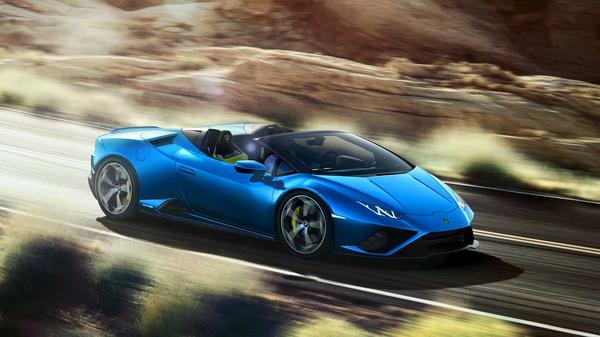 Power for a Lamborghini Huracan
Crisp, loud, scintillatingly quick and unbelievably thrilling. This is as good as road-legal acceleration gets. You will run out of road way before the engine runs out of puff, meaning you'll never truly explore this car's potential, unless you head to an airstrip or track. The engine releases 610 horsepower, which means the car accelerates to 62mph in 3.3 seconds. The only other way to explore that sort of velocity is to head to a theme park and climb aboard the biggest rollercoaster you can find. But the beauty of this car is that you can also trundle round town, parking up to pop into shops, with no more fuss than a Ford Focus. In fact, the only reminder you are not in a family hatch is the total lack of rear visibility. And that's the beauty of this beast: it's part monster, part angel. And sexy as hell.