Expert Review
Ford Mustang Coupe (2015 - ) review
We test the new Ford Mustang, the first version of the iconic American muscle car ever to be officially sold here through Ford's European network. Can the big coupe take on the likes of BMW and Audi?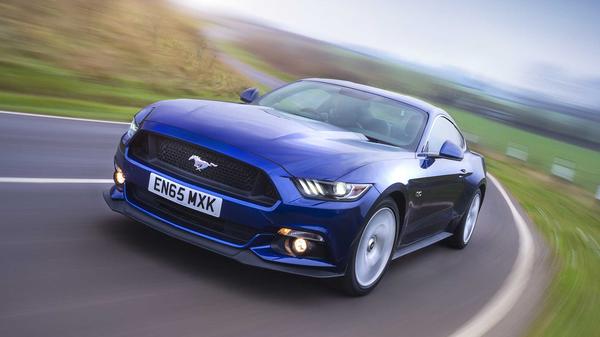 The Auto Trader expert verdict:
In Britain, we've never seen anything like the Ford Mustang, and that novelty factor alone will be enough to tempt buyers away from more conventional coupes. It looks and feels a bit incongruous on European roads, but the throaty V8 and huge straight-line performance don't disappoint. It's priced low enough to be great value, but running one as a daily driver will be an expensive business.
Reasons to buy:
Storming V8 engine
Decent value for money
Strong straight-line performance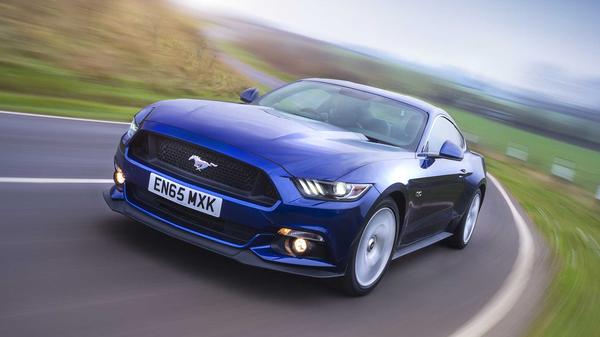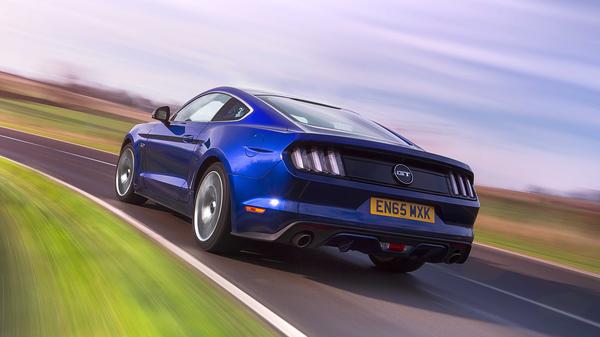 How good does it look?
Getting you noticed is really the Mustang's raison d'être. The styling is a modern interpretation of the classic fastback profile, and it takes its cues from several models hand-picked from the car's illustrious 50-year history over in the US. It's available in a range of bright colours with names like 'Triple Yellow' and 'Competition Orange', and the square-jawed muscle car looks, wide stance and standard 19-inch black alloys all scream for attention. The size of the Mustang also makes it quite hard to miss. The V8 model can be distinguished from the four-cylinder car thanks to the 'GT' and '5.0' badges on the boot and front wings, its Brembo brakes, and a set of power bars in the grille. Its wheels are a multi-spoke design, but exactly the same size as the ones you'll get on the EcoBoost model.
What's the interior like?
Ford is at pains to point out that the latest Mustang is a big step forward in quality over its predecessor – but the mismatched switchgear, tacky faux-metal finishes and chunky plastic panels might come as a bit of a shock to buyers more used to cars like the
Audi TT
and
BMW 4 Series
. The car feels solid enough, but material quality is patchy, and despite being massive on the outside, it feels fairly snug once you're actually sat inside. Visibility is not great either, with a large over-the-shoulder blind spot. Although they are mounted quite high, the seats (especially the optional Recaros) are fairly supportive. There's a decent spread of adjustment, too, so most drivers will be able to get comfortable. The 8.0-inch touch-screen is similar to the one you get in the
Mondeo
, and despite some small on-screen icons and a relatively low position in the middle of the dash, it's fairly easy to use on the move.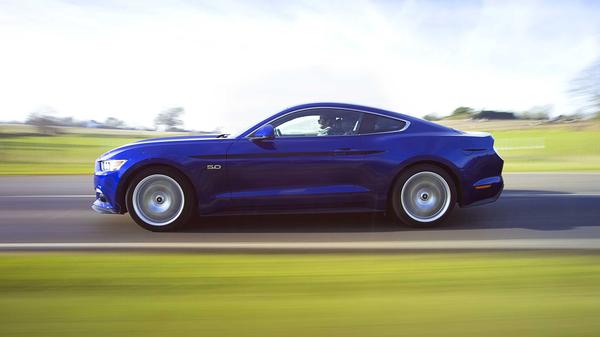 How practical is it?
"

The bulky exterior doesn't add up to a roomy interior, and anyone in the back will feel seriously hemmed in

"
The Mustang is on the large side for a two-door car. At nearly five metres long and almost two metres wide, it has more in common with a
Mercedes S-Class coupe
than the more compact (but similarly priced) Audi TT. However, although those in the front are treated to a decent amount of room, the bulky exterior doesn't add up to a spacious interior. Anyone in the back will feel seriously hemmed in, with a low roof, tiny windows and almost no kneeroom if you're sat behind a tall driver. There aren't that many cubbies around the cabin, either, but at least the boot is a good size. True, it's not especially easy to access, with a high lip, but thanks to a 407-litre capacity, it'll swallow three medium suitcases or a set of golf clubs without any hassle. The size (and length) of the Mustang also makes parking tricky, but unfortunately the big Ford has no parking sensors as standard. You're also constantly aware of its considerable width when trying to navigate on the kind of tight, narrow country lanes you only find here in Europe.
What's it like to drive?
Despite its iconic status, the Mustang has never been lauded as a scalpel-sharp sports car, with straight-line V8 muscle outweighing any cornering ability it might have had. This new Mustang, however, is the first of its kind to get a multi-link rear suspension setup, and the result is a car that handles surprisingly well. Admittedly, the steering is a little vague, numb and inconsistent, but the chassis generates a serious amount of grip, which means you can lean into corners at fairly high speed and be confident that the car will stick. A limited-slip differential is standard whichever engine you choose, and that helps with traction on the exit of corners. Even so, it's rather easy to unstick the back end of the V8-engined car if you're a bit heavy on the throttle in a tight, damp corner - although it's easy to correct and the car only breaks away quite gently - something that's scary the first time and fun afterwards. On a very challenging road, the weight of the Mustang does count against it; you'll be working the brakes hard, and with 19-inch wheels as standard, the ride is on the firm side. Even so, it's acceptable on main roads, with most larger bumps being fairly well absorbed, and only on poor country roads (which are hardly the Mustang's natural home, anyway) do smaller imperfections set the rear tyres jittering uncomfortably across the road's surface.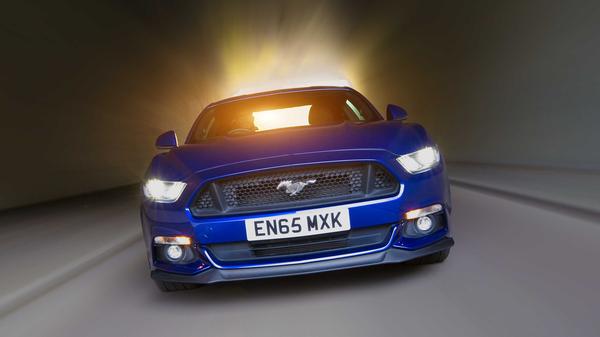 How powerful is it?
"

if you want the full-fat experience, then you'll need to plump for the snarling 5.0-litre V8

"
The big news for the Mustang is that is has adopted a turbocharged four-cylinder engine, mainly to cut the CO2 emissions and help it appeal to a whole new range of European buyers. It is the same engine which powers the Focus RS hot hatch, and despite its small size, it's not short on performance, with 312bhp and 319lb ft of torque. It does feel fast, but the power delivery is not very smooth, arriving in sudden surges which make the Mustang hard to control. There is some exhaust trickery to try and make it sound like a V8, but it sounds rough and strained; and, if you want the full-fat experience, then you'll need to plump for the snarling 5.0-litre V8 version. This makes the Mustang feel - and go - a lot more like an authentic muscle car; plus, it sounds fantastic, and is not that much more expensive to buy than the 2.3-litre model. It's smoother around town, and less rough at the top of the rev range, too. A heavy-duty six-speed manual gearbox is standard on both versions, while an automatic gearbox is available as an option; and, of the two, we think the standard manual is the better choice.
How much will it cost me?
If you want V8 power, then the Mustang gives it to you cheaper than almost any other sports car on the market. However, there is obviously a downside to owning a massive, thunderous V8, and it's no surprise that the Mustang returns some fairly ruinous economy figures. The official figure for the 5.0-litre hovers just over 20mpg - but expect mid-teens at best if you drive it with any real vigour. The CO2 output is no better, with a figure of 306g/km putting the Mustang on par with supercars from Ferrari and McLaren in the highest road tax band. That's why you might be tempted by the 2.3-litre model, but despite its modest 178g/km CO2 rating, the actual fuel economy is not much better when you're pressing on. On the plus side, the Mustang costs about as much to buy as a well sorted hot hatch in its four-cylinder guise, and undercuts the similarly powered - but less well equipped - Audi TT S by several thousand pounds. Parts and servicing should be pretty affordable, too, but consumables like tyres and brakes are likely to be a regular - and quite hefty - cost. The Mustang's insurance group is also fairly high compared to that of its rivals'.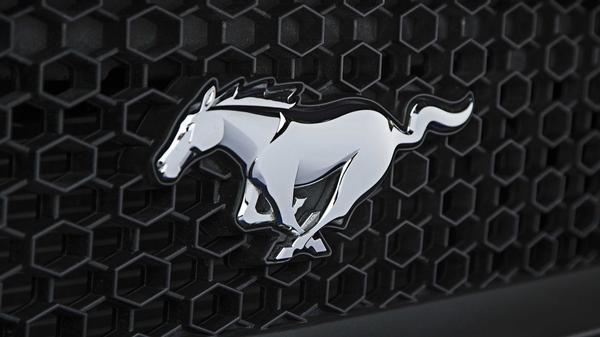 How reliable is it?
"

The Mustang has a pretty respectable reliability record over in the US, which we hope will continue with the new car

"
Although it's never been on sale here in Europe, the Mustang has a pretty respectable reliability record over in the US, which we would hope will continue with this car. All Mustangs, including the right-hand drive models destined for the UK, are built at the brand's plant in Flat Rock, Michigan, and mechanical reliability should be strong, while the SYNC 2 infotainment system has already been tried and tested in the Mondeo.
How safe is it?
Ford has not scrimped on the safety kit in the Mustang, with up to eight airbags inside the two-door body, including an airbag mounted in the glovebox lid to protect the knees of the passenger (driver knee bags have been around for a while). Other kit includes a big pair of high-performance Brembo brakes (for the V8 model at least), Isofix points for child seats and an anti-theft alarm. A full Thatcham-approved alarm and parking sensors are also available as optional extras. However, despite all this, the Mustang scored a poor two stars (from a possible five, when four or five is the norm) when it was first crash tested by Euro NCAP, with the organisation saying that it had 'concerns about its crash protection of adult and child occupants'. However, cars ordered after July 2017 have extra equipment fitted as standard, which boosts their rating to three stars - although there has been no change to the car's structure, meaning the rating for crash protection (just 72% for adult protection) is unchanged.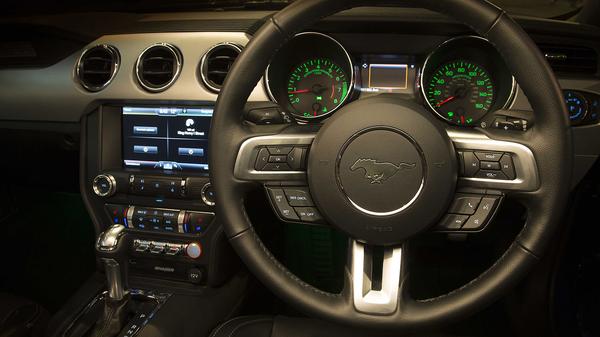 How much equipment do I get?
"

When compared with its rivals from BMW and Audi, the Mustang represents very good value

"
Despite its temptingly low price, the Mustang comes with a huge amount of equipment as standard. Full leather seats, climate control, 19-inch alloy wheels, and a touch-screen system with DAB radio and voice-activated Bluetooth are all yours without needing to dip further into your wallet. However, there are some notable omissions, with rear parking sensors, figure-hugging Recaros, heated and cooled front seats, a premium audio system and sat-nav all adding extra cost. Still, when compared with its rivals from BMW and Audi, the Mustang represents very good value, and to get even close to the same level of kit in these rivals, you would have to fork out thousands of pounds more. Better still, most of the Mustang's optional extras are superfluous, rather than essential.
Why buy?
If you want a seriously powerful sports car with brash looks, fantastic performance and decent handling, then the Mustang will fit the bill perfectly. It sounds brilliant and feels like a junior BMW M3, so enthusiasts will be queuing around the block to pick theirs up. But, if you're not a fan of the Mustang or nostalgic for a slice of Americana, then you'll be less forgiving of the car's foibles - its vague steering and shocking thirst for fuel, to name but two. Residual values, running costs and a cheap interior might also make you think again.