Expert Review
BMW M3 Saloon (2014 - 2018) review
The BMW M3 is a madcap supercar slayer. Question is, is the latest M3 simply too extreme, and would a Mercedes C63 AMG or an Alfa Romeo Giulia Quadrifoglio be a better bet?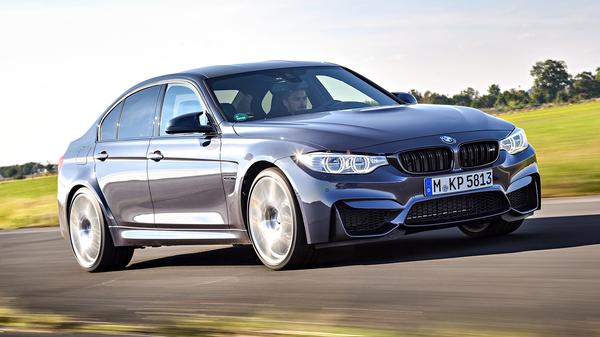 The Auto Trader expert verdict:
You can use your M3 as everyday transport, but really, it's a totally different animal to the refined, comfortable, 3 Series saloon it's based on. Delivering drama by the bucket load, it's a proper beast of a machine, producing a thunderous exhaust note and truly eye-popping performance. In truth, it develops so much grunt you're never really sure if the chassis is totally in command of the whip-cracking power delivery. To many enthusiasts, this will only serve to heighten their passion, but for us, the latest M3 has strayed too far down the ultimate performance route and lost sight of the essential everyday duality that made previous M3s such brilliant everyday performance cars.
Reasons to buy:
Devastating performance
Supercar thrills for all the family
Understated looks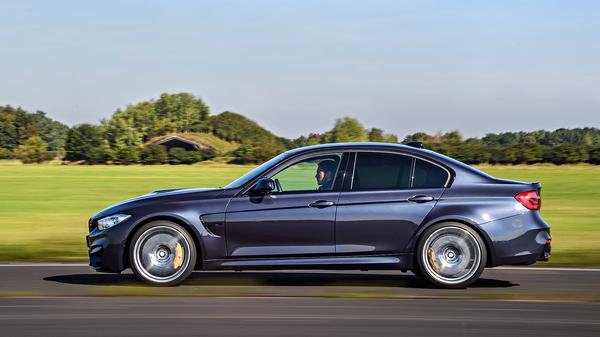 How good does it look?
Undoubtedly, a big part of the M3's appeal is its ability to blend into its surroundings, with only a few subtle visual styling cues hinting at its sinister cloak and dagger disposition. Get it in one of the more sombre colours available and even its carbon fibre roof, lowered ride height, quad exhaust tail pipes, blistered rear-wheel arches, and massive alloys might just go unnoticed in the corporate car park. Not that other road users will ever mistake an M3 when its looming large in their rear-view mirror. Thanks to its dazzling daytime running lights, greedy, ground-hugging front bumper, and bonnet bulge, you'd need to be seriously distracted to mistake the M3 for anything else.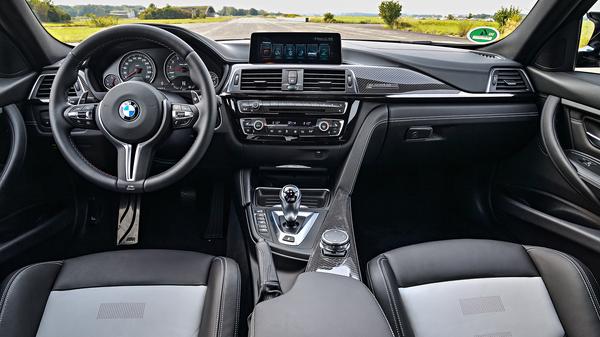 What's the interior like?
The interior differences between a full fat M3 and one of BMW's lesser 3 Series M Sport models are quite subtle. You do get a sexy set of front sports seats and some M Sport coloured stitching on the door panels and steering wheel, but the biggest difference is additional buttons mounted to the right of the gearshift. These can be used to adjust the steering weighting, gearshift aggression and suspension firmness. They're also supplemented by a couple of M buttons on the sports steering wheel, which can be pre-programmed via the i Drive, to instantly summon up any combination of your favourite driving menus. Other than that, the uninitiated might struggle to notice they're sitting in anything other than a run-of-the-mill 3 Series. Despite a wide range of steering wheel and seat adjustment, the M3's driving position is not perfect. The steering wheel is slightly offset to the left, and while the driver's seat is inclined towards the centre of the car to compensate, this only makes the accelerator and brake pedals feel more aligned to the right. The M3 comes with a bespoke dual-clutch gearbox that features a unique gearshift selection pattern. There's no obviously defined park position, and reverse is selected by pushing the lever left and up, not dissimilar to a manual gearbox. In practice, it's a rather awkward arrangement and nowhere near as intuitive to use as a standard BMW automatic.
How practical is it?
If you're buying a four-door M3 rather than the slinkier M4 coupe, chances are you're going to have one eye on space and versatility. The extra set of doors will come in handy if you've got kids, as it can be a real chore getting bods in and out of the back of a Coupe. The M3 also offers a generous amount of head- and leg-room in the back, but a raised transmission tunnel and a limited amount of elbow-room means fitting three across the rear bench is always going to be a bit of a struggle. The M3 stacks up pretty much on par against its rivals for boot space. It's a well-shaped load bay and reasonably roomy, and with 480-litres of luggage space it's exactly the same as you get with a Mercedes C-63 AMG. The rear seat backs will also split-fold 60/40 to help you load longer items.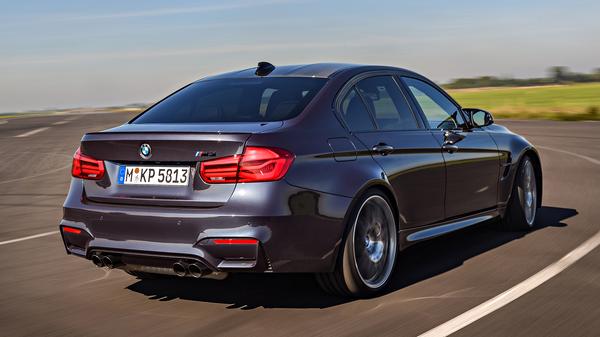 What's it like to drive?
Once you've manged to get some heat into the M3's wide, low-profile tyres, the chassis begins to warm to its task, but it's not exactly a cosseting experience. On a smooth surface, the tyres feel almost unstickable and it can be tremendous fun and a truly rewarding experience to balance the car through a flowing combination of bends using a mixture of light steering adjustments and progressive throttle inputs. However, roads of this ilk are increasingly rare in the UK, and even in its comfort setting, on relatively well-maintained roads, the M3's suspension can feel unyieldingly firm. Things can often get rather skittish and the front end of the car will all too often follow any defined grooves in the road surface. You'll rarely feel the need to stray from the comfort suspension setting even when you're pushing on a bit, as any increase in the firmness leads to some serious chest compressions as you fly over B-road dips and crests. Likewise, the steering is best left in its lighter, comfort setting, as this transmits the most amount of feel from the front wheels and allows you to caress the M3 through bends with neat precision. Ramp the steering to Sport mode, and unless you're blessed with forearms like Rafael Nadal, you'll inevitably end up muscling the wheel away from centre too aggressively and find yourself constantly trying to maintain a smooth cornering line.
How powerful is it?
Thanks to a combination of a jerky initial throttle response, and a snatchy gearbox, a tiny kiss of the accelerator pedal is compulsory when parking, but it's also required to ensure the engine's immense power output doesn't overwhelm the limited grip that's available when the rear tyres are cold. Thankfully, before things can get too lairy, the electronic stability control will clamp a lid on any unruly power outbursts and ensure everything remains pointing front and centre. From here on, it's a case of how hot you want to play it. For normal road use, the performance is pretty much off-the-scale. So much so, that on first acquaintance, as your eyes adjust to the horizon rapidly transforming into the here and now, we can pretty much guarantee the toes on your right foot will be curling long before the engine gets anyway near its red line. The manic speed development is accompanied by an intense aural bombardment, as the gearbox's dentist drill whine competes tooth and nail with the engine and rear quad pipes' voracious intensity. Confidence built, you'll also need to put up with a fair bit of physical abuse, because should you start taking liberties with the accelerator pedal, while utilising the most aggressive gearshift setting, you'll need to brace yourself against a ferocious volley of kidney punches as each brutal upshift bangs home.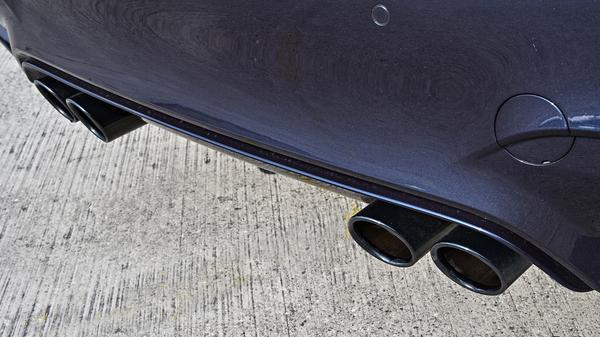 How much will it cost me?
Don't go thinking just because the M3 is based on that darling of the company car drivers, the 3 Series saloon, that the M3 is going to appear high up on the list of your next available company car. The 3.0-litre six-cylinder twin turbo engine in this latest model is a good deal more efficient than the previous model's 4.0-litre V8, but that's not saying a lot. Fuel economy is officially quoted at 32.1mpg with a CO2 output of 204g/km, but if you start using the car in the way it was designed to be used, you'll devour tanks of super unleaded at a truly ferocious rate. While many 3 Series models are offered with all-wheel drive, the M3 sticks with a traditional rear wheel drive set up, and with this sort of power coursing through its veins, you can probably imagine what that means for rear tyre longevity. It may look quite understated, but you won't be able to pull the wool over the insurance industry's eyes. Expect premiums to be highly punitive, and if you're still young you must hope to either win the lottery or keep on dreaming.
How reliable is it?
Although it's not hand-built, the M3 is the most powerful and the most complex 3 Series you can buy, but that doesn't necessarily mean it should be in any way unreliable. As a brand, BMW outperforms its major competitors like Jaguar, Mercedes and Audi, all of which sit lower in Warranty Direct's manufacturer table. Trawl the owner reviews on our website and it's hard to find a dissatisfied BMW customer. While a few report the odd electrical gremlin with the iDrive system, none say they have had any major mechanical issues, which is hopefully a good indicator of the robustness of the latest M3. BMW also provides a 3-year/36,000-mile fixed-price service plan, which costs around £1,000, and it also provides a three-year/60,000-mile standard warranty cover.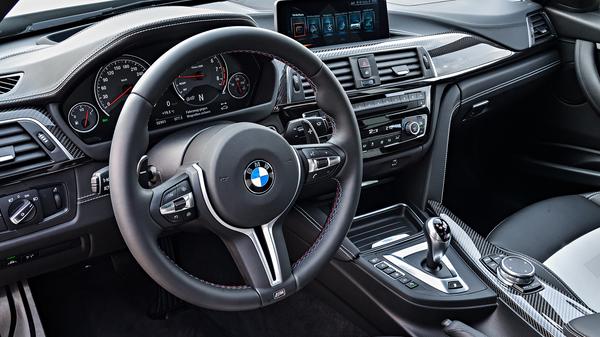 How safe is it?
The 3 Series is the holder of a 5 star EuroNCAP crash test rating, and all 3 Series, including the M3, come with all the usual levels of safety equipment you'd expect to find in this sector. Six airbags, plenty of clever electronic safety systems, and Isofix mounting points for child seats are included. A superb head-up display that projects key info onto the windscreen can also be added, while different sensors and monitors, such as lane departure warning and forward collision assist are also available.
How much equipment do I get?
The M3 comes with oodles of standard kit, including 19" alloy wheels, adaptive sports suspension and a sports differential. Creature comforts include dual-zone climate control, four electric windows and full leather upholstery, with heated seats for the driver and front passenger. Metallic paintwork is also standard, as are front and rear parking sensors, and rain sensing wipers and automatic headlight activation. A sat nav system with real time traffic information is included too, and these systems are linked to the i Drive system and can be viewed on an 8.8" colour display screen. You also get Bluetooth with wireless charging, and a wi-fi hotspot. The M3 is also available with a 'Competition Pack'. This upgrade pushes the power output to 444bhp and includes exclusive 20-inch alloy wheels, lightweight sports seats and a sports exhaust system.
Why buy?
If you're lusting after a performance car, but family life dictates you need four doors and a boot, then the M3 could well be the answer. Just be aware the M3 is likely to polarise opinion more than most, as it's a far more extreme car than you might expect. It may look and feel very polished and civilised when you are sitting in the showroom, but take it for a test drive and it's a very different experience. Chances are you'll either be blown away by the searing pace and the addictive soundtrack, or decide it's simply too intense to live with on a daily basis.