Expert Review
Aston Martin Vantage Roadster convertible (2006 – ) review
Read the Aston Martin Vantage Roaster convertible (2006 - ) review by Auto Trader's motoring experts, covering price, specification, running costs, practicality, safety and how it drives.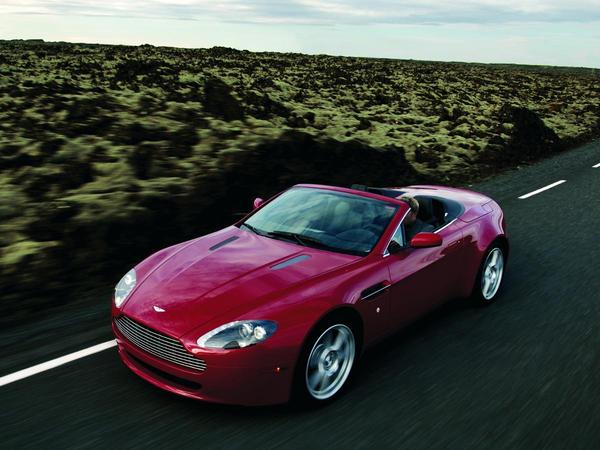 The Auto Trader expert verdict:
Available new from £129,250
Stunning looks and mighty performance combine in Aston Martin's Vantage Roadster, but you need to choose carefully.
Reasons to buy:
Beautiful looks
Sound and pace
Engaging driving experience
How good does it look?
Arguably the most visually appealing Aston Martin in the range, the Vantage is a taut mix of muscularity and Aston's traditional elegance. It works very well too, with the squat, purposeful proportions conveying the obvious sporting intent. The Roadster loses none of the coupe's assertiveness with the loss of its roof, as its folding fabric top is neatly integrated whether open or closed. Various special editions have been produced, all with unique styling revisions, and every one of them is beautiful.
What's the interior like?
The Vantage Roadster's interior is everything you'd expect from Aston Martin. Tactile polished and brushed surfaces and more leather than a DFS showroom combine to create a special driving environment. It's largely hand crafted too, something none of its similarly priced rivals can claim. A strict two-seater, there's not a huge amount of room in the cabin, and the Roadster's lower roof makes the cabin feel a touch more claustrophobic than its coupé counterpart. Finally, the instruments might be deeply recessed, but their metallic finish makes them difficult to read in the sun.
How practical is it?
Two-seat, hand-built,  sports cars aren't bought with practicality in mind, as those able to afford them are likely to have something more useful at their disposal. The Vantage Roadster isn't a completely impractical machine though, with its boot offering room for a weekend's worth of soft luggage. Naturally that boot loses out on space compared to the coupé, but it's a price most owners will be prepared to pay. Oddment stowage around the cabin is light, with little room for phones, iPods and the like.
What's it like to drive?
A powerful V8 engine, rear-wheel drive and quick steering combine to create an enjoyable sports car. The ride and handling has improved markedly as the Vantage has been developed through time, with the more hardcore S model offering super-sharp steering and taut suspension. There is some trade off in ride quality for the high levels of grip and agility, but it's no more compromised on the road than its Porsche 911 or Audi R8 rivals. The loss of its roof doesn't upset the dynamics too much, with only the nastiest bumps sending a shimmer through the body.
How powerful is it?
Introduced with a 4.3-litre V8 with 380bhp the V8 Vantage was uprated in 2008 to a 4.7-litre unit. The standard power output increased to 420bhp, allowing the Roadster to reach 62mph in just 4.8 seconds. It's an impressive engine, though it's sometimes compromised by Aston's optional SportShift transmission – it isn't the slickest shifting gearbox out there. The S's uprated SportShift II helps, but rivals' systems are quicker and slicker. A mechanical feeling manual is offered, but nobody opts for it and it's not offered on the hardcore S model.
How much will it cost me?
It's a hand built sports car with a 420bhp V8 engine and a price tag comfortably in excess of £100,000. So don't expect to run it on the cheap. As well as its obvious thirst for fuel it'll cost you dearly on insurance and road tax. Servicing will be expensive too, while tyres, brake pads and other consumables won't be cheap. That's unlikely to concern you if you've bought it in the first place though.
How reliable is it?
Aston Martin's reliability record hasn't been blemish free, but the V8 Vantage has been around for a while now and it should prove reliable. Indeed, Aston Martin has taken great leaps in reliability in recent years and its good showing in endurance racing – as tough a test of reliability as there is – underlines this. It's unlikely to be as trouble-free an ownership proposition as a Porsche 911, but then it's much more exclusive than its German rival.
How safe is it?
As you might expect of a modern sports car the Aston Martin Vantage Roadster comes brimming with safety equipment. Along with dual-stage airbags passengers are protected by the Vantage's strong aluminium structure and deformable front and rear sections. There are ABS brakes with cornering brake control, stability and traction systems and a torque control system to prevent the rear wheels locking under engine braking. The Roadster gains automatic pop-up roll hoops that deploy if a potential roll-over is detected, too.
How much equipment do I get?
Standard equipment levels are fairly light in the Vantage Roadster, with leather electrically adjusted seats, a six-CD changer with iPod connection and USB inputs the highlights among the standard equipment. You need to pay more for Bluetooth telephony and sat-nav – though the latter is so out of date you'd be better with an aftermarket system. Likewise you need to pay for cruise control and heating for the seats. You'll need warm seats if you're going to enjoy the Vantage Roadster all year-round in the UK.
Why buy?
Because you're bored of Porsche 911s and want something with a bit more presence and a lot more noise. The Vantage Roadster is beautiful and engaging to drive, though it's not quite as polished dynamically as some of its rivals. Still, you'd never tire of looking at it, or of the sound the V8 makes when it's reaching its redline. If that's not enough to have you wanting one, we don't know what is.