Expert Review
Aston Martin Rapide Saloon (2010 - ) review
Read the Aston Martin Rapide hatchback (2010 - ) car review by Auto Trader's motoring experts, covering price, specification, running costs, practicality, safety and how it drives.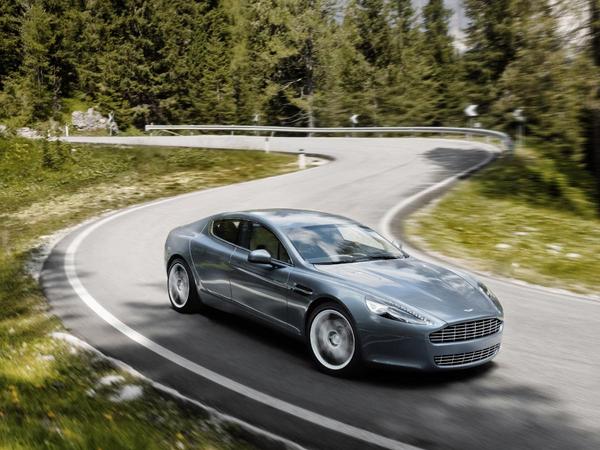 The Auto Trader expert verdict:
Meet the only Aston Martin with enough space for child seats in the back. Practical, fast and good-looking it's a four-door with a supercar pedigree.
Reasons to buy:
Practicality with supercar looks
Well-engineered
Feels special inside and out
How good does it look?
Aston Martin labels the Rapide a 'four-door sports car', and in concept and execution they're not far wrong. Despite its physical presence – some five metres long and nearly two tonnes – the Rapide isn't a limousine in the traditional sense.
What's the interior like?
It's the drivers' seat that's of most interest, because the Rapide feels every inch the super coupe that its DB9 relative does from there. Aston Martin really knows how to give its interiors a sense of occasion, and save the disappointingly old sat nav system and a few fiddly items of switchgear, the Rapide really seduces its occupants. In fact, this new car feels particularly well built, and it's soon clear that changes inside are part of a wider program of engineering improvements that have really elevated the quality and ability of this Aston Martin.
How practical is it?
If the styling of the Rapide is closely related to that of the DB9 coupe, much of the mechanicals under the skin are also shared. The biggest difference however is in the rear of the passenger compartment, where you'll now find two individual bucket type seats separated by a high-set spar that contains the heating and ventilation controls. It's a cosy ambience back there, partly because of the soft leathers and sumptuous interior design, but also because it is nowhere near as spacious as a Porsche Panamera, let alone something like an Audi A8. Still, unless passengers are particularly tall there is enough room, and even those over six foot should be fine for shorter journeys. The boot is usefully wide but quite shallow.
What's it like to drive?
When you first drive off in the Rapide you notice the steering is a bit lighter than the Aston Martin norm, but it's no less accurate or enjoyable for that. The car rides the bumps well for such a powerful, sporting car, and the refinement levels of wind and road noise are nicely subdued. Even at motorway speeds the Rapide is a relaxing car to be in, the engine hushed behind the sound of the B&O music system. It manages to feel sporty and yet relaxing at the same time – a canny trick, and one that works whether you are sitting in the front or the back.
How powerful is it?
And yet the Rapide has another side to its personality: one that can be accessed simply by pressing firmly on the right-most pedal and pressing the 'Sport' button. Suddenly the big V12 sends a sharp bark into the cabin, and 469bhp propels the Rapide forward at a roaring pace. Flat out it's properly fast – 0-60mph takes five seconds dead and it'll reach 184mph – although there are certainly super saloon rivals that will show it a clean pair of heels. In truth, the Aston dances to its own tune, and its blend of speed, sound effects and atmosphere never leave you feeling short-changed.
How much will it cost me?
Aston Martin hopes to sell around 2,000 Rapides a year, a far cry from the numbers talked about by some of its rivals. In some ways that's easily understandable, because the Rapide is a very niche purchase. There's the £139,950 price tag for starters, and then the heavy fuel consumption of the V12: you will be doing well to average a mpg figure somewhere in the late teens. As for CO2, it's better not to ask. More than that, the relative snugness of the rear seat accommodation means this car isn't a tool for a job like a Mercedes S-class.
How reliable is it?
Recent Aston Martin's haven't got a blemish free reliability record, but at this level, you'd expect customer service to be second-to-none when something does go wrong. Most faults are relatively minor, but it goes without saying that few Aston Martin parts are cheap and labour costs are amongst the highest for any manufacturer.
How safe is it?
The Rapide is the only Aston Martin with rear ISOFIX child seat mounting points, so you can really ferry the kids in style. A total of eight airbags throughout the cabin activate depending on the severity of crash, and anti-lock brakes (ABS), Dynamic Stability Control (DSC) and traction control are all standard.
How much equipment do I get?
The equipment list is a long one. Highlights include leather upholstery, front and rear parking sensors, Bluetooth, cruise control, sat-nav, tracking device and an Aston Martin umbrella in the Boot. Bang & Olufsen provide the stereo. Options include 20-inch alloys, DVD screens, personalised sill plaques and a cigar lighter.
Why buy?
The Rapide is a far more practical way to enjoy Aston Martin ownership than anything else the company currently makes, whilst being perhaps the firm's most finely developed modern-era product to date.