Advice
Tips and advice for new drivers
It's a super exciting time when you pass your driving test, but you do need to sort out car insurance! You needn't pay a fortune though, if you follow these tips from the experts at comparethemarket.com.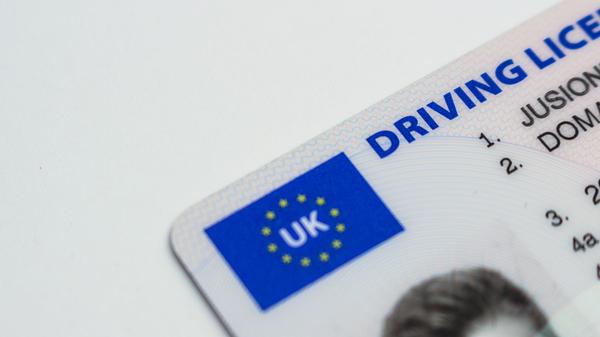 How to choose a driving instructor
Your first time behind the wheel can be quite a daunting and exciting experience, so it's important to find the right driving instructor.
Recommendations from people you trust (like friends or family) is a great place to start – see how reliable they were and how easy they were to get on with, you'll be spending a lot of time in the car with them after all. You can also check testimonials and reviews online, though this might be harder to find for independent driving instructors. If in doubt, ask if you can try a couple of standalone lessons before you book in a lot. All UK instructors have to be licenced by the Driver and Vehicle Standards Agency (DVSA) and undergo a Disclosure and Barring Service (DBS) check to ensure they are suitable to work with new people. You can ask to see these credentials before your first lesson.
How much will driving lessons cost me?
With a recommended 47 hours of lessons before you sit your test, driving lessons won't come cheap. Prices will vary depending on a huge number of factors, such as your instructors set rates and whether you opt for a "crash course" or a longer stretch of lessons.
If you're wondering where in the UK is cheapest to take your lessons, then the below table may be of use: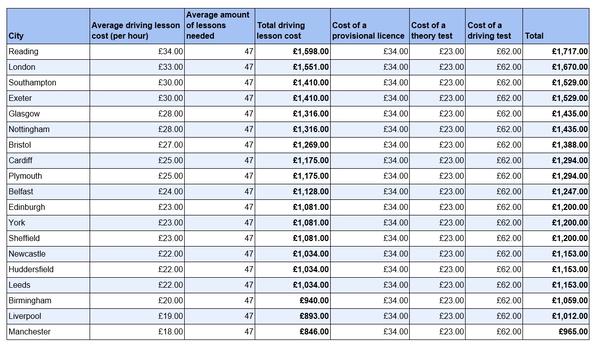 How to prepare for the show me tell me part of the test
At the start of the test, you'll be asked to show the examiner how to perform a basic security check or tell them how you would perform a check.
The UK government has
published the show me / tell questions (and answers) to on its website
so you can learn all of the answers beforehand. You should go through them with your instructor too, so you know where everything is in the car you'll be driving.
How to deal with driving test nerves
Your driving test can be a nerve-wracking experience, but it's important to try and remember that, outside of that, it's just another day. Try and stick to your normal routine as much as possible to keep yourself from worrying about it.
Many leaners book an extra lesson before the test, just to get used to being in the car and to cover any last-minute questions and manoeuvres. When it comes to the test itself, focus on the task at hand. Listen carefully to the examiner's instructions and ask them to repeat anything if you don't understand. Remember that the examiner doesn't want to see any fancy moves – they want to see that you're a competent driver and feel confident that you can drive on your own. If you come across a new situation, stay calm and simply apply the rules of driving. Don't assume you've failed if you make a mistake, there is room for error with up to 15 minor faults during the test.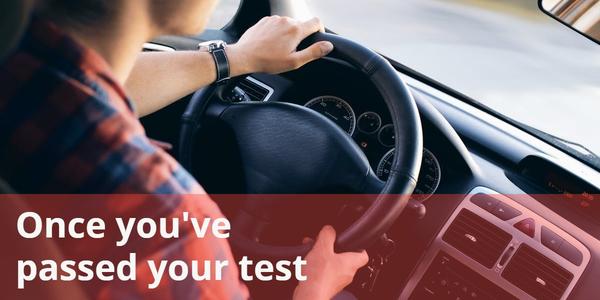 Next steps
You've had driving lessons, you've done your theory, and you've passed your driving test! Now you can head out into the world. How exciting!
We don't want to be those annoying people, but one thing you'll definitely need to consider once you've passed your test, is car insurance. It doesn't have to be too painful though. Here are some top tips and advice from comparethemarket.com.
Compare insurers
Some insurers want new drivers more than others, so their premiums will be more competitive. The only way to find the cheapest policy is to compare insurers and pick the one that suits you best.
Don't get any modifications for your car
As tempting as it may be, it's a really good idea to steer clear of upgrades like alloys and body kit, as they can really drive up the cost of insurance.
Think (carefully!) about a higher excess
If you increase the amount of excess (the amount you pay in the event of a claim) you are willing to pay if you have an accident, you will probably be offered a cheaper premium. Just make sure you choose an amount you can genuinely afford if you have a prang.
Third party cover is not always cheapest
While third party cover is the most basic, it may not be the cheapest. Insurers look for patterns and, if more third party-only policyholders are claiming, the price could be higher than for more comprehensive cover. The only way to be sure is to compare prices for both.
Add another driver
Adding a more experienced motorist to the policy as a 'named driver' can lower premiums by hundreds of pounds. That's because the insurance company will assume the vehicle is going to be used by the more experienced driver, which will lower the overall risk. However, if that's not the case, you are deceiving the company.
Also, if you declare someone as the main user of the vehicle when they won't be (in order to get a better premium), that's a crime. However, it's perfectly okay for a new driver to be a named driver on a policy and only use the car occasionally.
Take the Pass Plus
If you've recently passed your test, consider spending a few more hours investing in the Pass Plus qualification. This is designed to help drivers improve their skills and drive more safely. Many insurers offer a discount to people who've had the lessons, which cover six types of driving: in town, in all weathers, on rural roads, at night, on dual carriageways, and on motorways.
Check out pay-as-you-drive policies
A telematics, black-box, or 'pay-as-you-drive' insurance policy, involves fitting a device to your vehicle allowing the insurer to see how well you drive. It monitors whether you speed, drive at dangerous times, brake suddenly, take corners sharply, and other things.
Safer drivers earn discounts, but premiums can rise as well as fall, depending on your driving.
Remember, cheapest isn't everything
The thing with any insurance policy is that cheapest is not always best. You need to find the cheapest price for the right cover for you, not the cheapest policy overall. If you need a courtesy car, legal advice, a low excess, or any other addition that adds to the cost of your policy, it's worth paying a little extra for it.