Volvo XC60 SUV
New from £41,600 / £492 p/m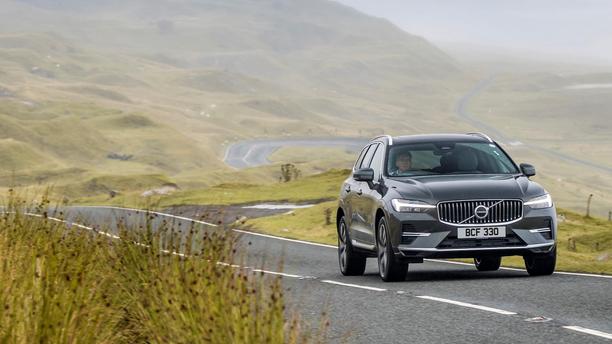 About the Volvo XC60 SUV
Good looking

Very safe

Improved hybrid range
Oh-so-comfy, medium-family SUV with Google Maps on the touchscreen and loads of safety kit. It sits between the XC40 and XC90 SUVs and is sold in petrol, diesel and "Recharge" plug-in hybrid form. No longer acceptable to say "That's expensive for a Volvo" - this is a truly posh badge now delivering a superior driver and passenger experience.
Is the Volvo XC60 SUV a good car?
Read our expert review
"The XC60 is one of Volvo's best-selling cars, and one of the best family SUVs you can buy. It's a real class act, providing excellent comfort, good practicality and exceptional safety. Some versions are pricey, but the XC60 is a very credible rival to the Audi Q5, BMW X3 and Jaguar F-Pace. Recent updates include the addition of Volvo's Android-powered infotainment system and a bigger battery and more powerful motor for the plug-in hybrid versions, increasing electric range to nearly 50 miles and improving performance to boot."
Read the review by category
Running costs for a Volvo XC60
Prices for the XC60 are pretty much on par with the likes of the Audi Q5 and BMW X3, so it's not exactly cheap. The prestige clout of the Volvo badge is rapidly catching up with those of its German rivals, though, and the XC60 is expected to hold its value very well. This, in turn, makes for some very keenly priced leasing and finance deals. Official fuel economy and CO2 figures for the diesel models are competitive, and they have massive range so will suit long-distance drivers. The powerful turbocharged petrol engines have quite a thirst, however, and will cost business users more in company car tax. The T6 and T8 plug-in hybrid models, by contrast, have incredibly low CO2 emissions and remarkable official fuel consumption figures. A recent upgrade has increased the electric-only range to nearly 50 miles, meaning you could viably use it as an EV Monday to Friday with the range of a regular internal combustion car for longer trips on holidays and weekends – a best of both worlds approach effective enough to win over even hardened hybrid sceptics.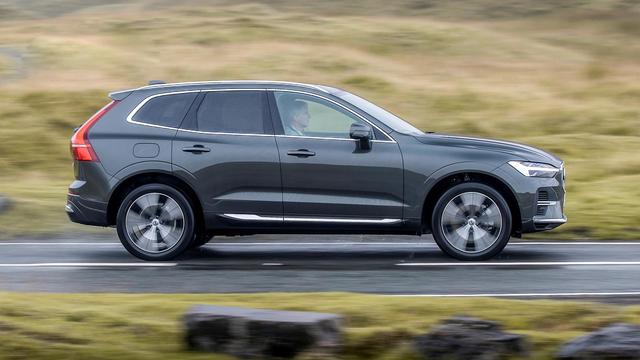 Reliability of a Volvo XC60
The 2019 JD Power Vehicle Dependability Study ranked Volvo 10th out of 25 in the overall manufacturer table, and it was far and away the highest-scoring premium manufacturer. Should anything go wrong with your XC60, Volvo offers a fairly standard three-year, 60,000-mile warranty.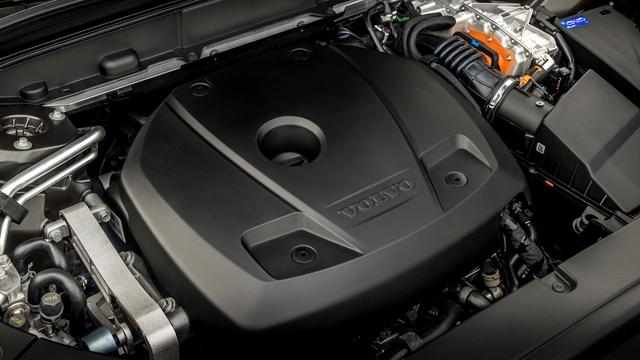 Safety for a Volvo XC60
As well as all the crash protection you'd expect the XC60 comes with a range of extremely advanced safety features to help prevent you having a collision in the first place. As standard, you get an automatic braking system that can help to avoid – or mitigate – collisions with other vehicles, pedestrians, cyclists and large animals. There's also 'run-off-road' technology that uses the car's steering and brakes to help prevent you veering off the road unintentionally, as well as front seats that are specially designed to reduce spinal injuries if your car leaves the road and lands heavily. Options include advanced cruise control (branded Pilot Assist) that steers the car to keep you centred in your lane on the motorway, now upgraded to increase its capability. The newly upgraded reversing auto brake system is intended to bring you to a stop if the car thinks you're about to back into something, but in our experience it couldn't tell the difference between foliage and a something more solid, slamming the brakes on with an alarming jolt when we backed up towards a hedge. If nothing else that gives you motivation to keep any greenery bordering your driveway regularly trimmed but it's not a very pleasant experience when it does happen.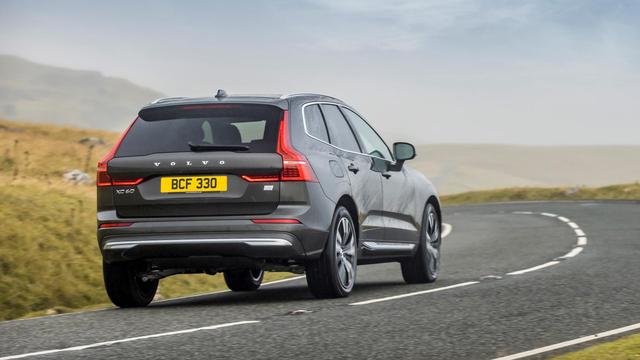 How comfortable is the Volvo XC60
Seat quality has always been a Volvo USP, and those in the XC60 don't disappoint, providing superb comfort and excellent side support. The driving position and forward visibility are good and as a family SUV the XC60 fits the bill, with lots of headroom and legroom, and well-shaped seats, front and rear. It's got a big boot, too. Folding the rear seats gives you a runway-flat load bay, and all XC60s come with a powered tailgate that's very handy when your hands are full. The interior is undeniably one of the most stylish in the class, with a minimalist design and very smart materials. Most functions are controlled via a large central touch-screen that's responsive and easy to use, especially if you run your life through Google and have an Android phone. Most versions have a very comfortable ride, although the very large alloy wheels that are standard with the higher trim levels and optional for others do add a slightly firmer edge. The XC60 is notably quiet at speed, which makes it a great long-distance cruiser. The Polestar Engineered high-performance model has bespoke suspension and brakes for a sportier character, but doesn't sacrifice too much in the way of comfort.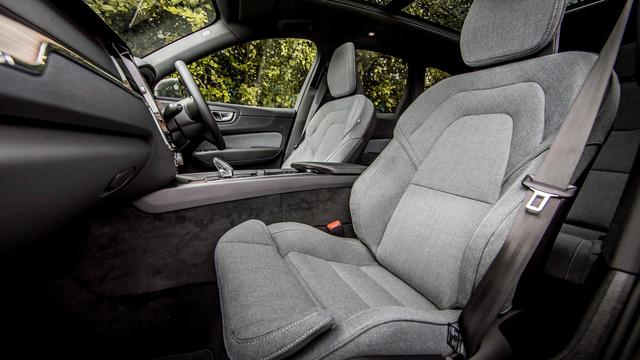 Features of the Volvo XC60
The XC60 is not cheap, but the entry-level model is so well equipped that there's little need to add any options or choose a higher-spec version. Alongside the 9.0-inch infotainment screen, which features sat-nav, Bluetooth connectivity, DAB radio and voice control activation, the cheapest versions get LED headlights, leather upholstery, dual-zone climate control, heated front seats, 18-inch alloy wheels, keyless entry and a powered tailgate. A bewildering (and admittedly very tempting) array of cosmetic and luxury kit is added as you move up the range, or delve into the lengthy list of options and option packages. The promised over-the-air update should now have automatically downloaded and addressed the lack of CarPlay compatibility we criticised previously but Apple users may still take issue with having to operate in an Android-powered environment. And while the new graphics are sharp and detailed the screen is distractingly bright on dull days, and can only be dimmed in the night mode, which operates of its own accord with no manual override.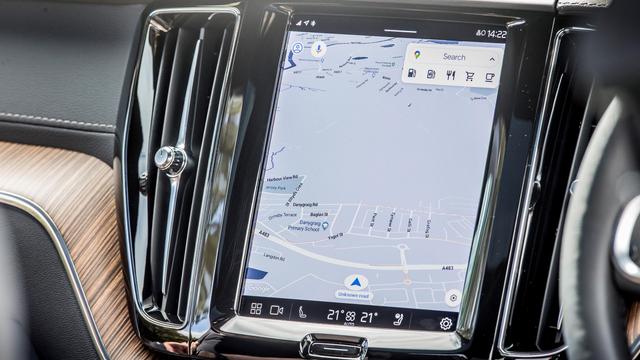 Power for a Volvo XC60
Premium mid-size SUVs ought to provide effortless performance, and the XC60 duly delivers. You can opt for petrol, diesel or plug-in hybrid versions (branded Recharge) and each one provides strong performance and a smooth automatic gearbox. The diesel range has been cut back to a single B4 version with mild hybrid assistance – it's a little unrefined at town speeds but is all you really need, pulling hard and receding to a quiet hum on the motorway. It's also got a vast range between fill-ups, our test car showing as much as 900 miles at one stage! The B5 petrol also gets mild hybrid assistance and is nicely responsive but – if you can stretch to them – the improved T6 and T8 plug-in hybrids are the real stars thanks to the addition of a bigger battery and more powerful electric motor. Performance when using the latter is much-improved, to the point you can viably drive around without firing up the petrol engine at all for over 40 miles. To help maximise that range the 'B' mode on the gearbox now offers genuine, EV-style 'one-pedal' driving, slowing the car when you lift off the accelerator to recover power to the battery and take the stress out of stop-start traffic. When the road opens out and you want to enjoy the combined power of electric and petrol motors the performance is truly impressive, especially in the 455 horsepower T8 version.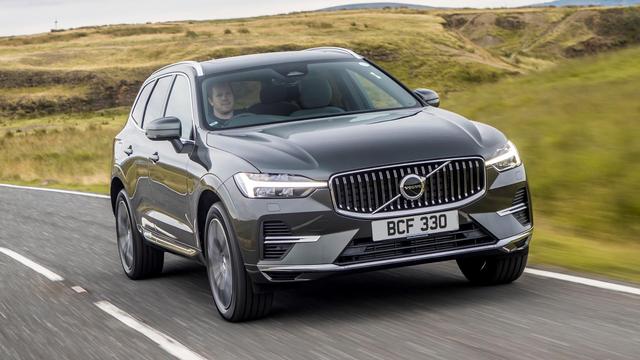 Lease deals
These deals are based on terms of 8,000 miles, for a 36 month lease with a 6 months initial payment.
Standard equipment
Expect the following equipment on your Volvo XC60 SUV. This may vary between trim levels.
Related articles and reviews