Used Genesis GV80
With 7 used Genesis GV80 cars available on Auto Trader, we have the largest range of cars for sale across the UK.
Used Genesis GV80 cars in stock
Is the Genesis GV80 a good car?
Read our expert review

Words by: Dan Trent
"Premium sub-brands are nothing new, the creation of Lexus as a builder of 'posh Toyotas' probably the best-known, while Nissan tried something similar with Infiniti not so long ago and Citroën's DS trim line has become a brand in its own right. Even Mercedes has its Maybach branded models over and above its standard range and now Hyundai is doing the same with the launch of Genesis. While linked behind the scenes, Genesis will operate as a standalone brand, with its own way of doing things and dedicated product line-up. Among the first of these is this GV80 luxury SUV, available with the option of seven seats and coming as standard with tons of kit and trimmings. All tempting but Genesis is up against established players in this sector like the Land Rover Discovery, Volvo XC90 and – our current favourite seven-seater – the Mercedes-Benz GLE so faces an uphill battle for premium credibility."
Read the review by category
Running costs for a Genesis Motor GV80
Bottom line prices aren't necessarily a reflection of the way most people buy their cars, given the popularity of finance. But it remains a good way to compare relative value, and the £60,000 or so you pay for a top spec GV80 (or over £75,000 for our test car) puts Genesis in a fierce fight with established premium rivals. After all, that kind of money gets you a nicely trimmed Land Rover Discovery or into a Volvo XC90 or Mercedes-Benz GLE. For a bit more money the latter two are also available as plug-in hybrids, the extra cost more than offset by cheaper Benefit In Kind if you're running it as a company car. The Genesis is also squeezed from the other side by Toyota, Kia and its sister brand Hyundai. The latter two offer plug-in hybrid options with all the kit for a chunk less money, the Kia Sorento impressively put together while the Hyundai Santa Fe makes up for more functional image by being cheaper to buy. Without a hybrid option of any kind at this stage the GV80 also looks expensive on running costs, while the fact the brand is new to the market makes residual values hard to predict. To sweeten the pill Genesis is promising a one-of-a-kind ownership package with an appointed personal assistant to guide you through test drives, the buying process, home delivery and ongoing support to your door to make sure life with your GV80 is a truly premium experience.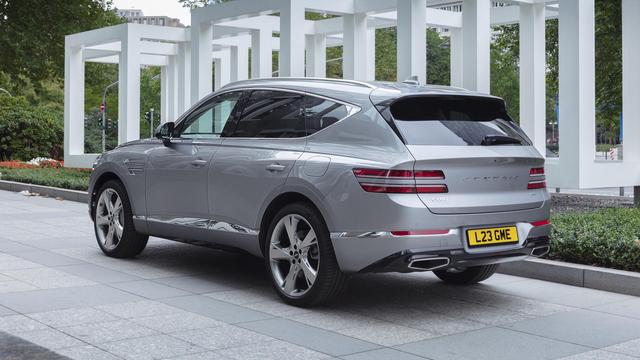 Reliability of a Genesis Motor GV80
Genesis is obviously a new brand so there's no reliability information to go on as yet, but you can take some reassurance in the solid reputation of the Hyundai stable from which it comes. This is backed up by a five-year warranty and five-year servicing package, which is all included along with roadside assistance. In keeping with the premium aspirations this means Genesis will put you up in a suitably fancy hotel should the worst happen and you become stranded by a breakdown.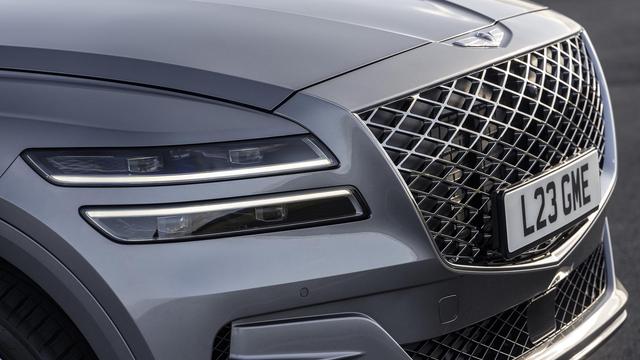 Safety for a Genesis Motor GV80
Looking after its customers is core to the Genesis offering, and that includes everything from the buying process to safety systems to keep you and your passengers out of harm's way. As standard all GV80s get a first-in-class central front airbag, active cruise control able to stop and start automatically in heavy traffic, automated steering inputs to keep you in your lane, warnings and interventions if you miss cars in your blind spot or while reversing out of a parking space, automatic emergency braking with pedestrian and cyclist detection and the ability to automatically control speed according to posted limits. An additional Innovation Pack on all models goes even further, adding fancier LED headlights, a parking collision avoidance system, expanded scope for the automatic emergency braking to include junctions, surround view cameras, remote control parking from outside the vehicle and a more sophisticated, semi-autonomous Highway Driving Assist that can even change lanes automatically. The pack isn't a cheap option, but most buyers will probably want it.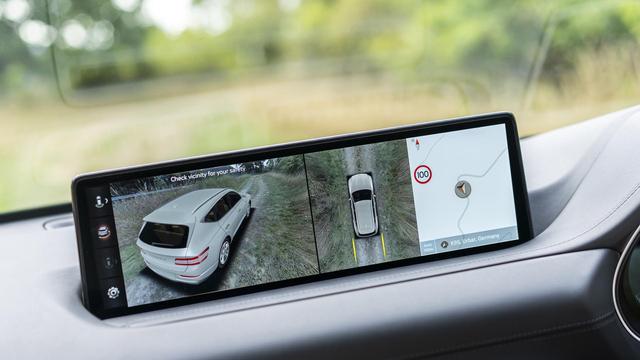 How comfortable is the Genesis Motor GV80
Asserting its premium positioning through offering occupants a suitably refined and luxurious driving experience is of course core to the Genesis offering, and first impressions when climbing aboard are impressive. The leather is soft to the touch, the quilting looks lovely (and expensive) and the matt finish wood trim is very contemporary and smartly integrated into a stylishly executed cabin. It even smells expensive! The seats are both soft and accommodating but also supportive and there's plenty of space for front and middle-row passengers. You can choose a seven-seat option if you need it and access to the rear isn't bad, though headroom means you can't really carry full-size passengers back there the way you can in, say, a Discovery. With the optional Lexicon audio system you also get noise-cancelling technology like that on fancy headphones, while on all models cameras scan the road ahead and pre-set the suspension according to upcoming speed bumps and potholes. All of this sounds great, but reality throws in a couple of curveballs. The glitzy 22-inch wheels of our test cars looked fancy but even with that fancy 'road reading' tech the ride comfort suffered, with even small bumps 'chattering' through the structure and a lack of refinement over broken surfaces. And while our test cars were laden down with all the goodies like power-operated second and third-row seats, suede headlining, sumptuous Nappa leather and extra adjustment and massage functions on the front seats all this kit comes in optional packages that add to the cost. A GV80 with all these features suddenly starts looking rather expensive as a result.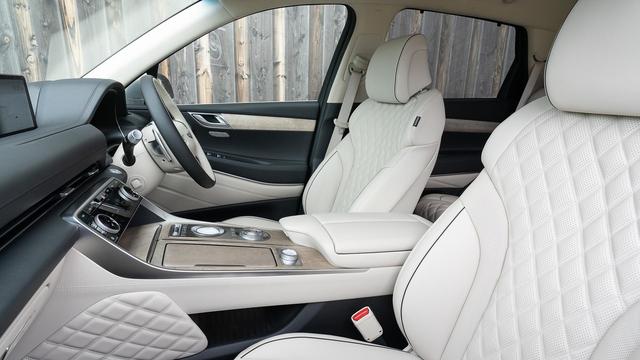 Features of the Genesis Motor GV80
Generally speaking the GV80 is generously equipped and compares very well with the established premium players it's up against from the likes of Mercedes-Benz, Land Rover and Volvo. 12-way power adjustable front seats, real wood trim, rear-view camera, power adjustable steering wheel, power tailgate and more are all standard and you get an impressively large central touch-screen with nav and all the other features you'd expect of a modern luxury car. Augmented reality navigation is a feature, though oddly Genesis wanted us to use Google Maps through our phones instead – CarPlay and Android Auto are of course standard. A combination turn and push wheel with touch-sensitive surface lets you operate the infotainment with your eyes on the road, which is good because it's a bit of a stretch to use the screen itself. Just don't confuse it with the adjacent (and similar looking) rotary gear selector! Real tech fans will want to plump for the cost option Innovation Pack, which adds a fully digital and configurable instrument cluster along with a head-up display.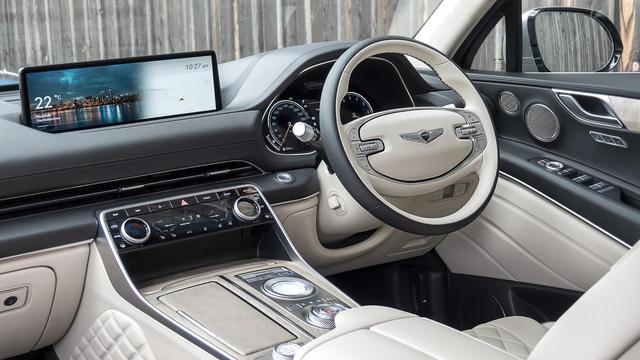 Power for a Genesis Motor GV80
There are two engine options for the GV80 at launch – a four-cylinder turbocharged petrol with an impressive 304 horsepower or a 3.0-litre six-cylinder diesel with 278 horsepower but a chunk more torque. Both drive through an eight-speed automatic powering all four wheels, with additional off-road modes should you wish to venture off the beaten track. On-paper performance looks pretty similar between the two and the 3.0D diesel version we drove felt brisk enough for pretty effortless pace, and the sense it wouldn't be slowed much with a full load of passengers and kit. The engine only really makes its presence felt under hard acceleration and even then only with a low rumble but there's no escaping the fact a big diesel motor feels like rather old-fashioned tech in this day and age, especially when rivals above and below the GV80 offer various hybrid options, from mild, full and plug-in hybrid versions that, in the case of the latter, let you do short journeys on electric power alone.