Used Citroen Grand C4 Spacetourer
With 277 used Citroen Grand C4 Spacetourer cars available on Auto Trader, we have the largest range of cars for sale across the UK.
Used Citroen Grand C4 Spacetourer cars available to reserve
Used Citroen Grand C4 Spacetourer cars in stock
Is the Citroen Grand C4 Spacetourer a good car?
Read our expert review

Words by: Phill Tromans
"MPVs aren't as common as they used to be, but it's hard to knock the Grand C4 Spacetourer for its blend of space and style. It's as quirky as a Citroen should be and hugely roomy inside, and very affordable for this type of car. Read our long-term review to find out what the Citroën Grand C4 Space Tourer is actually like to live with!"
Read the review by category
Running costs for a Citroen Grand C4 SpaceTourer
The Citroen Grand C4 Spacetourer is impressively priced against some of its MPV rivals like the Ford Galaxy or Seat Alhambra, being several thousands of pounds cheaper to buy. Fuel economy will be better too, although it isn't as powerful. However, as MPVs are declining in popularity, it's worth comparing it to some seven-seat SUVs as well, which are becoming more and more sought-after. For example, while the Peugeot 5008 is several thousand pounds more expensive to buy than the Citroen, strong resale values mean it will likely cost the same as the Grand C4 Spacetourer to run over several years. That said, it won't have as much space inside as the Citroen.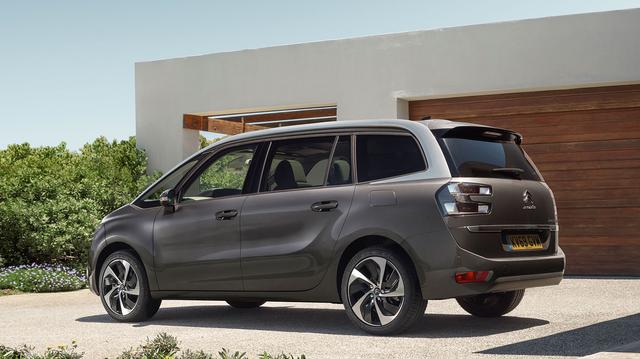 Reliability of a Citroen Grand C4 SpaceTourer
Citroen's reputation for reliability could be better. It sits below the industry average score on the JD Power 2019 Vehicle Dependability Study, and other studies have highlighted issues with the company's cars, especially as they get older. The C4 Picasso – which shares most of its mechanicals with the Grand C4 Spacetourer – has been particularly singled out as problematic in the past. Should anything go wrong with your Citroen Grand C4 Spacetourer, Citroen offers a three-year, 60,000-mile warranty, which is pretty standard for the market.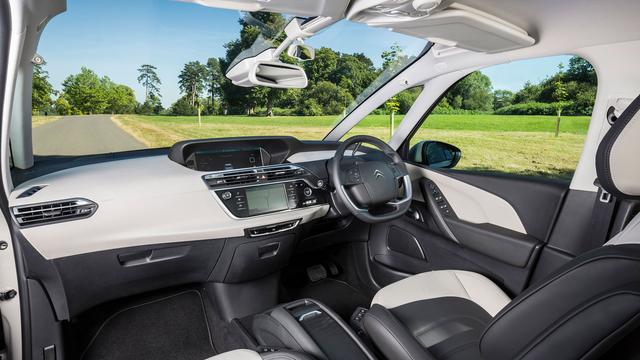 Safety for a Citroen Grand C4 SpaceTourer
While the five-seat version of the Citroen C4 Spacetourer – then known as the C4 Picasso – scored top marks in EuroNCAP crash tests, that was way back in 2013 and standards have moved on considerably since then. While higher-end versions include a low-speed automatic emergency braking system, it's not as sophisticated as those offered by newer rivals. Top-spec Flair models get a blind-spot warning and lane-departure warning system, and all models get three Isofix child seat mounting points on the second row of seats. Front, side and curtain airbags are also standard on all models.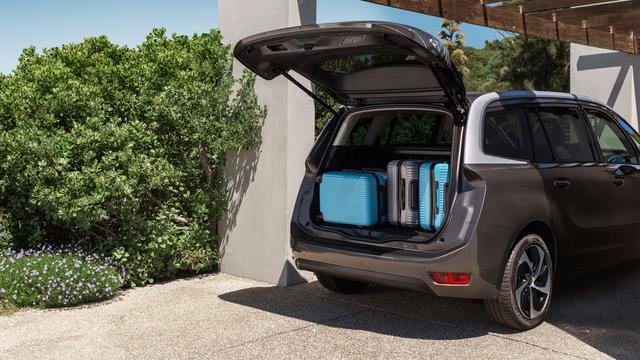 How comfortable is the Citroen Grand C4 SpaceTourer
Citroen has long been known for its quirky and unusual stying choices, and that's the case inside the Grand C4 Spacetourer. Two central screens dominate the dashboard with no instruments in front of the driver. The gear shifter sits behind the steering wheel on automatic models. It's an unusual layout, and could take some getting used to, but the seating position is good with plenty of adjustment. We did find that the reliance on the touchscreen for functions can make life more difficult than it needs to be, as almost everything requires unnecessary menu navigation, rather than simply hitting a button. Build quality is generally very good, bar a couple of slightly plasticky bits, but it all feels screwed together nicely. Visibility is excellent, with a huge windscreen in front of you and plenty of open glass areas throughout the car. Space is the Grand C4 Spacetourer's big selling point – the clue's in the name – and it's suitably cavernous throughout. Adults in the second row of seats will have plenty of head and legroom, and grown-ups could even get into the two third-row seats as well, although legroom will be tight. That can be slightly alleviated by sliding the second row forward, but best to keep the back for kids if you're doing longer journeys. If you're not using the rear-most seats, you can fold them flat into the floor to give more boot space, and the second row collapses down too. Usefully, the front passenger seat also folds flat on all but the entry-level model, which means the Grand C4 Spacetourer can make a pretty decent van if needed. It's worth noting however that with all the seats raised, boot space isn't huge compared to some rivals. Storage space elsewhere is reasonable, with plenty of cubbyholes and spaces up front, although not quite so much in the back. High-end models get some fold-out tables on the backs of the front seats. On the move, the Grand C4 Spacetourer is set up for comfort, and does a pretty good job of massaging out the worst of bad road surfaces, although it can lean over a bit through the corners. The steering's quite vague too, unlike the Ford S-Max, which can be genuinely fun to drive.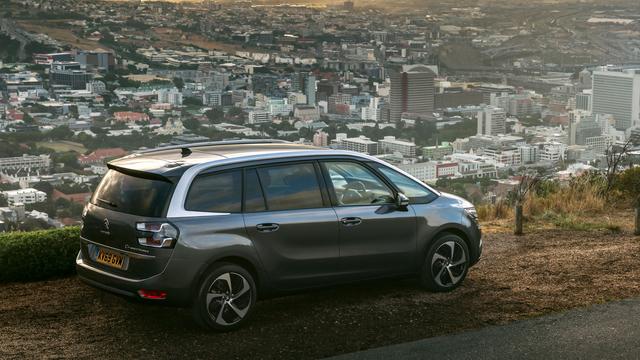 Features of the Citroen Grand C4 SpaceTourer
The Citroen Grand C4 Spacetourer has quite a bit of equipment packed into it throughout the range. It starts with the Touch Plus, which rides on 16-inch alloy wheels and has a cloth interior. Front fog lights and LED daytime running lights are included, and you get puddle lights in the door mirrors to help illuminate the ground when getting in or out when it's dark. All models get dual-zone air conditioning and rear parking sensors, as well as the full infotainment system that includes sat-nav, Apple CarPlay and Android Auto. That's not bad for the cheapest car in the range. Upgrade to the Feel Plus and you'll get 17-inch alloy wheels and half-leather upholstery, as well as extra adjustability on the passenger seat and a massage function for both front seats. Keyless entry and start are included too, as are front parking sensors. The top-spec model is the Flair Plus, which also has half-leather upholstery but with the option to upgrade to full leather. You also get a big swathe of safety kit, adaptive cruise control and a panoramic sunroof, as well as more powerful double xenon headlights (but not, sadly, the more modern LED headlights that are now becoming standard on more recent cars). These will flick automatically between full beam and dipped to avoid dazzling oncoming drivers. On top of that, Flair Plus includes a handy wide-angle child observation mirror below the rear-view mirror, automatic parking and an electric boot lid.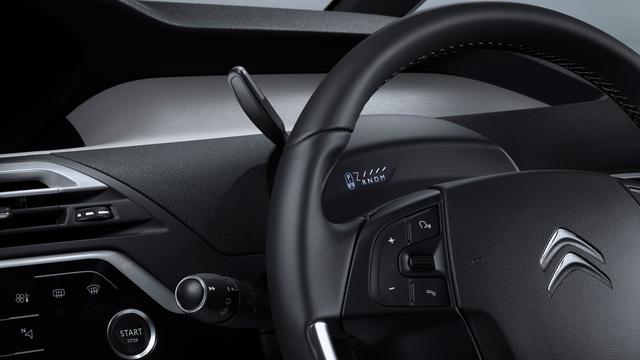 Power for a Citroen Grand C4 SpaceTourer
You can get the Citroen Grand C4 Spacetourer with a choice of two diesel engines or a petrol. We've tried the less powerful diesel, which has 130 horsepower and should be enough for pretty much everything family life is likely to throw at it. It's not too noisy, either from the engine or from road noise, although the eight-speed automatic gearbox on our test car was sometimes a bit slow to react and not as smooth as we'd hoped between gears. It's a small gripe though, and never got overly annoying. You can get a six-speed manual gearbox too. There's a more powerful 160-horsepower diesel too, which we've yet to try, but we're not sure many people will need the extra grunt. Should you want petrol power over diesel, Citroen offers a 130-horsepower engine with either manual or automatic gearbox, which could be of interest if you don't do many long journeys, due to the cheaper fuel and purchase price. We've yet to try it.