Used Citroen Grand C4 Picasso
With 575 used Citroen Grand C4 Picasso cars available on Auto Trader, we have the largest range of cars for sale across the UK.
Used Citroen Grand C4 Picasso cars available to reserve
Used Citroen Grand C4 Picasso cars in stock
Is the Citroen Grand C4 Picasso a good car?
Read our expert review

Words by: Ivan Aistrop
"The C4 Picasso has a combination of style, practicality and technology that makes it one of the best seven-seat MPVs."
Read the review by category
How good does it look?
People used to accuse MPVs of just being 'vans with windows', but the C4 Picasso is nothing of the sort. It stands out a mile, mostly thanks to the sleek front end, with slim headlights and LED daytime running lights linked by the chrome details that incorporate the company's chevrons. Every model in the range comes with alloy wheels and front fog lights as standard, and as long as you avoid the basic Touch Edition models, you'll also get chrome trim on the lower bumper and around the side windows. Top-spec Flair models also get '3D' LED rear lights, and every model can be smartened even further by the addition of an optional 'Style Pack', the exact contents of which vary from trim to trim.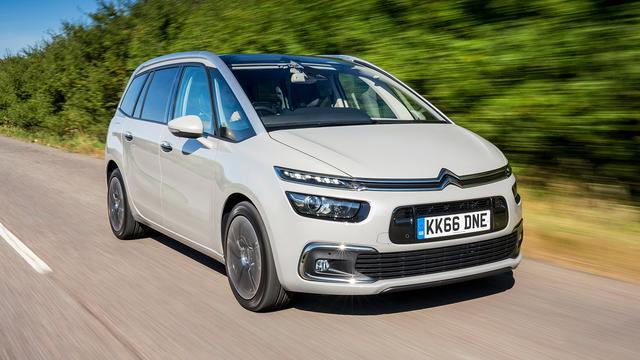 What's the interior like?
The panoramic windscreen extends further than in other cars – almost over the heads of the front-seat occupants – and that helps to make the cabin light and airy. If you want even more light, the panoramic glass sunroof (optional with Feel trim and standard on Flair) is worth having. The two-tone dashboard is made of good-quality materials and its unusual design is dominated by two large screens in the centre, set one above the other. The lower one is a touch-screen infotainment unit that is standard on every model, while the upper screen contains your instruments. This is an LCD display on basic Touch Edition models, but on Feel and Flair models, it's a full-colour HD unit, with a display that can be personalised by choosing from three different 'themes'. Either way, it all adds up to a very modern-looking cabin, although it's not quite so impressive in use. The touch-screen system, in particular, is a little awkward to use, requiring a firm prod to operate it due to a screen that's not sensitive enough. Meanwhile, the centrally mounted instruments take some getting used to, especially if you're more familiar with dials behind the steering wheel.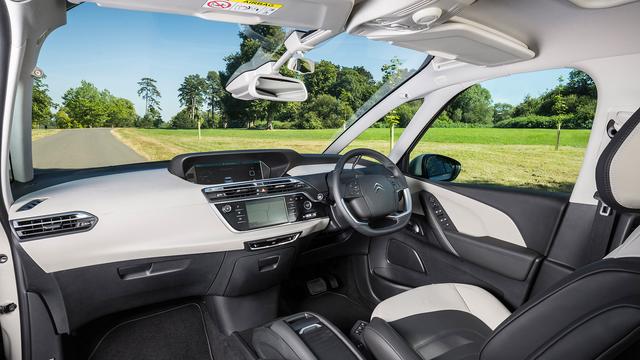 How practical is it?
Viewed as a five-seater, there's no faulting the Grand C4 Picasso: not only is there plenty of room (and a wide range of adjustments) in the front seats, each one of the three individual seats in the centre row can fold and recline, as well as providing plenty of head- and leg-room, and Isofix mounting points. For the ultimate in practicality, though, avoid the basic Touch Edition, as it's the only trim to miss out on a fold-down front passenger seat (which allows long items to be carried inside the car), sliding rear seats and underfloor stowage in the rear. With the centre row pushed right back, the sixth and seventh seats are a kids-only zone. Even with the centre slid forward, two adults in the rearmost seats still won't be truly comfortable. As a result, it's better to treat the Grand C4 Picasso as a five-seater with two occasional extra seats, rather than a full seven-seater. Admittedly, it takes a while to learn the knack of raising and lowering all those seats, but once you do, it's easy to swap between the various permutations. With all the seats upright, the boot won't take much more than two or three bags of shopping. However, in five-seat mode and with the centre row pushed all the way forward, you have the best part of 800 litres to play with. And when you want to turn your MPV into a van, you can fold down all the rear seats to leave an impressive 2181 litres. On top of that, there are also several other useful storage compartments dotted around the cabin.
What's it like to drive?
Many seven-seat MPVs focus on comfort above all else, but that's not the approach Citroen takes with the Grand C4 Picasso. The suspension is actually quite firm, which means that poorly finished surfaces – of which there are many in the UK – can give you a proper case of the jitters, especially at low urban speeds. Potholes can give you quite a jolt, too. That said, it just about stops short of being uncomfortable, and the firmness does mean things stay pretty neat in corners. Granted, there is some body lean, but that's more to do with the car's height. The steering is a bit of a mixed bag; it's nice and light at low speed to make manoeuvring easier, but it doesn't get much heavier when you're going faster. This, along with its very remote feel, doesn't inspire much confidence.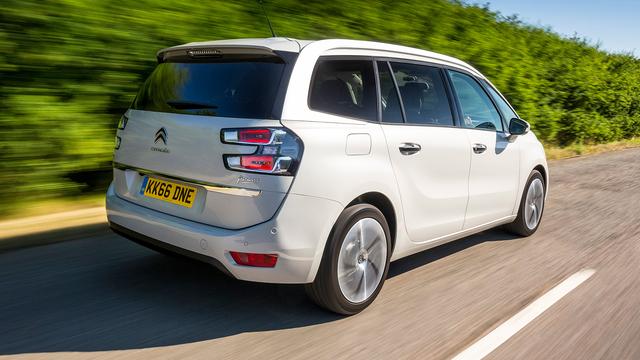 How powerful is it?
There's a wide range of engines available in the Grand C4 Picasso, but so far, we've only driven a few of them. The BlueHDi 150 engine gives the Picasso a very decent turn of speed for a big car, and it's pretty smooth and quiet, too. Our only disappointment comes in the form of the optional automatic gearbox, which can be sluggish to respond, particularly when pulling away and when you want it to kick down. To our mind, this engine works more effectively with the manual gearbox, even though the shift doesn't feel particularly appealing. This diesel engine – which is the most powerful of the three on offer, the others delivering 99bhp and 118bhp – is certainly a better option that the sole petrol engine on offer, a turbocharged 1.2 with 128bhp. While the petrol will need you to chop around on the gearbox in order to keep up with traffic – especially when you're fully loaded up – the diesel's more generous low-down muscle will haul you along quite happily with no need for a shift, making life a lot more relaxing.
How much will it cost me?
Right across the range, the Grand C4 Picasso has impressive fuel economy, and every model – including the petrol-engined versions – averages more than 55mpg. Most economical of all are the BlueHDi 100 models, with average economy of well over 70mpg, and the 120 diesels aren't far behind, either. The cleanest versions have CO2 emissions of 100g/km or less, meaning low tax bills, and nearly all of them sit below the 110g/km mark. List prices aren't cheap – they never are for big seven-seaters – but they are competitive when compared with other similarly sized rivals.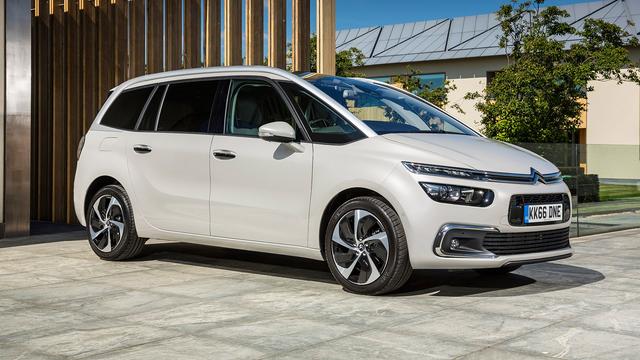 How reliable is it?
This has traditionally been a rather patchy area for Citroen, and the company sits only mid-table in Warranty Direct's manufacturer listings. Scan the results for the previous Grand C4 Picasso and you'll see it was below average, but more recent Citroens have been more impressive, and according to owner reviews of this latest model, it's proving very reliable.
How safe is it?
The Grand C4 Picasso has never been tested by Euro NCAP, but the smaller five-seat C4 Picasso earned the maximum five-star rating in crash tests back in 2013. As well as sharing much under the skin with its baby brother, the Grand also has the same, impressive standard equipment. On every model, that includes twin front, side and curtain airbags, as well as electronic stability control and cruise control. However, while adaptive cruise control with collision alert, blind spot monitoring, lane departure warning, driver attention alert and speed limit recognition are all available, they are only options, and only on Feel and Flair models.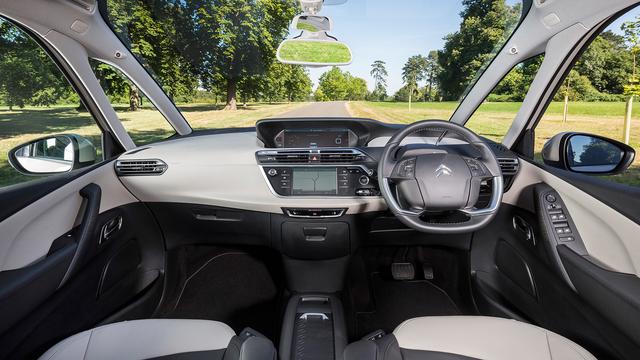 How much equipment do I get?
Even the most basic Touch Edition models come with remote central locking, alloy wheels, four electric windows, air-conditioning, DAB radio, Bluetooth connectivity and a touch-screen control system. However, we recommend you upgrade to Feel, which adds front and rear parking sensors, massaging front seats, sat-nav and the 12-inch panoramic central HD display. Top-spec Flair models come with a panoramic sunroof, reversing camera, keyless entry and start and a hands-free opening tailgate. Beyond that, there are several option packs, which bundle together various options, although most are available only on one trim level rather than across the full range.
Why buy?
With a blend of stylish good looks, good space for seven inside and low running costs on most models, the Grand C4 Picasso is one of the best seven-seat MPVs. And, looked at another way, if you can afford the extra it costs, it's an even more attractive five-seater than the C4 Picasso.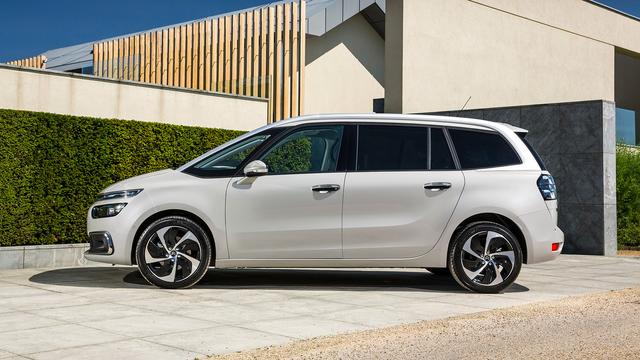 Good points
packed with features, safe and comfortable to...
Bad points
Front washers hard to adjust for right angle on...
JAMES
Published 2019-02-26
Good points
Good family car. Children love it
Bad points
None
BINDHU
Published 2018-10-17
Good points
I just love it
Bad points
Can't turn eco off You have to do it every time...