Toyota Yaris Cross SUV
New from £24,700 / £349 p/m
Is the Toyota Yaris Cross SUV a good car?
Read our expert review

Words by: Erin Baker
"Toyota's popular Yaris has received the same treatment as almost every other supermini in the market, which is to say it's been SUV'd. With raised ride height, the option of all-wheel drive and some chunky styling additions, it's a proper dinky 4x4, and its frugal petrol-electric hybrid power makes a convincing case."
Read the review by category
Running costs for a Toyota Yaris Cross
It's very rare these days you see the miles-per-gallon (mpg) fuel economy figure start in the 60s without thinking about it. But we couldn't get the Yaris Cross below 65mpg, no matter how hard we pushed, which is actually better than Toyota's claims. Given there's nothing more dispiriting than watching the fuel gauge plummet to empty every week, that figure makes this hybrid a joyously economical car to drive (see 'Power' for more detail). The pricing isn't bad either, as long as you don't think of this as a bog-standard Yaris (though steer clear of the top trim Premiere Edition and its clearly ludicrous £30,000-plus pricetag) and with Toyota's legendary reliability included in the offer depreciation is acceptable, so you should be able to score a decent monthly finance deal. First year VED – or road tax - starts at £130, rising with the trim levels, and Benefit In Kind tax for company car users starts at 24 per cent.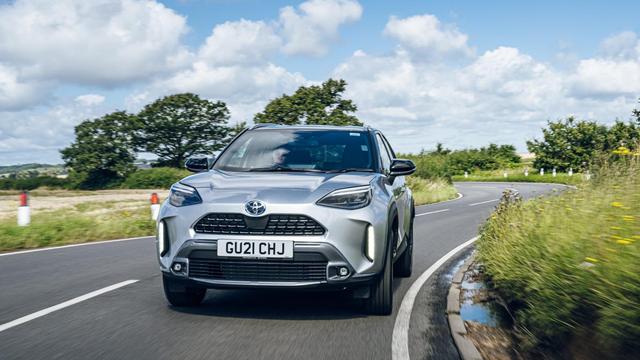 Reliability of a Toyota Yaris Cross
Toyota always performs strongly in owner satisfaction surveys and warranty indexes, and the Yaris continues to be bought new and second-hand by hundreds of drivers. The hybrid system is also well tried and tested, which leads us to believe there will be few issues for owners with the Yaris Cross. Go for the all-wheel drive (AWD) versions, and there's certainly more to go wrong but Toyota takes huge pride in its engineering prowess and you should be able to buy with confidence.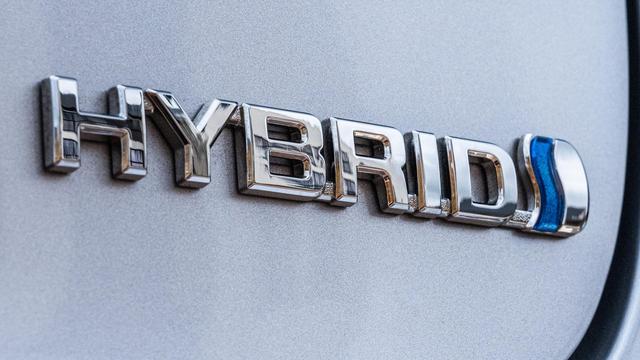 Safety for a Toyota Yaris Cross
The reassurance of all-wheel drive for extra grip in slippery conditions only comes with the top trim levels, and the cost seems a bit steep unless you regularly find yourself driving in snowy conditions or live on an unmade road where the going gets tricky. For more typical driving every Yaris Cross comes with adaptive cruise control, lane-departure alert, road-sign assistance and a pre-collision system that detects imminent collisions with vehicles, pedestrians and cyclists, and will if necessary control the steering to move the car out of the way. Strangely you have to step up to higher term levels to get the blind-spot warning system, which is one of the more useful safety innovations found in modern cars. You can also opt for the cross-traffic alert, useful for those who regularly have to reverse out of drives into busy roads.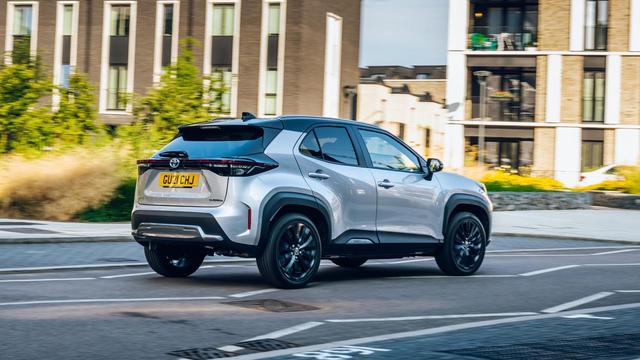 How comfortable is the Toyota Yaris Cross
The Yaris Cross is, like nearly all Toyotas, comfortable to the point of boredom. Indeed, this reputation for playing it safe has created a stereotype that the brand's cars aren't that fun to drive but the flipside is that they are consistently quiet, smooth and easy to get along with. The Yaris Cross feels bigger than the standard Yaris inside; we took three teenagers in the back and a dog in the boot to a paddle-boarding event and had to keep reminding ourselves the car wore a Yaris badge. There are plenty of deep storage spaces for such a small car, and lots of light and visibility. The boot took our wetsuits and one paddle board (deflated) as well as the dog.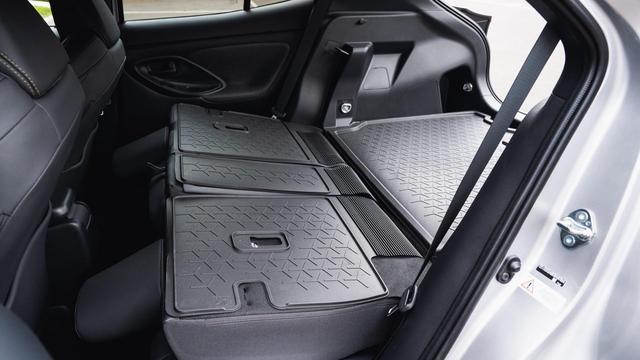 Features of the Toyota Yaris Cross
The base trim level - Icon - only gives you a small 4.2-inch infotainment screen, so opt for Design as a minimum, which gives you a bigger screen plus the digital instruments. Surprisingly, a reversing camera is standard, but parking sensors aren't. Everything from wireless smartphone mirroring (although the connection proved frustratingly hit and miss) and a heated steering wheel to a panoramic sunroof and advanced automatic parking is available. Beware of getting too carried away with the options list, though. This is essentially a small, city-friendly car with a price that should reflect its humbler roots.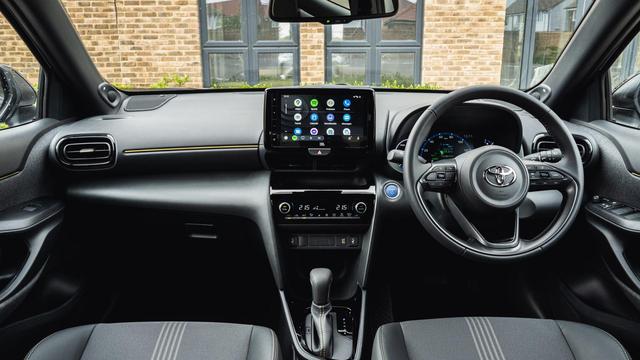 Power for a Toyota Yaris Cross
Hybrids you can't charge externally may seem hard to get your head around, on the basis you can't expect to cover regular short-distance journeys on electric power alone as you can with a plug-in, or PHEV. However, the Yaris Cross blew us away by returning an easy 65mpg on both city and motorway journeys. Without the hassle of having to plug in to charge this type of hybrid is currently the easiest first step into electrification, especially for drivers who don't have off-street parking and scope to fit a home charging point. You just need to remember to stick fuel in it every now and then, though given how efficient it is that doesn't come often. The powertrain pairs a 1.5-litre petrol engine with an electric motor (or motors plural in the all-wheel drive version) for a combined 115 horsepower and switches seamlessly between the two power sources. Because the motors give you an instant boost of power it feels way perkier off the line than the numbers suggest, too. On the trim levels that offer it you even get the potential of reasonable off-road performance, thanks to all-wheel drive and hill descent control. We thought we'd be left cold by this car, but found ourselves pleasantly surprised.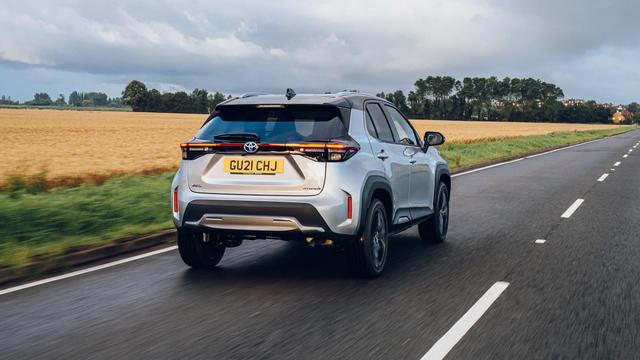 Lease deals
These deals are based on terms of 8,000 miles, for a 36 month lease with a 6 months initial payment.
Standard equipment
Expect the following equipment on your Toyota Yaris Cross SUV. This may vary between trim levels.
Related articles and reviews