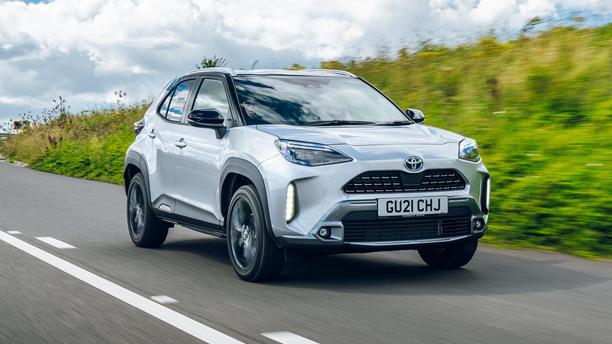 Discover the
Toyota Yaris Cross
New from £24,210 / £288 p/m
5 doors

5 seats

Automatic

Petrol hybrid
Is the Toyota Yaris Cross SUV a good car?
Read our expert review

Words by: Erin Baker
"Toyota's popular Yaris has received the same treatment as almost every other supermini in the market, which is to say it's been SUV'd. With raised ride height, the option of all-wheel drive and some chunky styling additions, it's a proper dinky 4x4, and its frugal petrol-electric hybrid power makes a convincing case."
Read the review by category
Running costs for a Toyota Yaris Cross
It's very rare these days you see the miles-per-gallon (mpg) fuel economy figure start in the 60s without thinking about it. But we couldn't get the Yaris Cross below 65mpg, no matter how hard we pushed, which is actually better than Toyota's claims. Given there's nothing more dispiriting than watching the fuel gauge plummet to empty every week, that figure makes this hybrid a joyously economical car to drive (see 'Power' for more detail). The pricing isn't bad either, as long as you don't think of this as a bog-standard Yaris (though steer clear of the top trim Premiere Edition and its clearly ludicrous £30,000-plus pricetag) and with Toyota's legendary reliability included in the offer depreciation is acceptable, so you should be able to score a decent monthly finance deal. First year VED – or road tax - starts at £130, rising with the trim levels, and Benefit In Kind tax for company car users starts at 24 per cent.
Lease deals
These deals are based on terms of 8,000 miles, for a 36 month lease with a 6 months initial payment.
Standard equipment
Expect the following equipment on your Toyota Yaris Cross SUV. This may vary between trim levels.
Related articles and reviews