Skoda Octavia Estate
New from £22,035 / £383 p/m
Overview
Petrol, diesel or hybrid options
Is the Skoda Octavia Estate a good car?
Read our expert review

Words by: Dan Trent
"There's still a lot to be said for the traditional estate as an all-round car for busy families, and the Skoda Octavia is one of the better ones in the market. The massive boot is brilliant for dogs, pushchairs, sporting equipment or whatever else you need to haul around, it looks good and the choice of petrol, diesel or hybrid means there's an engine to suit any budget or tastes. This latest Octavia estate has more tech and feels better made than ever, too. Throw in options of raised ride height for rough roads, all-wheel drive and high-performance vRS versions and it's arguably all the car anyone really needs."
Read the review by category
Running costs for a SKODA Octavia
Any supposed stigma from being seen in a Skoda has long-since been blown out of the water by the standard of the cars it now builds. This latest Octavia goes a step further and ramps up the quality without forgetting to deliver on the value for money owners appreciate. Comparing like-for-like models with the same petrol engine it's a chunk cheaper than the related Volkswagen Passat estate and, in terms of interior space alone, it makes your money go a long way. The 'iV' branded plug-in hybrid models help slash running costs for company drivers and those looking to minimise Benefit In Kind costs but are more expensive to buy up front. Private buyers may be better off with the regular petrol and diesel models in that case, but Skoda offers a huge range of engine options to suit all needs.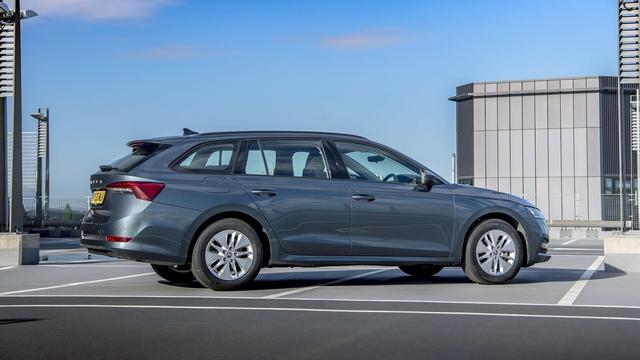 Reliability of a SKODA Octavia
The Octavia shares its foundations, engines and electronics with various models across the Volkswagen group, including Audi, Seat and Cupra, and these pooled resources hopefully count in its favour. Historically Skoda has a decent reputation for reliability, though, and the Octavia's long-standing popularity with everyone from emergency services to taxi firms is indicative of its tough, no-nonsense image. If you want the reassurance of extended cover the standard three-year warranty can be increased to four or five years at extra cost at the point of purchase, too.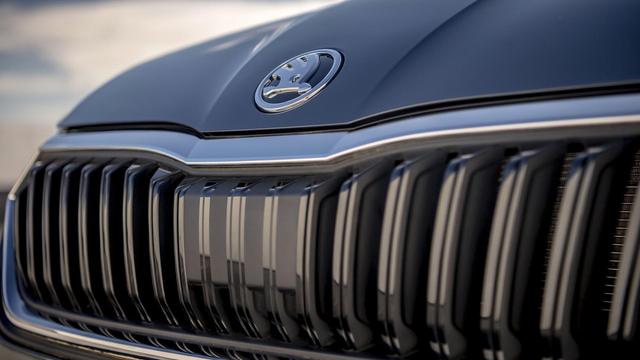 Safety for a SKODA Octavia
Automated emergency braking, rear parking sensors and cruise control with a speed limiter function are among the standard features but you have to pay extra for blind spot alerts, lane-keeping interventions and other functions (many bundled in the Travel Assist package) while two levels of Crew Protect Assist – again cost options – add a central airbag and prepare the car if it thinks a crash is imminent. In daily driving we found the interventions of the safety systems like lane-keeping and automatic cruise control pretty intrusive and took to turning them off, even though it's a bit of a faff to do so.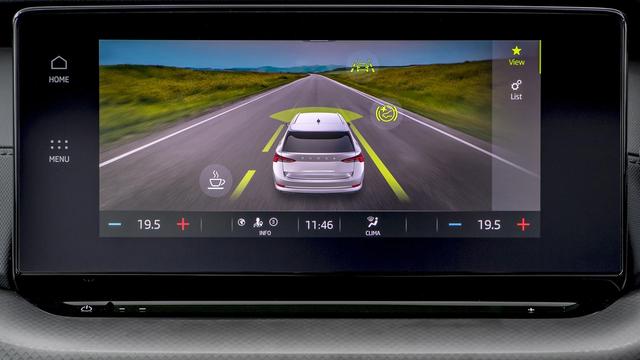 How comfortable is the SKODA Octavia
Boot size will be a priority for estate car buyers and there are probably studio flats for sale with less interior space than the Octavia Estate, meaning it's the perfect car for those with a lot of stuff to carry. By volume there's more boot capacity than SUVs like the Karoq or electric Enyaq iV from elsewhere in the Skoda range and, while its Passat relative has a fraction more space, the Octavia's boot is usefully deep and square. This is also a big advantage when compared with rivals like the Peugeot 508 that put sleek looks ahead of practicality. You can also have a multi-level floor for hidden storage or a reversible one with a wipe-clean surface to protect from muddy kit as part of the optional Simply Clever pack, though disappointingly these features aren't available on all models. Front and rear-seat passengers are similarly well catered for in space terms, with plenty of legroom and lots of nifty convenience features like phone storage sleeves on the back of the front seats. Given the Octavia is the kind of car you'll be loading for long holiday roadtrips it's good to know it's also very comfortable and refined, with pleasantly compliant suspension. You can pay extra for adjustable dampers to stiffen it up for twisty roads if you'd like but we'd probably save this for the high-performance vRS version to offset the stiffer chassis this comes with. If you live out in the wilds or up an unmade lane there is also the option to have a little more ground clearance with the Rough Road Package, which would make for a great all-seasons car for country dwellers when combined with an all-wheel drive model.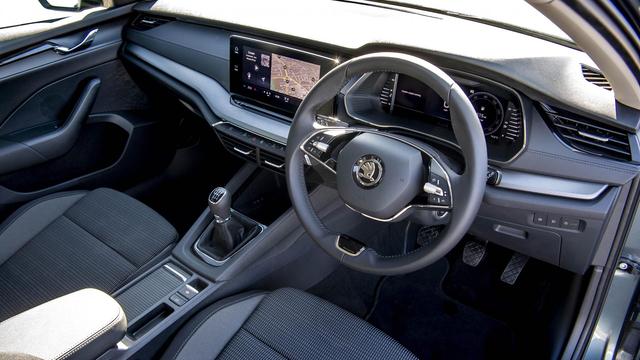 Features of the SKODA Octavia
The latest Octavia comes with an impressive amount of standard technology, including a 10-inch touch-screen at the centre of the dash through which you control pretty much everything from infotainment to heating and ventilation. The functionality is reduced on the entry level SE but you can always run your phone apps, with wireless CarPlay and Android Auto as standard. Beyond that it's worth noting a lot of the kit you want for the Octavia is buried in a rather complicated options structure, which demands certain combinations of engine or trim to 'unlock' particular features and a forensic study of the pricelist before you commit. If you can stretch to it the mid-level SE L is a safer bet than the rather basic feeling SE trim, on the basis it includes many of the desirable features as standard, or at least opens them up as options. Specific extras for the estate model include a full-length panoramic roof and 'Sleep package' with fold-out sides to the rear headrests and help those in the back get their 40 winks.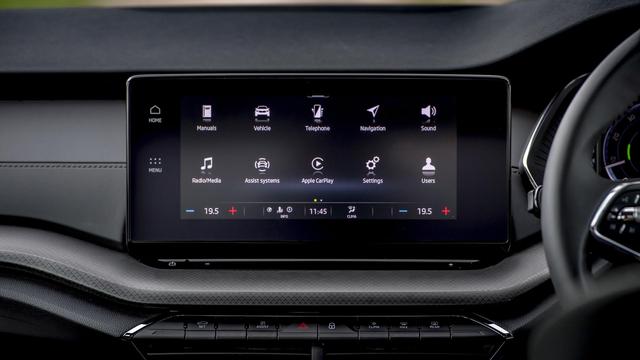 Power for a SKODA Octavia
Petrol, diesel or hybrid? The Octavia Estate has all options covered, along with others for front- or all-wheel drive and manual or automatic gearboxes. Experience of the mid-level 150 horsepower petrol in the hatchback version of the Octavia suggests this is a nice balance of affordability, performance and efficiency but we also tried the powerful 2.0-litre diesel in vRS trim and, while this isn't an especially fashionable choice, it's a refined and economical option for those racking up long distances, helped by the 600-mile range it shows on a full tank. The plug-in hybrids are available in two power outputs and attractive for fleet buyers but be aware they lose a chunk of boot space to the batteries, which counts against them in a practically minded model like an estate.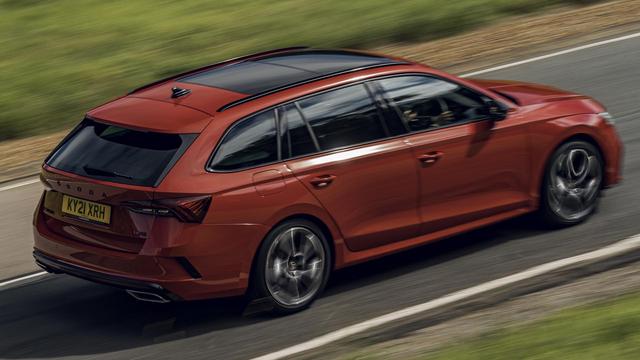 Lease deals
These deals are based on terms of 8,000 miles, for a 36 month lease with a 6 months initial payment.
Standard equipment
Expect the following equipment on your Skoda Octavia Estate. This may vary between trim levels.
Other vehicles in the Octavia family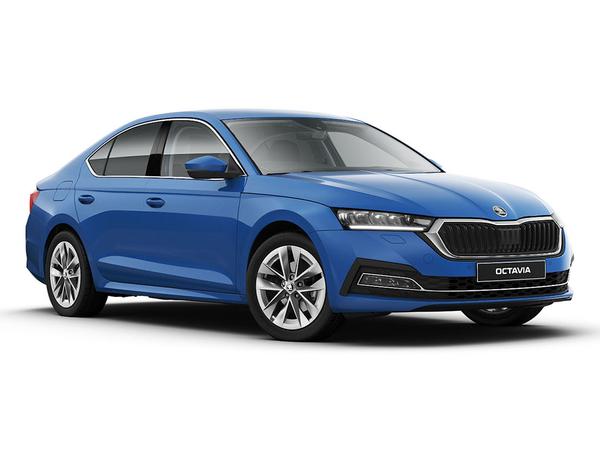 Octavia Hatchback
Wide range of engine options

Very comfortable

Roomy for passengers and luggage
Related articles and reviews