Renault Zoe Hatchback
New from £27,395 / £669 p/m
Is the Renault Zoe Hatchback a good car?
Read our expert review

Words by: Ivan Aistrop

Additional words by: Dan Trent
"We think the Renault Zoe is one of the best electric cars you can buy, and not just because it's one of the cheapest. It's also impressively practical for its size and nicely finished inside, while on the road it combines comfort, quietness and fun in a well-rounded dynamic package. All that, and zero tailpipe emissions. Who needs a Tesla?"
Read the review by category
Running costs for a Renault Zoe
The Zoe is one of the cheapest electric cars around, so that's a great start. Better still, residual values for the previous Zoe are among the best of any used car. If the latest model continues the trend, it will make it a sound long-term investment. With fewer moving parts, servicing and maintenance costs should be lower than for a petrol- or diesel-powered supermini. The cost of recharging the Zoe should also work out at far cheaper than filling that equivalent ICE (internal combustion engine) hatchback. A full top-up takes 9 hours and 25 minutes on a 7kW wallbox charger and will cost you between £3 and £7 per charge, depending on the tariff and the time of day. The official WLTP figures suggest that should give you a range of up to 245 miles, but in the real world your maximum range will depend on a variety of factors including how fast you drive and what the ambient temperature is. Be aware, too, that if you want to upgrade your standard 22kWh charger to a 50kW charger that gives you up to 90 miles worth of range in just half an hour (provided you can find an appropriate charging station, that is), it'll cost you several hundred pounds more. It can't be retro-fitted, either.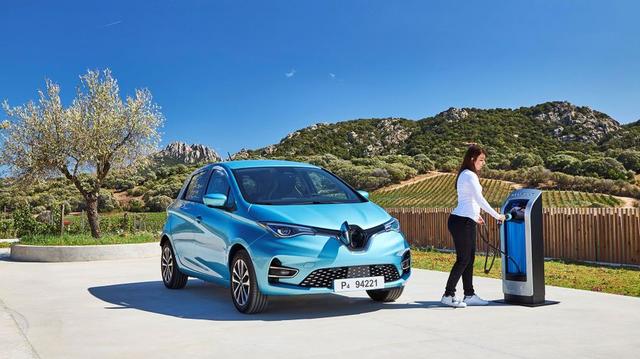 Reliability of a Renault Zoe
The Zoe's electric powertrain means fewer moving parts to go wrong, which could make it a more reliable option than some petrol- or diesel-engined rivals. Auto Trader owner reviews of the previous Zoe are generally positive but, as a brand, Renault's reliability record is nothing special. It only manages a mid-table ranking in the Warranty Direct Reliability Index, while its score in JD Power's UK Vehicle Dependability Survey is below average. Warranty cover is among the best in the class, though. The entire car is covered for five years or 100,000 miles (whichever comes soonest), rather than the class norm of three years and 60,000 miles. The battery has a separate warranty that covers it for eight years or 100,000 miles.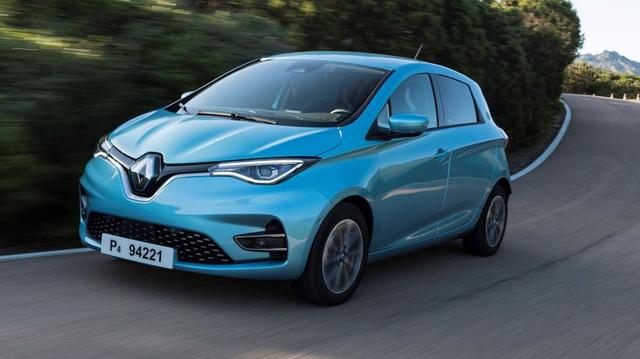 Safety for a Renault Zoe
Renault has a really impressive reputation for safety, so it's surprising that the Zoe doesn't come with automatic emergency braking as standard throughout the range. The top-spec trim includes it, but you have to add it as part of an option pack on mid-level trim, and it's not possible to add it to the base-level model all. The base car does come with legal requirements such as airbags and a stability control system, while mid-spec trim adds traffic sign recognition, automatic high-beam headlights and a lane departure warning system. The latest Zoe hasn't yet been tested by Euro NCAP.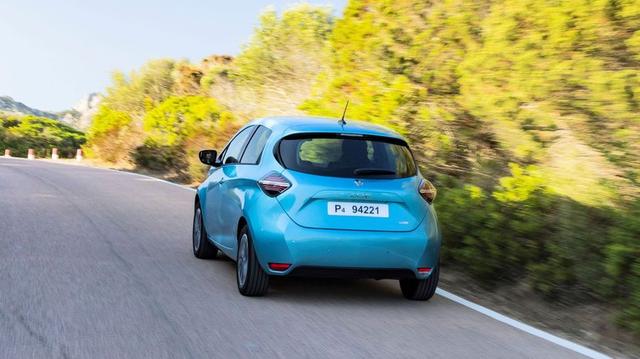 How comfortable is the Renault Zoe
The Zoe has a smart, high-tech interior that's a perfect match for its classy, eco-pioneer image. It's even available with interior trim that uses a recycled fabric made out of old seatbelts and plastic bottles. All models have a version of Renault's latest touch-screen infotainment system – a 7.0-inch example in the cheaper models and a more Tesla-esque portrait-format 9.3-inch version in top-spec cars. Both versions are pretty responsive and user-friendly. You sit quite high in the Zoe, which isn't to all tastes, while rear visibility could be better. Rear parking sensors are standard for all but the basic trim level, though, and a rear-view camera is available. Interior space is very impressive for such a small car. Headroom and legroom is good in both the front and rear seats, with easily enough for four six-foot adults to travel comfortably. Thanks to a wide middle seat in the rear, carrying a fifth person should be comfier than in many superminis, too. At 338 litres, the boot is significantly bigger than you get in a Ford Fiesta or Volkswagen Polo, and the space is a good square shape. It's a shame that the entry-level car only comes with a one-piece rear backrest, but other versions have a versatile 60/40 split. Buyers who appreciate the supremely quiet, nippy nature of electric cars will love the way the Zoe drives. In fact, it's not just good to drive for an EV, it's good to drive full-stop. Most importantly, it's an easy-going, relaxed experience. There's little more than a faint whirr from the electric motor, so progress is impressively quiet. The comfortable ride also helps keep things serene and the Zoe also feels assured and responsive, changing direction with real poise.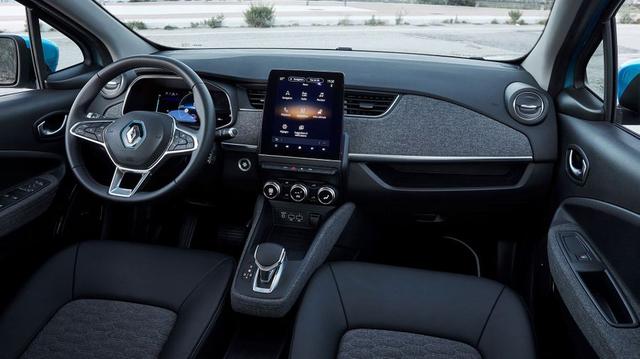 Features of the Renault Zoe
Standard equipment for the Zoe is pretty much on a par with that of mainstream (petrol- or diesel-powered) superminis, although Renault has been a bit stingy with the entry-level model. It gets basics such as air-conditioning, cruise control, heated and electrically operated door mirrors and Apple CarPlay and Android Auto, while you also get things you might not expect, such as full-LED headlights and automatic headlights and wipers. You need to stump up for the next trim level up to gain many desirable items, however, including alloy wheels, electric rear windows, body-coloured door mirrors and a split-folding rear seat. This trim level also brings with it a much more comprehensive level of safety equipment, as well as useful features such as a wireless phone charger, sat-nav and automatic high/low beam headlights. Top-spec models have extra convenience features, including a rear-view camera and front and rear parking sensors, as well as a larger touch-screen display.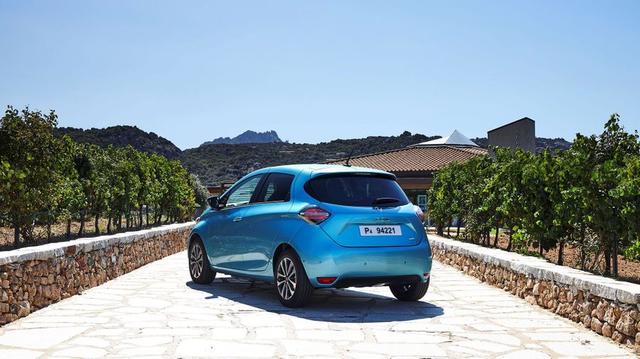 Power for a Renault Zoe
All versions of the Zoe come with the same 52kWh battery, but there are two different electric motors to choose from – the 108-horsepower R110 and the 136-horsepower R135. So far, we've only driven the latter. Its 0-62mph sprint time of 9.5 seconds is healthy enough, but that only tells half the story. Off the line, the Zoe's power is unfurled smoothly and gradually so as not to overpower the front wheels. However, if you put your foot down on the move the Zoe allows its motor to respond much more quickly and with much more ferocity, and the acceleration you feel is scintillating. The single-gear transmission also means a seamless, uninterrupted, shift-free power delivery, which helps the car feel even more responsive. It's especially good for overtaking, and for getting the power down quickly when coming out of corners. The brakes are really good, too, never feeling overpowered by the performance and boosted by regenerative braking that is smooth and predictable.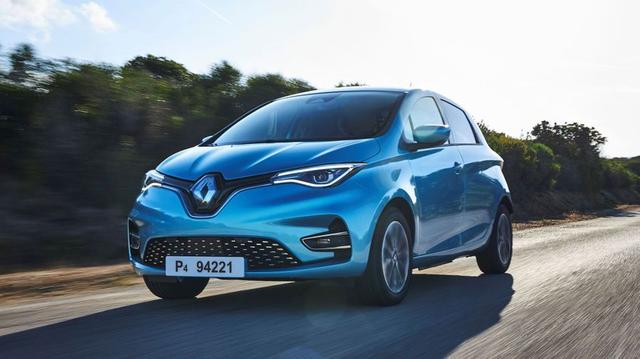 Lease deals
These deals are based on terms of 8,000 miles, for a 36 month lease with a 6 months initial payment.
Standard equipment
Expect the following equipment on your Renault Zoe Hatchback. This may vary between trim levels.
Related articles and reviews