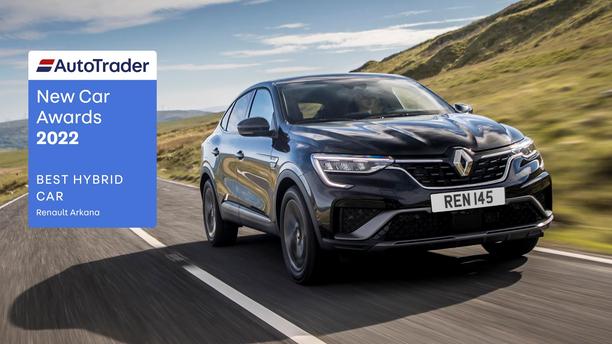 Discover the
Renault Arkana
New from £26,205 / £403 p/m
5 doors

5 seats

Automatic

Petrol or petrol hybrid
Is the Renault Arkana SUV a good car?
Read our expert review

Words by: Erin Baker
"The mash-up of coupe-inspired styling and SUV stance is a popular format in the premium sector, with the likes of the BMW X4, Audi Q5 Sportback and Mercedes GLC Coupe all putting a sleeker spin on their boxier, more conventional relatives. Renault is now doing the same for compact crossovers, the new Arkana sharing its basis with the popular Captur to combine a chunky, high-riding stance with a sportier roofline. Though there's no plug-in option as there is on the Captur the Arkana offers mild and full hybrid versions, the latter under Renault's E-Tech branding."
Read the review by category
Running costs for a Renault Arkana
I've always loved Renaults and the brand feels very family friendly, humble and good value for money. The Arkana is no exception and with prices starting at £25,000 for this large family car it feels like a great buy, given it offers even more space than the popular Captur on which it is based. Be warned, though, you have to step up to the mid-range S Edition to get the larger infotainment screen, which makes all the difference to the value you feel you are getting for the money spent, and transforms the experience in this car. For the cheapest running costs go for the E-Tech hybrid version, which uses a version of the battery assistance featured on the Clio E-Tech Hybrid we recently ran on long-term test. It helps with efficiency and CO2 figures but not by as much as some company drivers might like, so if you really want to save on Benefit In Kind and other tax costs you're better off with the Captur E-Tech, which is available as a plug-in.
Lease deals
These deals are based on terms of 8,000 miles, for a 36 month lease with a 6 months initial payment.
Standard equipment
Expect the following equipment on your Renault Arkana SUV. This may vary between trim levels.
Related articles and reviews