Alpine A110 Coupe
New from £48,450
Is the Alpine A110 Coupe a good car?
Read our expert review

Words by: Dan Trent
"The French alternative to a Lotus or Porsche, Alpine always had strong links to Renault and, more recently, enjoyed a revival under its ownership. Having not made any new cars for decades the A110 marks a triumphant return, successfully reinventing the brand for both enthusiasts and new customers alike. While it's a proper sports car and a match for even a Porsche 718 Cayman on road and track the Alpine is also surprisingly comfortable and efficient to run, if not all that practical. That's less of an issue for a pure sports car like this and, with its recently expanded range, improved tech, extra colours and more powerful S model, the A110 makes for a distinctive and refreshing choice if you're lucky enough to have space in your life for a two-seat sports car."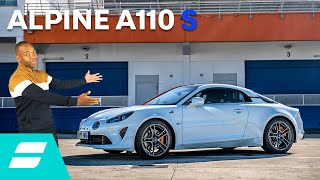 Read the review by category
Running costs for a Alpine A110
Given the modest sounding 1.8-litre engine and Renault origins you might have expected the Alpine A110 to be priced more like a Toyota GR86 or Audi TT but, in reality, it's rather more exotic and similar money to a 718 Cayman. Widespread critical acclaim has helped desirability, this combined with relatively limited supply meaning resale values should remain strong and helping keep monthly costs down if you're looking to lease or finance your Alpine. Meanwhile, the lack of weight offers the A110 huge advantages in ride and handling but it also means running costs are very reasonable for such a focused sports car. In our experience the official fuel consumption of just shy of 40mpg is easily achievable at a cruise and emissions are low for a car of this nature. The Alpine is bang-on with its main rivals for insurance groupings, meaning your premiums shouldn't be any more severe and in everything from replacement tyres to service costs will be much cheaper to run than a Porsche.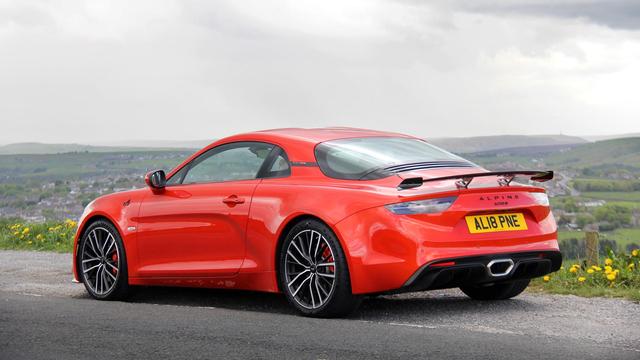 Reliability of a Alpine A110
Commenting too much on reliability is difficult because this car – and the brand from whence it came – is a completely unknown quantity. It uses a lot of Renault parts, shares an engine with the (recently retired) Renault Megane R.S. and the parent brand occupies a fairly lofty position in the manufacturer standings of Warranty Direct's Reliability Index. But, this car uses quite a few unique components, so there are very few meaningful conclusions you can draw from that. For a modern design it is commendably simple, though. The best thing we can do is watch with interest for any reliable data and keep you posted.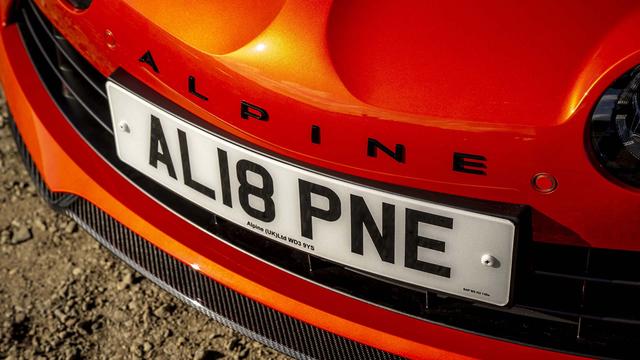 Safety for a Alpine A110
The Alpine comes with two airbags, along with the tyre pressure monitoring and stability control systems that are legal requirements these days, but very little else. Crucially, automatic emergency braking isn't provided, and neither are the other clever safety systems that are commonplace these days. Alpine will argue this keeps weight down for maximum driving enjoyment and is appropriate to the enthusiast audience it's playing to, but it's still something prospective buyers should be aware of. The car hasn't been crash-tested by Euro NCAP, and it'll sell in such small numbers that it probably never will be.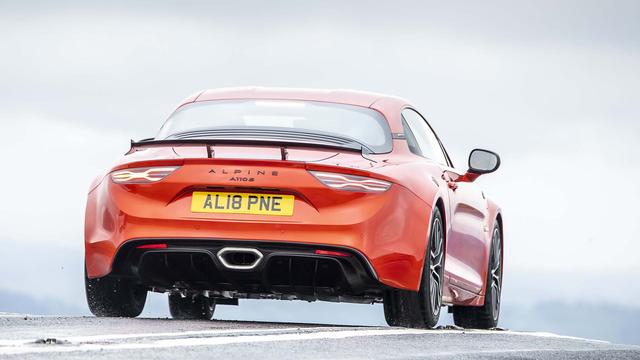 How comfortable is the Alpine A110
While spacious enough in leg and headroom the Alpine is pretty snug inside – you rub shoulders with your passenger and there's next to no oddment space for your stuff, the A110 lacking a glovebox, cupholders or much in the way of storage. Like a 718 Cayman it has two boots, one up front and one in the back. Unlike the Cayman, though, they're very small and you'll need to pack light (and in lots of small, squashy bags) to make use of what space there is. So, it's pretty impractical. But you won't mind once under way because the A110 is simply stunningly good fun to drive thanks to its athletic build. For context it's about three-quarters the weight of a 718 Cayman S, meaning it can use smaller and lighter tyres and softer suspension with no compromise in agility or handling prowess. You can genuinely steer it with your fingertips, the car seemingly pivoting around your hips and giving you huge confidence. The stiff suspension and fat rubber on a Cayman might give it a slight edge on a track. But as a road car the A110 is in a class of its own. It's also surprisingly quiet and refined on a cruise. If you do want something a bit more hardcore the S version has bigger tyres and much stiffer suspension for a more focused feel. If you're thinking of using your Alpine on track days or crave every bit of response on the road it does carry its speed more effectively but there's quite a lot of kickback through the steering, there's more tyre roar and the ride around town suffers. Each to their own but we preferred the more flowy nature of the base model we drove originally, and this or the GT would be our pick.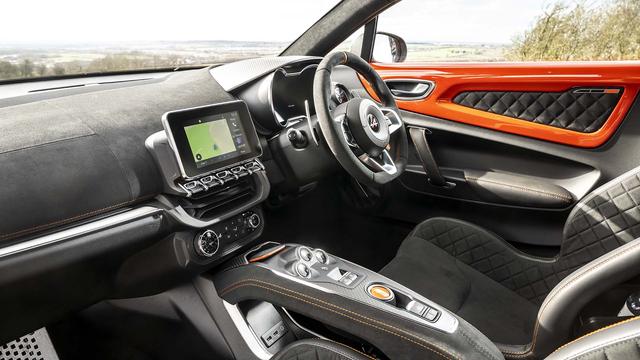 Features of the Alpine A110
The A110 range has been updated and now offers three distinct flavours, while new colours, improved tech and various additional options packages have been introduced across the board. The standard A110 is, tactfully, most true to the brand's minimalist ethos but includes the central screen with navigation, phone connectivity and Bluetooth. It's a basic set-up but has most of what you need and now includes CarPlay and Android Auto, which is a welcome upgrade though the interface is a little clunky. You also get climate control, keyless start, cruise control with speed limiter, LED lights, three driver modes via a button on the wheel and all you really need to enjoy the A110's talents as a driver's car. It also has the smaller 17-inch wheels, which contribute to the ride quality mentioned above, while the fixed Sabelt bucket seats are also very comfortable, though best bolted into their lowest setting. If you're not confident doing this yourself ask your dealer to do it before delivery! Beyond that you have the choice of more luxurious GT with six-way adjustable seats, improved sound system, parking sensors/reversing camera and bigger 18-inch wheels. As well as a sportier set-up the S then adds a louder exhaust and carbon style badges inside and out rather than the (rather delightful) French tricolours on the other two. Unique to the S is also the option of an 'Aero Kit' with carbon fibre spoilers under the chin and on the bootlid, the car's top speed increased as a result so actually delivering a functional benefit as well as making it look more aggressive.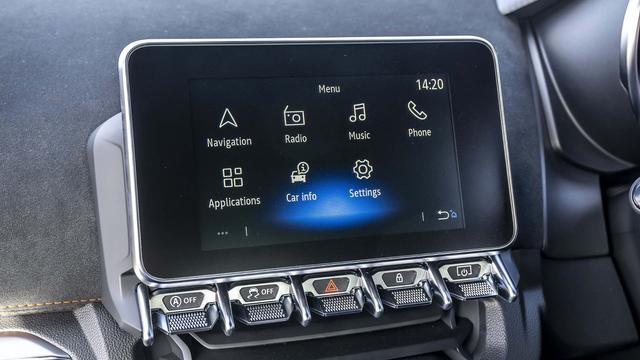 Power for a Alpine A110
The A110 is powered by a turbocharged 1.8-litre petrol engine delivering 252 horsepower through the rear wheels, via a seven-speed twin-clutch automatic gearbox. Don't be fooled by the relatively modest power output either – thanks to its lack of weight even the standard A110 is faster 0-62mph than rivals with more impressive power outputs. With so little weight to haul the engine always feels keen and responsive too, picking up quickly from low revs and spinning out eagerly to the redline. The engine doesn't feel quite as exotic, or muscular, as a 718 Cayman but you won't hear any complaints about the performance. A Sport mode makes the throttle and gearbox more responsive, shifting via the steering wheel paddles in the manual mode the preferred option when you're pressing on so as to keep it all on the boil. Holding the Sport button down a bit longer releases a Track setting, turning off the stability control and making the throttle and gearshifts more assertive still. This makes the A110 more fun to drive, though we weren't completely sold on the orchestrated bangs and pops from the exhaust in these modes. The GT and S versions get a retuned version of the same engine, now with a more meaningful 300 horsepower. In the GT this is intended to give a more relaxed character for long distances while in the S it feels more aggressive and potent than the standard model, pulling harder across the board and topping out at 170mph with the optional Aero Pack. Whichever one you go for the best thing about the A110's performance and character is that it's enjoyable at sensible speeds, the compact size and sense of agility meaning it's actually way more fun on a twisty road than bigger and more powerful rivals. Vive la différence!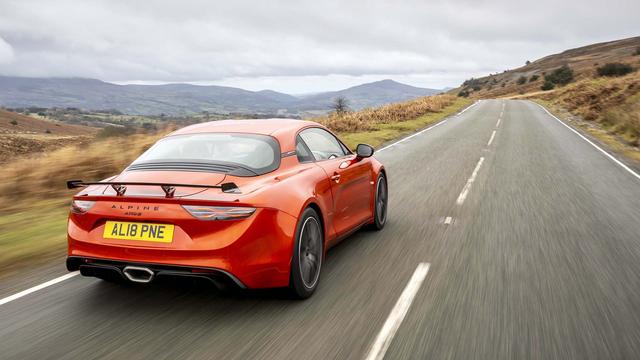 Standard equipment
Expect the following equipment on your Alpine A110 Coupe. This may vary between trim levels.
Related articles and reviews