News
Win a brand-new electric car from Auto Trader
Every month, we're giving one lucky individual the chance to win a brand-new electric car - starting in May with the Tesla Model 3.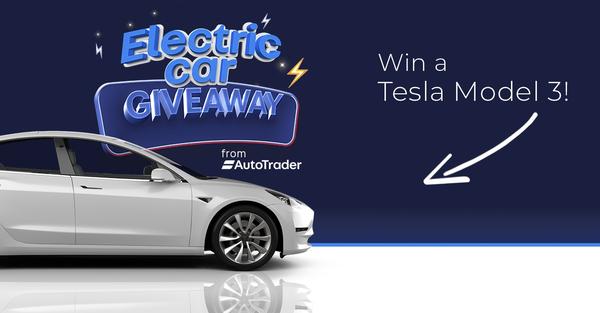 This May, you could win a Tesla Model 3 from Auto Trader
Auto Trader are giving away a Tesla Model 3, worth over £42,000, and it could be yours. Simply fill in the prize draw form at any time between 1 May 2021 and 31 May 2021.
It's one entry per person per month and the prize draw is free to enter. We'll be giving away a different electric car every month, so remember to check back and enter the next prize draw.
Get to know… Tesla Model 3
Beating over 100 other cars, the Tesla Model 3 was named
"New Car of the Year" in Auto Trader's 2020 New Car Awards
.
It's a worthy winner: practical, high-tech and super stylish inside and out. We've got a deep blue, metallic Tesla Model 3 to give away. Inside, the cabin blends simplicity, practicality and quality with modern interiors. Everything is controlled via the intuitive 15-inch touchscreen system, and there are no buttons save for those legally required (like hazard lights). Tesla Model 3 offers great performance and range (up to 278 miles on a full charge) and sports a sophisticated electric drive train. It's big enough for four adults and the refinement means it's comfy to spend time in. It's as fast as Tesla's other cars too – you'll get 0-60 mph in 5.3 seconds and a top speed of around 140 mph.
Learn more about the Tesla Model 3
.
Keep up-to-date with the giveaway on social: