News Ford Mustang Mach-E video review 2021
After the six generations of Ford Mustang re-designs, Ford has announced the all-new Mustang Mach-E that comes with some big changes. Find out more in our video review.
Ford Mustang
is one of the best-known productions by Ford. It's also their longest-running nameplate, with the first pony car being produced in 1964. Since then, the Mustang has gone through six generations of re-designs.
Now, Ford's launched an all-new Mustang with yet another revamp – and it's a big one: the new Ford Mustang Mach-E is an all-electric crossover SUV.
With the
discontinuation of new diesel and petrol cars
being pushed forward by 10 years, from 2040 to 2030, Ford is trying its hand at conquering the car industry's electric future.
But how does the Mach-E compare to its rivals, and does it deserve that iconic Mustang badge? Our video review investigates.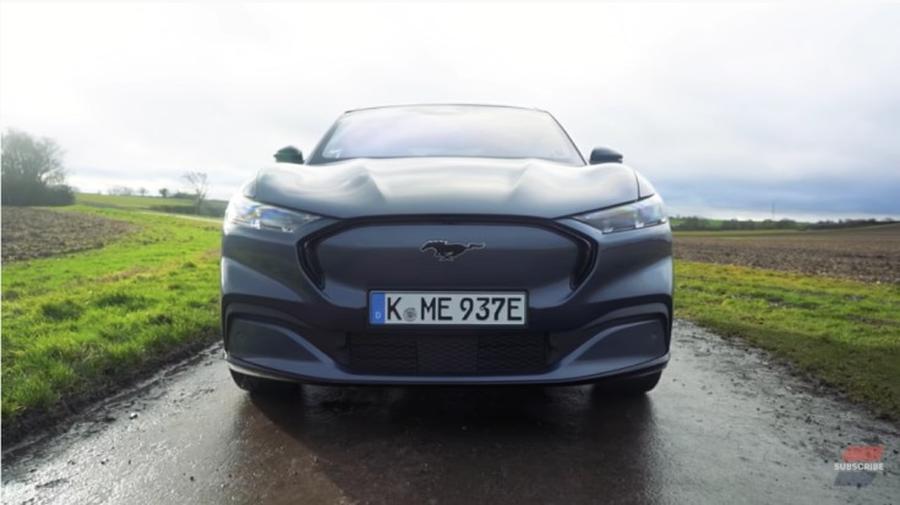 Ford Mustang key specs
The Mach-E is available in a few different versions, so the specs will differ depending on the version you go for.
The entry level rear-wheel drive models come with one motor, offering 265 horsepower. These have the best range, especially the rear-wheel drive extended range which goes the furthest (379 miles on a single charge). For context, this is 20 miles more than an equivalent
Tesla Model 3
.
If it's performance you're after, the top spec all-wheel drive models have two motors, delivering a decent 346 horsepower.
When it comes to the car's handling, the all-wheel drive extended range excels. It's capable of doing 0-60 straight-line acceleration in 5.5 seconds and officially delivers 335 mph, though when we tested it on a cold winter's day it delivered closer to 250 mph.
Besides offering high performance and speed figures, the Mach-E provides three different driving modes – Whisper, Active, Untamed. It also has the option of one pedal drive and produces no wind noise, even at 70 mph. However, the Mach-E does lack the autopilot feature of the
Teslas
, so while it doesn't steer, accelerate and brake automatically within its lane, the Mustang can hold its lane well on a motorway and follow traffic without the need for pedals.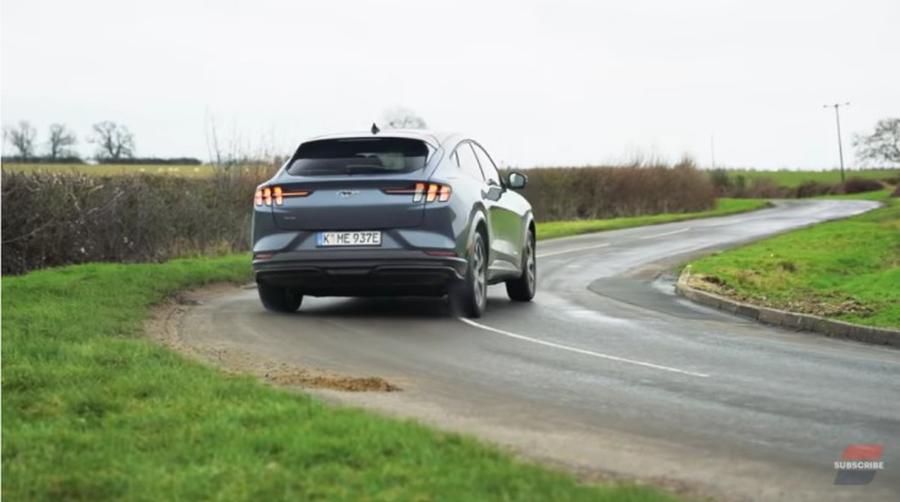 Ford Mustang Mach-E interiors and technology
The Ford Mustang Mach-E is quite roomy, with loads of headroom for people over six-foot tall. It also has good legroom and, crucially, has a flat floor that makes sitting in the centre seat easier.
The Mustang Mach-E comes with loads of cubby space, cup holders in the middle, a couple of USB ports and charging mats, plus dedicated vents for rear passengers. On the downside, it's missing four-zone climate control.
Up front, a modern interpretation of the Mustang's double-bubble dashboard makes the Mach-E look good. There's also a thin screen ahead of the driver for all the essential data immediately.
In addition to that, there's an enormous 15.5-inch touch screen infotainment display that has built-in Waze or the option to use
Apply CarPlay or Android Auto
– whatever's your preference - and a B&O soundbar that looks as beautiful as it sounds.
Another cool feature in this EV is its unlocking system/ The door comes with a keypad that allows you to tap in your personal code to unlock the car, so in case you forget your keys or lock them inside the car, you can easily use this feature to unlock the car. Otherwise, you can use the traditional key or use your mobile phone as a key.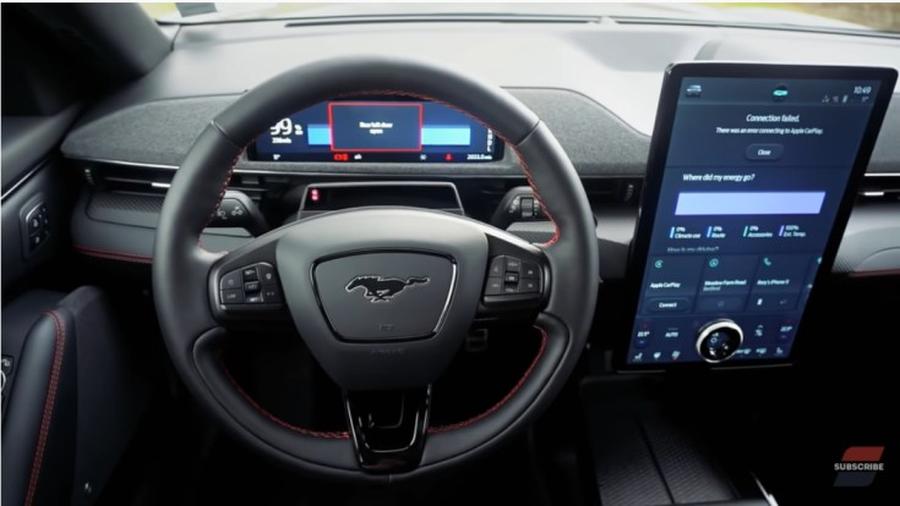 EV charging
To recharge the car, you can top it up overnight from a 7kW wallbox (this
home charger
can be in your driveway or garage, and it charges faster than a normal three-pin plug socket) in around 11 hours. Alternatively, you can use rapid charging - the standard range Mach-E can top up at a rate of 115 kW, while the extended range Mach-E and top up at a speed of up to 150 kW.
One problem you might face when charging the Mach-E is that its charging port is on the front left of the car. This means that the charging cable might not be able to reach the port if it's not long enough.
Related:
How to charge an electric car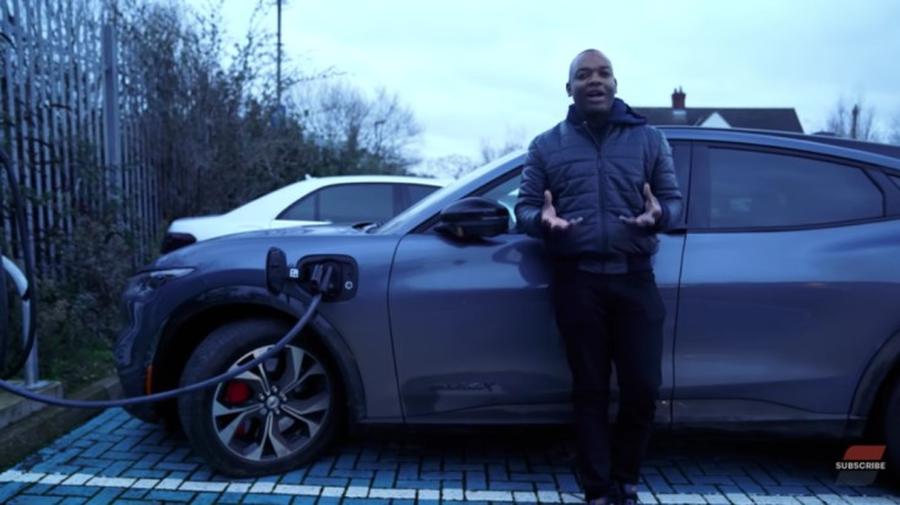 Ford Mustang Mach-E: our verdict
As a Mustang, the Mach-E doesn't quite cut it – but it's hard to imagine an EV will beat a V8 at this moment in time. It's still a bit like comparing apples and oranges.
That said, it is an incredibly good car. It's a solid EV, a great family-friendly car, and delivers a feel-good drive. The cabin is nice too, with plenty of tech inside. One may complain that it doesn't have as many toys as you get in Tesla 3, but that just makes the Mach-e feel much more serious and a bit more like a grown-up's car.
In time, all Mustangs will be electric. And while we like the experience that is a V8 engine, the Mach-E shows us that there's a lot to look forward to.
Like what you see?
Find more electric cars to browse through on Auto Trader
.
You can also
check out more such videos on our YouTube channel
, and subscribe to stay notified whenever we post our latest videos.