Long Term Review
Audi TT S Roadster long-term test review – second report
We pit our Audi TT S Roadster against the sportiest open-top car ever; the Porsche Boxster Spyder to see how it compares to this hardcore, mid-engined future classic.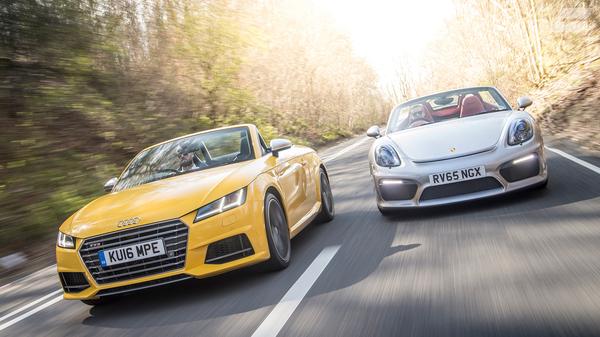 Second Report: May
Mileage: 1,668 Costs: None so far
As spring showers have given way to a few weekends of proper summer heat and barbeque weather, our TT S Roadster has really begun to come into its own. It's a flawless companion on most drives, perfect for livening up a dull schelp to work, an airport run or a cloudy day.
However, for the avoidance of personal bias on my part, I've also handed the keys over to my colleagues Jon Quirk and Andy Pringle recently, and it's fair to say the feedback was mixed. Jon told me it was 'a fantastic spec', and I'm inclined to agree. With the modest equipment we've added to KU16 MPE, it feels like you're left wanting for nothing, rare in any premium model. Andy expressed surprise that earlier in the month I had managed to squeeze 41.4mpg from it on a drive to the office. Truth is, I really was trying, but it's a pleasing sign the engine is freeing up. Yet he also said; 'I have no idea why you need a TT roadster to be that fast'. Question is, is he right? I tend to drive pretty gently to and from work, especially with the roof down, as most of the route is busy motorways, only occasionally indulging the car's full 306bhp potential. So is the TT S a bit excessive? Should we have gone for a less powerful model instead?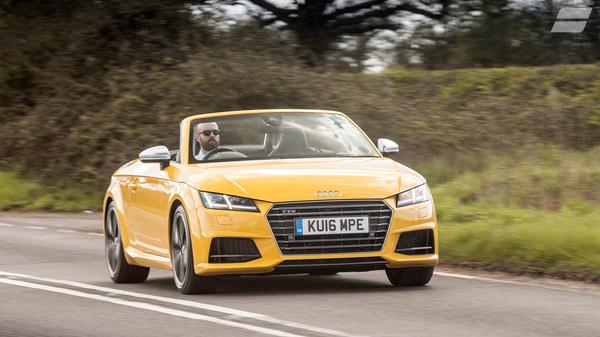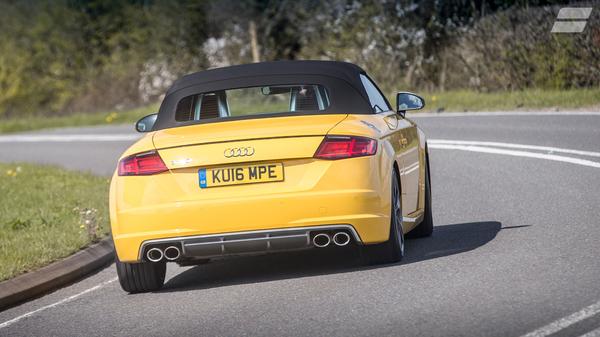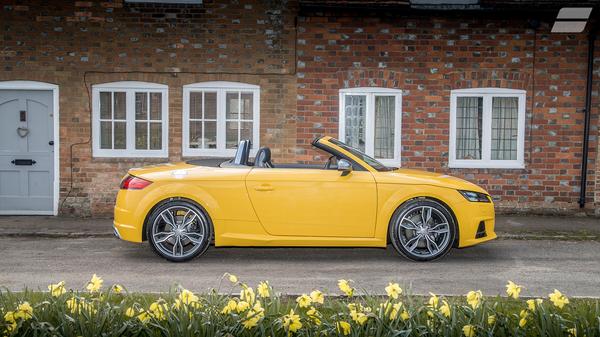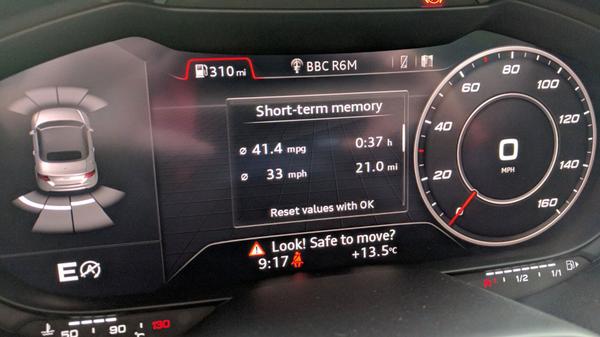 To fully test its credentials as a proper sports car, we lined it up for a showdown against the dynamic benchmark for any open-top two-seater, the
Porsche Boxster Spyder
. Perhaps picking a limited edition, 911-engined version of the 981 Boxster was a little unfair, but I wanted to see what the TT S was like alongside the best of the best, regardless of price.
The Boxster was fantastic in all the areas I was expecting, and you can feel how different the ethos of the car is as soon as you're inside. You sit so much lower to the floor than in the TT, the steering, pedal and control weights are so much meatier and feelsome that I nearly pushed my foot straight through the clutch pedal once I got back in the daintier Audi. Driving them back-to-back on the brilliant country roads around rural Oxfordshire, the TT S keeps the Boxster surprisingly honest, with tenacious mid-corner grip, and a strong, flexible engine that punches harder low-down thanks to its turbo. Still, there's no substitute for six-cylinders, and once it was in the higher reaches of the rev range, the Boxster sounded epic. Where the TT needs tipping into bends and powering out of them, the mid-engined layout of the Boxster and its poised chassis give you loads of extra options for fun, so as a thrill ride, it's a no-content win. Yet the gap was not as great as I thought, and in other places, the Audi definitely showed up its posh cousin. The Spyder's tricky, finger-busting manual roof is a pain every time you use it, and some parts of the cabin feel poorly built next to the TT S.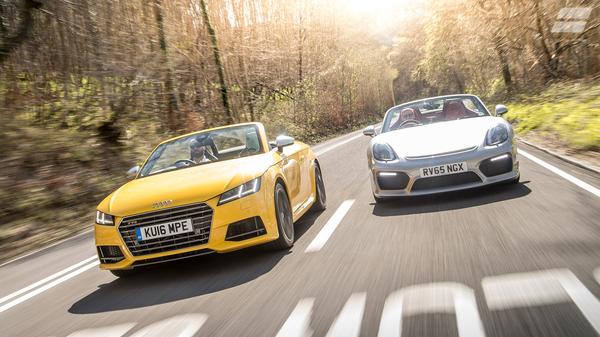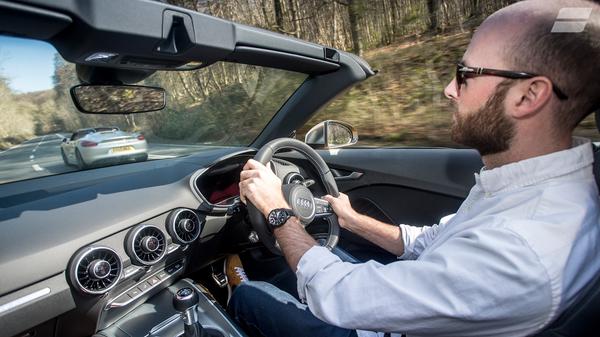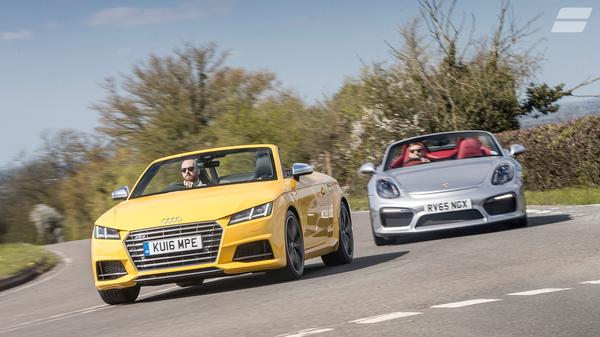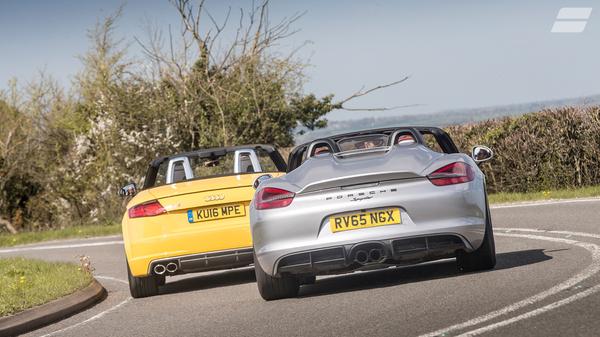 Severe road noise on poor surfaces, and so-so suppression of wind noise count against the Porsche on longer trips, and while we love the Spyder's 3.8-litre engine, the
718 Boxster is a four-pot Turbo
– just like the TT S – so the gap could be even closer when we compare those two.
Overall, the TT S is satisfying to drive quickly, and having a manual gearbox is an important part of that. The six-speed in the Audi is not the slickest, but because of that you need to concentrate, to engage your brain to drive it precisely, and ensure each shift is smooth. I also like the duality of its hot hatch-derived engine. It might not wail or rumble like a flat- or straight-six (we're looking at you
BMW M2
) but being able to sneak out late at night without waking the neighbourhood is great when you want to go incognito. It still takes on a raucous edge when you wring it out, and while not spine-tingling, it always gets me grinning.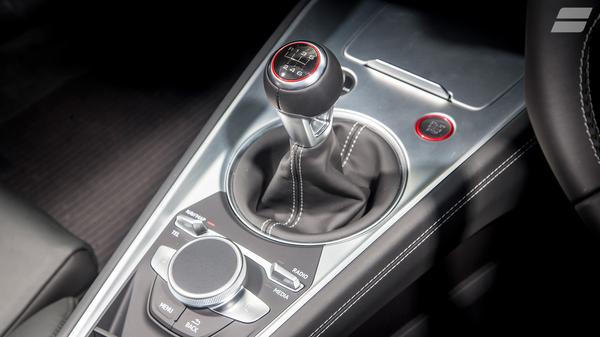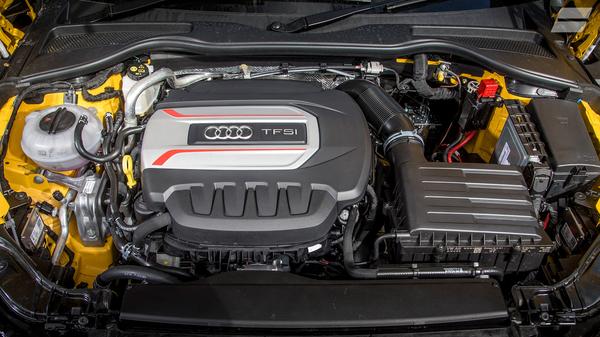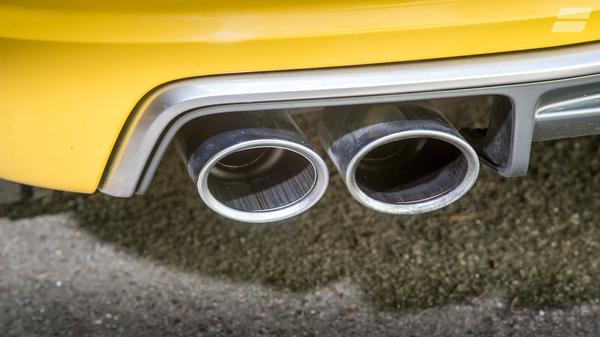 It's not all been smooth sailing, mind you, and while most of the things I have to say about the TT S are positive, I've now been driving it for long enough to notice the small niggles. I do mean small, but one of the biggest annoyances so far is with the Virtual Cockpit display.
While it's not gone haywire (unlike several early versions of this TT did) it asks you to insert a SIM card every time you start the car, and refuses to display the navigation until you do so, or press 'Accept'. Surely forcing you through this menu every single time is unnecessary, and it's frustrating to have to start journeys like this. I'm now pondering a low-cost SIM just to shut the system up for good. Secondly, and again this is such a small complaint that it borders on pedantry, but the Super Sports Seats are hard to get comfy in on longer journeys. They feature plenty of scope for manual adjustment, and lumbar support, too, but much twiddling and tweaking is required to find the perfect position, a process I have to repeat every time someone moves the seat. Next month, I'll give them a proper long distance test as we drive the car down to Le Mans for the 24hr race, so I'll report back then if I find a magic formula. I'm also going to try and test the boot capacity to its limits. But for now, summer in the TT S is looking very bright. It might not quite be a fully-fledged sports car, but it's a wonderful roadster all the same.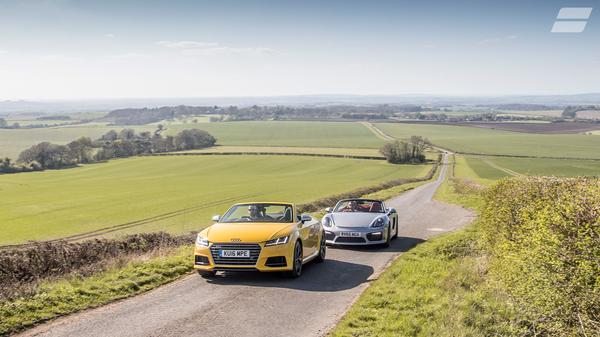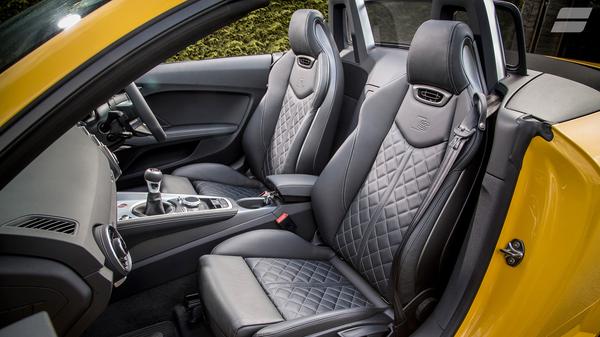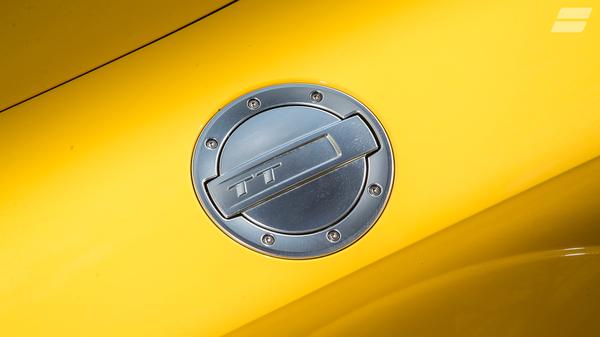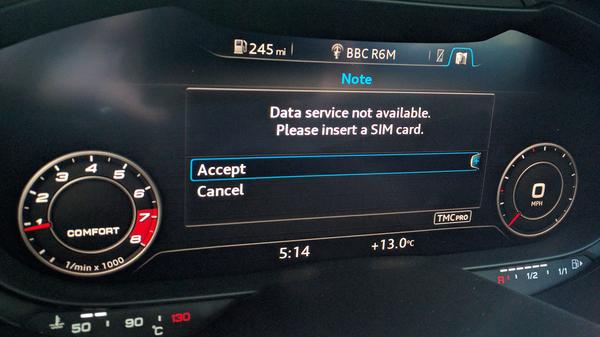 Key specs:
Model: Audi TT S Roadster 2.0 TFSI Quattro
Price as tested: £46,675
Engine: 2.0-litre turbocharged petrol, six-speed manual gearbox
Power: 306bhp
Torque: 280lb ft
Top speed: 155mph
0-62mph: 5.2 seconds
Economy: 37.7mpg
CO2/BIK tax liability: 173g/km/31%
Boot space: 280 litres
Optional Equipment:
An exhaustive list of everything fitted to our long-termer, and a breakdown of the price.
Base price: £40,450
Vegas Yellow paint: £550 Storage and luggage pack: £175 Comfort and Sound pack: £1,460 Technology Pack with Audi Connect: £1,795 Open-Top Driving Pack: £1,000 Audi Parking system plus, front and rear: £410 Cruise control: £295