Long Term Review
Audi TT S Roadster long-term test review – first report
Senior Road Tester Paul Bond is spending six months over this spring and summer with the hotter version of the TT convertible. Can it be the perfect drop-top for all seasons?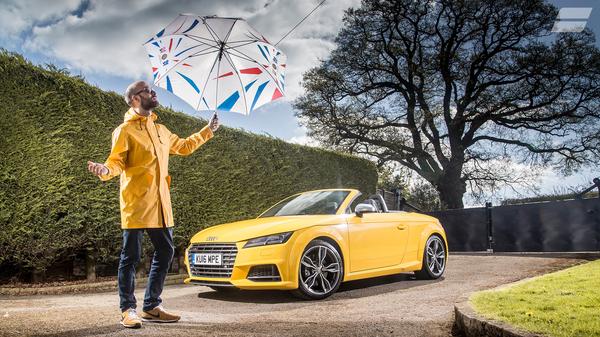 First Report: April
Mileage: 1,125
Costs: None so far
British springtime presents a rather unique set of challenges to the convertible buyer. Days of glorious sunshine can be followed by rain, sleet, hail and snow, sometimes all within the same half an hour period – so how exactly are you meant to prepare for every eventuality? Well, it just so happens that our latest long-termer, the Audi TT S Roadster, has arrived as this most meteorologically awkward time of year, like a ray of sunshine to brighten up any gloomy days (especially in the fetching Vegas Yellow hue we chose); and, if it can cope with the worst April showers, it should be a perfect companion over the summer months, too. Fortunately, we're happy to report that during our first month and initial thousand miles in the TT S, affectionately dubbed "the turbo banana" by my colleagues, it has hardly missed a beat, whether we've been in shades and sunscreen or sheltering from the harsh elements. You might – reasonably - ask why we decided to choose what is currently the quickest model in the line-up (an even faster
five-cylinder TT RS
is due later this year) as surely the pleasure of having a drop-top is all about cruising along while trying to look conspicuous? Granted, you can have the TT Roadster with either a 1.8 or 2.0-litre petrol with a six-speed manual 'box – but with modest power outputs and only front-wheel drive. The danger of being embarrassed by any number of power-crazed hot hatches, or pushing into understeer on a slippery road was enough to force our hand: we definitely needed quattro. That argument became even more convincing once we looked at the specs. Trying to kit out a standard S line model with all the necessary equipment (Super Sports seats, the Open-top driving package, larger wheels etc) soon pushed the price up to the same level as the TT S, which gets a good chunk of the kit you'd definitely want in your Roadster already thrown in. The moment KU16 MPE rolled into the car park, I knew we had made the right choice. It looked glorious in yellow, and the sporty details that are unique to the 'S' give the TT an aggressive presence that ensures that no one is likely to mistake me for a hairdresser.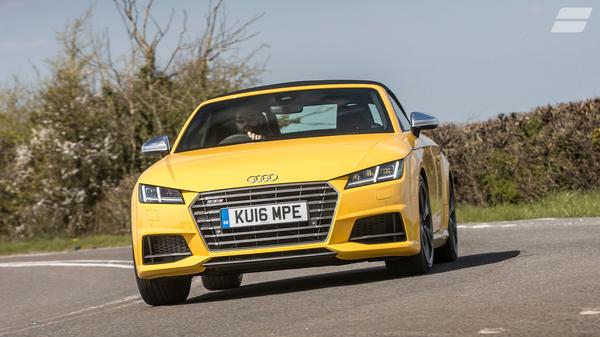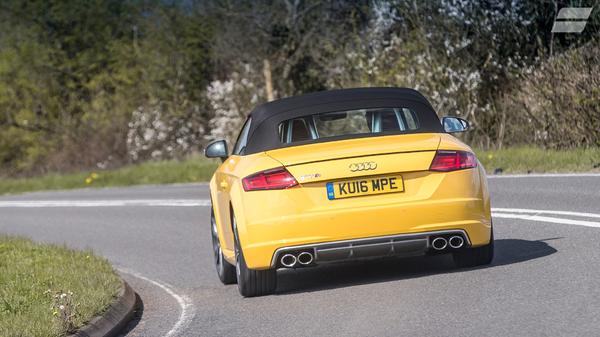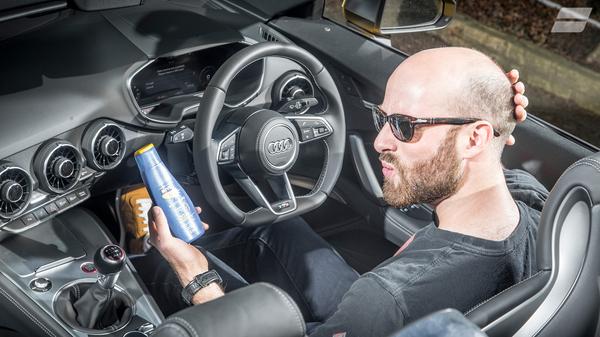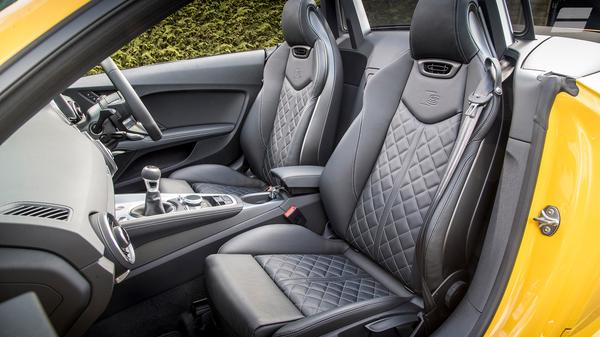 Better yet, with a healthy 306bhp to play with, the TT S really does feel indecently fast. It's hushed, smooth and (sort of) economical if you drive it with restraint (we managed a respectable 34mpg running in the engine), but up the ante and this powertrain comes alive.
It may have roughly the same grunt as the standard 2.0 TFSI, but the effortless way it piles on speed and the urgency at higher revs mean the TT S rarely fails to put a smile on your face. The heavier roadster is less blindingly rapid than the coupe, and the manual gearbox adds a few tenths to the benchmark sprint time, but 0-62mph in 5.2 seconds is brisk in anyone's book. This flexible turbocharged performance, the unshakeable grip of the four-wheel drive system, and the pliancy of the magnetic dampers give the TT S an incredible breadth of dynamic abilities that I'm looking forward to exploring on longer trips later this year. Over the course of our six months with the car we'll be looking to test the TT S against a few of its key rivals, including the new four-cylinder
Porsche 718 Boxster
, getting to grips with its 'Virtual Cockpit' infotainment system, challenging its practicality on holiday, and assessing exactly the right options to choose if you're thinking of buying one yourself… Our main aim with the optional extras we chose (and listed below) was to ensure that we had no excuse for not getting the roof down. British buyers love convertibles, but many rarely bother to go topless, so the heated seats, warm air vents for your neck and wind deflector should all come in handy. So far, I reckon around half our miles this month were driven in the open air, so we're off to a fine start, but the biggest challenge might be letting anyone else in the office take the keys...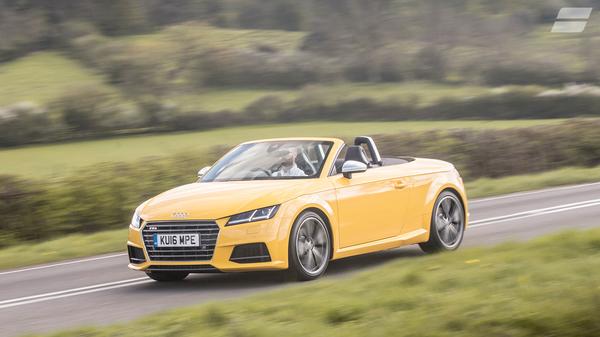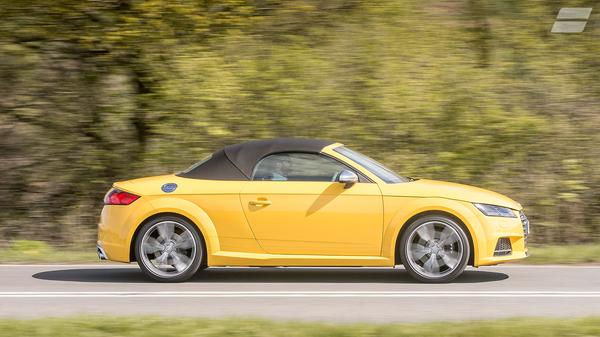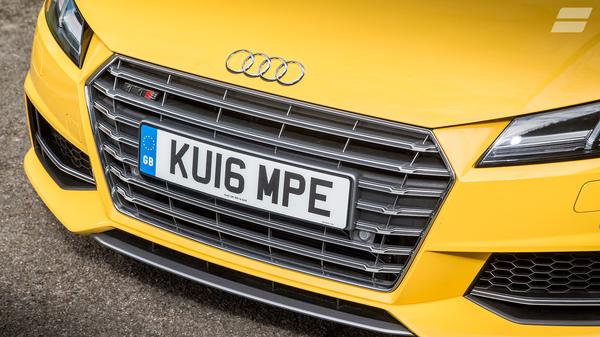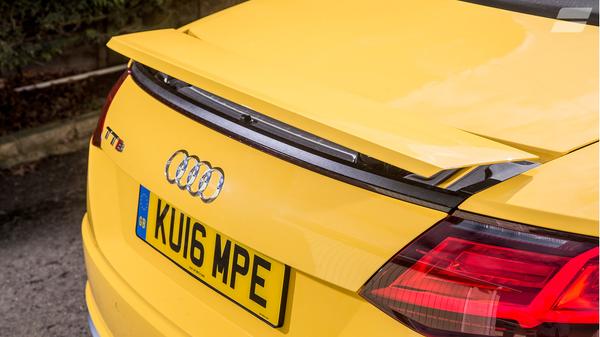 Key specs:
Model: Audi TT S Roadster 2.0 TFSI Quattro
Price as tested: £46,675
Engine: 2.0-litre turbocharged petrol, six-speed manual gearbox
Power: 306bhp
Torque: 280lb ft
Top speed: 155mph
0-62mph: 5.2 seconds
Economy: 37.7mpg
CO2/BIK tax liability: 173g/km/31%
Boot space: 280 litres
Optional Equipment:
An exhaustive list of everything fitted to our long-termer, and a breakdown of the price.
Base price: £40,450
Vegas Yellow paint: £550 Storage and luggage pack: £175 Comfort and Sound pack: £1,460 Technology Pack with Audi Connect: £1,795 Open-Top Driving Pack: £1,000 Audi Parking system plus, front and rear: £410 Cruise control: £295