Expert Review
BMW M2 Coupe (2016 - ) review
The M2 is the cheapest of BMW's renowned M cars, but does that mean you're getting a bargain or being short-changed?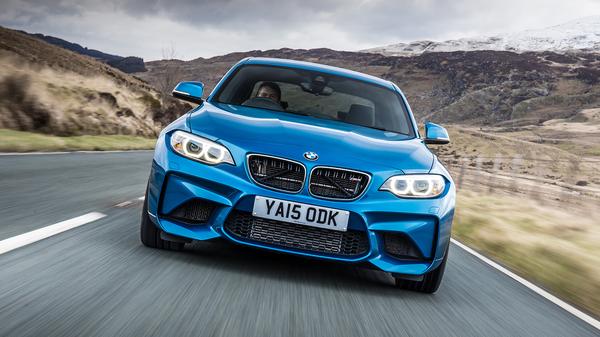 The Auto Trader expert verdict:
The M2 is a superb car that does all the things a performance car – and, more particularly a BMW M car – should do: it's fast, fun and pretty raw. True, the firm ride may put off some potential buyers, but if you're a red-blooded petrolhead, you won't be out off by such minor inconveniences. Instead, you'll revel in the speed, the sound and the sharp handling; and at this price you could even call it a bargain.
Reasons to buy:
Cheapest new M Car, but still a 'proper' M Car
Fantastic performance, with brakes to match
A wonderfully engaging car to drive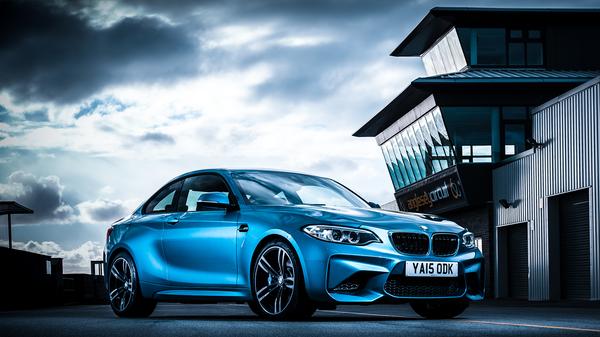 How good does it look?
The M2 is based on the
2 Series
– itself basically no more than the coupe version of the humble 1 Series hatchback – but in its metamorphosis to an M car, it's been heavily updated by BMW's M division. And, while many people will focus on their work on the engine and suspension, the M2's bespoke looks – with 19-inch wheels, wider tyres bulging wheelarches and four tailpipes for the sports exhaust system – make it stand out from lesser 2 Series models. This car really does look great, especially in the bright blue of the model in our pictures. True, the changes are relatively subtle, but enthusiasts will spot the M2 a mile off, as it's unmistakeably an M Car. In keeping with the exclusive nature of the car, the M2 is available in just four colours: blue, black and grey metallic and white,(the only non-metallic paint). Options include carbon fibre bits of exterior trim, wild sticker decals and other racy visual extras, but the standard car already looks mean enough to make them seem unnecessary.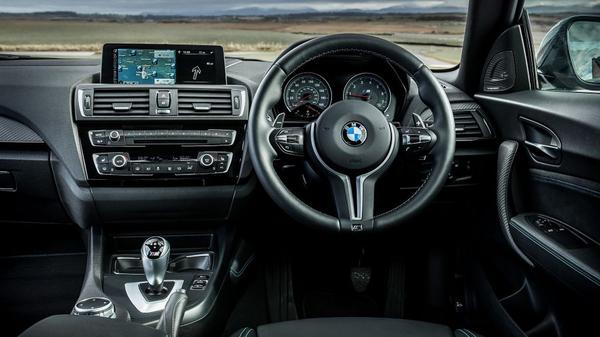 What's the interior like?
Truth is, there are no major criticisms of the M2, just the odd disappointment, and chief among those is the cabin. What BMW describes as 'deliberately understated' translates to us as 'a bit too much like a standard 2 Series' – even when the standard black leather sports seats have contrasting blue stitching and there's a liberal smattering of 'M' logos throughout the cabin. The additional 'carbon effect' trim seems rather aftermarket, and the steering wheels is needlessly thick. Otherwise, the M2's links with the regular 2 Series are no problem: there's decent room for a couple of six-foot adults in the front seats; and, with the optional two-pedal DCT transmission, the driving position is good, without the more cramped footwell and annoyingly offset position you get with the manual-gearbox car.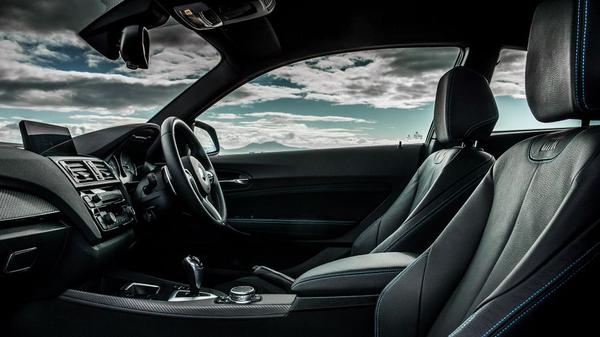 How practical is it?
Naturally, the M2's coupe body style isn't the most practical, but as coupes go, the M2 isn't bad at all. If you can squeeze your way in there, you'll find the rear seats are reasonably spacious; even for tall adults on longer trips. Although the boot aperture isn't that big – which makes loading and unloading a little awkward in itself – the boot is a decent size, with a long deep loading bay perfect for suitcases or a bag of Golf clubs. However, there's not much chance of extending that space: split/folding rear seats aren't available for the M2, and a 'through-loading system' is only available as an option.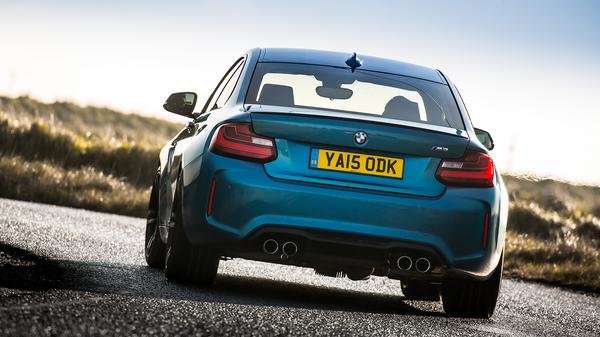 What's it like to drive?
The M2 is a sports car through and through, and a wonderfully engaging, and genuinely sporty, car to drive. Its relatively short wheelbase means it changes direction with real keenness, and you soon come to appreciate the benefits of its firm suspension as the tight body control makes the M2 tremendously agile through a series of bends. The grip from its specially developed Michelin tyres is immense, too, (at least in the dry) and to such an extent that drivers will often find themselves charging round corners, barely needing to brake at all. This makes it easy to develop a flow with the car from corner to corner, leaning on the available grip and exploiting the chassis balance for fun. The whole package is rounded off with steering that has just the right level of precision, and a set of high-performance brakes that are more than a match for the speed that the car is capable of. Some hot hatches offer more communicative steering, but few offer the same rear-drive thrills. If there is a downside, it's the firm ride; and, yes, you expect a certain firmness in a car with so much performance, but even so, the M2 is occasionally too firm, and on the very roads where you'd expect it to be most at home. It also means that the M2 isn't great at the more everyday chores like a long schlep up the motorway. Not only does the suspension pick out even slight unevenness, the car's also pretty noisy, thanks to BMW removing some of the sound insulation to save weight.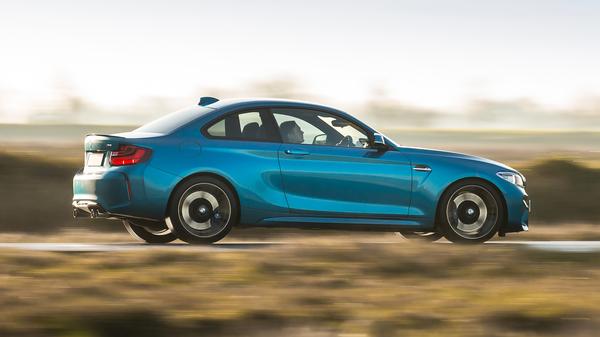 How powerful is it?
This is one very, very fast car; and, while that comes as no surprise in something the size of a 2 Series with a 370 horsepower engine, even so the speed with which the M2 can cross country is still amazing. Overtaking manoeuvres are dismissed with almost comical ease. Part of that is down to the engine's sheer clout, but it's also because the engine develops its peak torque from less than 1500rpm; so, whenever you put your foot down, the engine responds pretty damn quickly. And that's in Comfort mode; in Sport or Sport+ mode, things get sharper still. The throttle response is faster, and (if you have the optional DCT transmission) the gearbox behaves a bit more aggressively, hanging on to each gear a little longer and kicking down a little more eagerly, and the exhaust sounds even more raucous. Overall, we prefer the car in Sport mode, because in Comfort mode, the optional gearbox occasionally proves just a little slow to react to commands from the wheel-mounted paddle shifters. Do we prefer it to the manual? Well, that's a tougher call: the six-speed manual is engaging, but the shift is a little notchy and rubbery, and it doesn't have quite the same dual nature as the DCT, which allows you an easy life in town by offering you the luxury of a full-automatic mode. In fact, beyond the M2's sheer speed, perhaps what is most impressive is just how docile and easy-going the car is once your favourite B-road deposits you into the nearest town.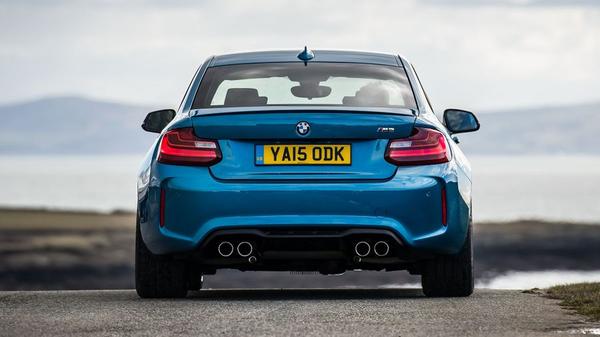 How much will it cost me?
It goes without saying that no M car is going to be cheap to run – even when the M car in question is the most affordable new M car on sale. Make the most of what the engine puts at your disposal, and you'll find yourself returning way less than its official average economy. Drive it hard, and you'll be going through (expensive) brakes and tyres at a rate of knots, too, while insurance will be costly, too. On the other hand, this is easily the cheapest new M car you can buy – making it arguably a bargain – and, given how much demand there is for it, you can be assured of strong residual values when you sell it. Well, if you can bear to part with it, that is…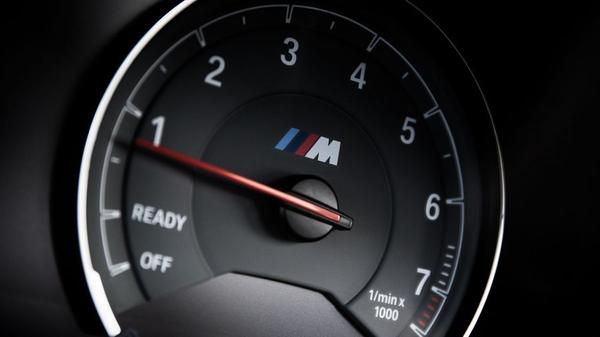 How reliable is it?
It's too early to give much of an indication about how reliable the M2 will be. Not only is it a new car, there's never been an M2 before, so there's no predecessor upon which to base a guesstimate. However, the omens aren't great, with BMW sitting well below average in the manufacturer standings in Warranty Direct's Reliability Index, and a couple of other M cars (the M3 and M5) scoring well below average for reliability, with big repair costs a major problem. That said, on our website, owners of M cars generally report good reliability, suggesting that the cars are well made, and designed to stand up to the sort of punishment high-performance cars are often subjected to.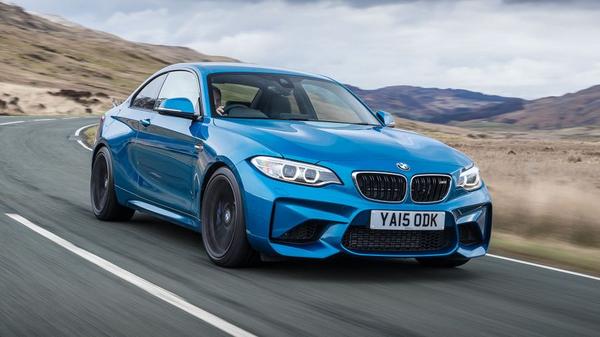 How safe is it?
The M2 does come with a decent showing of airbags, various electronic aids and adaptive cruise control – which you would only expect – but it's a little disappointing that some very desirable safety-related kit only comes as part of the optional Driving Assistant package. That includes City Collision Mitigation, Forward Collision Warning and Lane Departure Warning, the kind of thing that is becoming commonplace on cars that cost half as much as the M2. That makes BMW seem a tad stingy - granted, a lot of buyers interested in the M2 might not care that it's not included, but other manufacturers are more generous in this area.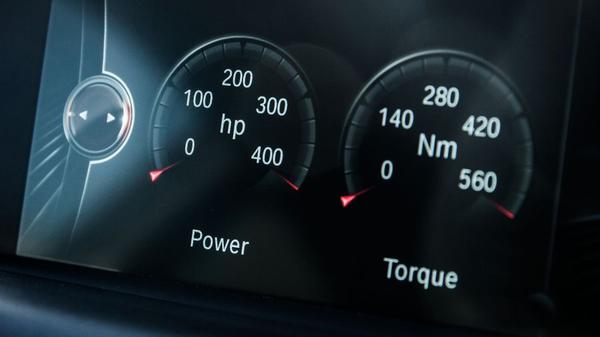 How much equipment do I get?
The M2 may be billed as a racecar for the road, but BMW hasn't skimped on the creature comforts, with its Professional sat-nav system, the Professional media package and xenon headlights as standard, alongside leather upholstery, climate control and Bluetooth connectivity. Even so, there are still some attractive options, such as the Driving Assistant pack (see above), upgraded speakers and the Online Entertainment package. Other worthwhile options include heated seats, and the reversing camera for tricky parking spots.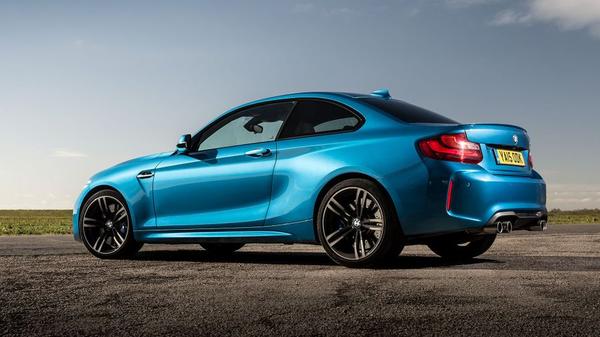 Why buy?
If you're a performance car fan, the question is really, 'Why not buy one?' The M2 is a cracking car with muscle car-like performance, wonderful looks and the sharp handling to match. Oh, and it also sounds great too. It's the complete M car package wrapped in a smaller, pointier body, and a serious chunk of cash less than an M3. The driving experience is actually quite old-school, but if you want an analogue sports car, this is one of the best.