First Drive Toyota Mirai first drive review
Toyota pioneered the use of hybrid technology with the Prius, and now the company is looking to lead the way with the adoption of hydrogen-fuelled cars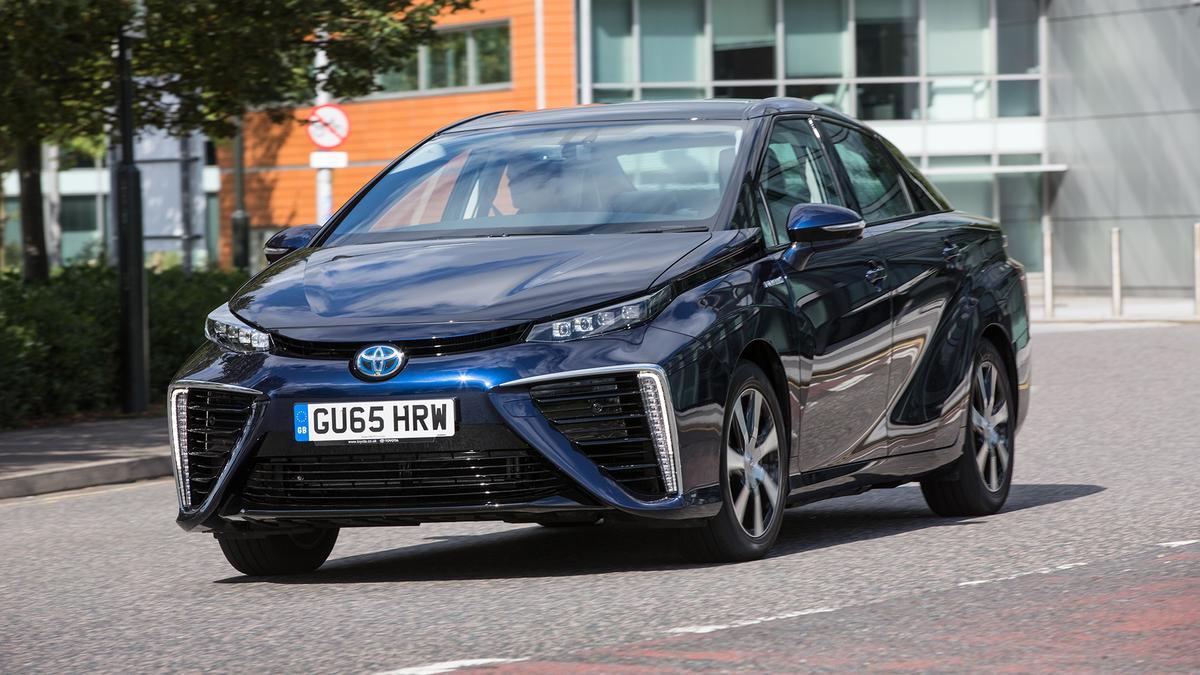 View gallery
First published: 22nd October 2015
Auto Trader verdict:
The Mirai is not without some major drawbacks – in particular, its price and the extremely limited hydrogen refueling network – but if you're the kind of committed, environmentally conscious driver who can live with those, and who wants to be seen to be green, the Mirai is in a class of its own. Effectively, this is an electric car without many of an electric car's issues. It's a smooth, refined and comfortable zero-emissions car that you could use every day.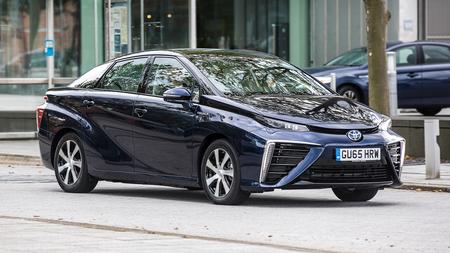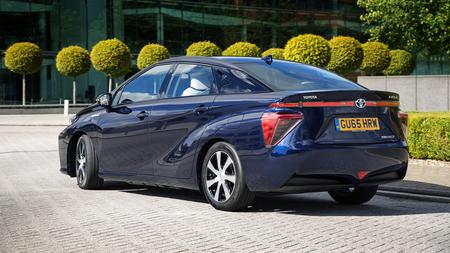 Need to know:
Toyota's first hydrogen fuel cell car in the UK

Only emissions are water; 300-mile range; less than 5 minutes to refuel

On sale now at £66,000, but most expected to be run on contract hire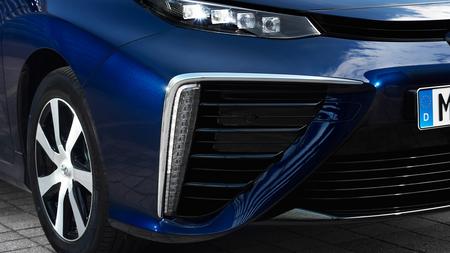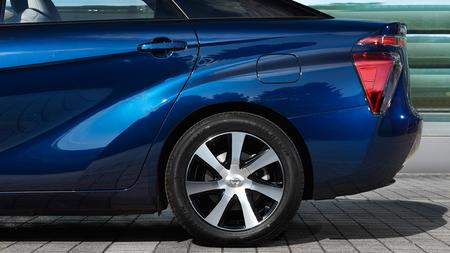 What is it?
At first sight, you might think the Mirai is a fairly conventional family car, albeit one with some pretty eye-catching styling. However, what should really catch your eye are the words 'Fuel cell' gleaming on the boot lid and front wings. They mean this is something almost unique in the UK: a car driven by a hydrogen fuel cell, in which hydrogen and oxygen react to produce electricity that powers the car's electric motor.
As a result, the car's only tailpipe emissions are water, but unlike a conventional electric car, it has a decent range and can be easily – and quickly – refuelled.
This cutting-edge technology is the result of three decades' work by the boffins at Toyota. And, just as the company pioneered hybrid tech with the original Prius, this is one of the UK's first hydrogen cars (second only to the
Hyundai ix35
), previewing tech that will eventually filter down to many of Toyota's other cars.
At the moment, this tech isn't cheap – the Mirai is about the same size as a Ford Mondeo, but costs £66,000, making it almost twice as much as a
Toyota Prius plug-in
– but Toyota has drawn up a contract hire deal that makes it more attractive, and it comes in a single, lavishly equipped trim level that makes the cost a little easier to bear.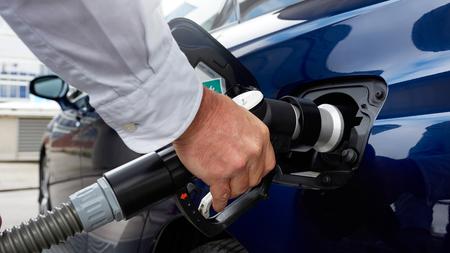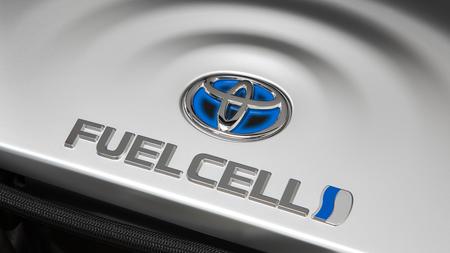 What's it like?
Once you get over the styling – which, it has to be said, is genuinely distinctive, inside and out – the most remarkable thing about driving the Mirai is that there's nothing remarkable about it.

You just get in, press the power button, slide the stubby gear lever into Drive, release the foot-operated parking brake, and off you go; one pedal for go, one pedal for stop. It couldn't be simpler, as thousands of Prius owners – all of whom go through this routine every time they drive their car – will testify.

It's much the same story with how it feels to drive the car. As with any electric car, all the motor's considerable pulling power is available from the word go, so the Mirai feels wonderfully responsive, especially around town. What's more, other than a slight whine under full acceleration, it does all this in almost total silence.

You can't help feeling that Toyota's engineers must have popped over the corridor to their colleagues at Lexus for a few lessons in refinement, because the Mirai is mind-bogglingly quiet, even at motorway speeds. That – combined with the effortless way it performs – makes it a really relaxing way to get around.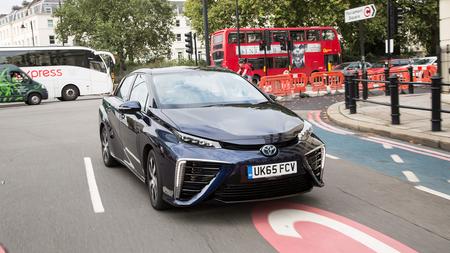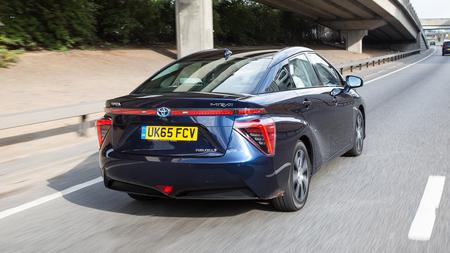 Completing the picture is a suspension set-up that majors on comfort, and pretty effectively, too. Admittedly, there's a firm edge to the ride at low speeds, and it picks up particularly on sharp ridges in the road, but once you escape the city, it smooths out nicely.

There are no complaints about the handling, either. The Mirai's steering is nice and light, and combines with a very decent turning circle to make the car easily manoeuvrable around town. On the open road, it feels safe, secure and inspires great confidence. Some drivers may want more feel from the steering and generally sharper responses, but we think the Mirai is well set up for the kind of journey it will regularly undertake.

What's rather less attractive is the interior, especially given the car's lofty price tag. Yes, Toyota has chucked in pretty much every piece of luxury and safety kit you can think of – sat-nav, dual-zone climate control, Bluetooth, DAB; you name it, the Mirai has it as standard – but the cabin and the materials it's built from don't have the look and feel of a near-£70,000 car.

That said, it's obvious that what you're really paying for is the cutting-edge fuel-cell technology, and the cabin does give you a glimpse into what it's doing. Scroll through the various menus, and the fuel cell system's operation can be displayed on the wide TFT screen at the top of the dashboard.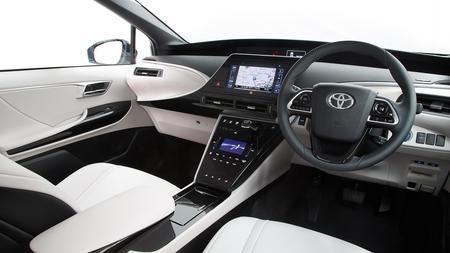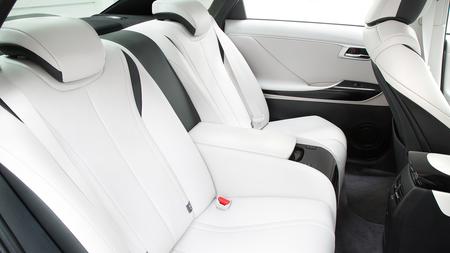 If you can live with the quality, you'll find the Mirai is perfectly comfortable. There's more than enough room for six-footers in the front seats, even though you sit a little higher than you might expect. A standard-issue Toyota touch-screen system dominates the centre of the dashboard, while the air-con is controlled by a series of buttons on a slab-like panel below it. All in all, it's pretty easy to use, while the overall design is every bit as distinctive as the exterior.

For a car this size, though, the Mirai's practicality is less impressive. Rear headroom is rather restricted due to the way the bodywork tapers at the rear in order to make the car as aerodynamically efficient as possible: anyone over six feet tall in the rear seats will find their heads brushing the roof.

The boot, likewise, has to sacrifice some space in the interests of the fuel-cell system. The hydrogen tank and batteries sit behind the rear seat, and they eat into the luggage space and leave some rather awkward shapes to pack around. Still, at the very rear, it's wide enough to accommodate that all-important measure of boot space – a set of golf clubs – while there's plenty of room for the weekly shop or a couple of big sports bags.

Perhaps the biggest question from potential customers will be about the car's safety, but Toyota claims that the Mirai is as safe as any other Toyota. The carbon fibre tanks that store the hydrogen are extremely tough, while the car is fitted with leak detectors and several safeguards to ensure that filling the car up is a safe operation.

Should I buy one?
The first thing to know is that, even if you want a Mirai, you'll have to wait until next year to get it. Even then, there won't be many cars available. This year's allocation for the UK was just 12 cars (all of which have owners already), and in 2016 there'll be less than 20.

The second thing is that you almost certainly won't want to buy one outright; that £66,000 price tag is just too high. However, Toyota's four-year contract hire deal makes the car considerably more attractive, especially as the monthly cost of £700 includes not only all the servicing, maintenance and tyres, it also extends to about £200-worth of fuel.

Even without the limited supply of cars, there's little doubt that this will be a car with limited appeal. There are very few hydrogen filling stations – there are only three operating now, with just nine expected to be up and running by the end of 2016 – and most of those are in or near London. So, only those based within easy reach of a filling station will be able to even consider running a Mirai.

For now, a Mirai will only be suitable for a very small group of motorists. But, those who it does suit will absolutely love it...
Key facts:
Model: Toyota Mirai

Price: £66,000

Drivetrain: Electric motor powered by hydrogen fuel cell

Power/Torque: 152bhp/247lb ft

0-62mph: 9.6secs

Top speed: 111mph

Range: 300 miles

Refuelling time: Less than five minutes

CO2/BIK tax liability: 0g/km/5%

Boot space: 361 litres
Interested in buying a Toyota Mirai?