First Drive New Audi A5 first drive review
Audi's outgoing A5 coupe has always looked the business, but it was never the sharpest tool in the box. As a consequence, it was left floundering by the BMW 4 Series, and more recently, the Mercedes C-Class Coupe. No pressure on the all-new A5, then...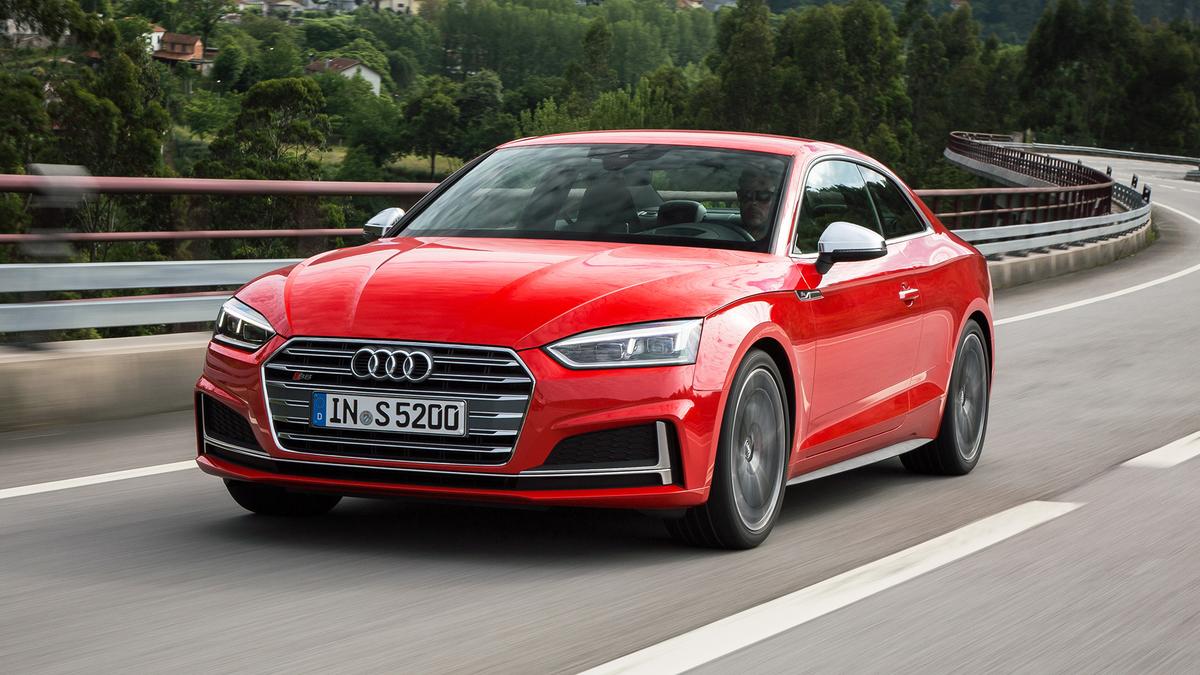 View gallery
Auto Trader verdict:
The S5 is a spacious, stylish and beautifully built coupe that delivers stonking performance, unflappable handling and impressive comfort. As such, it fulfils its brief as a long-legged motorway express perfectly. It's not short of agility, either, although more communicative steering would help no end. If it has an Achilles Heel, then it is its low-speed driveability. While the low-speed throttle responses are too abrupt and the gearbox is surprisingly jerky, all too often an early-gearshift strategy forces the engine into an uncomfortable rev band that creates excessive vibration.
Need to know:
Longer wheelbase and more space inside than the previous model

Initially available with a choice of two petrol and three diesel engines, plus high-performance S5

On sale July, with prices from £45,000 (est.)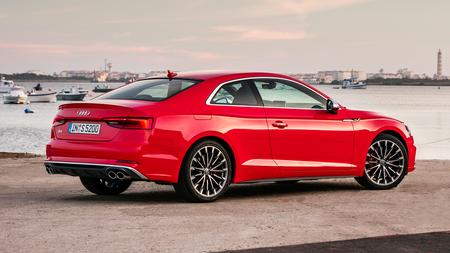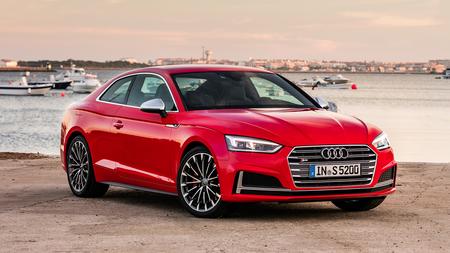 What is it?
At the risk of kicking off an almighty Twitter ruckus – protestations on a postcard, please – we'd suggest that the outgoing A5 Coupe is one of the more stylish and classically ageless motors of the last decade.

So, really, it comes as no surprise that Audi's designers have decided to retain the essence of the outgoing model when sketching its replacement.

Granted, the combination of a longer wheelbase, shorter overhangs, and a grille that's wider and flatter, give the new car a lower, more muscular appearance. Nevertheless, with that characteristic 'shoulder line' accentuating those pronounced wheelarches, there can be no mistaking the A5's stylistic heritage.

The interior is typical Audi; in other words, typically flawless. Adorned with impeccable materials and assembled with zealous attention to detail, as well as the option of Audi's 'virtual cockpit' that replaces the conventional dials with a full-LED display, the cabin provides a highly effective blend of tech and sophistication.

Perhaps the most significant difference in the new car, however, is that its longer wheelbase translates into more space for the driver, and in particular, rear passengers. At the same time, the boot is 10 litres larger, so it's now capable of swallowing 465 litres of luggage; and, there's a 40/20/40 split/fold rear seat as standard.

The new coupe also provides a full suite of technology to improve safety and comfort, including a City Safe system, which autonomously brakes the car if it detects an impending collision. There's also Stop and Go Traffic Assist, which uses radar to stop and start the car in heavy traffic, while maintaining a safe distance from the vehicle in front.

Initially, mainstream A5s will be available with a choice of two petrol and three diesel engines, all stronger and more efficient than the equivalent units in the previous A5, with power outputs ranging from 187- to 282bhp; and, at the top of the range sits the S5 that we are testing here. It has a turbocharged 3.0-litre V6 petrol engine that produces 349bhp and is enough to get the new S to 62mph in less than five seconds.

Along with its defining silver door mirrors, the S5 also comes standard with Audi's Quattro four-wheel-drive system, a new steering rack, and the latest adaptive suspension, which Audi claims combines sporty handling with a comfortable ride over long distances. Of course, we'll be the best judge of that.
What's it like?
Even though it's more of a cultured autobahn express than an out-and-out tyre-shredder – that's a territory reserved for the upcoming RS5 – the S5 is not a car that likes to be driven sedately.

For example, when driving in heavy traffic, abrupt throttle reactions, a rather clunky automatic gearbox (which seems determined to select the loftiest of its eight gears at every opportunity) and a belligerent quad-pipe exhaust conspire to produce a level of boom and vibration akin to standing next to the bass bin at an Iron Maiden concert.

It's a similarly irksome story when encountering relatively low-speed bends. While a lopsided, nose-heavy feel doesn't help matters, a steering wheel that's so devoid of feel you'd swear it communicates via lawyers, means you're left to guess at what the front wheels are up to.

As a consequence, in all too many instances, especially going downhill on a trailing throttle, you find yourself taking several exploratory bites at the flat-bottom steering wheel rather than executing one smooth turn.

It's not until you generate some heat in the tyres, hustle the wind beneath the front spoiler and bully the Quattro system to transfer a healthy dose of the engine's power to the rear wheels, that the S5's chassis neutralises and the steering begins to come to you. And make no mistake, when the road dries and opens up, the S5 simply flies.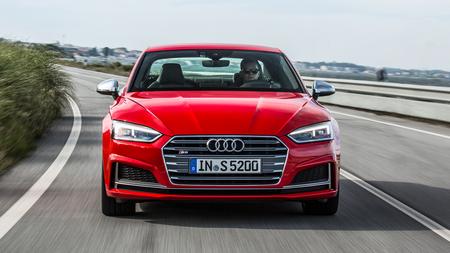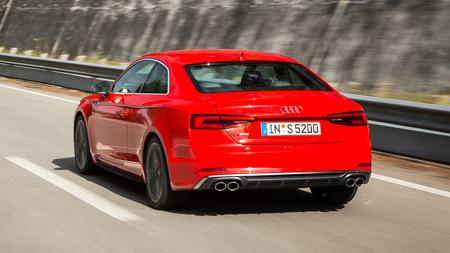 The car keeps every bit of the fat 20-inch tyres' contact patches glued to the road, and combined with the awe-inspiring traction of the fully engaged Quattro system and neatly constrained body roll, it all means the S5 sacks off high-speed corners with real gusto.

The turbocharged V6 engine is a proper weapon, too. With an intense power delivery and a willingness to rev close to self-destruction, it'll have you giggling uncontrollably as you rag it repeatedly up to the red line.

You'll also find yourself raving about the S5's brakes, because they're simply epic. Delivering immense stopping power, they're some of the best steel discs brakes we've driven; and, as they're coordinated by a pedal bristling with feel and precision, we can only imagine how good things might have been, had Audi's engineers dialled the same level of precision into the S5's steering.

Although we might not agree entirely with Audi's proud-as-punch chassis engineers – there's still a sensation of body shake detectable when encountering sharper low-speed abrasions – we would concede that the S5's active dampers do a very effective job of blending comfort and control across the speed range. As a consequence, the new car is a far more comfortable proposition than the old, rather ham-fisted model.

Inside, everything is sweetness and light, literally. With the exterior mirrors now mounted on the doors, and the windscreen pillars appearing slimmer than the previous car's, there's none of the claustrophobic feel that you get in some rakish coupes. Things are more than tolerable in the rear, too. With enough space for a couple of adults to travel in reasonable comfort, you may even be able to convince your fleet manager that your clients will be more than happy to ride shotgun and that the S5 should definitely be on your user-chooser list.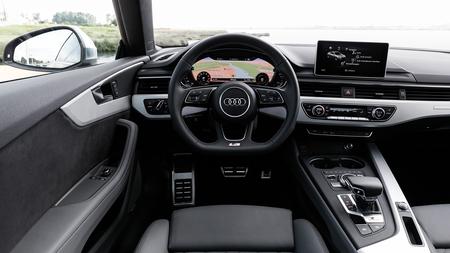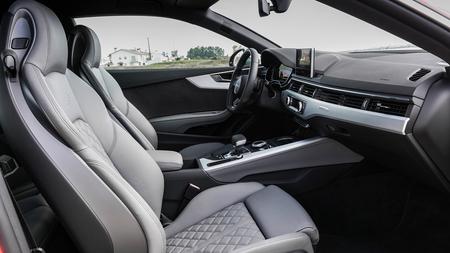 Should I get one?
The S5 is a stunning-looking, beautifully appointed coupe, and we can well imagine many buyers will pre-order one without ever sitting behind the flat-bottom steering wheel.

It offers scintillating performance – albeit sometimes hampered by a jerky automatic gearbox – and secure, predictable high-speed handling. It is a wee bit clumsy at lower speeds, something that's not helped by the vague steering and droning exhaust note, but its real forte is as a long-legged and comfortable high-speed cruiser for discerning drivers, who regularly devour high mileages. If that sounds like you, then an S5 could be right up your street.

Key facts:
Model: Audi S5

Price: from £45,000 (est.)

Engine: 3.0-litre turbocharged V6 petrol engine, eight-speed automatic

Power/Torque: 349bhp/369lb ft

0-62mph: 4.7sec

Top speed: 155mph

Economy: 38.7mpg

CO2/BIK tax band: 166g/km/30%

Boot 465 litres
Also consider:
BMW 4 Series Coupe
The 4 Series Coupe is effectively a rakish two-door version of BMW's hugely successful 3 Series saloon. With a wide range of efficient powertrains to suit most budgets, and a choice of rear or four-wheel-drive, it sets the dynamic benchmark in this category.
Mercedes C-Class Coupe
The latest Mercedes C-Class Coupe takes all that is good about the saloon, and wraps it in a flash-looking two-door body. Dynamic tweaks ensure it also drives better than its saloon sibling, while the cabin is decked out with reassuringly expensive materials.
Lexus RC
We're pretty sure most folk will agree that the RC is one cool-looking coupe. It's beautifully built, impressively specified and surprisingly comfortable. It is pretty portly, however, and as a result, it's not as good to drive as BMW 4 Series.
Interested in buying an Audi A5?