First Drive First drive: 2015 Mazda MX-5
We've driven the new 2015 Mazda MX-5 in the UK. Paul Bond asks if it's still the best pound-for-pound sportscar there is
View gallery
Last updated: 26th June 2015
Auto Trader verdict:
Mazda has such a stranglehold on this end of the sports car market, that it could have afforded to be lazy with the new MX-5. Thankfully, however, the opposite is true, and this latest model is superbly executed in every sense. Nimble, playful handling, compact dimensions and an eager, naturally-aspirated engine make it perfectly suited to UK roads, and you can drive it hard without endangering your licence. This 2.0-litre will be the choice for enthusiasts, but the 1.5 is just as sweet. Roadster buyers need look no further.

Author: Paul Bond
Location: Goodwood, Chichester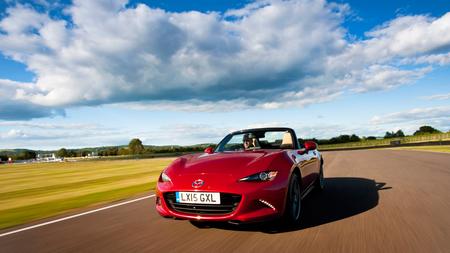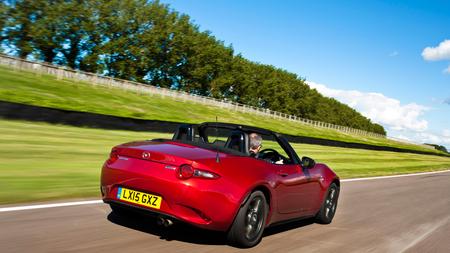 Need to know:
All-new MX-5 is lighter, leaner, faster than before

Choice of 1.5- and 2.0-litre Skyactiv petrol engines

On sale now, priced from £18,495 OTR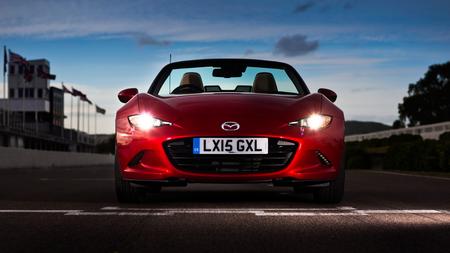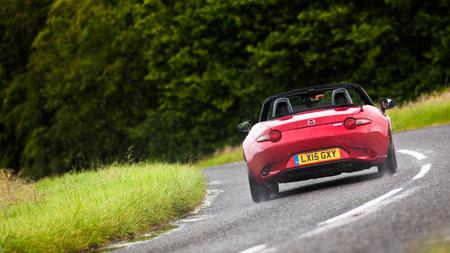 What is it?
The latest – and possibly greatest – version of Mazda's all-conquering two-seater; the MX-5. It's been the number one choice for anyone seeking affordable open-air thrills for over a quarter of a century, and this new has all the ingredients to cement that legend.

Spend that amount of time building anything, and you're bound to build up some expertise, but to say Mazda understands how to make a lightweight, rear-drive sports car is a huge understatement, but how do you improve something that's already so successful?

Well, it's fair to say that the current car, while popular, was carrying some excess podge, so Mazda has made the new car smaller and lighter, by a considerable 100kg. It's shorter, and lower than the Mk III too, with the weight of the new 1.5- and 2.0-litre engines closer to the centre of the car, helping improve body control and handling balance.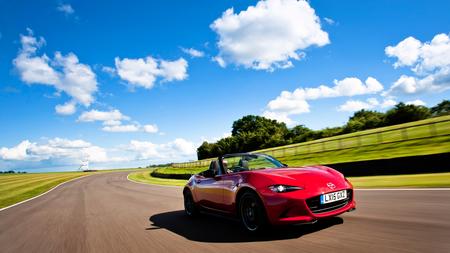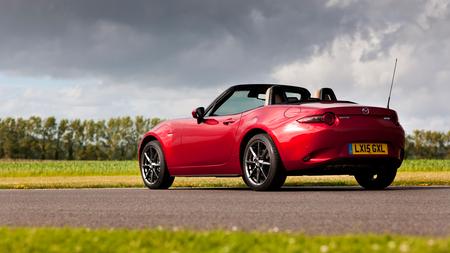 What's it like?
Joyous. There's a lot of clever engineering at work in the new MX-5, but after ten minutes of threading it down the twisting, narrow and leafy lanes near Goodwood circuit, roof down and 2.0-litre engine on song, all I could think was "they've done it again".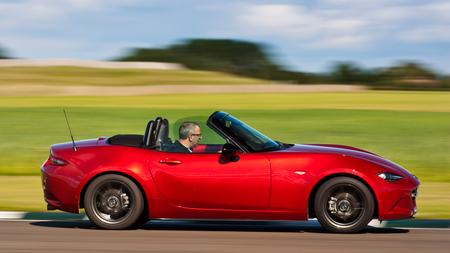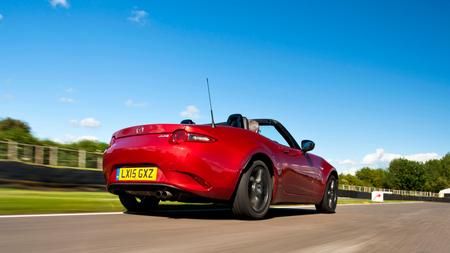 Admittedly, the sun was shining, the roads were clear, and it would be easy to get carried away, but the fundamental D.N.A of every generation of MX-5 can still be found right at the heart of the new car.

Simple things like the short, wonderfully mechanical shift of the six-speed manual gearbox, the faintly industrial noise of the twin exhausts barking at high revs, and gentle pitch and set the body takes into each corner, telegraphing its responses in a really natural, involving way.

It's also refreshing to drive a sports car with no selectable driving modes, adjustable dampers or steering settings to cycle through, so you can just jump in, drop the roof (a manual, fabric setup that's so light and easy you can fold down in a single, one-handed motion) and go.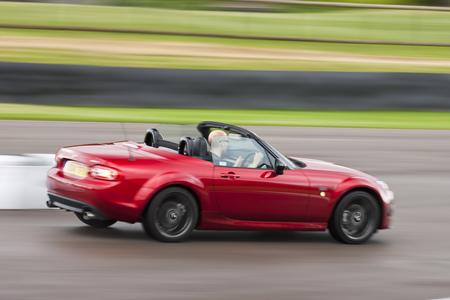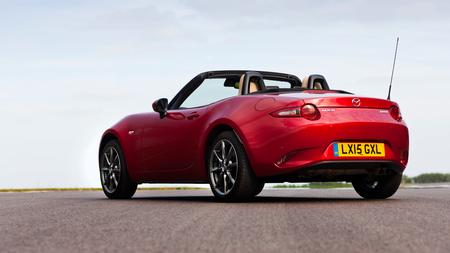 The one thing that has changed in the overall dynamic setup is the steering. It's now an electrically aided setup, and as with most of these systems it's rather light and feels a tad over-assisted on first impressions. There's a consistent increase in weight once turn the wheel though, and you soon build the confidence to explore the level of grip.

If you go for the 2.0-litre Sport model we drove, then your MX-5 will come with a front strut brace, limited-slip differential and stiffer suspension that includes a set of Bilstein dampers. It definitely feels firmer than the 1.5 in this trim, with the front wheels thunking over deeper ruts and potholes, but on most surfaces the ride is pleasing supple and the ride is forgiving.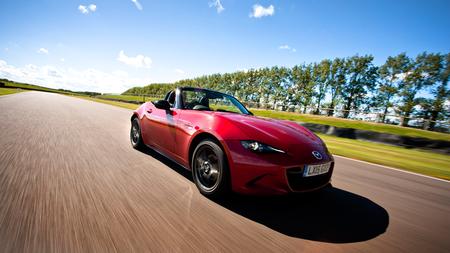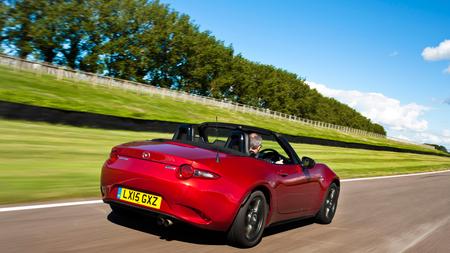 Refinement is better than before, roof up or down, even at motorway speeds, and the cabin feels a lot more grown-up than before too. It uses technology familiar from the Mazda 2 and 3 hatches, with a 7.0-inch touch-screen, rotary controller, and the option of sat-nav for £600.

There is still a relative lack of storage space, and this MX-5 still feels a snug fit, but a lockable cubby between the seats, a couple of USB ports and removable cupholders mean it's that bit more useable than before. The boot is deep, but at 130-litres, a couple of weekend bags is about all you'll be able to squeeze inside, although it remains the same size, roof up or down.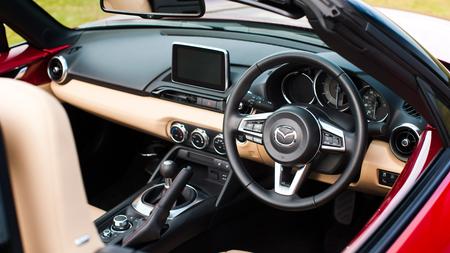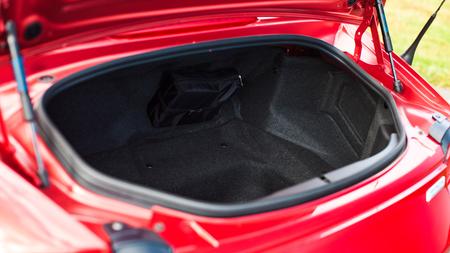 Should I get one?
If you want open-air, back to basics driving, the new Mazda MX-5 is (and remains) the definitive choice, so the question is not if you should get one, but which version to buy.

Having tried both, the choice between 1.5- and 2.0-litre models is a difficult one. The extra compliance in the ride, higher 7,500rpm redline and lower weight of the 1.5 make it as pure and simple as the 1989 original, and at £18,495 it seems an absolute steal.

We would upgrade to the SE-L though, which for £750 gets you the big touch-screen, a wind deflector, cruise control, LED running lights and a DAB radio, while still being affordable to insure and lighter on fuel than the 2.0-litre, with a combined 47.1mpg and 139g/km of CO2.

Having said all that, the more powerful model does feel considerably quicker on the road, punches harder in-gear, and will feel less out-gunned by turbocharged hot hatches like the Polo GTI and Corsa VXR, even if neither is anything like as involving.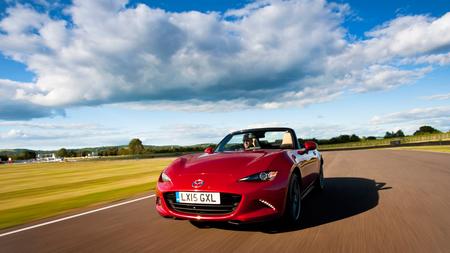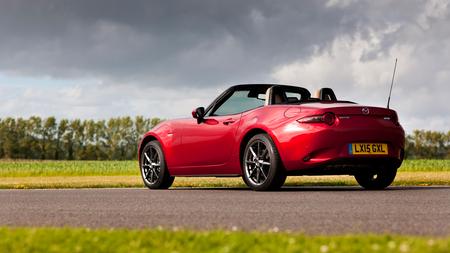 Key facts:
Model: 2015 Mazda MX-5 2.0 6MT Sport Nav

Price: £23,295

Engine: 2.0 litre 4cyl petrol, six-speed manual

Power/Torque: 158bhp/148lb ft

0-62mph: 7.3 secs

Top speed: 133mph

Economy: 40.9mpg

CO2/BIK tax liability: 161g/km/27%

Boot space: 130 litres
Also consider:
Mini Roadster
Fast, and with plenty of grip, but retro styling is contrived, and soon to go off sale
BMW 2 Series convertible
Also rear-driven, but a lot pricier and heavier than the featherweight Mazda
VW Beetle Cabriolet
More of a four-seat cruiser than a proper sports car, and pricy in 200bhp trim
Interested in buying a Mazda MX-5?