First Drive 2017 Lexus IS 300h first drive review
Lexus' compact executive saloon starts 2017 with a series of revisions aimed at tempting buyers away from the likes of the BMW 3 Series and Audi A4.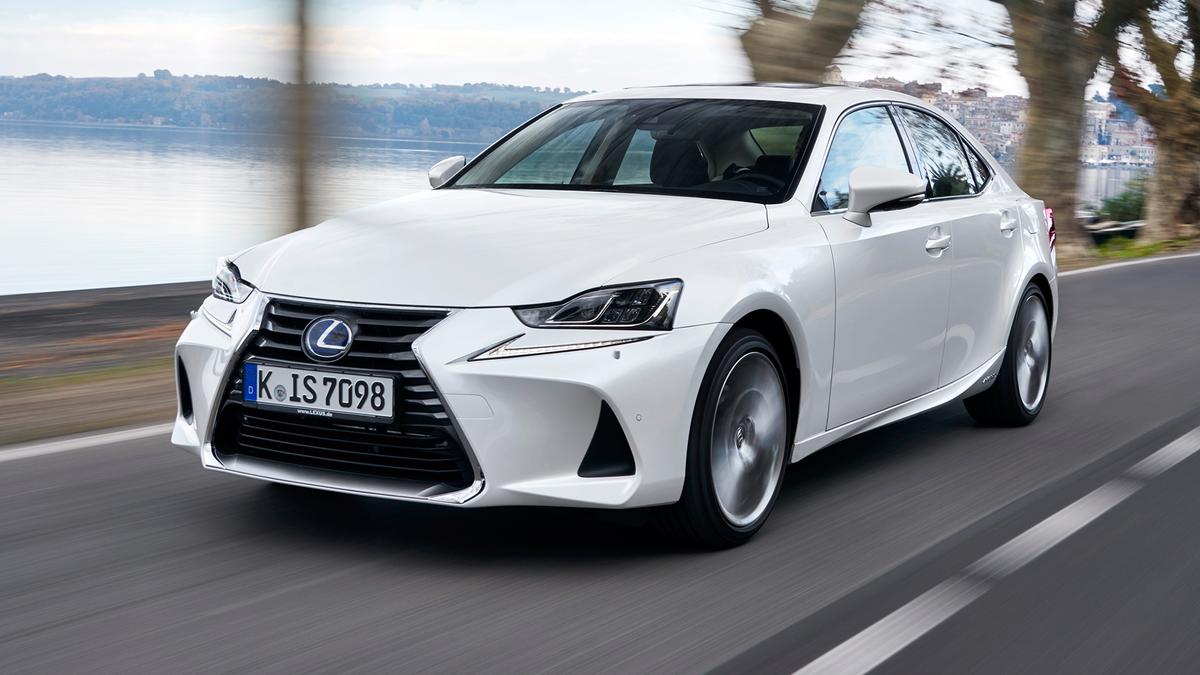 View gallery
First published: 19th January 2017
Auto Trader verdict:
Even Lexus admits that the changes to the IS are pretty minor, so it'll come as no great surprise that not much has changed. As before, it will appeal to buyers who want a distinctively styled car that provides a very different alternative to the German models that dominate this section of the market; and, the low CO2 emissions and tax liability of the hybrid system could well make it attractive to cost-conscious company car drivers. However, we still reckon those German rivals are better overall packages.
Need to know:
Facelift and new interior for Lexus' compact executive saloon

Revised suspension aimed at improving ride and handling

On sale now, with prices from £29,995
What is it?
This is the revised version of Lexus' smallest saloon, the IS. However, rather than opt for a few wholesale alterations, Lexus has instead come up with a series of relatively minor changes for this mid-life revision. These centre on a new look inside and out, along with some tweaks to the suspension.

Lexus fans will immediately spot the new grille, air intakes and bumpers at the front end, along with new headlights that are full-LED units in F Sport and Premier trim. At the back, there's some extra chrome detailing and new lights; and, inside, Lexus has concentrated on upping the quality of some of the trim, as well as fitting a new steering wheel.

Finally, the company's engineers have also been busy tinkering away at the car's suspension to try to improve the car's ride and handling – much needed when the IS' rivals include the likes of the BMW 3 Series and Audi A4 – while the standard safety kit has also been improved on all but the most basic SE models.

However, what hasn't changed is what's under the bonnet; so, as before, the IS comes in a choice of two flavours. The IS 200t uses a turbocharged petrol engine, and comes only in top Premier and F Sport trims, but for our first experience of the new model, we're trying the IS 300h, which is expected to take about 90 per cent of sales. This has a petrol/electric hybrid powertrain, mating a 2.5-litre petrol engine with an electric motor, a combination that leads to very low, company car tax-friendly CO2 emissions.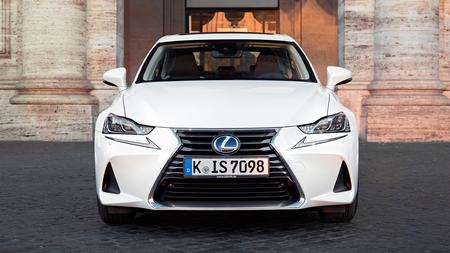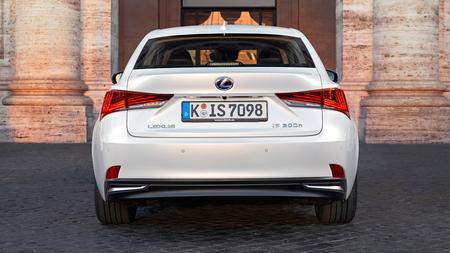 What's it like?
The simple and rather flippant answer – given that none of the changes to the car is particularly major – is that the new IS is pretty similar to the old one.

Still, on the positive side, the collection of subtle nips and tucks around the car's body means it looks even more distinctive next to its rather more conservatively styled rivals. The IS' cabin is equally distinctive, and Lexus proudly trumpets its attention to detail in refining various bits and bobs in this revision. For example, it has called on the expertise of piano-maker Yamaha to help embellish some of the wood trim that is available.

Fair enough, we'll admit this is one of several improvements on top of the already excellent build quality and fine materials; but, the trouble is, there are plenty of other details that let the car down. For instance, when the IS has rivals like the Audi A4 with its 'virtual cockpit', the graphics on its dashboard and infotainment screen simply don't look good enough; some of the displays and buttons look a bit too much '1980s Casio' for comfort; and, some of the controls are strewn across the centre console seemingly at random.

What's more, there's only so far a facelift can go, so Lexus hasn't been able to address the relatively cramped rear-seat accommodation or the awkward shape of the boot.

What also hasn't changed is the hybrid powertrain, and in many ways, that's a good thing: it's nice and smooth around town, responds quickly enough at low speeds, and is refined at a steady motorway cruise. Sadly, though, it still has some all-too familiar shortcomings. In particular, when you want to use the full power on offer from the hybrid system, you have to call on the petrol engine to do its thing. When it does its thing, it does it very loudly, droning away in a manner that's at odds with the car's otherwise good refinement.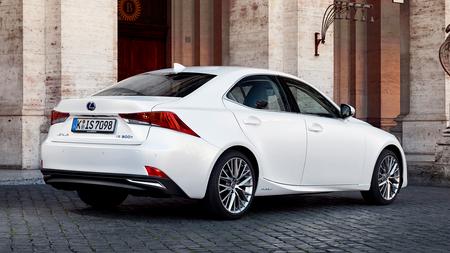 Worse still, because you don't need much pressure on the throttle pedal to get the petrol engine joining in, you'll be surprised just how often you experience this noise in everyday life. Manoeuvres as apparently innocuous as pulling on to a motorway, driving up a hill, or just accelerating away from a green light can all be enough to upset the refinement – and this isn't something you'd suffer from in the IS' more conventionally powered rivals.

To make matters worse, we only drove the new car for a brief time, but it was enough to show that the engineers haven't managed to improve the car's ride as much as they hoped. Once we ventured away from the smooth surfaces of main roads out of town, the ride soon became uncomfortable, and not a match for what you'd find in, say an Audi A4 or Mercedes C-Class with their (optional) adaptive suspension. However, we say that with the major caveat that our test car was fitted with 18-inch wheels (the largest option available), and cars with smaller wheels may well ride more comfortably.

Where Lexus does seem to have improved the IS is in the way it handles. Again, there have only been quite minor changes to the steering and suspension, but the result is good body control through the bends and more consistent responses from the steering. True, the IS is still not as sharp as a BMW 3 Series or Jaguar XE, but this is certainly a car that's more enjoyable to drive than the pre-facelift model.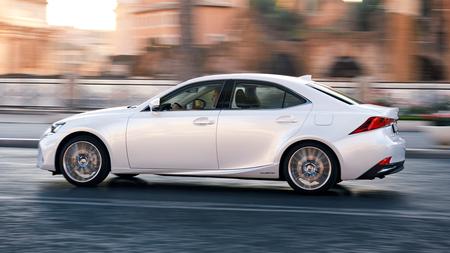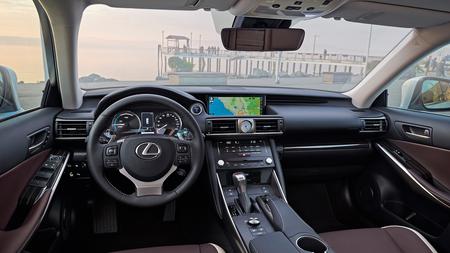 Should I buy one?
In all honesty, the changes to the IS have done little to alter the cases for or against it. As before, perhaps the most persuasive arguments in favour of the IS are its eye-catching styling – it'll stand out a mile in a company car full of Beemers, Mercs and Audis – good levels of standard equipment, and the low tax liabilities that come courtesy of its low CO2 emissions. Plus, if you're the kind of buyer who dislikes following the herd, the simple fact that it's not German may be enough to tempt you.

On the other hand, the revisions can't mask the shortcomings that have been there from the start – in particular, the unrefined engine, the occasionally poor ergonomics in the cabin, and the below-par practicality.
Key facts:
Model: Lexus IS300h Luxury

Price: £34,495

Hybrid system: 2.5-litre 4cyl petrol/electric motor, CVT

Power: 220bhp (petrol/electric combined)

0-62mph: 8.4 secs

Top speed: 125mph

Economy: 61.4mpg

CO2/BIK tax liability: 107g/km / 18%

Boot space: 450 litres
Also consider:
Audi A4
As a rational, everyday purchase, the A4 is difficult to fault. It drives and feels like a much bigger, plusher car, while the stunning interior, and generous interior space are all big plus points.
BMW 3 Series
The ever-popular 3 Series fully deserves to be so sought-after. True, the cabin is showing its age a bit, but it's one of the most involving and enjoyable car in the class to drive.
Mercedes C-Class
The C-Class is one of the best cars of its type, with swish looks, a strong image, a classy interior and good practicality. A cracking all-rounder.
Interested in buying a Lexus IS 300?