First Drive 2016 Volkswagen Up 1.0 TSI first drive review
The Volkswagen Up has always been one of the best city cars on the market, and it's now been given sharper looks, more technology and a new turbocharged engine to enhance its appeal even further.
Auto Trader Verdict:
The best car in the city car class just got better. The facelift Volkswagen Up has all the style, quality, practicality and on-road prowess that it ever had, but it now has more technology and a better engine besides. A must-see for any city car buyer.
Need to know:
Refreshed version of VW's popular city car

Revised styling inside and out, new turbocharged engine

On sale in July starting at £12,000 (estimated) for turbo
What is it?
Something of an open goal for Volkswagen. You see, in our eyes, the Up has been the best city car on the market ever since it was first released in 2012. This new facelifted version adds more technology and more style in an effort to make it even more appealing, so it's tough to see what could go wrong.

The boost in style comes thanks to a range of subtle-yet-successful changes to make the car look a fraction sleeker. The new headlamps have integrated LED daytime running lights, while the bonnet and front bumper have also been reshaped. The back end has more sharply defined light clusters and a new air diffuser, and you have no less than 13 paint colours to choose from, seven of which are new to the palette.

And, like all city cars these days, you can also customise your car up the wazoo by playing around with the colours of your roof, mirror cappings and wheels, and you can also festoon your car with a choice of ten decal treatments. You choose from the same amount of 'dashpads' – dashboard styling panels to you and me – and you can further tailor your car's interior with a choice of seven seat colours.

What is it like?
For all those changes, very similar to before, both to look at and to sit in. Importantly, the cabin still has all that quality that sets it apart from its city car rivals; the materials feel high-grade and expensive, and they're assembled in a very sturdy way. The Up remains one of the most practical city cars, too, with plenty of room for a pair of adults in both the front and the back, and a big that ranks among the biggest in the class.

You still get lots of seating adjustment and a cracking view out in all directions as well, but the biggest news is the rejigged infotainment system. With the use of a cradle and a free-to-download app, your smartphone becomes fully integrated into the cars infotainment system and becomes the basis for your navigation, music library and phone functions, and it also provides you with information displays, an eco-driving trainer and handwriting recognition technology for inputting navigation destinations. To be honest, that's a lot for a small smartphone screen to display effectively, meaning it's not always the clearest, most intuitive system, but you do get used to the crammed nature of the display.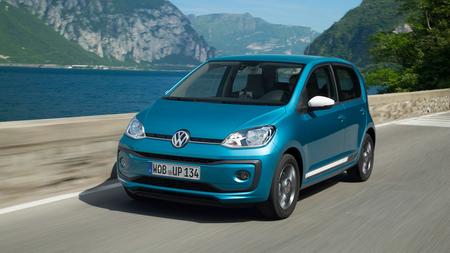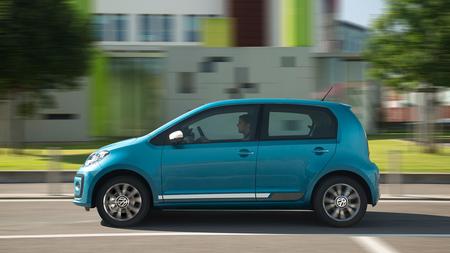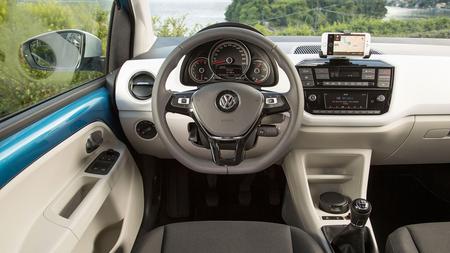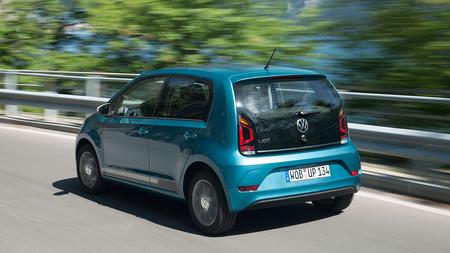 Things are also very much as-you-were on the road, too, but that's no bad thing as the Up was already the best car in class for driving manners. The supple suspension gives you a really comfortable ride, while the lightness of the controls, the snappy gearshift and the dinky dimensions make the Up a really easy car to pootle around in. And, if the temptation to get your foot down gets the better of you, the car is also quite a lot of fun, with a pointy, agile character and direct steering.

Three 1.0-litre three-cylinder petrol engines are available, and the ones we're familiar with – the 59bhp and 74bhp naturally aspirated units – have rather leisurely acceleration, but at least they're smooth and not too loud. Better still, the Up also has a new turbocharged version of this engine, and it's absolutely fantastic. The considerable amount of extra flexibility it gives you really adds to the car's easy-going nature, and it actually feels really fizzy and fast when you get your clog down.

Should I get one?
Yes, absolutely you should. The class-leader just got better, so if you're considering a city car, this thing just has to be on your shortlist. Better engine, more technology, more choice – what's not to like?

As with all cars at this end of the market, pricing will be of huge importance, but that, along with exact specifications, is yet to be announced. However, we can't see them changing a whole heap compared with the outgoing model, and while the Up has previously sat at the upper end on the city car spectrum on price, it's still affordable and good value.

The big question is how much the car will cost with the new turbocharged engine, and looking at the numbers and trim availability, we'd guess at around £12,000. Sure enough, this isn't cheap for a city car, but given the car's talents, it doesn't feel outlandish.

Key facts:
Model: Volkswagen Up 1.0 TSI Move Up 5dr manual

Price: £12,000 (est)

Engine: 1.0-litre turbo petrol, five-speed manual

Power/Torque: 89bhp/118lb ft

0-62mph: 9.9secs

Top speed: 115mph

Economy: 64.2mpg

CO2/BIK tax liability: 101g/km/17%

Boot space: 251 – 951 litres
Interested in buying a Volkswagen up!?