First Drive 2016 Renault Grand Scenic first drive review
With its striking, SUV-inspired styling and gangsta-sized 20-inch alloys, the all-new Scenic is cooler than a warehouse full of Magnums. Does it also have the practicality, versatility and comfort to meet modern family demands, though?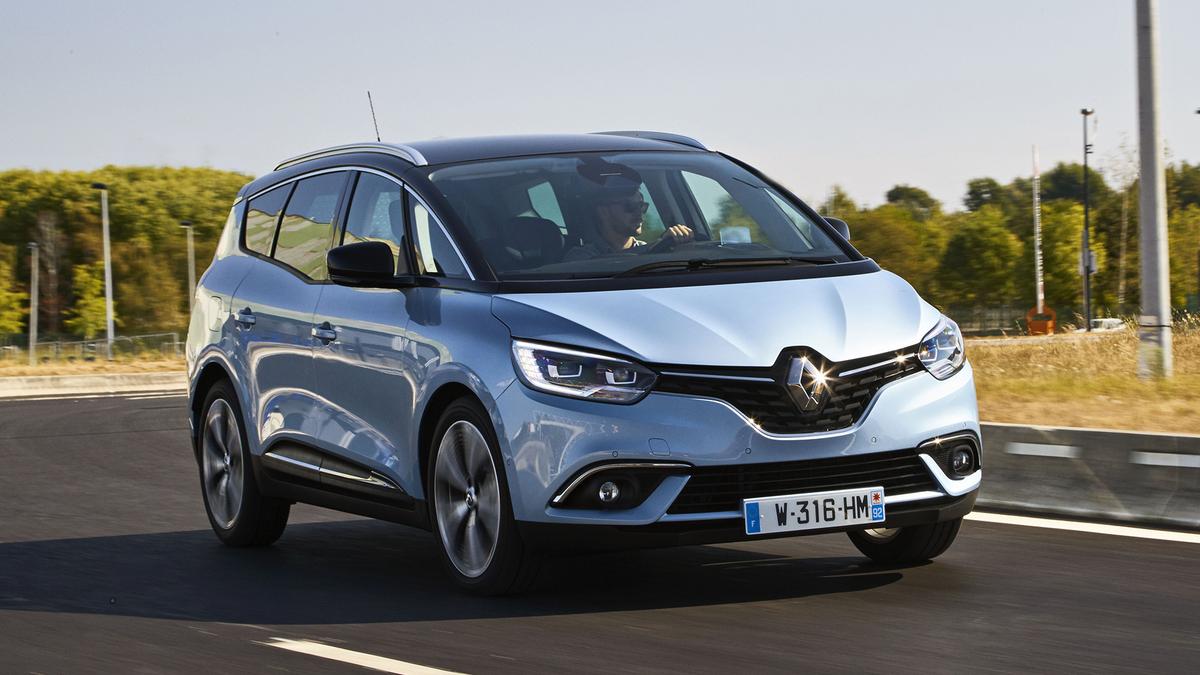 View gallery
Auto Trader verdict:
We're not entirely sure who first decreed that 'zombied by sleep deprivation' parents no longer cared about style, and wouldn't mind driving around in a nondescript box on wheels.

Well, whoever it was, they were wrong; and the mammoth amount of sexily styled SUVs now sold as family cars compared to the number of utilitarian MPVs only goes to prove the point.

Fortunately, the all-new Scenic offers the best of both worlds. It's not the most refined or the most engaging thing to drive, but the spacious and airy cabin, family-friendly versatility and easy practicality, married to fresh, modern design and edgy styling mean that even your sulky teenage sibling will have to concede that the old boy's still got moves.
Need to know:
A choice of two body styles and seven engines

20-inch alloy wheels standard across the range

On sale in November, priced from around £20,000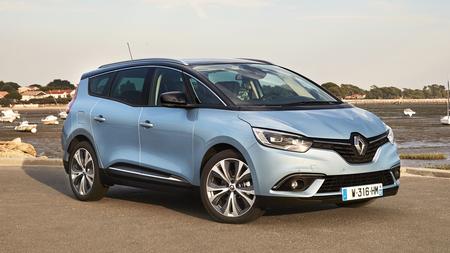 What is it?
Renault's design chief openly admits that, if all you want is a totally practical mid-sized MPV, then it's hard to look beyond the Volkwagen Touran.

However, he's also keen to point out that the Touran's 'van-with-windows' styling is never going to win any catwalk contests; and, we need look no further than the unprecedented success of style-centric SUVs/Crossovers and the fall from grace of boxy MPVs, to see where the smart money is going these days.

With this in mind, Renault is the first company to seize the initiative and meld SUV looks with MPV practicality in its all new Scenic.

Available in five- and seven-seat format (Scenic and Grand Scenic, respectively) and replete with edgy lines, dramatic two-tone colour combinations and enormous wheelarch-stuffing 20-inch alloy wheels, this is undoubtedly the world's funkiest MPV.

For all its panache, though, the latest Scenic still boasts a good deal of family-friendly versatility and practicality. For instance, it retains the previous generation's front and rear underfloor, lidded cubbies to accommodate Woody, Buzz and a couple of dead frogs, as well as Play-doh- and crayoning-friendly airline-style seat-back trays.

Equally, although they are now split 60/40 and no longer divided individually, the three sliding rear seats are still very much part of the Scenic's interior layout. Thus, luggage or legroom can be adjusted to suit the requirements of each journey, while simultaneously affording a new generation of grumpy parents the dubious pleasure of pulling a fractious little Johnny forwards for a pacifying cuff around the earhole. Only joking, Esther.

Here, we're testing the 1.6-litre diesel-powered seven-seat Grand Scenic fitted with a six-speed twin-clutch automatic. The Grand costs £1500 more than its five-seat sibling and will cost from around £21,500, but we reckon the seven-seater is worth the extra dough, as it has a good deal more to offer parents than the smaller car. Not least, the additional boot space that's available when the third-row seats are folded flat into the floor.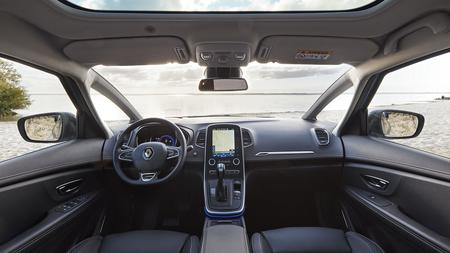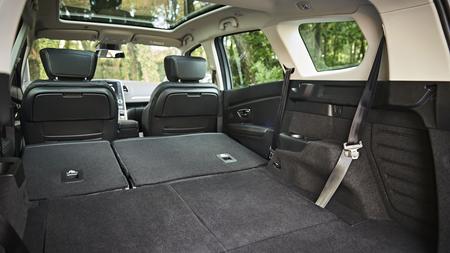 What's it like?
We're guessing the first question in the mind of every prospective Scenic buyer will be, how on earth can a family-orientated MPV ride with any degree of comfort on enormous 20-inch alloys?

Well, although the diameter of the Scenic's wheels is pretty extravagant, so are the tyre's side walls. For the most part, this explains why, with relatively soft, long-travel suspension, the Scenic is able to take the sting out of all but the worst impacts.

Granted, you can still hear and feel the rear axle clattering over some larger lumps and bumps, and a certain amount of the road's roughness can be felt felt coursing through the Scenic's cabin, but that is certainly not the worst aspect of the Scenic.

That accolade goes to the inordinate amount of wind noise generated by the boxy-looking door mirrors, which becomes highly intrusive at anything over 50mph.

The Scenic's 1.6-litre diesel engine can also get a wee bit noisy if you really give it the beans, but it has a sufficiently strong mid-range, so it rarely needs to be extended beyond its comfort zone. This engine also comes exclusively with a six-speed dual-clutch automatic gearbox, which is surprisingly smooth and definitely one of Renault's finer efforts.

Apart from the additional two seats, there are actually some pretty fundamental differences between the Grand and the five-seat Scenic.

Not surprisingly, the Grand is longer overall and has a bigger gap between the front and rear axles to free up additional foot space for rear passengers. Additionally, the Grand sits lower to the ground - as much as 53mm when fully laden - and, as a consequence, it looks more like a jacked-up estate car. By contrast, the five-seat model clearly mimics an elevated SUV.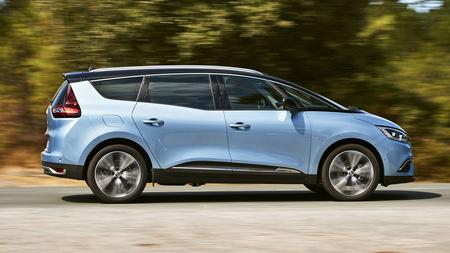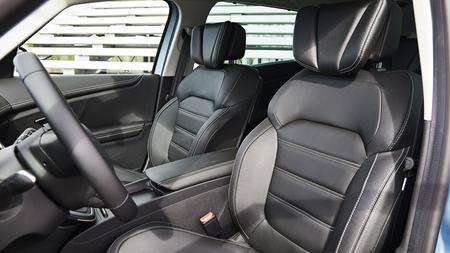 Obviously, some of this squat will be down to the additional spring compression with seven folk on board, but we can't help feeling Renault's hand was forced down this route in order to prevent the Grand feeling too top-heavy and unstable in corners when fully laden.

The Grand's steering is rather numb and less than reactive, too, which means the nose of the car takes an age to respond to the wheel being turned. In the process, this slows down body roll, which also supports the tipping point theory. Perhaps just as well, really, as the last thing you need is to go down the full aeronautical route and end up tucking sick bags behind the seat-back trays.

Of course, the Grand's steering isn't going to trouble too many parents tackling the school run or taking a leisurely run to the seaside. However, attempting to place the nose of the Grand accurately in multi-storey car parks is an absolute mare. Allied to a driving position seemingly set yards back from the windscreen, the lack of steering connection means it's almost impossible to judge where the nose of the car begins and ends with any confidence. As a result, you can expect plenty of tears before bedtime when your other half returns from Waitrose with half a kilo of alloy missing from your nearside spinner.

Inside, the Scenic's expansive dashboard is dominated by a prodigious 8.7-inch touch-screen. Given its sheer size, it's pretty easy to navigate, but it's not exactly speedy. On some occasions when switching between menus, it will actually buffer and display an old-school spinning waterwheel as it pauses.

There are plenty of other neat touches, however, such as an additional rear-view mirror to help keep an eye on the little 'uns, a huge central sliding armrest-cum-storage console and a spring-loaded drawer in place of the traditional glovebox. Both these storage areas are pretty commodious, but you need to ensure your seat is far enough back from the dash in order to avoid a rap on the kneecaps as dash drawer springs open.

It's the opposite story when folding down the rear seat backs - which can be controlled remotely from the boot via switches or via the touch screen - as you need to ensure each row of seats is sufficiently far forward to allow the corresponding rear seat backs to fold flat.

Getting in and out of the rearmost row isn't too arduous, thankfully, as the middle row cantilevers forwards to provide a big enough gap for even adults to squeeze through. That said, unless you really despise your in-laws, you best relegate your smaller offspring to the rear seats, as legroom is a wee bit on the tight side for grown-ups.

Should I get one?
If you're thinking of trading some substance for style and going down the SUV route for your next family car, then you should certainly take a look at the new Scenic.

Admittedly, there are a couple of caveats - it's not particularly engaging to drive and it can feel a little unwieldy in some circumstances due to its remote steering, as well as being rather noisy at motorway speeds thanks to the high levels of wind noise - but, otherwise, the Scenic is affordable to buy and run and offers a degree of versatility that few SUVs at this price can equal. Crucially, though, it provides a level of style and presence that no other MPV can match.

Key facts:
Model: Price from £21,500 (est.)

Engine: 1.6-litre 4-cyl turbodiesel, six-speed twin-clutch automatic

Power/Torque: 158bhp /80lb ft

0-62mph: 10.7sec

Top speed: 124mph

Economy: 60.0mpg

CO2/BIK tax band: 122g/km/24%

Boot: 233-596 litres
Also consider:
Ford S-Max
The S-Max is one of the better seven-seat MPVs. It combines a spacious, practical and versatile cabin with a comfortable, relaxed and genuinely entertaining driving experience.
Citroen Grand C4 Picasso
Sharp-looking, well equipped, practical and decent to drive, the C4 Grand should be on the shortlist of anyone looking to buy a full size seven-seat MPV.
Volkswagen Touran
It may be boxy but the Touran is one of the best mid-sized MPVs, if a little on the expensive side. The interior is roomy, versatile and high in quality and it's surprisingly good to drive.
Interested in buying a Renault Grand Scenic?