First Drive 2016 Jaguar F-Pace first drive review
The F-Pace is Jaguar's first ever SUV and one of the most eagerly anticipated cars of 2016. Our first experience of it comes as Road Test Editor Ivan Aistrop gets to grips with it in a disused, and soaking wet, Welsh quarry
Auto Trader verdict:
The unfinished nature of the prototype we drove – and the unconventional nature of the rally-stage surfaces we drove it on – mean we can't say for sure where the F-Pace will slot into the already competitive premium SUV market. We can say, though, that the initial signs look very encouraging, and that our appetite to drive the finished product has been truly whetted.
Need to know:
We drive a prototype version of Jaguar's forthcoming SUV

Emphasis on on-road agility and engagement, rather than off-road ability

Available to order now, starting at £34,170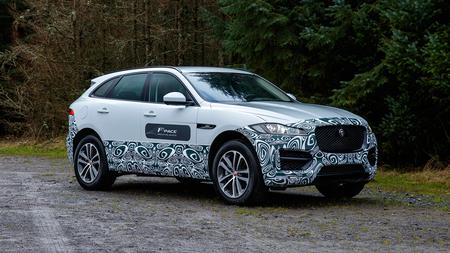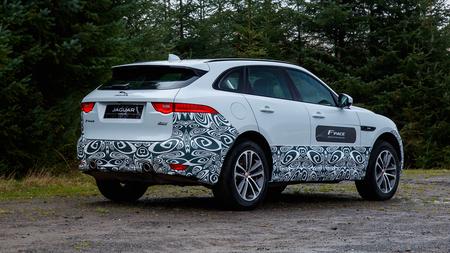 What is it?
Very, very big news for Jaguar. Not only is it the company's first SUV, the F-Pace is also very likely to become Jaguar's best-selling model, making it a potential money-spinner.

Going up against rivals like the Audi Q5, BMW X3 and Porsche Macan, the F-Pace aims to bring its own blend of attributes to the premium SUV party. Jaguar has dubbed this a 'sports crossover', so the company has concentrated very much on on-road athleticism when developing the F-Pace, with the car has been designed to provide a similar amount of sportiness and driver engagement to Jaguar's other models.

That's not to say off-roading attributes have been forgotten completely, though. Most versions will have an intelligent four-wheel-drive system that sends all the torque to the rear axle under normal circumstances for added agility, but can send up to 50% of the torque to the front wheels in milliseconds when wheel-slip is detected.

It works alongside a new traction system called Adaptive Surface Response, derived from the acclaimed Terrain Response system found in Land Rover products, but retuned and simplified, with fewer driving modes. Essentially, it 'reads' the surface you're on and alters the responses of the throttle, stability control and eight-speed automatic transmission accordingly.

These systems will be available on all versions of the F-Pace, while cars with one of the two 3.0-litre V6 engines – a 296bhp diesel and the 375bhp supercharged petrol from the F-Type sports car – will have all-wheel drive and an auto' 'box as standard. However, the entry-level engine, a 178bhp 2.0-litre, four-cylinder diesel, will also be available with a manual gearbox and rear-wheel drive.
What's it like?
To look at, it's very, well, Jaguar. Even the camouflaged cars in our pictures have a strong family face, with the same big grille and pinched headlights that you'll find on any Jaguar saloon. The overall dimensions, meanwhile, have more than a hint of the old XF Sportbrake about them.

Likewise, the interior design is instantly recognisable from the firm's other car's, with a modern-yet-elegant design that's dominated by technology. There's a virtual HD instrument cluster, a huge (and rather complicated) touch-screen infotainment system and more luxury toys than you can shake a stick at.

We don't have quite so clear a picture on interior quality, because the prototype cars we drove weren't quite production-ready in that area. From what we saw, however, we'd expect the quality to reflect that of Jaguar's other higher-end models.

What we can comment on, though, is practicality, and it's an area in which the big Jag impresses. There's generous head- and legroom in the front and rear seats, and although the rear footwell is bisected by a bulky transmission tunnel, there should be enough room to carry five adults in reasonable comfort. The boot, meanwhile, is bigger than those of most rivals at a whopping 650 litres.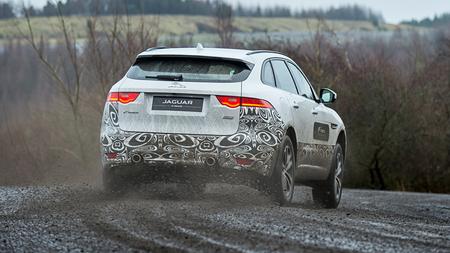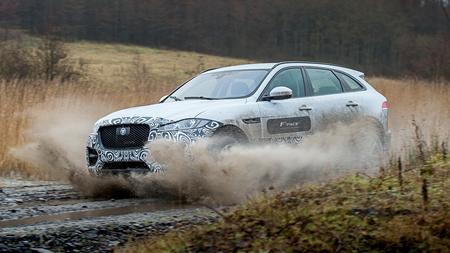 The F-Pace can certainly compete with the best-in-class for practicality and technology, then; but, being a Jag, it really needs to deliver as a driver's car. Well, having only driven a prototype version in a disused quarry surfaced purely with gravel and mud, we can't say for sure that Jag's engineers have cracked it. We can say, however, that the initial signs look very, very good.

Like all modern Jags, the F-Pace is built largely from aluminium, making it much stiffer and much lighter than it would otherwise be. The rear-biased four-wheel drive transmission and clever traction systems are complemented by a sophisticated suspension arrangement and configurable driving modes; and, in a deserted quarry at least, it all adds up to some serious fun.

It's that rear-drive bias that's the key. On the loose surfaces we drove the car on, a bootful of revs was all you needed to have the car sliding in fairly spectacular fashion; but, crucially, the slides felt controllable and adjustable the whole time. This should indicate a high level of on-road precision, and that's by any standards, let alone the standards of a high-riding SUV. The steering helps instill you with the confidence to test the car's sporting pretensions, too, because it's direct, progressive and delivers plenty of useful feedback.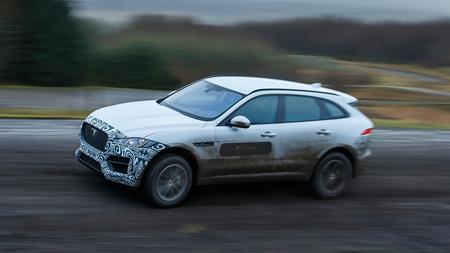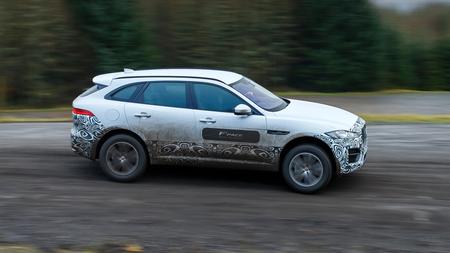 Engage the off-road mode, and these same loose surfaces that had you sliding around like a loony are effectively neutralised. You can feel the drive system shifting the power around quickly and effectively to keep you going in the right direction, and you're also aware of the electronics working away in the background to keep things still more controlled and secure. Even with this more careful and considered approach, though, the F-Pace still manages to feel pleasantly agile and eager.

The car we drove was also fitted with optional adaptive dampers, which alter their behaviour depending on what you do with the car's various modes and menus, but they seemed to keep body movements well tied down in every setting we tried. And, while the unconventional nature of the surface we drove on prevents an accurate assessment of the ride quality, it felt reasonably forgiving and controlled as far as we could tell.

The car we drove was also fitted with a true crackerjack of an engine, the 3.0-litre V6 diesel. Its prodigious power is accompanied by a truly mighty 517lb ft of easily accessible pull, making the car hugely brisk as well as being creamily smooth. The automatic gearbox helps with refinement, too, swapping cogs quickly and smoothly.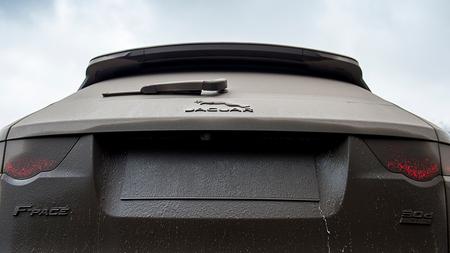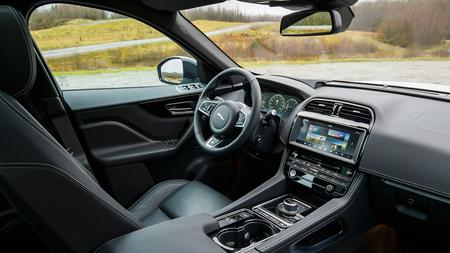 Should I buy one?
We know we're labouring the point here, but with the unfinished nature of the prototype car we drove, and the unrepresentative nature of the surface we drove it on, it's impossible to say for sure. However, on the evidence of our brief experience, we'll be staggered if the car isn't among the class-leaders for driver engagement, if nothing else. What's more, we won't be at all surprised if the F-Pace troubles the class-leaders in other areas as well.

We're already impressed by the practicality and technology it provides, and with aggressive pricing that will include a generous level of standard equipment, we can see the F-Pace being very appealing to a lot of SUV buyers. Class supremacy will probably hinge on whether the F-Pace can deliver the comfort, refinement and interior quality that Jaguar promises. If it does, then this might just become the most appealing SUV you can buy.
Key facts:
Model: 3.0 TDV6 300 Auto

Price: tbc

Engine: 3.0-litre diesel, eight-speed automatic

Power/Torque: 296bhp/517lb ft

0-62mph: 5.8secs

Top speed: tbc

Economy: 47.1mpg

CO2/BIK tax liability: 159g/km/29%

Boot space: 650 – 1740 litres
Also consider:
Audi Q5
Its build quality, performance and design make this a seriously desirable compact off-roader
BMW X3
An excellent package, the X3 is spacious, practical and versatile, as well as being superb to drive – as long as you choose the right options
Porsche Macan
The Macan will suit the lifestyle of those with 2.4 children and a Labrador, yet still deliver sports car thrills, super-high quality and a prestige image
Interested in buying a Jaguar F-PACE?