First Drive 2016 Hyundai Ioniq hybrid first drive review
The Ioniq is the first car to be launched with three different electrified powertrains, but is that enough to give it the edge over the Toyota Prius, Nissan Leaf and more conventional diesel hatchbacks?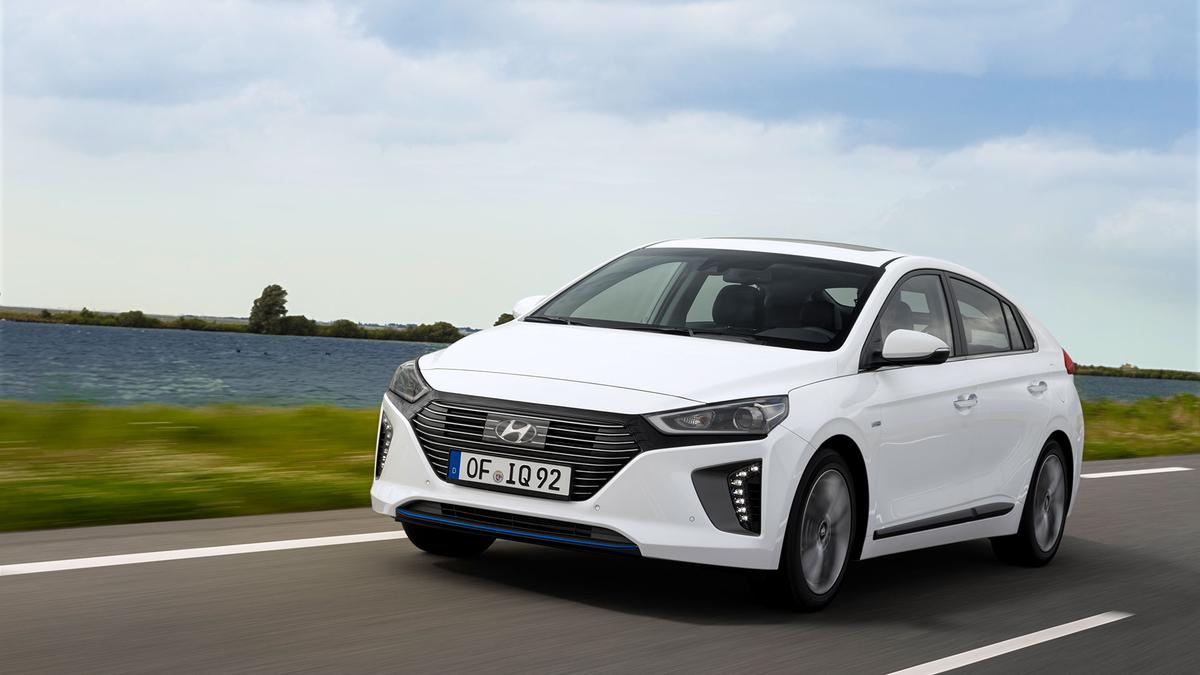 View gallery
Auto Trader verdict:
The Ioniq Hybrid is the most convincing challenger to the market-leading Toyota Prius thus far, and by our reckoning, it's actually a better bet. As well as using a proper twin-clutch automatic gearbox rather than the dumb-witted CVT that Toyota owners are saddled with, the Ioniq is better to drive, has a plusher interior and is available with more kit than you can shake a stick at. Because of the limitations of hybrid technology, it won't work for all - long distance commuters will still be better served by diesel power - but for urbanites and Uber drivers, it could well become the new default choice.
Need to know:
On sale October, priced from £19,995

Attractive urban running costs and low taxation

Comprehensive equipment even on entry model
What is it?
Very few people will deny that Hyundai has come on leaps and bounds as a carmaker in the last few years, and these days, the brand has much more to offer than just a strong sense of value-for-money.

Not content with matching many of its European rivals for quality, reliability and customer satisfaction, Hyundai is intent on outgunning its competitors on the technology front by being the first manufacturer to launch an all-new model with three different electrified powertrains.

The Ioniq Hybrid we're concentrating on here goes on sale in October, and uses a combination of a 1.6-litre petrol engine linked to an electric motor, which is claimed to be capable of returning 83.1mpg while producing CO2 at a rate of 79g/km. There'll also be a fully electric version, which produces zero local emissions – although obviously, the power station you'll juice it from won't be averse to laying waste to the odd rain forest – and has a claimed range of 174 miles from a single charge.

Later this year, there'll also be the option of a plug-in hybrid that uses a similar powertrain to the reins-free hybrid, but incorporates a stronger electric motor and bigger battery pack to boost the Ioniq's silent-running range.

It's not as if you'll be paying through the nose for all this technology, either. Granted the Nissan Leaf-rivalling EV is listed at £28,995, but it should qualify for the government's £4500 Plug-in Car grant (we'll need to keep an eye on Brexit implications), while the hybrid model tested here starts at a fiver under £20K.

In keeping with Hyundai's maximum bang-for-your-buck ethos, even the entry model comes with 15-inch alloys (you'll need to stick with these pint-sized trundlers if you want to maintain your low emissions count), a DAB radio, Bluetooth connectivity for your mobile, cruise control, a rear parking camera and plenty of safety kit, including autonomous braking complete with pedestrian collision avoidance as standard. Fork out another three and a half large ones for the Premium SE trim that we tested, and the world's your lobster, with everything from heated leather seats and steering wheel, to rear cross traffic alert cameras, sat nav, bi-xenon headlights, Apple CarPlay, Android Auto and an induction phone charging mat all included.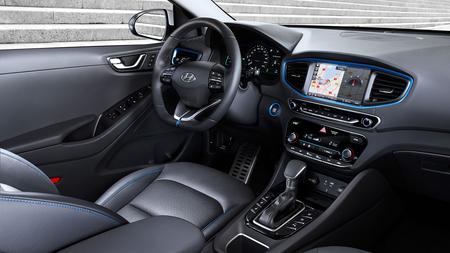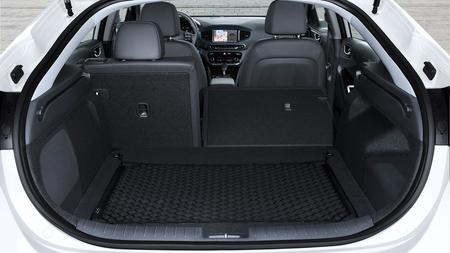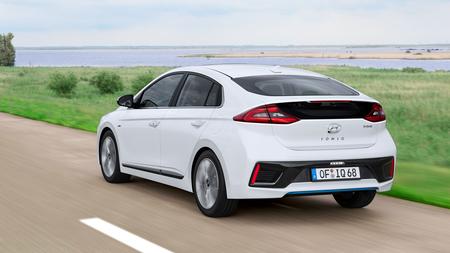 What's it like?
Before you get all revved up by the headline figures and rush off to your nearest Hyundai dealer, let's just take a moment to think things through. Sure, the hybrid Ioniq's numbers are mightily impressive - the taxman certainly thinks so - but the thing about hybrids is they work best under urban driving conditions, where gentle and judicious use of the accelerator pedal means the electric motor can be maximised. Get a hybrid humming along a motorway, however, and the petrol engine will be working almost full time, and because it is dragging the extra weight of a battery pack, it'll actually be using more fuel than a lighter petrol car, let alone a frugal diesel car.

That being said, though, the Ioniq is probably as good as it gets where hybrids of this type are concerned.

For a start, the twin-clutch automatic, with its shift gaps seamlessly filled by additional torque supplied by the electric motor, is infinitely superior to the discombobulated CVT (continuously variable transmission) that's found in the Toyota Prius.

Unlike the Prius, though, the Ioniq cannot be instructed to drive solely in electric mode, no matter how high its battery stock. As a result, you'll be lucky to get off your drive before the petrol engine kicks into life. Thankfully, the transitions from electric drive to combined mode are pretty smooth, and providing you don't subpoena Scotty for maximum warp speed, the petrol engine is reasonably subdued, too.

More detailed scrutiny reveals that the Ioniq primarily uses a synergy of both power sources, but backing off the accelerator throws the drivetrain into EV mode and silences the petrol engine in much the same way the latest fossil fuel cars can now elicit a free-wheeling mode.

In general, performance feels pretty stately, although the mechanical cacophony emanating from under the Ioniq's aluminium bonnet can become quite vulgar if you ask for all-at-once acceleration. Equally, a fair bit of resonance can be felt pulsing through the body as the revs climb towards the red line.

While the body is reasonably well controlled and there's a decent amount of grip in corners, you are made aware of how coarse the road surface is and you're occasionally reminded of the weight of the battery pack that's stored under the rear seat as the rear suspension thuds over larger lumps and bumps.

It's the steering that could really throw you, though. Left in comfort mode, the weighting is reasonably well-judged (sticking it in the sportier setting only adds more weight and reduces feel), but when you're slowing down, you can sense the power assistance draining away, adding a level of unwanted inconsistency. You also feel a sense of delayed inertia. Turn in to a corner and the nose is initially reluctant to move, before bucking its ideas up and making a bee line for the inside kerb. This also affects the Ioniq's high speed stability; inadvertently dial in a little too much steering, and you find yourself toggling away at the wheel, countering a gentle but defined side-to-side swaying motion.

Overall, the Ioniq's cabin quality is pretty decent. Yes, there are few areas populated by hard, grainy plastic mouldings, so consequently things are not in the same league as a Volkswagen Golf. But still, the dash design is neat, sophisticated and well laid out.

Rear leg- and elbow room are pretty decent, too, although as a bi-product of the Ioniq's drag-cheating shape and plunging roof line, rear headroom is a little on the snug side. Equally, although boot space is pretty reasonable at 443 litres, the load bay is rather shallow. As a consequence, if you want to carry anything of any bulk, you'll need to roll back the load cover, or fold down the rear seats, leaving your goods and chattels in plain view.

Should I buy one?
If the majority of your motoring is spent commuting into city centres, then the Ioniq could well be just the job. It provides low running costs for urbanites and low taxation for all, offering plenty of interior space, lots of standard kit and the convenience of an automatic gearbox. It's also well finished, solidly built and attractively priced. Steering anomalies and long distance running cost penalties aside, for this type of money, it's as good a hybrid technology gets.
Key facts:
Model: Hyundai Ioniq hybrid

Price from: £19,995

Engine: 1.6-litre petrol engine and electric motor, six-speed twin-clutch automatic

Power/Torque: 139bhp/195lb ft

0-62mph: 10.8sec

Top speed: 115mph

Economy: 83.1mpg

CO2/BIK tax band: 79g/km 13%

Boot: 443 litres
Also consider:
Toyota Prius
The Prius is an intriguing alternative to diesel-engined family cars, being well built, comfortable, spacious and extremely tax-efficient.
Volkswagen Golf
The Golf is beautifully built and great to drive. With loads of standard safety systems, it's one truly desirable family car.
Kia Niro
The Niro is a serious challenger to the market-leading hybrids. It has a proper twin-clutch gearbox, it's competitively priced and comes with loads of standard kit.
Interested in buying a Hyundai Ioniq?