First Drive 2016 Audi TT RS Coupe first drive review
We drive the fastest Audi TT yet: a 395bhp coupe that covers the 0-62mph sprint faster than most supercars. But is it fun to drive?
First published: 13th September 2016
Auto Trader verdict:
The new TT RS possesses many of traits we've become familiar with in the current generation of fast Audis. It looks fantastic – all sharp angles and aggressive stance – it's devastatingly quick, beautifully made, and has a characterful, monstrous engine. Yet it's also hobbled by the same flaws, with overly light steering and neutral handling that prevent it from knocking Porsche off its perch.
Need to know:
Lighter, faster TT RS now has 395bhp and 354lb ft

0-62mph in 3.7 seconds, potential 174mph top speed

On sale now, priced from £51,800 on the road
What is it?
The high-performance flagship of the TT range, the RS is all about power, visual aggression, and a thumping new 2.5-litre engine.

Yes, in the world of sporty coupes, it seems that Audi has bought a Bazooka to a knife fight. In the same year that Porsche has lopped two cylinders from its 718 Boxster and Cayman, its sister company has cranked the wick of the new TT RS up to 394bhp… from a TT.

Not only that, the RS is – largely thanks to the new aluminium crankcase for the engine – 35kgs lighter than it used to be. All that power in a car this small, and (relatively) light, means it really is staggeringly fast. The previous version was too, but it failed to really endear itself to the buying public, so what else is new?

Audi has fiddled with the ubiquitous Quattro four-wheel drive system, allowing the grunt of the engine to be split better between the front and rear axle, and change with each driving mode. So is the TT an RS that rides and handles as well as it accelerates?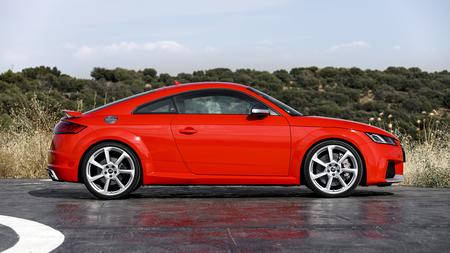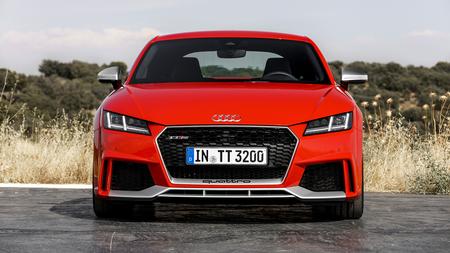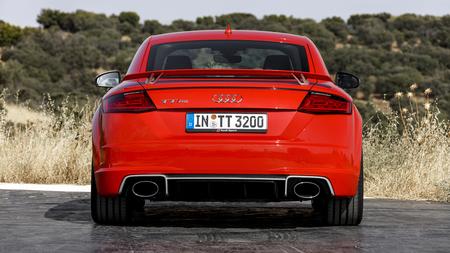 What's it like?
Mad as a sack of badgers. We're not entirely convinced anyone needs a near-400bhp TT – but it's refreshing to drive a coupe that places its engine at the heart and soul of the driving experience.

Thumb the red starter button nestled invitingly on the wheel, listen to the sports exhausts growl into life, and it's hard not to be seduced by that extra cylinder under the bonnet. Place your palms onto the soft Alcantara steering wheel, hold the brakes with your left foot, floor the throttle, lift off the brakes, and you'll unleash such a furious burst of forward motion that the scenery will start to blur.

All four tyres digging into the Tarmac, the TT RS rampages off the line, the rapid-fire seven-speed S tronic gearbox devouring one gear after the next. There's a hint of turbo lag, but as soon as you hit second and third gear the massive wall of torque (354lb ft from 1,700rpm right up to 5,850rpm) rips you towards the redline. It just keeps pulling, the sense of urgency heightened by the raucous noise. This five-cylinder is as dramatic and effective as ever.

The rest of the RS treatment is all present and correct, so you get flared wheel arches, a hyper-aggressive body kit, a fixed rear wing and a pair of wide, oval exhausts, plus 19-inch alloys as standard.

The suspension is also lowered by 10mm, with a bespoke tuning for the dampers and springs, which gives tight body control in fast corners and on smooth roads, but feels rather stiff and unyielding when hitting a bump mid-corner or negotiating a speed bump.

A Cayman always feels like its dampers are smoothing out the road beneath you, absorbing the energy of the bumps and letting you get on with just driving. However, the TT RS never quite reaches that same level of connection. It feels superbly agile through fast transitions, and you can sense the power being sent to the back to help push you out of corners, but get too greedy on the throttle or carry too much speed, and the front tyres will start to wash wide.

For a car with such serious performance, the RS is very benign and easy to drive – on any road and in any condition – but there are niggles. The brakes, while strong and effective, weren't able to cope with sustained, heavy use. Even with the optional carbon ceramic front discs fitted, the pedal started to go long and spongy.

Drive it really aggressively, by lifting the throttle mid-corner, or tapping the brakes, and you can get it to move around to a degree, but it's clear that's not what the car wants to do. You're better off enjoying the brilliant drivetrain and sheer speed, which for many will be more than enough to convince them to pick the RS.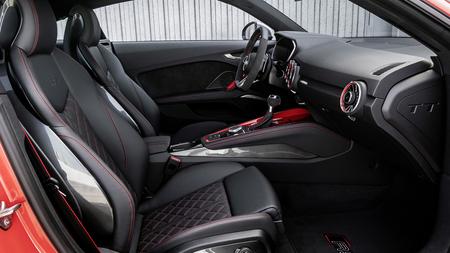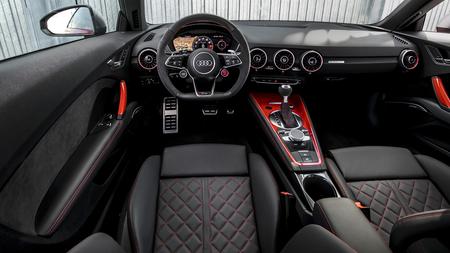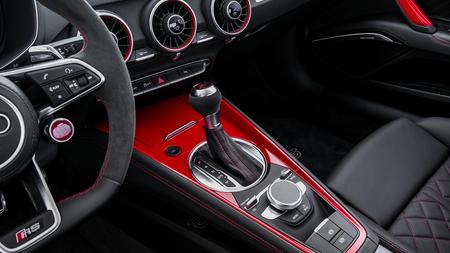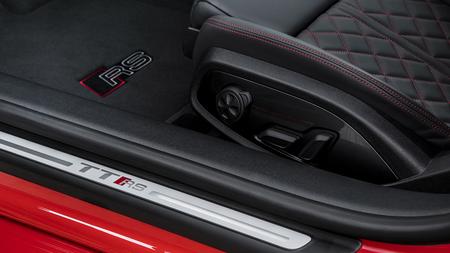 Should I buy one?
There are a lot of traits that make any TT a compelling prospect. Its cabin looks and feels expensive enough to justify the £51,800 price, just as long as you avoid the garish, brightly coloured plastic trim pieces. The driving position is excellent, it has four seats, and it has a proper boot.

It costs more than the 718 Cayman S, but it also comes with far more standard equipment, an automatic gearbox, and an extra 45bhp. The Audi won't stop, steer, or turn with the same clarity as the mid-engined Porsche, and as a result will be less engaging for keen drivers, but it feels more exciting, and is a lot more refined, so the gap between them is now a lot closer than it used to be.

Key facts:
Model: Audi TT RS 2.5 TFSI Coupe

Price: £51,800

Engine: 2.5-litre five-cylinder turbo, seven-speed automatic

Power/Torque: 395bhp, 354lb ft

0-62mph: 3.7 secs

Top speed: 155mph (174mph – derestricted)

Economy: 34.4mpg

CO2/BIK tax liability: 192g/km / 36%

Boot space seats up/down: 305/712 litres
Also consider:
Porsche 718 Cayman S
Lighter, rear-wheel drive, and with two fewer seats, the Cayman is still the king of cornering – it rides and handles better than the TT
Jaguar F-type V6
It sounds brilliant, and looks the part, but at this price the F-type comes nowhere near the Audi and the Porsche for performance
Alfa Romeo 4C
A lightweight, pretty coupe that's exclusive and challenging to drive, but out-gunned in the engine department, and interior.
Interested in buying an Audi TT RS?