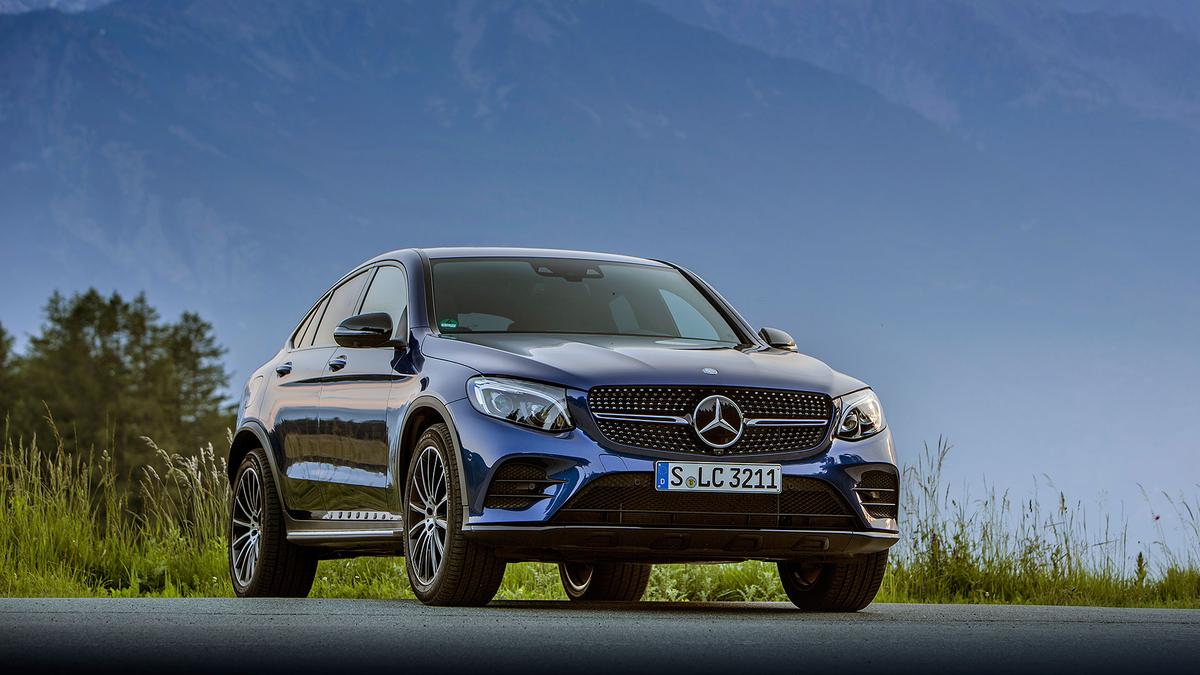 View gallery
First published: 28th July 2016
The Auto Trader expert verdict: ★★★★★

★★★★★
3.8
The GLC Coupe is neither the sportiest nor the most desirable 4x4, but it is one of the best all-rounders. And, if your heart is just set on a GLC, Mercedes has pulled off an impressive trick by creating this Coupe and giving you real choice between two different models. The Coupe retains the comfort, luxury and refinement of the standard GLC, but drives that little bit more sharply and looks that bit more distinctive. However, we'd definitely stick to the standard model if practicality is a major concern.
Reasons to buy
Striking looks

Excellent safety kit

Sharper handling than standard GLC
Pick of the range
GLC 250d Coupe 4MATIC Sport
A strong engine, low running costs, and all the kit you'll really need
Most economical
GLC 220d Coupe 4MATIC Sport
A dead-heat between this and the 250d - with both returning 49.6mpg and emitting 131g/km of CO2
Blow the budget
Mercedes GLC 350d Coupe 4MATIC AMG Line
Fast, relaxing and smoother than the four-cylinder models, but it'll cost around £50,000
How good does it look?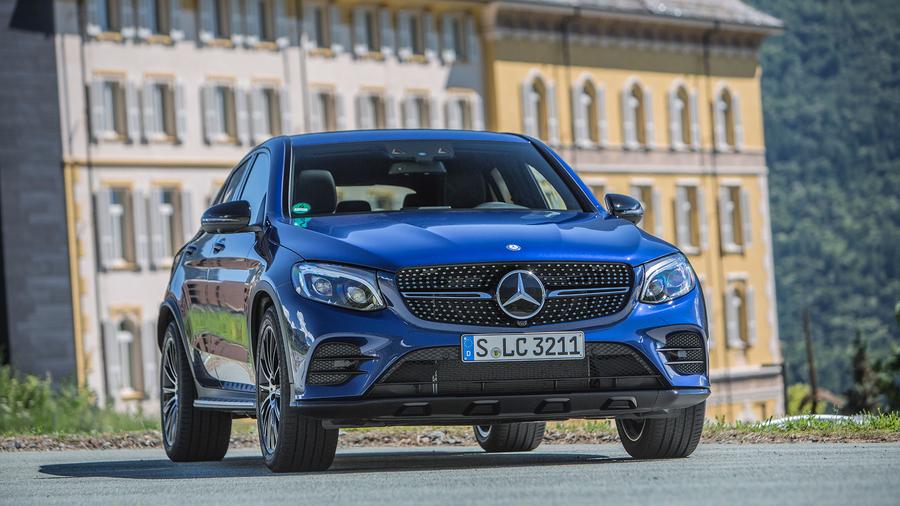 "
It's longer, lower and wider than the standard model
"
The main reason buyers are likely to be tempted to buy this Coupe version of the GLC over the standard model is the head-turning way it looks. The Coupe is longer, lower and wider than the standard model, and this all makes it seem a bit sportier. At the front, the Coupe has the same wide grille and high-tech LED headlights, but in profile you can see how the roof slopes gently downward towards the curvier boot and a modest spoiler, while the wide, chrome-topped lights wrap around the car's rear end. The Coupe certainly stands out more than the normal GLC - even if it's not as eye-catching as, say, a Range Rover Evoque. The Coupe only comes in two trims, Sport and AMG Line, so it'll look very smart no matter which you choose. Sport trim comes with 18-inch alloys, while the AMG has 19-inch wheels and an exterior body kit that beefs up the bumpers and air intakes at the front. The GLC 43, meanwhile, has even beefier bumper treatments plus a whole load of badges that say all sorts of impressive-sounding sporty things like 'AMG' and 'BiTurbo 4Matic'.
What's the interior like?
Climb into the GLC Coupe, and you'll find one of the most appealing cabins in any modern SUV. It's trimmed throughout with high-quality materials and smart surfaces, with a choice of exposed wood grain or brushed metal inserts. Our only criticisms are the slight flex you can feel in the soft-touch plastic around the tops of the doors and the air vents; and, your visibility has suffered slightly thanks to the curvier roof. It's harder to see over your shoulder when turning or reversing, for example, and there's no rear wiper, either. Every GLC Coupe comes with a screen mounted above the dash, with a rotary controller and a touch-pad to help navigate through the various menus and settings. It lends the cabin a high-tech feel and it's also a pretty intuitive system, so long as you ignore the touch-pad and stick with the dial.
How practical is it?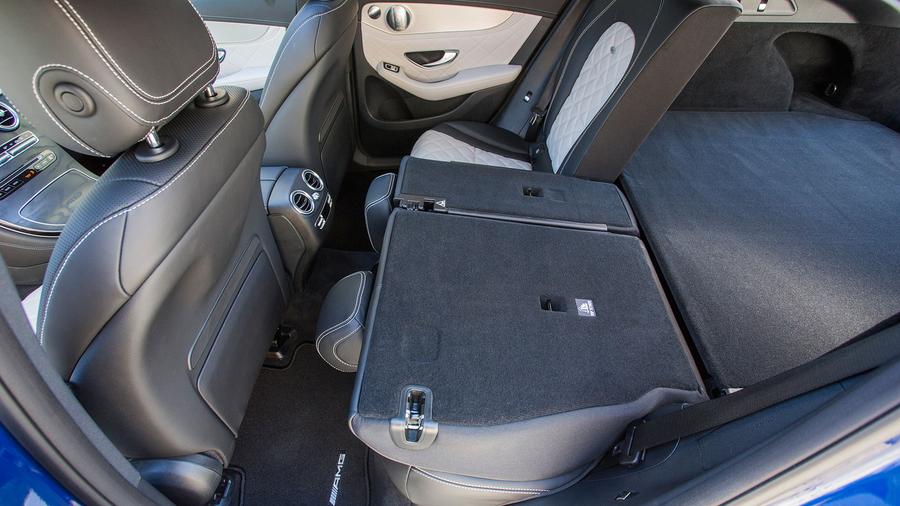 "
In the two areas that it really counts - rear passenger space and boot volume - the Coupe loses out
"
The GLC Coupe comes with 40:20:40 split-folding rear seats, so you can carry longer items and still have room for a passenger or two, a handy powered tailgate, and loads of useful cubbies inside the cabin. However, inevitably, the Coupe has sacrificed some of the regular GLC's practicality for the sake of style. In terms of rear passenger space and boot volume, the Coupe is the poor relation in the GLC family. Its boot is 50 litres smaller than the standard model with the seats up, and 200 with them folded flat. That might not sound like much (in fact, it matches what you'll find in the BMW X4, this car's most obvious rival) but the shape of the load bay has changed, too; so, while it is fairly long, it's also shallow, limiting what you can carry. It's by no means a disaster for those sat in the back, as you still have room for two adults, but with smaller side windows and the roof liner brushing your hair if you're anywhere close to six feet, it does feel more snug than other SUVs. The 4x4 system also means quite a high transmission tunnel runs down the centre of the car, so the middle seat is going to be off-limits to anyone except kids. However, that last accusation is equally true of the BMW X4.
What's it like to drive?
Despite only a couple of mechanical tweaks – lowered suspension and sharper steering – the GLC Coupe feels sharper than the standard GLC when tackling challenging roads. It holds the road better, too, although the only versions we have tried so far were all fitted with the optional air suspension. This lowers the ride height by 15mm in the sportier driving modes, tightening up the body control; yet, when you want to cruise, the Comfort setting gives you a wonderfully soft and smooth ride. Still, we'll need to try the standard model on UK roads to see if the air suspension is worth investing in. The sportier flavour of GLC Coupe – the AMG 43 – has standard air-suspension, but with a bespoke setup for enhanced handling. It does change direction a little more sharply than the rest, but not by enough to justify the reduction in ride comfort; it's not bone-shaking by any means, but it's a fair bit edgier and nowhere near as cosseting as the other GLCs. And, whichever version you pick, it won't be as sporty as rivals such as the Jaguar F-Pace or the Porsche Macan, both of which are that little bit more rewarding for the driver. As with most SUVs of this price, a four-wheel drive system is fitted as standard, so you can be assured of excellent grip from all four corners, even in very challenging conditions.
How powerful is it?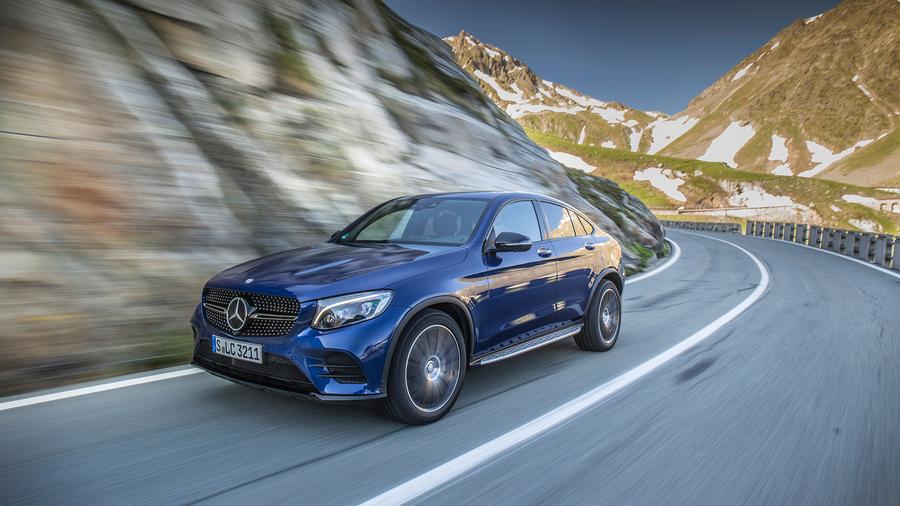 "
Both engines come with with the same nine-speed automatic gearbox
"
As with the regular GLC, the GLC Coupe range has two 2.0-litre diesel engines to pick from, with either 168bhp or 201bhp. Both come with the same nine-speed automatic gearbox, and have strong mid-range performance, but they also both work best in a relatively narrow part of the rev range, which means you need to work the gearbox regularly to avoid the flat spots in performance. At higher revs, the engines also become quite noisy, but driven smoothly, with the gearbox firmly in its automatic mode, the GLC is relaxing and fairly effortless to drive. The other diesel option is the 350d with a 3.0-litre V6 producing, and it suits the GLC's upmarket character even better. It's a fraction more refined and it has a broader spread of muscle, making it feel punchier when accelerating out of corners, climbing hills or joining motorways, and it's also more settled at a steady cruise. The performance-focused version, the AMG 43, has a twin-turbocharged 3.0-litre V6 petrol engine that delivers 362bhp, and is capable of doing 0-62mph in just 4.9 seconds. It feel good for every last tenth of that, and it sounds pretty snarly, too, but when the other engines are so capable, you'll have to really want one to justify the sizeable extra chunk you'll pay to buy and run it.
How much will it cost me?
Based on the list prices alone, the GLC Coupe is not the cheapest option around, as it costs a little more than the equivalent BMW X4 and Jaguar F-Pace. However (unlike some rivals) it does come with an automatic gearbox as standard. The pair of four-cylinder diesels posted identical results in official economy tests - returning just under 50mpg on the combined cycle, and emitting 131g/km of CO2. Those are competitive figures for a heavy, four-wheel drive SUV, and mean that (other than the higher price) you'll pay no more to run the faster model. Those CO2 figures go up by a tax band if you opt for 19-inch wheels, though, while the 350d is one band higher still, so the V6 diesel will be dearer for company car users. If running costs are of particular importance to you, don't go anywhere near the AMG 43; it'll be a minor miracle if you ever get near its official figure of 33mpg, which is already pretty whince-inducing. Servicing the GLC at a main dealer will be pricier than for mainstream alternatives like the Nissan Qashqai, but on a par with any of its premium competitors.
How reliable is it?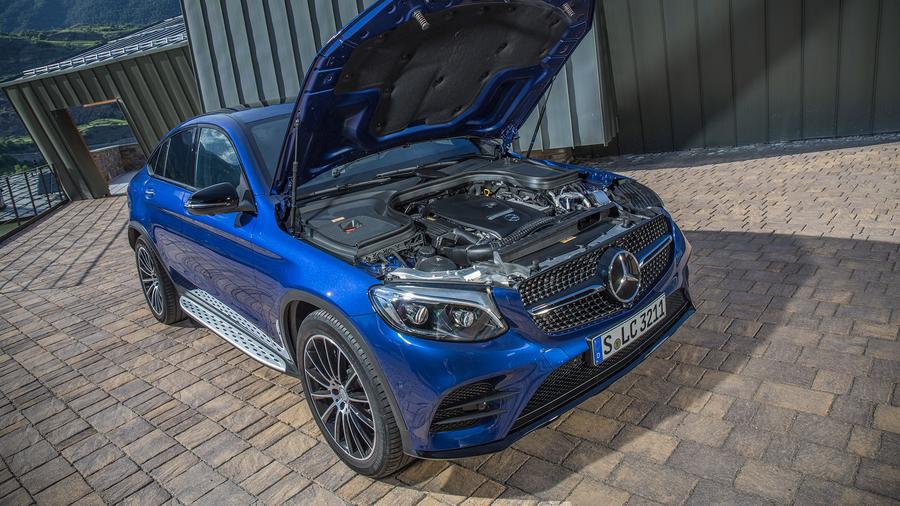 "
The GLC shares its major parts with other tried and tested models
"
The GLC Coupe is too new for there to be any meaningful reliability data available, but look at Merc's history, and you might have cause for concern. The company sits perilously close to the bottom of the manufacturer standings in Warranty Direct's Reliability Index; and, according to the stats, Mercedes' SUVs have been some of the its worst performers. However, part of that poor performance is down to the cost of repair work, rather than its regularity. The GLC shares its major parts, including the engines and four-wheel drive system, with other tried and tested models in the extensive Mercedes range, like the C-Class, which is one of the company's most durable cars. Like any new Mercedes, the GLC Coupe has a three-year, unlimited-mileage warranty, matching the cover provided by BMW.
How safe is it?
Every GLC Coupe comes with seven airbags and stability control, but the standard safety roster also includes a system that detects fatigue in the driver and advises them to take a break, as well as another that applies the brakes automatically if an impending collision is detected and the driver takes no action. A whole host of other clever driver aids are also available from the options list. These include a head-up display, 360-degree parking camera (a reversing camera is standard), and a pack of driver assistance systems for total peace of mind, but not quite the full suite of autonomous driving kit fitted to the latest E-Class. The car has been crash tested by Euro NCAP, and like every Mercedes tested since 2009, it achieved the full five-star rating.
How much equipment do I get?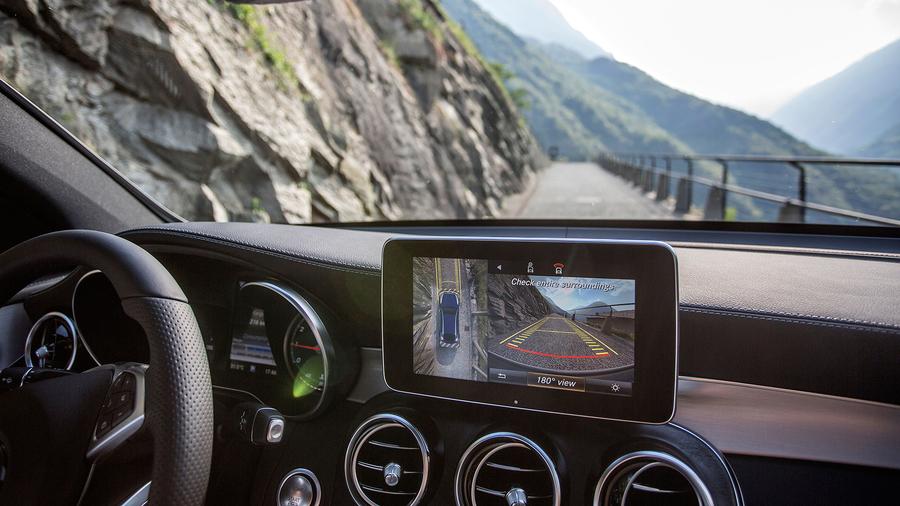 "
It doesn't come cheap, but it does come with a huge amount of equipment as standard
"
The GLC Coupe doesn't come cheap, but it does come with a huge amount of equipment as standard. Sport models feature sat-nav, LED headlights, 18-inch wheels, Active Park Assist, heated front seats, automatic lights and wipers, and a powered tailgate, plus sports seats finished in hard-wearing artificial leather. As well as the more aggressive looks, the AMG Line model adds brushed aluminium pedals and a sporty three-spoke steering wheel inside, while the AMG 43 adds a leather dashboard and red seat belts. There are several options to consider, too, including the Premium and Premium Plus bundles, which comprise luxury kit like memory seats, LED interior lighting, and a glass sunroof. Go for the full 'Plus' pack and you also add the COMAND infotainment system, with a bigger screen, live traffic info and much better sat-nav, and the excellent Burmester surround-sound stereo. it's far cheaper than adding all of those items on their own, but it's still an expensive pack, so we'd advise cherry-picking that superb stereo and the improved infotainment system, and leaving out all the rest.
Why buy?
If you're swayed by a more distinctive design, or the promise of a little more exclusivity, then the GLC coupe is a fine choice, taking everything good about the standard model, and then adding an improved driving experience on top. It's expensive, and not as sharp to drive as some rivals, but it's refined, comfortable and luxurious inside.