Expert Review
Mercedes-Benz E Class Estate (2016 - ) review
The E-Class Estate has always been first choice if you want the biggest boot in the class, and the latest version also combines that with luxury comfort and desirability.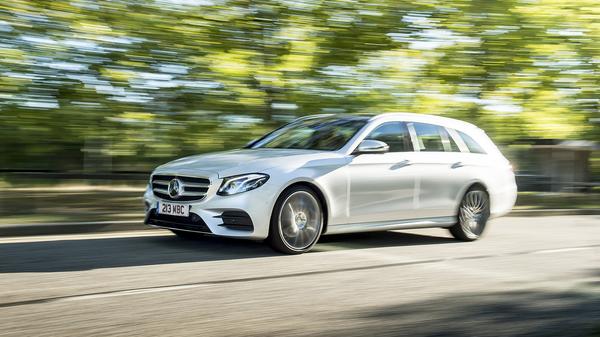 The Auto Trader expert verdict:
The E-Class Estate has a huge boot, but is that all it has to offer? Or does it boast enough class and comfort to give it the edge over rival estate cars like the Audi A6 Avant and BMW 5 Series touring? Read on to find out.
Reasons to buy:
Very comfortable
Enormous boot space
Stylish interior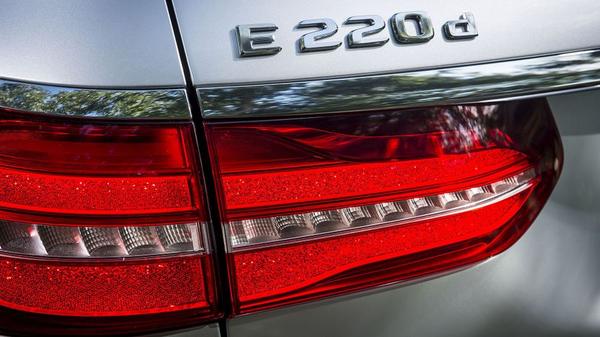 Running costs for a Mercedes-Benz E Class
The Mercedes E-Class Estate is more expensive to buy than its rivals from Audi, BMW and Volvo, and like for like it'll also cost you more per month on a finance deal. It does, however, justify this high asking price with a generously high level of standard equipment, and a standard automatic gearbox, which is an option on most of its competitors. Company car drivers will be attracted to the impressively low CO2 emissions figure of the 300de plug-in hybrid, which makes it very affordable in tax. The V6 diesel is less kind to your wallet, returning fewer miles per gallon, emitting more CO2, and – due to its significant increase in spec – costing a lot more to buy. Naturally, the AMG models will be extremely expensive at the pumps, but you wouldn't be buying one if you were worried about that. Servicing will also cost a little more from a main dealer than it would from this car's traditional German rivals, but it should also hold its value very well, too.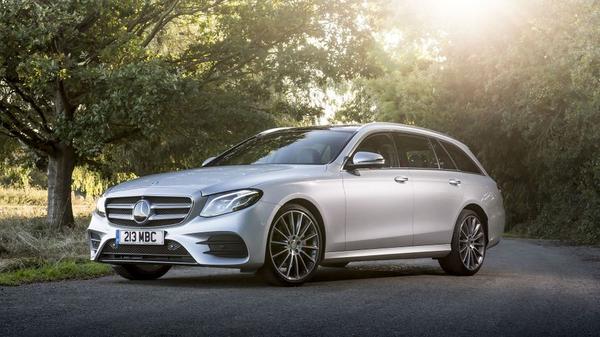 Reliability of a Mercedes-Benz E Class
This is something of a grey area for the latest E-Class, because the car is too new for there to be any meaningful reliability data available. Look at the scores for the previous version on Warranty Direct's Reliability Index, and the car gives a decent account of itself. However, Mercedes' lowly overall position in the manufacturer standings might be of concern to some people, as any repairs or replacements will be expensive. The 2019 JD Power Vehicle Dependability Survey seems to back this up, with a below-average score for Mercedes-Benz, though on the plus side, it did at least finish above BMW and Audi. Of further consolation are the owner reviews on our website, which report very few horror stories. The E-Class comes with a three-year/unlimited mileage warranty. Service intervals are quite infrequent, though, depending on your annual mileage, with the car only due for attention every two years or 24,000 miles, whichever comes up first.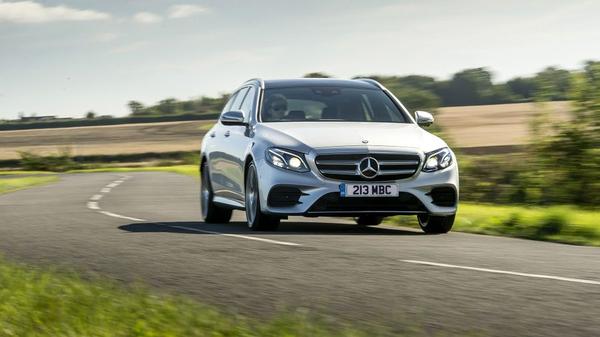 Safety for a Mercedes-Benz E Class
You get a colossal amount of safety kit as standard on the E-Class Estate: seven airbags, tyre pressure monitoring, autonomous city braking, an active pop-up bonnet, self-drying brakes, a self-parking function, and a system that detects driver fatigue and tells you to take a break every once in a while. That really is impressive. The E-Class' real party piece, though, comes in the form of an optional system called Drive Pilot, which allows the E-Class to pretty much drive itself for large portions of time. It reads road signs to determine the prevailing speed limit, and sets the radar cruise control accordingly. It then follows the car in front, taking care of all your acceleration and braking, and even helps you out with the steering. It's a driver aid, so you still need to pay attention and keep your hands on the wheel rather than taking your eyes off the road completely, but it is pretty effective at helping to reduce tiredness on a long journey.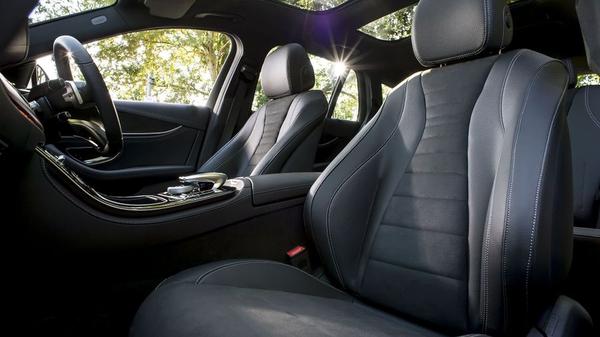 How comfortable is the Mercedes-Benz E Class
Interior quality has been a key feature of recent models from Mercedes, and the E-Class is one of the most advanced and luxurious yet. All the materials on show look and feel expensive, and have the build quality to match. Ergonomically, the interior is standard Mercedes fayre: there is lots of adjustment to the wheel and seat, and it's pretty easy to get comfortable. There are some quirks to how some of the switches work, and an infotainment system that's reasonably easy to work out, if not as instantly intuitive as equivalent systems from
Audi
and
BMW
. That's provided you use the wheel controller on the centre console, mind you. You can also control the system via a couple of touchpads on the steering wheel that respond to the horizontal and vertical swiping movements of your thumbs. It's pretty unique, but it's not the most precise way of doing things, and can be distracting on the move. Still, it feels incredibly high-tech. The same can be said of the twin displays that come as standard on every model – both the central display screen and the virtual gauge cluster ahead of the driver measure 12.3 inches, and are crisp and easy to read. Whoever said you need a big SUV for your practical family car never set eyes on the E-Class Estate. Despite relatively sleek proportions, the boot is cavernous. It can carry up to 640 litres of whatever you like with the rear seats in place, up to 1,820 litres with them folded down, and they drop at the touch of a button (no levers or heavy lifting required) and split in a flexible 40:20:40 layout. The seat backs sit flush when folded, too, and there's no loading lip to negotiate. Simply put, you can squeeze more inside the E-Class than any rival save for the
Skoda Superb Estate
. There is also a hidden storage well under the boot floor, and the option to add a third row of occasional, rear facing seats for handling school-run emergencies. What's more, all cars come with a powered tailgate and self-levelling rear suspension, to keep the car steady when you have anything particularly heavy in the back. Passengers in the front have a huge amount of space to stretch out in, and even with the optional panoramic roof fitted, head-room in the back is generous. Leg-room is a little tighter than you might expect, though still perfectly acceptable, and the only other complaint is that you might need a cushion to help protect your backside if you're assigned the hard, narrow middle seat. Most of the cars we've tried so far have been fitted with air suspension. This is standard only on the more expensive AMG and All-Terrain models, but if you want your E-Class to be as polished as it can be on the road, you'll have to opt for one of them. It delivers a ride that's wonderfully smooth and cosseting, yet it keeps things tightly controlled in the bends, making the car feel stable, assured and responsive. The All-Terrain's air suspension has a jacked-up ride height to make it even more cushy and comfortable, while the AMGs are lowered to make them pointer and edgier. On all counts, the tinkerings are very effective. The All-Terrain's extra space under the car means it'll cope with some light off-roading, but think more dirt tracks and fields than full-on rock-scrambling. Calling it "All-Terrain" is probably over-selling it a bit. "Some-Terrain", perhaps. On the more humble models, you have to make do with a standard setup that consists of steel springs on the front end and self-levelling air suspension at the rear. While not quite as polished as the air suspension setup, it's still very accomplished, delivering a good blend of agility with a ride that's smooth and comfortable the majority of the time. Some versions, including the AMGs, are also available with four-wheel drive for enhanced on-road traction.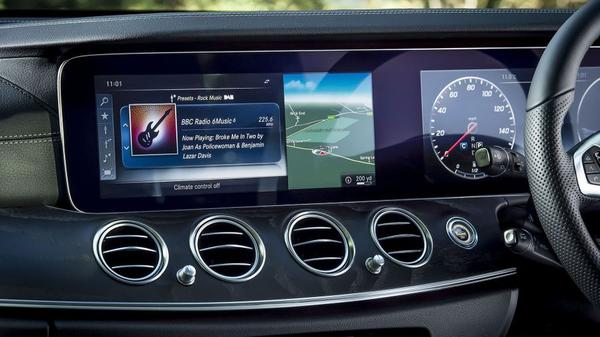 Features of the Mercedes-Benz E Class
The E-Class Estate is offered in a spectacularly confusing model range that seems to consist of the same words rearranged in slightly different orders, so bear with us here. The good news is that, even in the SE version, which is the cheapest, you'll be wanting for very little in the way of luxury kit. Included in the list of standard equipment are climate and cruise controls, keyless entry and go, heated front seats with part-electric adjustment, leather upholstery, four electric windows, ambient cabin lighting and an infotainment system that brings together Bluetooth, DAB radio, sat-nav and a reversing camera. The AMG Line is the next model up, and consists largely of a smattering of cosmetic upgrades and a sportier body kit. It's only available with the hybrid engine, and the same can be said of the AMG Line Premium, which adds memory seats, clever adaptive LED headlights, wireless phone charging and the better infotainment system. AMG Line Edition comes next, and can be broadly thought of as equivalent to the AMG Line for non-hybrid cars. It adds similarly sporty trimmings to the AMG Line, and in addition, gets leather upholstery and that upgraded sound system. AMG Line Edition Premium, as you'd expect, then gains equivalent specification to the AMG Line Premium. Top of the range of the normal versions is the AMG Line Night Edition Premium Plus, which gets even bigger wheels, a panoramic glass sunroof and a powerful hi-fi system. Meanwhile, the All Terrain Edition gets a high specification all of its own, but that sits roughly in line with the AMG Line Night Edition Premium Plus. The AMG models look even more purposeful, with beefier bumpers and bespoke badging, and they also get a smattering of extra performance upgrades that make them sharper and more honed to drive.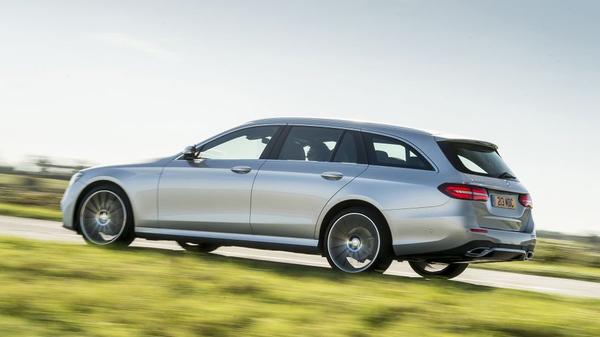 Power for a Mercedes-Benz E Class
The E-Class is available with five diesel engines, one of which is a plug-in hybrid. The most popular is the 220d, which is handy because it's all most buyers will ever need. There's loads of pull delivered from low down in the rev range, meaning that your progress is always easy, and a fair turn of pace is available when you need it, yet it also stays impressively quiet and smooth most of the time. The engine also works really well with the nine-speed automatic gearbox you get as standard. The smoothness of the shifts really contributes to the car's easy-going nature, and when you put your foot down, it always kicks down to the right gear at the first time of asking. It could react a fraction faster, but that's really splitting hairs. We haven't tried the 300d, which is the next rung up and features a 245 horsepower version of the same engine. But we have tried the 300de, a plug-in hybrid that combines the 220d's engine with an electric motor for a total output of 306 horsepower; the result is a powerplant that feels smooth and muscular at any speed, and can run in total silence on electric power alone when the battery is charged up. If you don't have the option to plug in, the 350d might provide an alternative, in the form of a 3.0-litre V6 diesel with 258 horsepower; it's lovely if you can afford it, but it only comes with the more expensive versions, and it's quite a bit thirstier than the hybrid. We haven't yet tried the most potent diesel, which is the 340 horsepower 400d; it comes as standard with four-wheel drive. With the exception of the 200, which we haven't yet driven, all the petrols are powerful AMG offerings,. The E43 has a 3.0-litre V6 with 401 horsepower, and while it's undoubtedly very fast, the slightly reticent power delivery means it doesn't feel as frenetic as you might expect. No such problem with the E63, which has a snarling 4.0-litre V8 that delivers a staggering 571 horsepower. It delivers properly explosive pace and an incredible noise, while the 612 horsepower version in the E63 S is even more bonkers.