Expert Review
Mazda MX-5 Convertible (2015 - ) review
The Mazda MX-5 is a sporty two-seat roadster that combines old-school driving fun with modern-day tech and safety. Find out why we think it's one of the best drop-tops for the money.

Words by: Auto Trader
Last updated on 27 February 2020 | 0 min read
The Auto Trader expert verdict:
Available new from £25,825
The Mazda MX-5 is a unique car. Nothing else provides such an appealing blend of sportiness and affordability, or mixes the pure driving thrills of a classic roadster with bang-up-to-date tech in quite the same way. It does require a few compromises, but it's little wonder that it was named Most Loved Car in the 2019 Auto Trader New Car Awards.
Reasons to buy:
Fun to drive
Everyday usability
Good value for money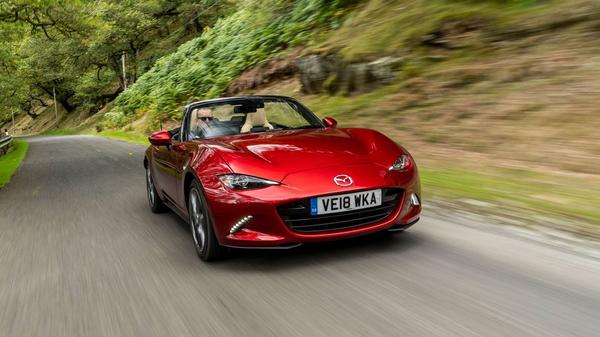 Running costs for a Mazda MX-5
The MX-5 isn't as cheap as it used to be, but it's still decent value when you consider that most other sporty roadsters cost thousands more to buy, and aren't as much fun to drive. Running costs are reasonably low, too – thanks to the MX-5's low weight and efficient petrol engines its official fuel consumption and CO2 emissions figures are no higher than for the average family car. Residual values will be strong, while servicing costs aren't too high and Mazda offers fixed-price servicing packages that allow you budget for maintenance costs. Insurance costs may be a bit pricey, depending on your circumstances, but compared with a similarly priced hatchback or SUV the MX-5 actually makes quite a lot of financial sense.
Expert rating: 4/5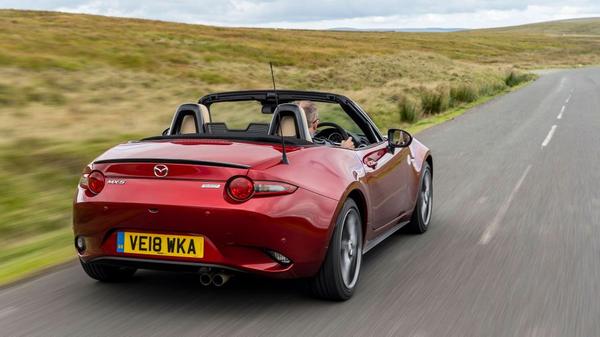 Reliability of a Mazda MX-5
Mazda is ranked an impressive fifth out of 40 manufacturers in the Warranty Direct Reliability Index, while the previous MX-5 scores very highly as a specific model. While the latest model comes with more complex features, it's still comparatively simple and is the continuation of a line of roadsters that have an excellent reputation for durability. As a brand, Mazda finished mid-table in the the latest JD Power's UK Vehicle Dependability Study although its score was below the industry average. Warranty cover for the MX-5 is a bog-standard three years or 60,000 miles.
Expert rating: 4/5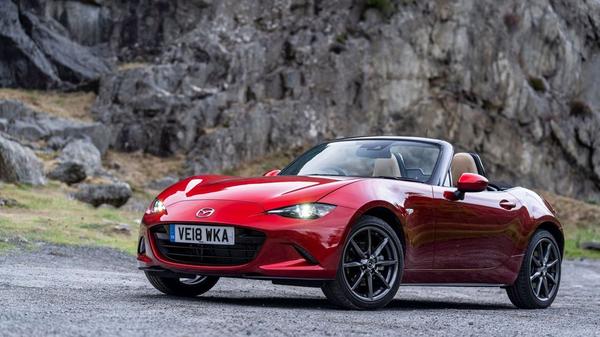 Safety for a Mazda MX-5
The MX-5 might be a back-to-basics roadster but it's available with a good standard of modern safety features. Every version comes with front and side airbags, a tyre pressure monitoring system, cruise control with a speed limiter and a pop-up bonnet that helps to protect pedestrians. All but the cheapest versions also have lane departure and driver alertness warning systems, as well as traffic sign recognition. Crucially, they also feature an automatic emergency braking system that detects both pedestrians and vehicles ahead. The top two trims also have a blind-spot warning system and Rear Cross Traffic Alert, which warns you if you are about to reverse out of a parking spot into the path of oncoming traffic.
Expert rating: 4/5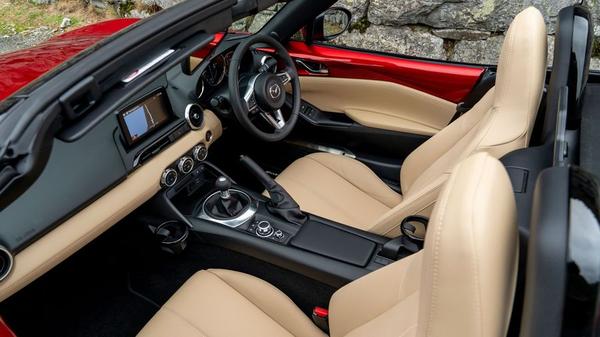 How comfortable is the Mazda MX-5
The MX-5 is a small, sporty car with a folding fabric roof so it's never going to be the last word in comfort. It's a perfectly usable everyday car, however, requiring very little sacrifice in return for the fun it offers. Tall drivers will certainly find the cabin snug, but that's the whole point of a compact two-seater and there's enough adjustment in the seat and steering wheel to satisfy most shapes and sizes. Everything feels well put together and the dashboard is usefully clear and simple, allowing you to concentrate on enjoying the drive. Practicality – as you'd expect – is limited. The boot is large enough for little more than a couple of soft bags, although it is easy to access. In-cabin storage is in short supply, but there are a set of handy removable cup holders and a lockable storage cubby. Unlike most modern drop-tops the MX-5's roof is operated by hand, rather than an electric motor. That's no hardship, because raising or lowering it is a quick and simple procedure. Buffetting with the roof down isn't too bad; with it up the MX-5 isn't as peaceful as more luxury-focused drop-tops, with a fair bit of noise filtering through to the cabin. If you want an MX-5 that offers better long-distance refinement, the metal-roofed RF version is the one to go for. Ride quality is good for such a sporty car, helped in no small part by the MX-5's low weight. Cheaper versions with smaller wheels, in particular, skip over rough roads smoothly. The more powerful, sportier models have stiffer suspension and larger wheels that give a much firmer, but still surprisingly forgiving, ride. Whichever version you get behind the wheel of you'll have a big grin on your face, on even the shortest journey. Few cars, six-figure supercars included, offer such directness and poise, or provide such a rewarding connection between road, driver and machine. While it's rear-wheel drive layout and playful character are a driving enthusiast's dream, the MX-5 is an undemanding everyday car that's happy pootling around town and easy to park.
Expert rating: 4/5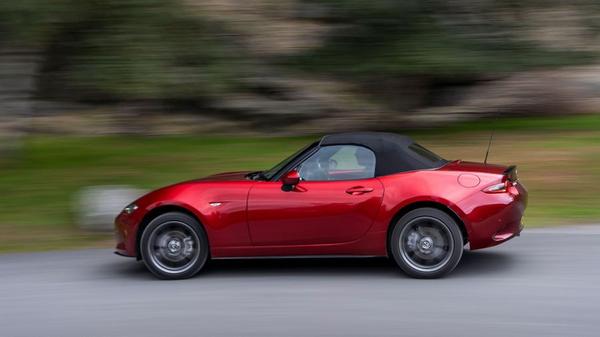 Features of the Mazda MX-5
Long gone are the days when the entry-level MX-5 offered little in the way of creature comforts in the interests of providing cheap and cheerful fun. Today, the entry point to the range comes with all the modern-day whistles and bells, including climate control, heated seats, cruise control, LED headlights, keyless entry, electric heated door mirrors, sat-nav and support for Apple CarPlay and Android Auto. Move up one trim and you gain extras such as automatic headlights and wipers, leather upholstery and rear parking sensors. Equipment for the top two trims includes a rear-view camera, adaptive headlights and a Bose sound system.
Expert rating: 4/5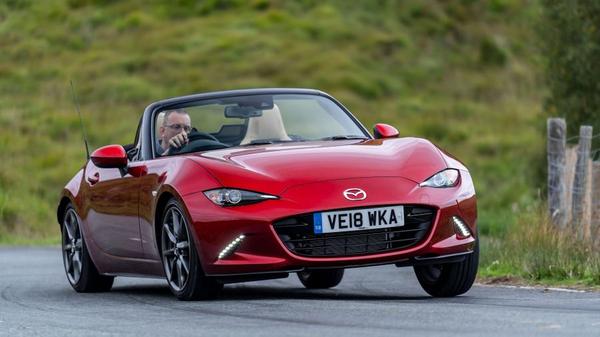 Power for a Mazda MX-5
As ever, the MX-5 is offered with petrol engines that aren't especially powerful but will provide eager performance if you're prepared to work them hard. The smaller of the two available is a 1.5 with 132 horsepower. It's perfectly up to the job, giving a 0-62mph time of 8.3 seconds, but if you really want to make the most of the MX-5's great handling it's worth paying extra for the 184-horsepower 2.0-litre model. This gives you a much feistier 0-62mph time of just 6.5 seconds and much stronger responses when you put your foot down on the move. It's keen to rev and sounds fruitier, too.
Expert rating: 4/5