Expert Review
Hyundai i20 Hatchback (2014 - ) review
The outgoing Hyundai i20 is an attractive and dependable supermini, if unremarkable when compared with talented rivals like the Polo and Fiesta, though that may change when the all-new version arrives on sale

Words by: Ivan Aistrop
Last updated on 17 June 2020 | 0 min read
The Auto Trader expert verdict:
This version of the Hyundai i20 has been replaced by a whole new generation but will be around a little longer as supplies come on stream. Its successor has a strong act to follow too, this outgoing car cracking value for money with lots of space and standard equipment for the money. The generous warranty is also attractive and, if perhaps lacking the sparkle of some mainstream rivals, any i20 will be a dependable, fuss-free supermini.
Reasons to buy:
Massive cabin for a small car
Very generous standard equipment
Decent to drive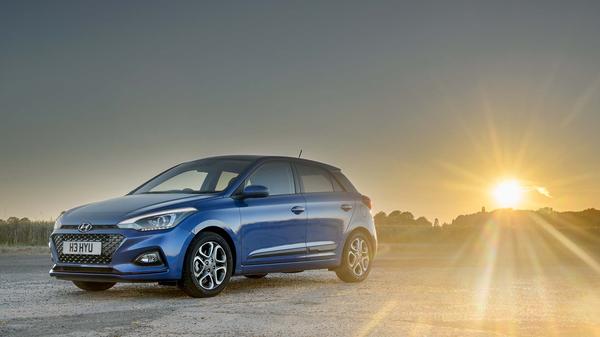 Running costs for a Hyundai i20
The i20 undercuts mainstream rivals like the VW Polo and Ford Fiesta by quite a bit on purchase price, and it's even a little bit cheaper than more direct rivals like the Skoda Fabia. This becomes even more impressive when you realise the amount of standard equipment you're getting for your money, which is considerable. Resale values won't be up there with the class leaders', but they're solid enough that you shouldn't be out-of-pocket long-term. Of the two petrol engines available the more powerful 1.0-litre turbo is also the most efficient, offering its best in CO2 and fuel consumption when combined with the optional seven-speed automatic gearbox. True, it's more expensive to buy so you'll have to offset improved running costs against the higher purchase price but it's arguably worth the stretch. At the time of writing the new i20 replacing this model has been delayed due to the COVID-19 crisis, which may limit your options to what dealers have in stock, though could also means deals will be available.
Expert rating: 4/5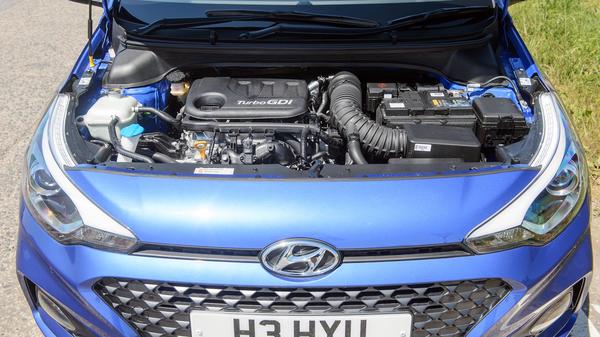 Reliability of a Hyundai i20
Warranty Direct's Reliability Index doesn't currently have enough data on the i20 itself to bestow the model with a rating, but as a brand, Hyundai is sitting pretty in the upper echelons of the manufacturer standings. The owner reviews on our site paint a fairly mixed picture of the car's reliability. That said, like all Hyundais, the i20 comes with a generous five-year/100,000-mile warranty.
Expert rating: 4/5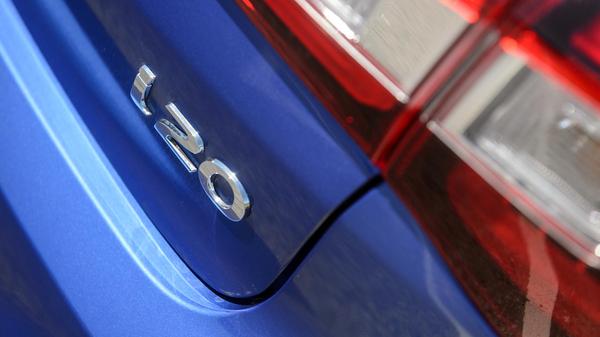 Safety for a Hyundai i20
The i20 comes with all the safety measures you expect in a car like this, things like stability control and six airbags, but it also comes with a few things you might not. Tyre pressure monitoring and a hill-start assistant are provided throughout the range, and fancier trim levels also get a lane departure warning system. i20s sold after the 2018 model year update gained a bundle of extra safety gear on all but the entry-level model, this including Automatic Emergency Braking to intervene if you don't react to obstacles in your path, a system to keep you in lane if you appear to be drifting off, a tiredness warning system and High Beam Assist on the headlights.
Expert rating: 5/5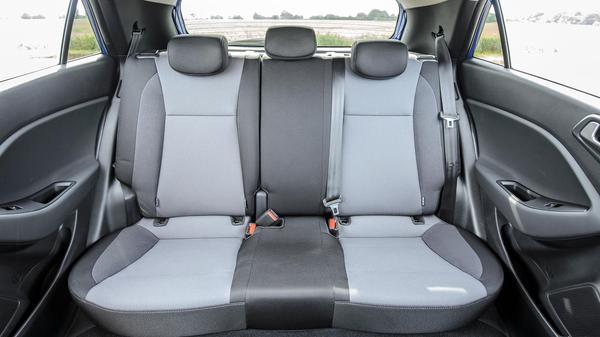 How comfortable is the Hyundai i20
The i20 is a very easy-going and relaxed car to pootle around in. The pedals and gearshift have a slick, precise action, and while the steering is light enough to make the car easy to park, it's still hefty enough to inspire confidence in a set of bends. That said, it doesn't have the agility or engagement that you get from a Ford Fiesta, and it's not as smooth-riding, either. All versions have plenty of adjustment for the driving position and a decent view out, but otherwise, the ergonomics aren't ideal. That's mainly because the finer points of the infotainment system are controlled through a tiny display screen, but the tiny buttons smattered all over the steering wheel don't help, either. Practicality-wise the i20 really impresses. The rear seats have more headroom and legroom than you get in most supermini rivals, and because there's barely any transmission tunnel and a wide middle seat, sitting three people back here isn't out of the question. The boot is big and has a nice, square shape, and there's a false floor that flattens out the step in the load area when you fold the rear seats down. However, they don't quite lie flat and there's a substantial load lip to negotiate when you're loading heavy items.
Expert rating: 3/5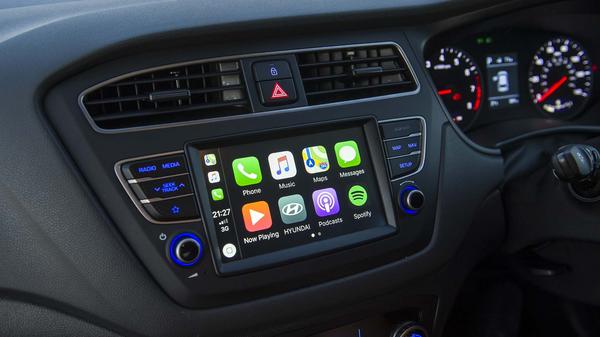 Features of the Hyundai i20
All but the most basic i20 models get leather on the steering wheel and gearshifter, LED daytime running lights and electric windows all round while air-conditioning is standard on all (fancier models get more sophisticated climate control) along with reach and height adjustment for the steering wheel, Bluetooth, Android/Carplay connectivity, power-adjustable mirrors, wheel-mounted audio controls and automatic headlights. The standard infotainment interface is a 7.0-inch touchscreen for you to use your apps for navigation and other tasks, while fancier versions get a fully integrated navigation system with a rear-view camera included. This is all nice to have but the spec on all but the entry-level S Connect has all you'd really need.
Expert rating: 5/5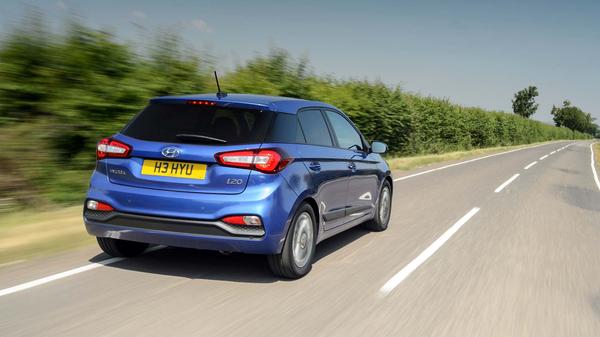 Power for a Hyundai i20
There are two 1.2-litre petrol engines with 75 horsepower and the other with 84 horsepower, and we've only tried the more powerful version. It's not especially fast and a tad noisy on the motorway but is enough for the needs of most supermini buyers and is affordable with it. There's also a more sophisticated and powerful 1.0-litre turbo and it's a cracking little engine, with impressive flexibility and seriously impressive refinement for a three-cylinder. It's quite a bit more expensive, but definitely worth the upgrade if you can afford it. The 2018 update introduced a new automatic gearbox option with more gears and smoother shifts than the one in older i20s and, although it's more expensive to buy, it's the most efficient by the numbers.
Expert rating: 3/5