Expert Review
Audi R8 V10 Coupe (2006 - ) review
Read the Audi R8 V10 coupe (2007 - ) car review by Auto Trader's motoring experts, covering price, specification, running costs, practicality, safety and how it drives.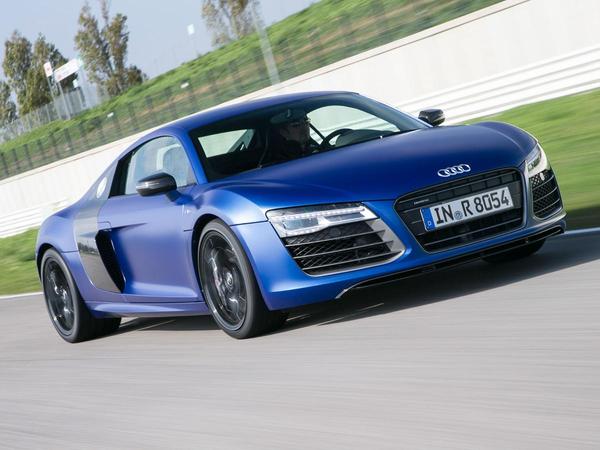 The Auto Trader expert verdict:
The Audi R8 V10 supercar offers fine handling and comfort. It may lack the badge heritage of other German and Italian rivals, but it's desirable, easy to drive and has dramatic styling.
Reasons to buy:
Attractive styling
Impressive build quality
Easy to drive
How good does it look?
The
Audi R8
V10 looks awesome, low, wide and seductive, but there's little to tell the V10 versions apart from the cheaper V8 models. The biggest differences are 10-spoke alloy wheels, chunkier side sills, chrome inserts in the front grille and metallic paint, while the high-performance V10 plus has black tailpipes. Compared to the
Jaguar XKR
and
Porsche 911 Turbo
, the R8 V10 shouts supercar from every panel. It's based on the 2003 Audi Le Mans Quattro concept and we particularly like the long nose, distinctive side blades and sawn-off rear. It's perhaps not as exclusive as some rivals, but we think it still remains desirable despite its lack of heritage.
What's the interior like?
The R8 V10 has a beautifully finished interior: its dashboard architecture is attractive, and the stitched leather top and optional carbon fibre trim add to the bespoke feel. Some of the switchgear might be similar to a standard A4's, but the precision Audi feel to the R8's interior means it remains very distinct from its Jaguar and Porsche rivals, while the raised centre console and sloping dashboard make it feel more modern. The exposed metal H-gate transmission (in models with a manual gearbox) adds supercar kudos, but it's a shame the sat-nav is a previous-generation unit, as the
Audi A4 saloon
has a better one.
How practical is it?
There's enough headroom and adjustment for both the supportive sports seats (full-on bucket seats in the V10 plus) and steering wheel, so even the tallest drivers can get comfortable. Luggage space under the bonnet is just 100 litres – only enough for a couple of soft sports bags – but there's a further 90 litres available behind the seats, so the R8 V10 is no less practical than its rivals. For the driver, forward visibility is generally good, but it's compromised at the rear by the small window and thick roof pillars. This makes it difficult to judge distances when parking and manouvering, so it's a shame that front and rear parking sensors and a rear parking distance camera are only available as options.
What's it like to drive?
True, the ride is firm on the standard 19-inch alloy wheels and the R8 V10 can feel a bit unsettled over rough roads, but it's still more comfortable than sporting rivals, such as the Jaguar and Porsche. The R8 V10 is fitted with Audi's magnetic ride adaptive suspension, which noticeably tightens up the handling on twistier roads and leads to little body roll. Meanwhile, the four-wheel drive means the R8 V10 has plenty of traction and well-balanced handling, which allows you to drive the car very hard without it biting you back. The steering is also direct, slack-free and makes it very easy to place the car on the road. By contrast to the regular V10, the V10 plus is a more focused car, with its suspension adjusted to give sharper handing and a more exciting drive. However, this comes at the expense of ride comfort, so we think that the standard V10 – which still handles extremely well – is easier to live with in everyday use.
How powerful is it?
In the regular V10 model, the top speed is 197mph, with the dash to 62mph taking just 3.9 seconds (or 3.6 with the optional seven-speed S tronic semi-automatic transmission). These are proper supercar figures, on a par with those of its Jaguar and Porsche rivals, and there's no denying this is a very fast car. The mid-mounted 5.2-litre V10 FSI engine revs to a heady 8,700 rpm, giving an addictive howl as it does so, and works well with the S tronic gearbox. At the same time, though, it's also very docile in everyday life, quite happy to pootle along in traffic. Spend the £12,000 extra on the V10 plus and you do get a car that performs even more strongly and responds more keenly, but for the relatively small difference in acceleration (0-62mph in 3.5 seconds with the S tronic gearbox), it seems a very high price to pay.
How much will it cost me?
There's no denying that the R8 V10 will be an expensive car to run – only one version emits less than 300g/km CO2, while none averages more than 22mpg and all are in the highest road tax band and insurance group – but it's no worse than its rivals.
How reliable is it?
Audi has an enviable reputation for reliability and the R8 V10 should have no more problems with reliability than any other model in the company's range.
How safe is it?
There's no Euro NCAP result for the R8 V10, but it's fitted with front and side airbags, electronic stability control and traction control. The Quattro four-wheel-drive system is a useful safety feature in difficult conditions, giving more traction when needed. Overall, the R8 is the equal of its rivals from Jaguar and Porsche.
How much equipment do I get?
The R8 V10 costs over £20,000 more than the V8, but as well as the extra performance, it also has lots of additional standard features, such as Audi's magnetic ride adaptive damping, a Bang and Olufsen stereo, extra leather trim and metallic paint. Options include Audi's parking system plus (with a rear-facing camera) and expensive ceramic brakes.
Why buy?
It might lack the badge heritage of supercar rivals, but where the Audi R8 V10 scores over the Jaguar XKR and Porsche 911 Turbo is that it feels more special, is more desirable and easier to drive on the limit while offering the same performance package.