First Drive
First drive: 2016 Mercedes-Benz AMG Line
This is the latest in a long line of SL luxury convertible models from Mercedes-Benz, but is it any good? Road Test Editor Ivan Aistrop finds out.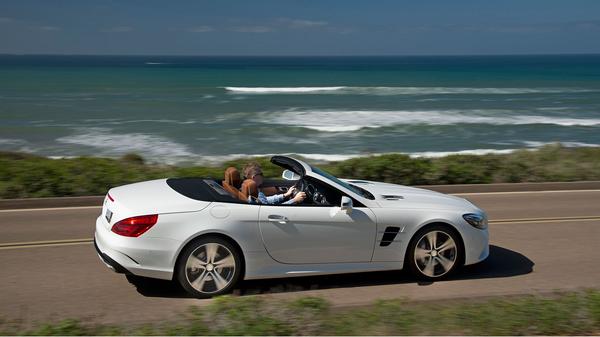 Auto Trader Verdict:
The Mercedes SL has had 62 years to hone its craft, and in the role of luxury touring convertible, there are few cars to match it. Comfortable and enjoyable to drive, lavishly appointed and glamourous to look at, it does everything a car like this should.
Need to know:
Refreshed version of Merc's luxurious two-seat convertible
New look, more kit and more power
Available to order now costing £73,455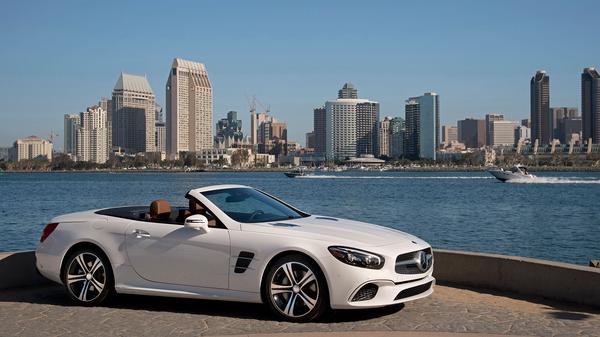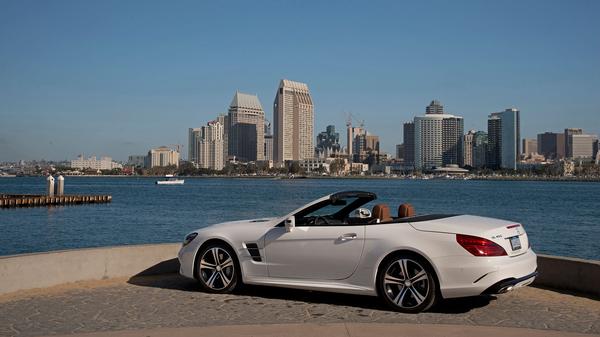 What is it?
A refreshed version of the Mercedes SL, a car that's been around in one form or another for the last 62 years. This facelift gives Merc's luxurious two-seater revised front-end styling, swapping its small, sharp-edged headlights for longer, more rounded ones.
The aesthetic changes elsewhere on the car are less obvious, but each version gets more standard kit. The SL 400 tested here also gets a small hike in power from its 3.0-litre twin-turbocharged V6 petrol engine, with output now standing at 362bhp. It also has a new nine-speed automatic gearbox to replace the old car's seven-speeder.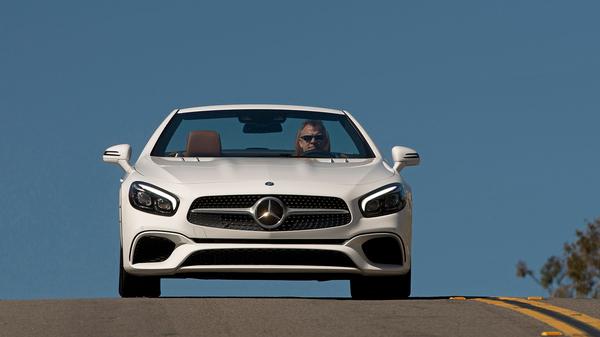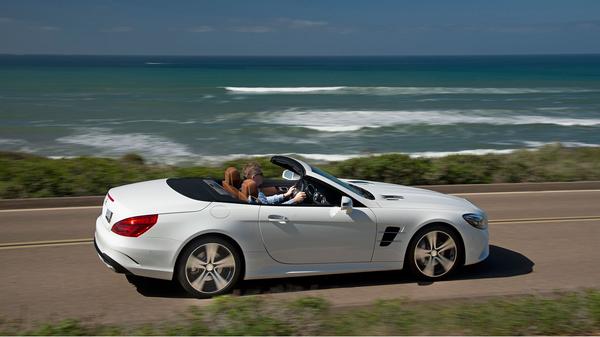 What is it like?
Not desperately different to the previous version, if we're honest, but that's not really a bad thing. The SL was always a very pleasant car to drive, provided you didn't misunderstand it.
What do we mean by that? Well, many people expect a car that looks as sleek and as slinky as the SL to be an out-and-out sports car, but that really isn't what the SL is about. It's more of a luxury touring convertible, and in that role, it's great. Refinement is excellent thanks to a folding metal roof that shuts out exterior noises really well, and with the top down and the wind-blocker in place, you're subjected to hardly any buffeting from the wind. The adaptive suspension also helps the car's easy-going nature. Stick it into comfort mode, and whatever sort of road you take your car on, the ride stays impressively smooth and sophisticated. You won't detect much deterioration when you select a sportier setting, either. By the same token, you don't detect much of an increase in agility in the more focused settings, but that's not to say the SL is any sort of slouch. Bends are dispatched with solid body control and pretty unshakeable grip, making the handling very tidy and capable. The steering has plenty of heft, too, but it could do with providing a little more in the way of feedback. However, it's the SL's sheer size and weight (despite more extensive use of aluminium than on any previous version of the SL), that prevents it from feeling more athletic than it does.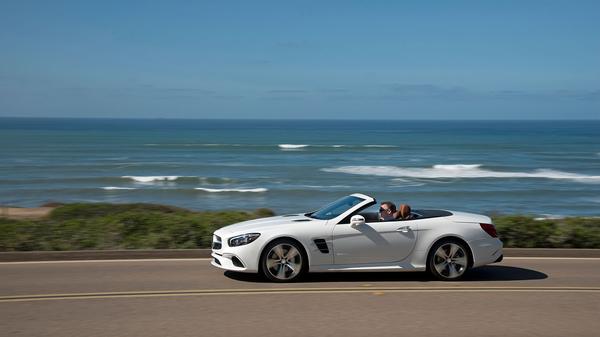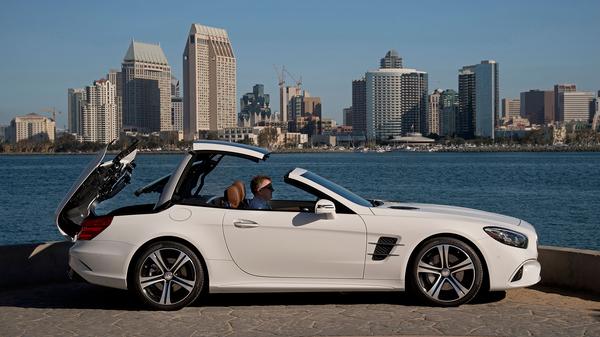 That V6 engine is a real peach, though. When you're in relaxed mood – which, given the car's character, you usually will be – it unfurls its muscle with hardly any effort and a whole heap of smoothness. The nine-speed auto' also does an impressive line in smoothness, slushing between ratios with no fuss whatsoever.
When you need the drivetrain to behave in a somewhat more urgent manner, however, it's just as impressive. Bury the throttle with a little more purpose, and the gearbox will drop down to the perfect ratio for the job at hand, and with an appealing rasp from the twin exhausts, you're pelting towards the horizon at a very serious rate. This might be the entry-level SL, but with this sort of pace on offer, you might wonder why anyone would look beyond the 400 in favour of one of the more expensive V8- or V12-powered models. Inside, the SL is exactly what you expect: a collection of lush materials and high-tech gadgetry, all fused together to deliver a comfortable and luxurious environment for the driver. The cabin isn't short of space for two adult passengers, either, while the boot has enough capacity for a couple's holiday luggage. Most of the controls are pretty easy to use, and although Merc's infotainment interface isn't the most intuitive one of its type, it doesn't take long before most of it becomes fairly familiar. It now comes fitted with Apple CarPlay, too, meaning a greater level of integration between your car and your iPhone. Standard electric adjustment for all aspects of the driving position make it a doddle to get comfy, while your all-round visibility is also pretty clear for a car of this type, even with the roof up.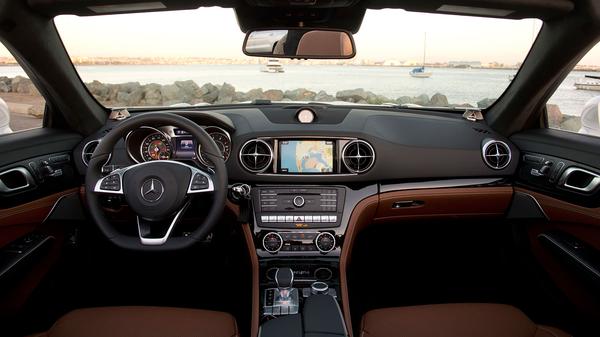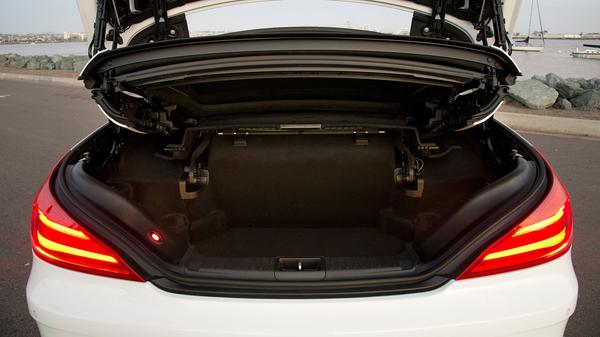 Should I get one?
If you're after a touring convertible rather than an overtly sporty one, then you should definitely consider the SL. It has a broad range of abilities that make it a cracking all-round proposition, and it looks every bit as glamourous as a car like this should, too.
Granted, it's not cheap, but it's not outrageously expensive compared with its direct rivals; and, if you settle for the 400 model – which we suggest you do – then the running costs won't be too ruinous, either.
Key facts:
Model: Mercedes-Benz SL 400 AMG Line
Price: £73,455
Engine: 3.0-litre twin-turbocharged V6 petrol, nine-speed automatic
Power/Torque: 362bhp/369lb ft
0-62mph: 4.9secs
Top speed: 155mph
Economy: 36.7mpg
CO2/BIK tax liability: 175g/km/30%
Boot space: 364 – 504 litres