Advice
Cars with Apple CarPlay
If you're looking to buy your next car, you might want to know if it has Apple CarPlay connectivity available. Many cars across all budgets now come with Apple CarPlay.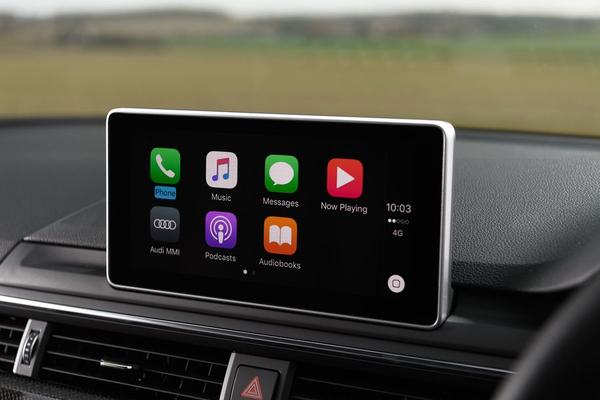 It doesn't matter whether you've got a supercar or supermini budget for your next vehicle when it comes to tech. There are cars at both ends of the spectrum that come loaded with gizmos and gadgetry. One of the pieces of kit people are most interested in these days is Apple CarPlay connectivity.
Jump to our full list of cars with Apple CarPlay.
What is Apple CarPlay?
Apple CarPlay allows you to easily connect your iPhone to your car's infotainment system and safely access a range of apps while driving.
Apple CarPlay is available on all iPhone 5 and later models, provided they have at least iOS 7.1. It uses a simplified iOS-like interface.
How does Apple CarPlay work?
If you have an iPhone 5 or later, and your car features Apple CarPlay, you're good to go. All you need to do is plug your phone in via the USB port (CarPlay may be available via Bluetooth or WiFi in the future).
Apple CarPlay gives access to Maps, phone functions, messages, and music, as well as other apps including Spotify, Podcasts, Audiobooks, and apps developed by car manufacturers. It can be controlled via Siri by pressing and holding the voice control button on the steering wheel – so you can keep your eyes on the road and hands on the wheel – via the touchscreen, or by using the various knobs, dials and buttons in the car. Apple Maps can now show turn-by-turn navigation in a car's instrument cluster (although we are yet to see this in any of the cars we've tested), as well as suggesting landmarks on a route, predicted traffic, and suggesting a new route.
Apple CarPlay stereo
If your car doesn't have a built-in infotainment system or Apple CarPlay, you can buy and install an Apple CarPlay stereo. Leading brands include Pioneer, KENWOOD, Alpine, Sony, JVC and Clarion.
Apple CarPlay apps
Some Apple CarPlay apps are built-in, and some you have to download from third parties.
Built-in Apple CarPlay apps include:
Phone
Messages
Music
Maps
Podcasts
Audiobooks
You can also download Apple CarPlay apps from third parties. Some of the most popular include:
Apple CarPlay Maps, Google Maps and Waze
In the past, you could only access Apple Maps through CarPlay, but this has recently changed. You can also now use Google Maps and Waze. Having this essentially gets you full sat-nav functionality.
The bonus of having online maps is that it will be constantly up-to-date and accurate. However, maps accessed through your phone rely on your iPhone's network coverage and data, or WiFi to update your location when you're on the move. If you lose signal, you'll have to find it again before your map updates.
Cars with Apple CarPlay
Here's a full list of all UK cars with Apple CarPlay included.
We keep this list regularly updated, but if you want to ask up about a specific model, get in touch on
Twitter
or
Facebook
.
Abarth 2017–2018 Abarth 595 2017–2018 Abarth 695 Alfa Romeo 2018 Giulia 2018 Stelvio Aston Martin 2017–2018 Vanquish 2017 V8/V12 Vantage 2017 Rapide 2017 DB9 Volante Audi 2017–2018 A3 2017–2018 A4 2017–2018 A5 2017–2018 A6 2017–2018 A7 2017–2018 Q2 2017–2018 Q7 2017–2018 R8 2017–2018 TT 2018 Q5 2019 e-tron 2019 Q8 Bentley 2017–2018 Bentayga BMW 2017–2018 2 Series 2017–2018 3 Series 2017–2018 4 Series 2017–2018 5 Series 2017–2018 6 Series 2017–2018 7 Series 2017–2018 X3 2017–2018 X4 2017–2018 X5 2017–2018 X6 2018 X1 2018 X2 2018 i3 2019 i8 2019 Z4 Citroën 2016–2018 Berlingo Multispace 2016–2018 C3 2016–2018 C4 2016-2018 C4 Picasso 2016–2018 C5 2016-2018 Spacetourer 2017-2018 C3 AirCross 2017-2018 C4 Cactus 2017-2018 C4 Spacetourer 2018 Berlingo 2018 C5 Aircross DS 2016–2018 DS 3 2016–2018 DS 3 Cabrio 2016-2018 DS 3 Crossback 2016–2018 DS 4 2016–2018 DS 5 2017-2018 DS 6 2018 DS 7 Crossback Ferrari 2016 FF 2016 F12 tdf 2016–2018 488 GTB 2016–2017 488 Spider 2016–2017 California T 2016–2017 F12 Berlinetta 2017–2018 GTC4Lusso 2018 812 Superfast 2018 Portofino Fiat 2017–2018 500 2017–2018 500L 2017–2018 Tipo 2018 500X Ford 2017–2018 C-MAX 2017–2018 Edge 2017–2018 Fiesta 2017–2018 Focus 2017–2018 Transit 2017–2018 Transit Connect 2017–2018 Mustang 2018 EcoSport Honda 2016–2018 Civic 2017–2018 CR-V Hyundai 2016–2018 i10 2016–2018 i30 2016–2018 i40 2016–2018 Tucson 2017–2018 Ioniq 2017–2018 Kona 2017–2018 Santa Fe Jeep 2017–2018 Compass 2018 Grand Cherokee 2018 Renegade 2018 Wrangler Kia 2014–2018 Soul 2015–2018 Optima 2015–2018 Optima Hybrid 2015–2018 Soul EV 2017–2018 Sorento 2017–2018 Sportage 2017–2018 Niro 2017–2018 Optima Plug-In Hybrid 2018 Stinger 2019 e-Niro Lamborghini 2017 Centenario 2018 Huracan Lexus 2019 ES 2019 LC 2019 LS 2019 NX 2019 RC 2019 UX Maserati 2017–2018 Ghibli 2017–2018 Levante 2017-2018 Quattroporte 2018 GranCabrio 2018 GranTurismo Mazda 2018 Mazda6 Mercedes 2016–2018 A-Class 2016–2018 B-Class 2016–2018 CLA-Class 2016–2018 CLS-Class 2016–2018 E-Class Cabriolet 2016–2018 E-Class Coupe 2016–2018 GLA-Class 2016–2018 GLE-Class 2017–2018 E-Class 2017-2018 GLS-Class 2017–2018 SL-Class MG 2016 GT 2016 MG5 2017-2018 RX5 2017–2018 GS 2017–2018 ZS 2017–2018 XS Mini 2018 Clubman 2018 Countryman Mitsubishi 2017–2018 Outlander 2017–2018 Outlander PHEV 2017-2018 ASX 2018 Eclipse Cross Nissan 2017–2018 Micra 2018 GT-R 2018 Leaf 2018 Qashqai 2018 X-Trail Peugeot 2016–2018 208 2018 2008 2018 308 2018 3008 2016-2018 408 2018 508 Saloon/SW 2018 5008 2016-2018 Expert 2016-2018 Partner Tepee 2016-2018 Traveller 2018 Rifter Porsche 2017–2018 718 2017–2018 911 2017–2018 Panamera 2017–2018 Macan 2017–2018 Cayenne Renault 2017-2018 Clio 2017–2018 Espace 2017–2018 Kadjar 2017–2018 Mégane 2017–2018 Mégane Estate 2017–2018 Scénic 2017–2018 Grand Scénic 2018 Koleos Seat 2016–2018 Alhambra 2016–2018 Ibiza 2016–2018 Leon 2017–2018 Ateca Škoda 2016–2018 Fabia 2016–2018 Octavia 2016–2018 Rapid 2016–2018 Superb 2016–2018 Yeti Subaru 2017–2018 Impreza 2018 Outback 2019 Forester Suzuki 2016–2018 Baleno 2016–2018 Ignis 2016-2018 Swift 2016–2018 Vitara 2018 Jimny Toyota 2019 Corolla 2019 C-HR 2019 RAV4 Vauxhall 2016–2018 Adam 2016–2018 Astra 2016–2018 Corsa 2016–2018 Insignia 2017–2018 Crossland X 2017–2018 Mokka 2017–2018 Zafira Volkswagen 2016-2018 Amarok 2016–2018 Beetle 2016–2018 Beetle Cabriolet 2016-2018 California 2016–2018 e-Golf 2016–2018 Fox 2016–2018 Golf 2016–2018 Golf Cabriolet 2016–2018 Golf SportsVan 2016–2018 Golf Variant 2016–2018 Golf R 2016–2018 Golf Estate 2016–2018 Golf GTI 2016-2018 Multivan 2016–2018 Passat 2016–2018 Passat Estate 2016–2018 Polo 2016–2018 Scirocco 2016–2018 Sharan 2016–2018 Tiguan 2016–2018 Touran 2016-2018 Transporter 2018 Arteon 2018 T-Roc Volvo 2016–2018 XC90 2017–2018 S90 2017–2018 V90 2018 XC60 2019 V60 2019 XC40